[ad_1]
There are plenty of good reasons why you may want to listen in on a police radio (and no, not all of them are criminal). Maybe you're a freelance reporter, maybe you want to be aware of all suspicious activity in your local area, or maybe, as the recent news grimly reminds us, you live in an area prone to wildfires and want to keep an ear on the fire brigade radio for any breaking developments. Or maybe you're just nosey? Because, let's face it, listening in on police radio can be pretty fascinating.
Your Android phone, as it turns out, is the perfect tool to scan for police radio, with myriad apps that scan for police radio, send you notifications, and more.
1. Broadcastify
The daddy of all broadcasting and police scanner apps, Broadcastify has access to "over 6000" broadcasts from numerous official and unofficial sources including police, fire, shipping, aviation and amateur radio. Its Material Design-inspired interface makes it instantly familiar to use, with a search function, the option to use your location to find your closest feeds, and a Favorites list so you can quickly jump into the feeds most important to you.
One of the best features, however, is the option to set up Push notifications for specific radio stations, so if any major incidents occur on them, you'll be informed right away. This is the most complete police scanner app out there.
2. Scanner Radio
The most popular police scanner app on the Play Store actually draws its streams from Broadcastify, which effectively translates to one of the biggest repositories of police and other streams on the Internet. Likewise, any breaking news and push notifications you get will be beamed over from Broadcastify.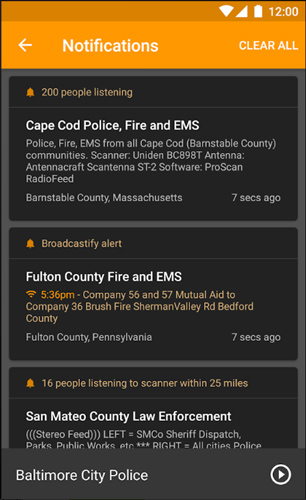 Beyond that, Scanner Radio does its own thing. As well as the usual perks of letting you save favorites and look for scanners near you, one of its better features is Android Auto support, which means you can listen to police radio while on the move. Just don't go driving around town trying to get to crime scenes before the police, okay?
3. Police Scanner Free
One of the more recent police scanner Android apps, Police Scanner Free is an excellent option for those who don't necessarily want to be restricted to US-based broadcasts. It lets you tune into police, rail, marine, amateur and various other broadcasts in the US, Canada, UK, Australia and several other countries around the world.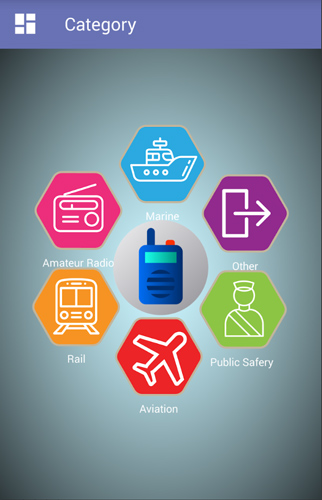 It has a neat radial-type interface from which you can quickly tap into the broadcasts you want, as well as letting you look for broadcasts near you, pick a bunch of your favorites, and deliver a total of over 7,000 streams.
4. Police Scanner X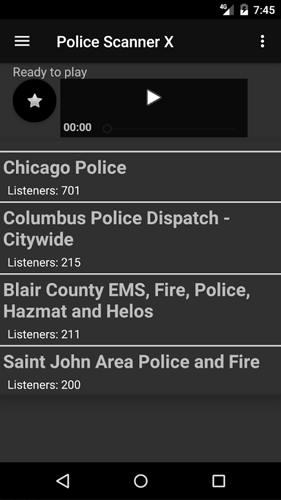 Police Scanner X tunes into many of the biggest police precinct radios all around the US, and featuring a table of 10-codes so you can decipher the cryptic, codified language used by the police during communication. You can set your favorite police streams to tune into quickly, and you can also auto-resume the last one you were listening to. It's pretty minimal beyond that, but it's quite possibly all you need.
Conclusion
Between the above apps, you should have everything you need to scan police, fire brigade, or amateur ham radio wherever you want. Sure, perhaps doing it all digital isn't quite as satisfying as tuning through the static manually and tracking down these things yourself, but if you get a kick out of listening in on all manner of potentially juicy police activity, then Android has you covered.
[ad_2]