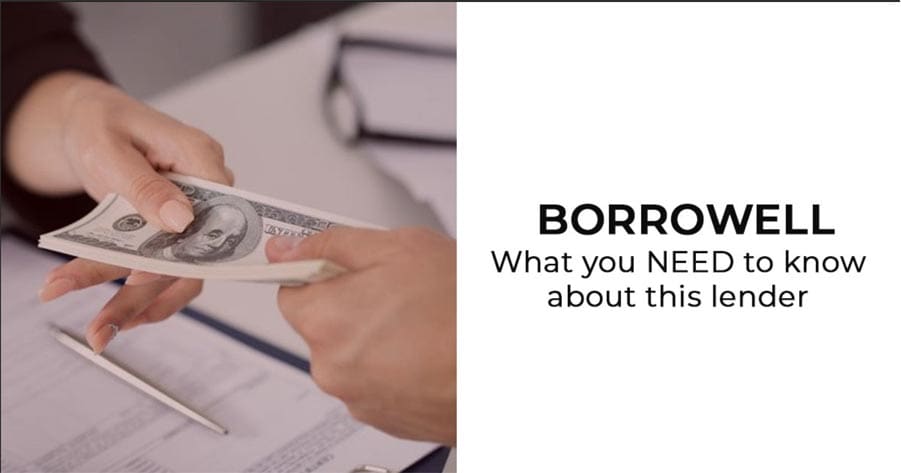 Are you planning to take out a personal loan from Borrowell? Getting curious about Borrowell is not surprising since it's one of the largest loan providers in Canada. With great brand recognition and a wide array of financial services to choose from, it's one of the first companies many people look into for personal loans.
Now, you absolutely shouldn't go with Borrowell just because you've heard of them. There are a few things you have to know and consider before making a decision, and we'll cover it all in this Borrowell review. If you're curious whether they offer the right personal loans for your situation, read on!
Introduction to Borrowell's Services
Borrowell appeared sometime in 2014. It launched amidst a huge array of lenders, many of which were trying to capitalize on the whole 'applying for loans online' craze. A lot of these lenders are now defunct. Borrowell is one of only a few survivors from that era, which goes to show how well they do business.
While there are no physical branch locations for Borrowell, that hasn't stopped them from offering a multitude of different products. We are only going to focus on their personal loan offerings in this Borrowell review, but we thought it would be wise to share the other financial products on offer:
Credit cards
Mortgages
Online banking services
In addition, Borrowell offers select credit monitoring and investing services. The latter is important as it demonstrates that Borrowell is (mostly) for people who have some grasp over the management of their money. This is part of the reason why Borrowell has lasted so long in the lending business. They aren't just willing to lend to everybody. So, if you have poor credit, Borrowell is unfortunately not the best lending company for you. Of course, you can try to apply anyway, but it's best to manage your expectations.
Overview of Borrowell Personal Loans
If you're planning to apply for a loan with Borrowell, pay attention. We're going to tell you everything you need to know about their loans. By the end of this article, you should already have a decent idea whether or not their personal loans are right for you.
Variety of Options
When you apply for a loan through Borrowell, you'll be asked about the purpose of the loan (e.g. debt consolidation, personal loan, home improvement, car financing, etc.). But in the grand scheme of things, this is not going to make much of a difference. It may have a small impact on whether you are approved for a loan, or maybe the interest rate that you get, but the difference is so minimal that it probably isn't worth thinking about.
What you do need to know, however, is that their loans all have a minimum term on them. These are not short-term loans. If you want to get a loan from Borrowell, then you will need to commit to at least 36 months. This means that Borrowell is not going to be a solution to a 'short term problem', unless you know that you can deal with it long term.
How much you can borrow
Borrowell's personal loans range between $1,000 and $35,000. Even with an astonishingly good credit rating, many people have found it difficult to get approved for personal loans over $20,000. You may only have this option available to you if you have been in business with Borrowell for a while. That said, loans up to around $10,000 are not as challenging to get provided that you're in good financial standing.
The Terms of the Loan
This is where things can become a little bit confusing for Borrowell customers. All of the loans that you find on Borrowell will have a minimum term. This is 36 months. The thing is, you do not need to hold the loan for that entire period of time. Borrowell allows you to pay off the loan whenever you wish. Of course, all of the interest will be due on it, but there are no additional fees. This can actually benefit you.
If you borrow small amounts, then you can just pay off that amount of cash over a 3-year period. Since Borrowell reports payments to Equifax, you may even notice an increase in your credit score. In fact, there are plenty of people who are doing this. That being said, the interest rate is going to stack up over the course of three years and since it is unlikely that you would get approved for a loan with Borrowell if you have poor credit, it probably isn't going to be worth it.
Also, in the case of Borrowell, the maximum repayment term is 60 months.
Interest rates
There will be some fees tied to your loan. There's a loan origination fee which can be anywhere from 1% to 5% of the amount you're borrowing. This isn't a hidden fee.
The interest rates can vary considerably. These rates can be anywhere from 6% to a shade under 30%. Obviously, the amount of cash you are borrowing and your credit score will have a massive impact on the interest rates. We wouldn't expect to be able to get a rate under 12% even if you have a good credit score. It is likely that the best interest rates are reserved for people who use Borrowell frequently.
The Application Process
Borrowell is a rather meticulous lending company. While their lending process is going to be a touch faster than the banks, it is still going to be rather lengthy. This means you probably won't want to use Borrowell if you are in need of quick cash. If you are in dire need of cash, however, then there are plenty of other options out there for you. Borrowell is just for those who have a solid financial base that they can build upon.
Before you apply, you will need to be employed. Borrowell will need to see your last couple of payslips. These payslips should show that you're earning over $20k a year. If you aren't then, once again, this company might not be for you. You should also ensure that your credit score is in reasonable health. If you haven't missed payments for a while (the past few years), and you are not overburdened with credit, then you should be fine working with Borrowell.
In most cases, your loan will be approved instantly. However, this doesn't mean that you're going to receive the cash right away. It seems that a common complaint with the BBB is that Borrowell has retracted lending offers in the past. The same could be said for any bank, though. If you have entered your details correctly, then you should be fine. Withdrawing offers happens, but they are rare occurrences.
After a short while, you will receive a final confirmation of your loan. Once this happens, you can expect the cash in your bank account typically within 48 hours.
All in all, we wouldn't expect the process to take much longer than a week or two. The more information you supply Borrowell with, the faster the process is going to go. Just bear in mind that it is not going to be a good service for those who desperately need cash quickly.
Pros
Part of the reason for Borrowell's success is that they don't just lend to anybody. This can, of course, be seen as a negative by some. There is nothing worse than desperately needing cash, then finding out a lender won't even loan you a cent. However, this is a good thing for people with good credit scores. When a company like Borrowell limits who it gives loans to, the risk they undertake is reduced. When the risk is reduced, interest rates tend to be lower. This means that Borrowell is the perfect online lender for those who are looking for lower interest rates.
Some people love the flexibility of being able to repay your loans whenever you wish to. Obviously, it would be great if Borrowell took away some of the interest when you did this. But they're still a business, after all. So in this particular case, it's nice to focus on the fact that they allow you to make these early repayments without the extortionate 'early repayment' fees that many other lenders seem to charge.
As long as you have a good credit score, there should be a loan product for you from Borrowell. As long as you have not been wild with your repayments in the past, Borrowell is going to be a good pick. They approve most people provided you have a job and are in decent financial health.
Cons
Borrowell is not the company for you if you need money ASAP. If this sounds like you, then there are plenty of other online lenders that release cash fast.
Obviously, you also have the issue of not having a physical branch you can head to. For the most part, this is probably not going to be an issue. However, some people have reported that it can be tricky to deal with the customer support team of Borrowell if you do run into trouble.
Conclusion
Borrowell is for the more financially stable who need a quick money injection. This could be to cover vehicle costs, home maintenance, or something similar to that. While many people will use Borrowell for debt consolidation, you may find it tricky to be approved because at this point your credit score may be awful. If you are financially stable, then Borrowell can offer some of the most competitive online rates for personal loans.