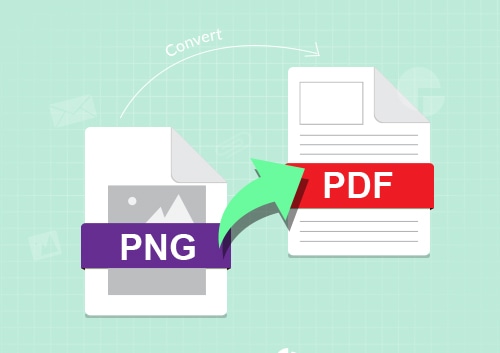 There are many image formats. Each format has some strengths and weaknesses. Therefore, different kinds of image formats are used to store images for different tasks. JPG and PNG are the two most widely used formats for storing images. The PDF or portable document format was developed primarily to store and share documents on different computers and operating systems.
These formats are much improved now and there are tools which allow you to change the image format easily. These tools are known as file converters and PDF WIZ is one of the most widely chosen PNG to PDF converters for quality and performance. You can try this tool if you want to convert PNG files into PDF files.
What is PNG file?
PNG stands for Portable Network Graphics. It is an image file format optimized for graphical images like logos, graphs, and text. PNG format is used when the user wants to store higher quality images than JPEGs. This format was not designed to reduce the size of the file. The primary purpose of this format is to maintain more details than JPG files.
The PNG files are larger than JPEG files. Therefore, professionals mostly use JPEGs on web pages because of their smaller file size. A PNG image will require to be compressed in order to reduce the file size before using it on a website.
The larger file size is a drawback but that does not stop users from using this format due to lossless image quality offered by the PNG files. Pros use LZW compression to create PNGs. It prevents the loss of quality. You can save, edit, and reopen your images without worrying about the quality. Many web pages feature PNG files because of the quality website owners want to provide to their users.
What is PDF file?
The Portable Document Format or PDF format does not come in picture when the discussion is about image formats, but you may need to turn PNG files into PDF documents. This format was developed during the early 90s. It was not easy to share electronic documents between different operating systems at that time. There was a requirement to maintain a fixed format for sharing files and then PDF emerged as the best solution. It has improved over time and now it is possible to convert word, image, and text document files into PDF files.
It would look similar to the original image file if you convert a PNG file into a PDF file. You can consider it a copy of the original image. This conversion will allow you to share and maintain the quality of your photo, graph, or document. That particular file will be displayed perfectly across all the devices which support the PDF format.
Many users convert PNG images into PDF files because they want better customization feature. You can send those PDF files to other users via email or with text messages and the receiver can edit and print those PDF images quite easily. Most of the graphic designers choose to work with PDF files when they want to print top-quality images.
Why Convert PNG files into PDF files?
PNG files are quite large. That's why these files are not the best suited when you want your web pages to load quickly. Though PDF files can also take time to open, this format is usually used to share documents online or offline.
You should convert PNG files into PDF files if you are going to use the image for posters, graphic design, and flyers. The PDF images are also considered the best when it comes to storing images online. You can allow other users to download those PDF images. The portable document format keeps all the images into one packet so that the user can save designs, print, and booklet those images conveniently.
Why Choose PDF WIZ for PNG to PDF conversion?
PDF WIZ offers the simplest way of converting PG files into PDFs. The best thing is it is a free tool. You will not be paying any penny to use this tool. This tool is designed to perform all kinds of PDF conversions. Whether you want to convert a JPG file, a PNG file, HTML, Text, Image, and so on, PDF WIZ performs quite well.
It is a desktop tool which you can use anytime you want. It does not matter whether you have internet connectivity or not because this tool can also perform offline conversions. That's why many users trust Starzsoft PDF WIZ more than other converter tools.
You can, of course, find several other PNG to PDF converters online. Most of them will come with limited features if you want to use their free versions. PDF WIZ is absolutely free and it has No Limitations! You get full access to all the features of this tool once you download it on your PC.
How to convert PNG to PDF by using PDF WIZ?
The conversion process is pretty straightforward. Follow these simple steps and your PNG file will convert into a PDF file within a few seconds.
Download PDF WIZ on your computer, install it and launch it.
Now select "PNG to PDF" to continue the conversion process.
This tool allows you to drag and drop the file or you can click on the box to add the file.
Now select where you want to save the converted file and then click on the "Convert Now" button to begin the conversion process.
It will take just a few seconds to convert the file and then you can click on the "Open" button to access the converted file.
That's how simple it is to convert a PNG file into PDF file. You can use this PNG to PDF converter tool with all its features without worrying about spending any penny from your bank account. There is no other tool which offers such flawless support for converting PNG files into PDF files. Therefore, you should download it and try it now.