[ad_1]
WinSetupFromUSB is a windows program which prepares a multiboot flash drive by burning ISO image files into it. It supports LINUX and mostly all the versions of Windows OS. But sometimes as stated in recent reports, it denies detecting the access of the device connected to the computer for the burning task. Moreover it has literally no support for Windows 10 users. So in case it is malfunctioning or is denying performing its designated task with full functionality, then you better begin to watch out for an alternative as you cannot conform to the need of your computer because of a single tool's disability. There are innumerable other tools available on the internet market, which can be used as an WinSetupFromUSB alternative to burn the ISO image files.
Alternative#1:  ImgBurn Software
There are times when you need to burn your ISO image files to CD/DVD or USB for use in your own computer or other devices. Here in this section we would discuss about ImgBurn which is one of the many tools available online and can be used as an alternative to WinSetUpUSB to burn ISO image files to create bookable disk. The steps are mentioned below as follows: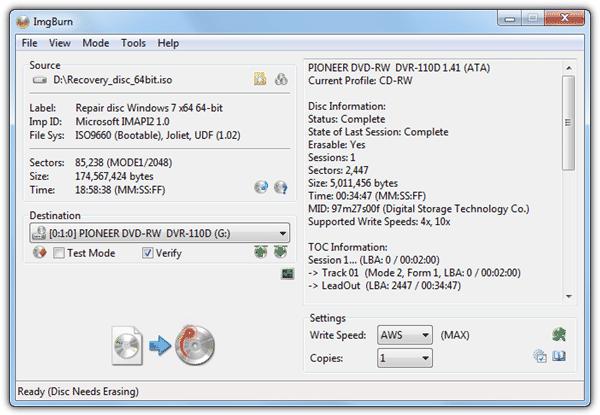 Step 1. Download the utility and install it properly on your computer and insert your disk into computer.
Step 2. Now go to the ISO image file in its location and right-click on it. Select "Burn with ImgBurn" option.
Step 3. The ImgBurn utility opens up with both the destination and source fields filled in. Keep all the settings by default and after the selections, click on "Write" button to start burning the image into the destination disk.
Step 4.Once the burning is completed, you will receive a notification "Operation Successfully Completed!"
CONS:
It involves few complex steps to set the settings perfectly which might confuse novice users.

It is an outdated utility so might not work with the latest OS versions.
[ad_2]