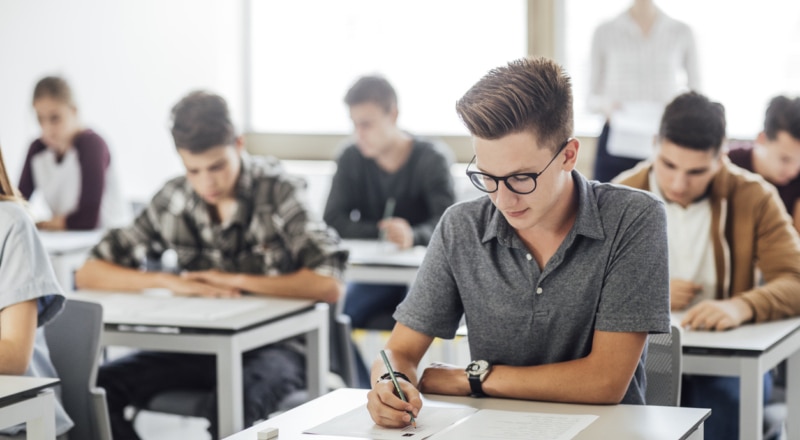 Sample papers are the lifesavers before any examination, especially when it's something very competitive and tough like CBSE exams. Sample papers can get handy to help you while preparing. It gives you a brief idea about how the exam patterns look like, how many sections does it have, how many questions each section will contain and how does the paper cover the whole syllabus etc.,
CBSE releases the sample papers for Class 10, every year at least a month before the examination. These papers are curated by a panel of experienced teachers to give the students an idea about what they can expect in the exam and brush their skills. Read through for more details on CBSE sample paper importance and benefits.
Exam day can make you nervous, and how much ever you prepare, the timing can screw up if you don't have the management. CBSE examination timeline for each paper is 3 hours, and it's mandatory to finish the paper within the given time. Sample papers help track the time to cover up all the sections.
Some can do Math quickly, while some are able to write detailed answers very fast. Some need time for lengthy explanations. Some get confused with multiple choices and require more time. Once you start the preparation, you'll understand your strong and weak points. You'll figure out which topics you can finish up early and which ones take time. Sample papers can be useful to get a hold and help you make a strategy to choose the sections wisely while writing the exam.
More Practice, fewer mistakes:
Practice makes anyone perfect. The more you practice, the less you make the mistakes. Practicing through sample papers can give you an idea of where you're putting up incorrectly. They can help increase your proficiency by identifying your errors.
Sometimes with tension or overconfidence, it's humane to make some stupid mistakes. I'm sure you must have gone through some situations before as well. Sample papers help identify such errors and help you rectify them.
Well, examinations can surely be stressful, and many people have the examination fear despite the preparation. Practicing with the Vedantu CBSE sample papers for Class 10 can boost your confidence in this case and help you get over the exam fear.
It's hard to bring the vast syllabus together within 3 hours. With sample papers, you'll get to know what topics are a must to prepare for the examination, and you can prepare them thoroughly. Once the preparation is done, these can be helpful in faster revisions too.
To understand the above points, the first thing you need to understand is where you stand in terms of preparation. Sample papers can act as a test to yourself, where you can validate your performance. You can also understand what your strong points are and where you need to put more effort.
The perfect time to work on sample papers is when you are done with the complete preparation. The best way to practice your sample papers is to create an exact scenario of examination hall with the restricted timing. Have a timer when you start the exam and make sure to finish it off within 3 hours. Ask any of your elders or teachers to correct the papers and give you feedback on performance. You can also self-evaluate with an answer booklet or textbook. Try to be harsh on yourself while correcting and point out every single mistake, including spelling and grammar. As this is just a mock test, you'll have time and opportunity to make yourself better.
CBSE Sample Papers – Class 10: Sample papers are beneficial in practicing to get a reputed rank. You can find the sample papers on different academic sites online, in bookstores. CBSE too releases some sample papers a month prior, and you can access those papers from CBSE's official website. So, wait no more. Download the sample papers designed by the experienced faculty members and add an edge to your preparation today. Good luck!