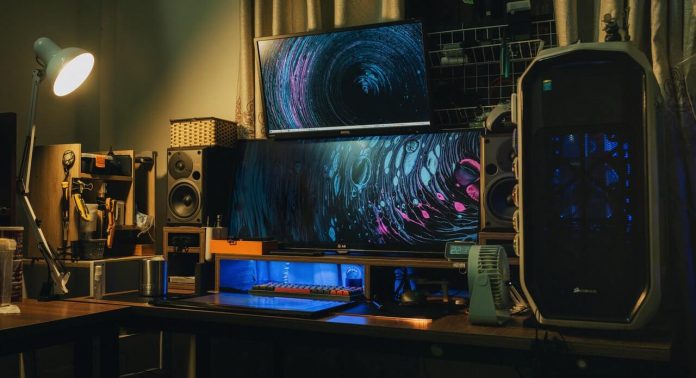 Are you looking to build a super-efficient PC for gaming purposes under a reasonable budget? Do you want to assemble your gaming PC using top-end components without breaking the bank? Having turned into a leisure activity over the years, the increasing popularity of gaming has succeeded in attracting the attention of billions of people globally. The nicest thing about gaming is that it can boost cognitive abilities and help one break away from the hustle and bustle of daily life.
With gaming visuals becoming richer than ever, owning a high-performance PC is now imperative for facilitating smooth and immersive experiences. But when it comes to building a powerful gaming PC under a specific budget, there are a number of crucial factors that you have to take into consideration before arriving at the final decision. It goes without saying that embarking on a PC building journey might seem like a daunting and time-consuming task, particularly to people who have never built a gaming PC before in their lives.
Regardless of whether you are in the same boat as beginner PC builders or not, you have come to the right place for seeking specialized advice. Since we have already dedicated a whole lot of time to conduct extensive research for coming up with this detailed PC building guide, there is no need to be worried about the selection process. Without further ado, let us move ahead with this article and discuss all the important points that will help you fulfill your quest of building your dream gaming PC with the limited budget you have.
What Components are Required for Building a Power-Packed Gaming PC?
As we all know, a gaming PC is built with different types of components, all of which play a pivotal role in making your system function the right way.  Professional gaming enthusiasts must be knowing how important it is to make sure all the various components are compatible with each other. Now that most components are available online at affordable prices, anyone can easily build a powerful gaming PC under $500 in their pocket.
It is so because there has been a major drop in the rates of PC components owing to which the availability of cost-effective deals has increased manifold. But this does not mean that you should blindly spend your money on just any PC part you see over the web. If you are someone who lacks basic technical knowledge, you can drop all your concerns and rely on this comprehensive guide for making the correct choice in a short span of time.
Instead of wasting your precious money on low quality PC parts that have a small lifespan, it is better to adhere to expert advice and purchase durable components that have got top ratings online. Hence, see to it you pay close attention to everything that is discussed in this guide or chances are your investment might prove useless. Here, we will talk about all the essential components that are required for building a gaming PC while highlighting the minimum system requirements necessary for running modern gaming titles.
Graphics Card
A majority of PC enthusiasts agree that the GPU is one of the most vital components of a gaming PC and this is something that no one can deny. Since the online gaming component market is flooded with an endless number of products, gamers who have just begun their journey must put in efforts to become familiar with the basics of a GPU. Once you acquire the needed knowledge and broaden your horizons, you can make the selection easier.
Everyone knows that a graphics card is responsible for keeping in-game lag and stutter at bay so that you can have maximum fun during your day-to-day gaming sessions. Apart from eliminating lag, a powerful GPU can deliver higher FPS and make your overall gaming experience a lot smoother in the twinkling of an eye. This is why you must research a little and think carefully before ordering a video card from the online marketplace.
While there are loads of options available over the internet, you should consider going for video cards belonging to Nvidia's GTX series as they offer unmatched performance at budget-friendly prices. No matter which graphics card you buy at the end of the day, it should have at least 4GB of VRAM, or else there is a strong likelihood that you will have trouble running heavy gaming titles on your PC.
Also, remember that the video card you select must boast a blazing-fast clock speed and an excellent inbuilt cooling mechanism. The cooling solution will increase your GPU's lifespan and ensure that its temperature stays under the ideal range of 60 to 85 degrees Celsius. If you are the kind of gamer that takes delight in the sight of lighting effects, you should pick a GPU that comes armed with RGB LED technology to double the enjoyment.
For getting a GPU with the latest RGB capabilities, you may have to extend your budget. It must be noted that gamers who neglect the points discussed above and make the purchase without thinking much might regret their choice in the future. Therefore, make certain that you choose a reputable brand and invest your hard-earned money on a top-notch GPU that will easily handle graphically rich games like Watch Dogs 2, Plague's Tale, Forza Horizon 4, GTA V, and so on.
Processor
When people think of purchasing a processor for their gaming PC build, the two names that usually come to everyone's mind are none other than Intel and AMD. Although both these processor brands are regarded as big players in the industry owing to their reputation, Intel's products are priced relatively higher. Having won the trust of people over the years with its feature-rich processors, Intel has reached its peak of popularity in all parts of the world and this is undebatable.
Considering the price-performance ratio of both brands, AMD definitely has an edge over Intel since it offers equally efficient processors as its competitor but at incredibly economical prices.
Before AMD hit the streets with its affordable masterpieces, most people were keen on using processors from Intel. But it can be seen that things have changed significantly in the gaming scenario with the arrival of AMD Ryzen CPUs.
The best part about AMD processors is that they have redefined gaming performance and they are perfect for computing purposes well. Whether you decide to go with Intel Or AMD, the processor you choose should be loaded with a plethora of next-gen features that will come in handy for simplifying your everyday computing experience. The processor must also be packed with at least
4 cores which will help get rid of long load times and speed up various computer processes, thereby eliminating all sorts of inconvenience.
Do not forget that settling for anything less than 4 cores will badly affect your gaming experience and your hard-won money might get wasted too. And if you have plans to maximize your processor's performance in the coming time, the product you buy must have a decent overclocking capability. More important than all, doing a bit of self-research and skimming through various user reviews over the web while looking for premium-grade processors will enable you to make a wise decision.
Motherboard
The next step that you have to take is to buy an advanced gaming motherboard to facilitate interconnection between various PC components. Without a doubt, a motherboard can significantly impact your computer's performance. Thus, you should take as much time as you need during the motherboard selection process. You must check whether the mobo of your choice has ample SATA ports, PCI-E slots, and other features like Bluetooth, WiFi, etc.
Since you are assembling a PC mainly for gaming purposes, it would be much better if you go for a motherboard that has at least 2 to 4 RAM slots. This will make it easier for you to upgrade your PC in case you plan to add another memory stick in the near future for improved performance. So, if you want value for every dollar that you spend, make it a point to analyze all the vital information given above before finalizing your selection.
HDD and SDD
Gamers are aware of the fact that the newest games consume a lot of space owing to their rich and detailed graphics. Since the size of most graphically stunning games falls between 100 to 200 GB, you have to make sure that there is an ample amount of storage available on your computer. Taking into account your small budget, your best bet would be to opt for a combination of HDD and SSD to pave the way for outstanding performance.
You can buy a hard disk drive of 1TB to store your games, documents, and other media files, and an SSD of around 256GB in which you can install your operating system. This way you will be able to enjoy fast boot times and better computing performance without spending a fortune. While it is true that HDD is less costly than SSD, you must understand that there is a big difference in speed between these 2 storage drives. SSDs are not only lighter, faster, and more durable than hard drives but they also consume relatively less energy.
Now that HDD and SSD prices have notably come down over the past few years, the new generation of gamers no longer needs to bear the burden of heavy costs for adding storage to their system. Before you proceed to buy storage drives for your gaming PC, try to determine your requirements to find out how much storage you exactly need.
RAM
Abbreviated as RAM, Random Access Memory is required for facilitating proper PC functioning. Having a sufficient amount of RAM in your computer is quite important, especially if you want to multitask and enjoy faster CPU performance around the clock. As a matter of fact, you need at least 8GB of RAM in your system to run newly released games at medium to high settings. If your budget allows, you should try to get around 16 gigabytes of memory for your dream PC build.
Power Supply Unit
People who are knowledgeable about technology unitedly believe that owning a quality PSU (power supply unit) is a matter of high importance. In simple words, a PSU is basically needed for powering up your computing components and ensuring an adequate supply of power to your PC. You must search the online market for a decent PSU that is efficient and cheap simultaneously. There are a large number of PSU manufacturers around the world and hence, you need to be careful while opting for the brand of your choice.
In case you fail to select the right PSU for your gaming build, your system will not operate at all and if it does, there will be a lot of fluctuations which will make your PC prone to crashing. Thus, you must buy a PSU having an output of at least 450 watts and it must boast an excellent efficiency rating. If you have any dreams of upgrading your PC components in the future, you should get yourself a high-end PSU so that you do not have to make investments over and over again.
The reason being that top-grade gaming PC components demand more power as compared to their regular counterparts. Hence, purchasing a power-packed PSU is indeed one of the most effective and easiest ways to future proof your gaming PC within the budget you have at the present moment. Some highly popular PSU brands that you should consider exploring are Corsair, Antec, Cooler Master, Thermaltake, and EVGA.
CPU Case
People with zero experience in assembling PCs face many difficulties when they have to choose a CPU case for their custom build. Given the large variety of CPU cabinets available out there, it is no wonder that selecting the right chassis for your build is a hard task. Irrespective of the cabinet you purchase, the build quality of the product must speak for itself and its structure should be sturdy enough to last for several years to come.
Besides being durable and sturdy, the CPU case you choose should have sufficient space inside to store all your components. Gamers who are willing to throw a few extra bucks should look into buying a computer chassis that features RGB facility as it will make your rig look more attractive in a flash.
Monitor
Another important thing that cannot be neglected is that a next-gen monitor can work wonders for making your gameplay sessions more enjoyable. After you have bought all the vital components needed for building an efficient gaming PC, you must consider purchasing a top-grade monitor to enjoy modern-day gaming visuals at their best. Keeping all this aside, you would be delighted to know that desktop monitors are available in a wide range of sizes, and hence, you can take your preferred pick based on what suits you best.
As far as monitor selection is concerned, you must see which graphics card you have in your possession before making the final choice. This simply means that if your CPU is equipped with an Nvidia GPU, you will have to opt for a gaming monitor that offers full support for G-Sync technology. On the other hand, gamers having an AMD graphics card should go for a FreeSync monitor, which is less expensive than monitors armed with a G-Sync facility. The gaming monitor must promise A1 visual clarity and its response time should not be more than 5 milliseconds.
But that's not where the story ends as you will also have to choose between TN and IPS panel types while selecting your dream gaming monitor. Remember that the monitor you purchase must have a refresh rate above 75 hertz or otherwise you would see a notable decline in your PC's visual performance, especially when you play your favorite titles. Furthermore, if you do not want to waste your valuable money, ensure that the screen size of your chosen monitor is above 21 inches in order to play heavy games at 1080p (Full HD) resolution without experiencing any kind of hassle.
UPS
There is no denying that sudden power outages can cause serious damage to the components within your CPU and this is the prime reason why you need to invest in a high-quality UPS. Worst of all, sudden electricity cuts can lead to loss of unsaved documents, system failure, etc. However, all of these hassles can be eliminated if you make efforts and get the right UPS for your computer. You must take note that most budget-friendly UPS solutions guarantee uninterrupted power supply for a time period ranging between 10 to 30 minutes.
Having a UPS with a solid battery backup is a good way to stay prepared for situations where the components of your PC are prone to damage. With a branded UPS at your disposal, you will have ample time to close all the programs running in the background, and hence, you will not lose any valuable data. One of the most common problems faced by the new breed of gaming enthusiasts is that they are unable to save their in-game progress owing to unforeseen power outages.
Once you get your hands on a decent UPS, you will have sufficient time to close your system when the light goes out. In addition to all this, there will be no issues even if you are playing a game and are in the middle of a mission as you will get the chance to save your progress. Last but not the least, make sure that you purchase a premium-grade UPS to safeguard your gaming computer against unexpected power cuts and prolong its overall lifespan by many years.
Other Peripherals
After you are done selecting components and have finished assembling your gaming computer, the last step is to buy essential PC peripherals like a gaming mouse, gaming keyboard, and a gaming headset, etc. While there is no dearth of feature-packed peripherals in the online market, the majority of high-end models carry a hefty price tag. Since you are on the lookout for peripherals that can be afforded with ease, you should consider only products that are reasonably priced.
But if it is possible for you to increase your budget and spend some more money, you can consider going for advanced mice and keyboards that are backed with the latest RGB technology. RGB-powered peripherals will not only make your everyday gaming sessions more enjoyable but they will also significantly contribute to the style of your rig. Best of all, the wide variety of stunning lighting effects and colorful patterns will work wonders for keeping your PC's shine intact.
A lot of people like playing some games with controllers and if you are one of them, we have a guide on the best controllers to fulfill your needs!
Final Words
Given the rapid pace at which technological advancements are taking place in different parts of the world, it comes as no surprise that the prices of PC components have reduced to a great extent.  Contrary to what most people falsely believe, building a gaming PC is an art that demands plenty of skill and careful consideration, especially if you want to get the best components and bring the cost down at the same time. Although it is not that difficult to find cheap deals over the internet, the tricky bit is to identify which parts would deliver maximum performance when paired together.
Whether you want to upgrade your age-old setup or build a new gaming PC from scratch, keeping the aforementioned points in mind will help you pick the right components, thereby ensuring that you get the biggest bang for your buck with ease. Once you successfully assemble your PC with top-notch components, running heavy games at ultra settings will be a piece of cake for you. So, if you have any PC building ideas in your head or you feel like you need additional help from experts, you can hit us up at a time of your convenience and we will reach out to you as soon as possible.