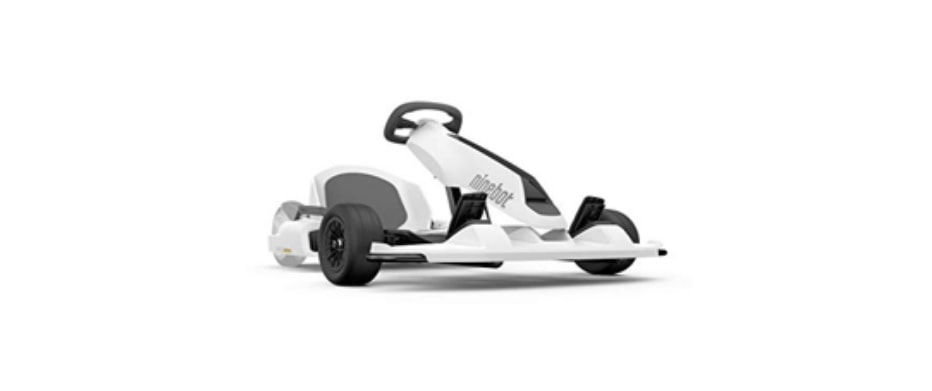 Introduction
Ninebot Gokart kit is one of the coolest accessories offered by the most reputed Segway Minipro. It is build with incredible features that can amazingly change your self-balancing scooter to a fully functioning gokart in no time which can be used by both kids and adults. Well, just like the ninebot gokart kit, there are are few other brands that offer similar accessories to create a complete gokart.
Let us check on those similar product and brand that offers these creative kits to the users. Well, it can be difficult for the users to determine which product is the best with many advantages and which one stands out amongst every other brand. So we have compared ninebot gokart kit with another brands which is Razor Ground Force Drifter Fury Ride-on.
About Ninebot Gokart Kit
The ninebot gokart is a unique kit that can instantly transform your scooter to a coolest gokart without the hassle to buy one. And if you ever want to change it back to a scooter, simply detach to bring it back to a scooter. It comes with inbuilt modes to change speed as you wish. Without compromising on its quality the ninebot gokart kit helps you to get a dual fun experience.
About Razor Ground Force Drifter Fury Ride-on
Razor aims in providing the most enthralled riding experience to its riders. With the most innovative cutting edge technology and with high quality materials, the Ground Force Drifter fury ride-on is designed. The chassis is tuned with super race mode that brings you the most incredible fun experience to drift and drive. Buyselfbalancingscooter have published a  detailed review of razor ground force.
Let us check on some of the most distinguished features of both Ninebot gokart kit and Razor Ground Force Drifter Fury Ride-on.
| | | |
| --- | --- | --- |
| Features | Ninebot Gokart Kit | Razor Ground Force Drifter Fury Ride-on |
| Launched year | The ninebot gokart kit is a new product to the market which was launched in the year 2018. | 2015 was when Razor introduced the ground force drifter and has been a successful product over the years. |
| Speed | It is enabled with 3 modes that sets the speed of the gokart which is novice mode which can go up to 5 miles per hour, standard mode- 10.8 MPH and the sports mode which offers a maximum of 15 MPH. | It is designed to go up to a speed of 12 miles per hour which is 19 km per hour. |
| Mobile Phone Application | Ninebot offers mobile phone application that can helps the users to control speed, light setting and check the charge or batter time. This is useful when the kids rides the gokart and the parents and control it from the app. | No mobile application feature is provided. |
| Terrain | It can be ridden on any terrain, however the speed and battery life is based on the terrain you ride. | Preferred to be ridden on concrete and flat surface or low grass level terrain to give a smooth riding experience. |
| Battery capacity | For every single complete charge the gokart can go up to 12 miles based on your speed and terrain . | After a compete charge, it can be ridden continuously for 40 minutes. |
| Charge time | It takes up to 3.5 to 4 hours for the ninebot gokart to get completely charged. | A complete charge takes up to 12 hours of time. |
| Battery type used | 310 WH Battery | It is powered by 24 V sealed lead acid rechargeable battery system. |
| Control system | It is enabled with both wired and wireless mode. Control it through Bluetooth or the mobile app. | It will be operated in wired mode, the entire steering and braking system is controlled through wires. |
| Braking system | Offers better safety with both electric brake and hand brake. If the electric brake fails, use the hand brake to stop the vehicle abruptly. | Comes with a hand operated hand brake that can help the rider to take it to the maximum drifting speed. |
Specifications 
| | | |
| --- | --- | --- |
| Specifications  | Ninebot Gokart Kit | Razor Ground Force Drifter Fury Ride-on |
| Product Dimension | 54 inches x 32 inches x 24 inches | 41 inches x 28.5 inches x 11 inches |
| Manufacturer | Segway Minipro | Razor |
| Weight of the product | 61 lbs | 35.3 pounds |
| Weight capacity of the rider | The ninebot can support up to 220 pounds. | A rider with a maximum 140 pounds can ride on it. |
| Materials used to build | Built with a two layer protection that gives peace of mind to the riders. The outer part is made with strong plastic and the inner body is made with strong solid steel that avoids any damages and deformations. | It is made with powder coated steel frame with molded aluminum front wheels and solid rubber tires. |
| Transformation | The ninebot kit helps the users to use it in two way, either as a gokart or a self balancing scooter. | It is built to give a complete drifting gokart. Cannot be transformed. |
| Assembling | Requires simple assembling which would not take more than 10 mins. It is easy to attach and detach. | The product come pre assembled and required very minimal assembling. |
Other specifications 
Apart from the above mentioned, there are quite a few specialization for each of them.
Ninebot gokart 
The package comes with steering wheels, front wheels, front bumper and seat.
Can be collapsed easily and can be carried in the truck of the car. It is portable and comfort.
Built with a revere enabled mode that helps the riders to easily take reverse on the go.
Offers precision steering capacity of 2:1:1 that makes riders take the perfect turns.
Razor Ground Force Drifter Fury Ride-on.
Built with the concept of original ground drifter.
Made with a sturdy steel construction that helps better acceleration and steering control.
Comes with an added flash of unique spark bars.
It is featured with a chain driven motor.
The seat come in a bucket style with shoulder straps.
The package includes battery charger and flag.
Pros of Ninebot gokart kit 
Made with adjustable frames that provides a comfortable ride for both adults and kids.
Easy to convert to any mode of usage.
Can be controlled from the smart phone app.
Ensures dual safety with electric brake and hand brake and with Bluetooth connected for better communication.
Equipped with dual motors for maximum speed.
Award winning model and has receive "the best of best" award from Reddot in 2018.
Cons 
Recently launched product thus requires more information from the buyers.
Though it is collapsible it is heavy and requires addition strength.
Pros of Razor Ground Force Drifter Fury Ride-on.
Made with sturdy steel material to provide the best drifting experience.
Can be ridden by both kids and adults, however not recommended for kids below 3 years.
Equipped with powerful slide through corners that makes you feel like a drift king.
As it comes pre assembled there is not much work needed to be done by the user.
Hand controller acceleration and hand control brake makes it convenient and easy even for first time users.
Cons 
No latest advancement and technology used such as no mobile phone application and no Bluetooth connectivity.
Cannot be transformed, can be used only as a gokart.
Conclusion 
Hope the above comparison would help you to make a better choice when you plan to buy a gokart. After a thorough analysis, we would recommend the ninebot gokart kit to be a better choice.