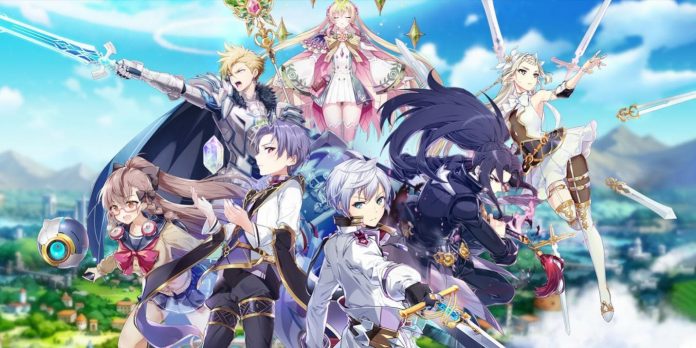 Epic seven is probably one of the best looking hero collector games. Initially it was launched only in Korea and after that the Global version was released back in 2018 with the exception of China and Japan. This game is a lot of fun and addictive.  With Global launch they were working really hard with their voice actors in English.  The first thing that you will absolutely love about this game is the heroes that you have because there are absolutely gorgeous.  The animations for this game are absolutely incredible.
The first impression of this game is mind boggling because when you start first they actually give you quite a bit of premium currency as well as the summoning tokens that you can use to get a bunch of new heroes.  You can make your heroes composition with a friendly companion are you can have like this beast that gives you passive bonuses.  One of the best things about the game is there is an amazing community already behind the game working really hard.
Gameplay:
Epic seven got an awesome discord server and a reddit server.  This game is known for gorgeous animations ends and impressive moves as well as it are supposed to have a pretty interesting story.  When you get into it you will have to tap left or right to move your characters across and then you will have random Encounters against Enemies in story missions as well.  It's the final ultimate ability that each of the heroes has and has that awesome animation.  As you progress you will come across different chess and other NPCs and stuff like that.   There is that burn factor in the very bottom of the screen and from that what you can tell that you have gained these elemental orbs from playing and doing combat.  When you activate the burnt feature in the bottom it actually enhances one of your abilities to give it an increased power behind.  The animations and combat make this game so fun.  In the combat it's all about choosing a perfect team. As you go into these Dungeons you actually have branching Pathways that you can decide which way you want your characters to go. Overall this game have got pretty good potential to compete one of the top games.
Play it on PC:
Although this game was built for mobile devices and many of the users are playing it on mobile but there is a large community which is playing on PC. There is no official PC version and for that you will download an Android emulator. For that we have selected a perfect match for you even if you have a low end PC.
Epic Seven on LDPlayer:
LDPlayer is one of the best choices of free Android emulators that you can use. This lightweight Android emulator lets you run games and android apps that were built for the android smartphones on your PC with lightning bolt speed and convince. LDPlayer lets you choose settings for your customization with utmost ease and less effort. You can customize your game controls and settings, even of your GPU and graphics.
It is the best compatible free android emulator out there for Epic Seven on PC. It's lightweight, fast, and runs everything smoothly. LDPlayer is smooth and fast with monthly updates which make it more convenient for user experience. LDPlayer has the most simple and amazing interface. By far LDPlayer is the no.1 choice for professional gamers and users even if you have a low-end PC or laptop. With over 100 million-plus downloads and with nearly 2 million active users daily LDPlayer lets you play games on PC with ease and smoothness. This light android emulator, easy to install LDPlayer lets you download games either directly from LDPlayer app store or Google Play store .With High Fps it lets you have a smooth gaming experience. You might forget that it is a mobile game. The whole purpose of the LDPlayer is to make things easier and simple. Working with your CPU and GPU this emulator will give you the perfect results. If you are more of the mobile gaming fan and can't afford high-end phones then this is the perfect product for you. LDPlayer is superb in handling the latest games. You can play almost all the latest games on LDPlayer with full online compatibility. You can enjoy both solo and multiplayer games on your PC.
How to Setup?
LDPlayer is stable and easy to set up.
Head over to the official LDPlayer website, once you get there click on the download button for the version you want.
Download will take a few minutes depending on your bandwidth connection. It is lightweight and super easy to install.
Once you are done with the download click on the setup you downloaded to run the program
Now sit back and relax.
LDPlayer will be ready to install and setup in a few minutes
After setup, all you have to do is configure your google account and you will be ready to download games and apps from Google Play store
As mentioned you can also download the games from LDPlayer app store.
Conclusion:
LDPlayer is getting a lot of attention due to its unique features and amazing experience making it the best choice for crazy mobile gaming fans out there. It supports both Intel and AMD processors. Unlike other emulators, LDPlayer will give you the best user-friendly interface and swift gaming experience which you will never forget. Still, if you have confusion about the experience I must recommend give it a try and you will never regret it.