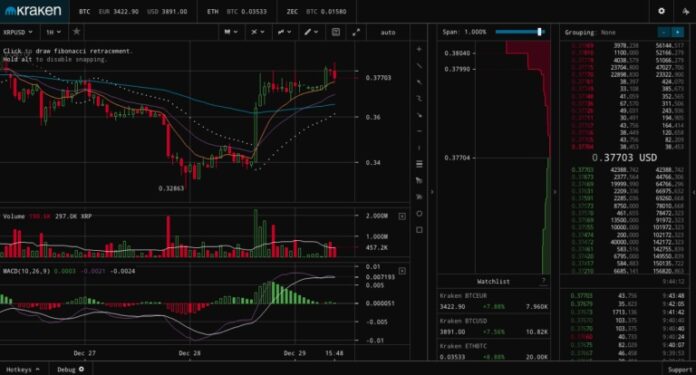 Kraken cryptocurrency exchange, located in San Francisco, is a platform that offers users a wide variety of cryptocurrencies to trade. Bitcoins can be bought and sold with various fiat currencies, including US dollars, Canadian dollars, euro, and Japanese yen. Kraken offers popular virtual currencies, such as Ethereum (ETH) and Bitcoin (XBT), and others that have gained traction recently, such as EOS (EOS) and Monero (XMR).
History of Kraken
The trading activities of Kraken began in 2013 after the company was founded in 2011. Kraken's co-founder is Payward's CEO, Jesse Powell. Kraken allows participants to transfer money between their bank accounts and their digital wallets, as well as coins between their digital wallets and their corresponding trading accounts.
Why Kraken?
Achieving financial inclusion – Kraken has been consistently recognized as the top Bitcoin exchange, offering low fees, a variety of funding options, and rigorous security standards- but these are just the basics. The Kraken blockchain revolution has been leading the market since 2011.
Investor empowerment – Kraken empowers you to take control of your financial future, regardless of your skill level or background. The exchange offers many cryptocurrencies and features that can be honed to grow investment portfolios, as well as a large assortment of cryptocurrency pairs.
Providing institutional support – Kraken manages institutional accounts, trades over-the-counter, and invests in cryptocurrency for institutions of all sizes. All markets offer excellent liquidity and competitive pricing, allowing investors to achieve their investment goals swiftly and confidently.
Top Perks of Kraken
Kraken has been in business for almost a decade as a cryptocurrency exchange. With a lot going for it, it's a solid option. Here are some of its major advantages:
Security
As one of the largest and oldest exchanges in the world, Kraken has placed a high priority on security since its inception. Eight years without a hack testifies to its security. It is physically secure as well as financially stable. Additionally, it encourages users to practice good security habits.
Cryptocurrency collection
Kraken handles seven fiat currencies and over 60 coins. While the choice of digital currency may not be as wide as what can be found on some of the best cryptocurrency exchanges, it is comparable. This US-based broker offers more coins than most brokers who only provide a few well-known ones. Kraken has also been noted for its high liquidity, which makes buying and selling easier.
Features of advanced trading
As a small exchange, Kraken offers margin, stop orders, and crypto short sales. Furthermore, the platform offers investors anonymity by hosting a dark pool. Kraken allows eligible pro clients to leverage a currency pair five times and gives them access up to $500,000. Before you get too excited, be aware that margin trading can be risky. In essence, you're borrowing money to invest.
Cost-effective
Several exchanges charge the same fees as Kraken. Despite its maker-taker fees not being the lowest in the market, it is cheaper than, say, Coinbase. Depending on the amount you trade each month, trading fees can vary from exchange to exchange. Check the costs associated with each transaction, such as the cost of depositing and withdrawing money.
Still not convinced? You can learn more by watching videos on this subject on various streaming platforms. Make sure you're accessing relevant content by checking out the Youtube thumbnail beforehand.
What Makes Kraken Stand Out?
Kraken is a SaaS based cryptocurrency trading platform that is feature-rich and perfect for individuals and larger firms. Trading and investing of all types are supported through its wide range of accounts. Kraken is one of the fastest-growing cryptocurrency exchanges thanks to its sophisticated order system and comprehensive trading tools, including stop-loss and profit-taking orders, leverage, and margin-based trading.