The best calendar apps keep your day flowing smoothly. Ideally, you should be able to review it at the top of the week for an overview and every morning to get a grasp on your day, relying on notifications for the rest of the time. The right calendar app helps you stay on top of appointments, holidays, and celebrations, not to mention deadlines.
The calendar app that's right for you depends on your needs and lifestyle. Do you rely on notifications and reminders or do you find them a nuisance? Do you need to manage a calendar collectively with a household or other coworkers? Do you prefer a streamlined and subtle interface or an app that's jammed full of features, such as in-app notes and to-dos, design be damned?
We considered and tested several dozen calendar apps to find the 10 best that meet a variety of needs.
What Makes a Great Calendar App?
Calendar apps have two core functions: They show your upcoming schedule and remind you of important events. The best calendars, however, aren't just functional. The give you clarity about how you spend your time, and a few rare finds are even a joy to use.
In looking for the best calendar apps, we considered apps that have five characteristics.
Easy to use. Calendar apps are easy to use when they require minimal clicking and menu exploration. They should be intuitive to learn to use and not require a lot of tending.
Designed with intention. Aesthetics aside, a good app should be designed with intention. An app with a multitude of colors and icons may look busy to one person's eye but come across as highly functional to another. If you can tell different kinds of events apart easily and get a bird's eye view of your schedule, that's what matters. For those who appreciate minimalism, however, there's certainly an allure to an uncluttered user interface because it makes checking your calendar a pleasant and stress-free experience.
Packed with features and customizable. If you're a serious scheduler, power features, such as customizable views and integrations with task management apps, will help you get the most out of your calendar. For those apps that aren't heavy on features, we looked for customization options that make the app adjust to your style.
Simple to share. Sharing features, such as the ability to give other people access to your schedule, can be a huge help. Some calendar apps are more collaborative than others, and some are more suited for home use than office. In the descriptions of the best calendar apps below, we call attention to sharing options when they are front and center in an app.
Available for multiple devices. When considering apps for this list, we gave preferences to apps that are accessible on more than one platform, as you should be able to see your calendar no matter where you are and what device you have on hand.
There's no need reason to limit yourself to one calendar app. It's quite common, for example, to use Google Calendar, Outlook calendar, or Apple Calendar (formerly referred to as iCal) as the holding tank for your calendar entries, and then port them into a different calendar app that better meets your needs in terms of form and function.
With these criteria in mind, here are the 10 best calendar apps, listed alphabetically.
10 Best Calendar Apps
Any.do (Android, iOS, Web)
Best calendar app for staying organized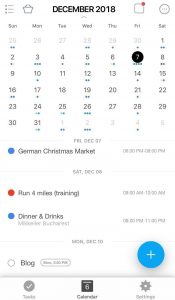 The excellent to-do app Any.do formerly had a separate calendar app called Cal, which it has more recently rolled into the namesake app to create one unified place for your tasks, goals, reminders, and schedule. A rich variety of reminders help you stay on top of your agenda, to-do, and goals.
The calendar shines on mobile devices, where it makes use of the small screen with grace and poise. You can connect Any.do to your stock calendar app to import existing events. In the month view, all events appear as colored dots, with the color mapping up to whatever colors you use to manage the original calendar (for example, you might keep a birthday calendar in yellow and personal appointments in blue). At the bottom of the screen, you see a snapshot for the selected day, and you can open any event to see more information about it.
Any.do's calendar is appealing to people who need tools to help them stay organized, such as location-based reminders, a notification that reminds you to preview what's on your agenda at the beginning of each day, and the ability to add in travel time to any notification before an event. It's the app to choose if you need a lot of help staying organized with your day.
Any.do Pricing: Free; paid plans from $32.88/year
Best calendar app for storing data on Apple devices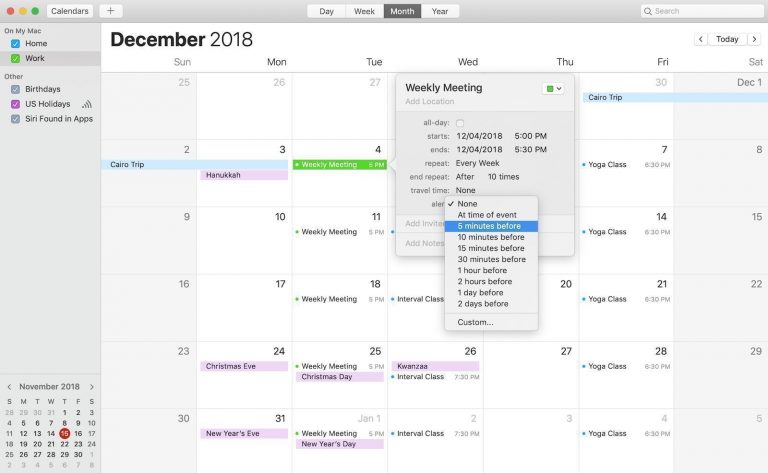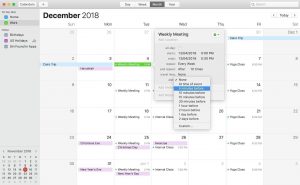 Because it's built into macOS and iOS, Apple Calendar is the default place to store calendar entries on Apple devices. Without any real effort on your part, aside for enabling iCloud, you can keep your calendar up to date across all your iPhone, iPad, and Mac. In a pinch, you can also view and update your calendar entries from a web app on icloud.com.
Apple Calendar allows you to pull in data from other calendars, too, such as Google Calendar, Microsoft Exchange, Yahoo, and any calendar that uses CalDAV. Setting it up is about as easy as connecting an email client app to another email account.
Apple Calendar's clean and simple lets you focus on your events rather than the app itself. It's intuitive to use if you're familiar with other Apple apps. Click or tap the plus sign (+) to create a new event, which can include a title, location, reminder, note, and invitees. You can add a travel time estimate that will be factored into event alerts. As you might expect, this no-frills calendar integrates with Apple devices, so that you see notifications from it in the iOS and macOS notification bars.
Apple Calendar Pricing: Included with macOS and iOS devices, or free via iCloud
Cozi (Android, iOS, Web, Windows)
Best calendar app for managing large families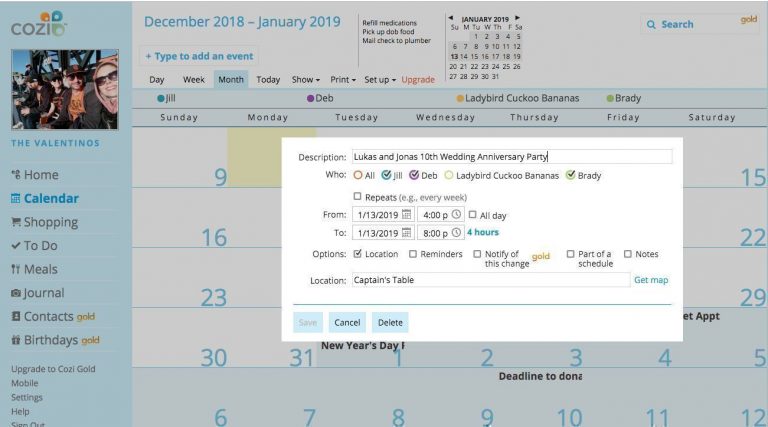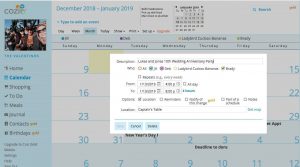 Family schedules are hectic. Band rehearsal some mornings, soccer games after school, not to mention constantly conflicting appointments… and when is the dog walker going on vacation again? Cozi is designed with busy families in mind, consolidating multiple calendars, to-do lists, and shopping lists in one app. Think of it like the old-school bulletin board and wall calendar hanging in the kitchen, only smarter and pocket-sized.
With Cozi, you create one centralized calendar and give appropriate people access to it, such as family members, nannies and au pairs, pet sitters, and so forth. Members have a color assigned to them so that when you create an event and indicate who needs to know, their colors appear on the calendar entry. The app is accessible on a variety of mobile apps, and via the web.
The calendar is merely one feature in Cozi, which also has shopping lists, to-do lists, a journal, and messaging features. It's a complete family organizer.
Cozi Pricing: Free; $29.99/year for Cozi Gold, which adds calendar search, multiple reminders, a birthday tracker, and removes advertisements.
Best non-native calendar app for Mac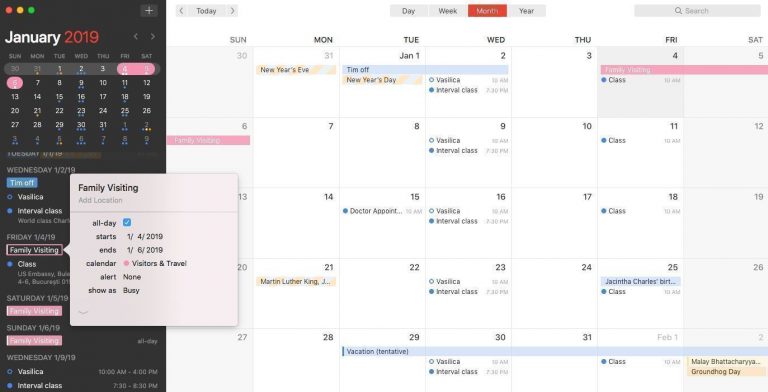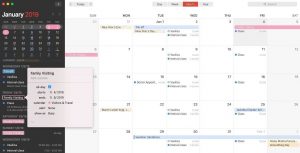 Is it cheesy to call Fantastical 2 fantastic? Probably, but at least in this case, it's not hyperbole. Fantastical 2 has just about everything one could want in a calendar app for iOS and macOS, in addition to being available on Apple Watch. While it's key to have the mobile app, Fantastical 2 really shines on desktop.
The app is colorful without being gaudy or overwhelming, and it's easy to use without sacrificing control over your event details. On a Mac, the menu bar app lets you quickly add an event or see what's on your agenda in the coming days. Adding details to your events, such as notes, URLs, invitees, and locations, feels quick and smooth on the desktop app. Fantastical 2 also integrates with the rest of your system to give you a Today view widget, Handoff support, and a share extension that lets you create events from other apps, such as from addresses in Maps and URLs in Safari.
Fantastical 2 is most renowned, though, for its natural-language event creation. Start typing "Lunch with Casey at noon at Park Place" and watch as the app parses your words into calendar fields and pulls in relevant information, such as addresses and team members' availability. The natural language parsing means you can interact with the calendar app as infrequently as you want and still create events without having to think like a computer. While $50 is a hefty price to pay for a calendar app, it's worth it if you live in your calendar and want something other than the Apple default. While the app isn't free, you can download the app free from the developer's website to try it for 21 days.
Fantastical 2 Pricing: $49.99 for macOS, $9.99 for iPad, $4.99 for iPhone
Best free calendar app for all-purpose use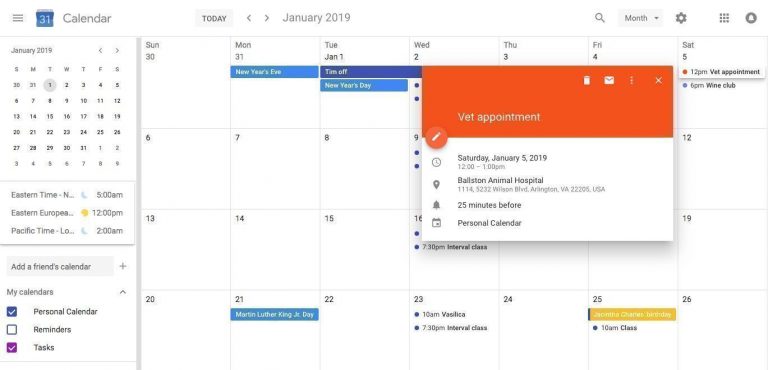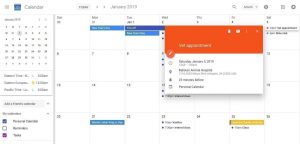 Google Calendar might be the most popular calendar app around (according to one survey, anyway). Much of its popularity comes from the fact that you can create multiple calendars in one place using a Google account, and then port those calendar entries to nearly any other online calendar you might use, as Google works with nearly everything else on the market. You can connect your Google Calendar to not only other calendar apps, but also business apps and services that have calendars as part of their features, such as Trello and Asana.
Color coding for individual calendars makes it easy to see which area of your life an event applies to at-a-glance, or to show or hide calendars so that you can focus on specific types of events. Plus, as you would expect from the company that started as a search tool, Google Calendar offers excellent search capabilities. It also integrates with G Suite apps, letting you create a calendar event from Gmail, for example. When used across an entire organization, Google Calendar gives you the ability to check your co-workers' schedules alongside your own. Inviting others to your calendar is a cinch too, whether you're sharing an entire calendar or use the invite option to add people to an event.
Although there's no desktop app, Google Calendar's web app and mobile apps for Android and iOS are enough to keep schedules straight. If you want a more enticing user interface or more powerful features, you can always connect Google Calendar to virtually any other app on this list.
Google Calendar Pricing: Free with a Google account
Best business calendar app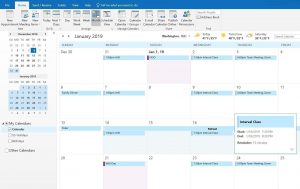 The most stalwart of calendar apps, Microsoft Outlook is more of a personal information manager than a place to see your next appointment. The desktop app unifies your calendar, email, notes, tasks, and contacts into one view. Outlook's mobile apps aren't quite so ambitious, but they do at least combine your calendar and email.
Outlook, which is part of Microsoft Office, lets you share calendars with teammates, and that's its real strength. With Exchange Server accounts and the appropriate permissions, team members can view and manage each others' schedules and subscribe to one others' calendars. Outlook offers options for how you can view multiple calendars at once: side-by-side or with calendars combined in an overlay view.
If you don't use Outlook within an organization, you might still appreciate the calendar's many features. You can drag and drop an email onto the calendar icon in the navigation menu to turn it into an appointment (available in the Windows app only), or quickly send a meeting request from either email or the calendar. Outlook supports multiple time zone views, too. There's a lot to dig into.
You can get a free online version of Outlook, called Outlook.com, which is more streamlined and has fewer features. Outlook.com has family sharing so you can add other household members to your account to make your calendar accessible to others.
The Mac version of Outlook isn't as robust as the Windows version, but if you like having everything in one place, this is an all-in-one productivity tool to consider.
Microsoft Outlook Pricing: Office 365 subscriptions, which include the Microsoft Outlook desktop app, start at $5.99/month or $59.99/year. Apps free for Android and iOS.
Best calendar app for students and educators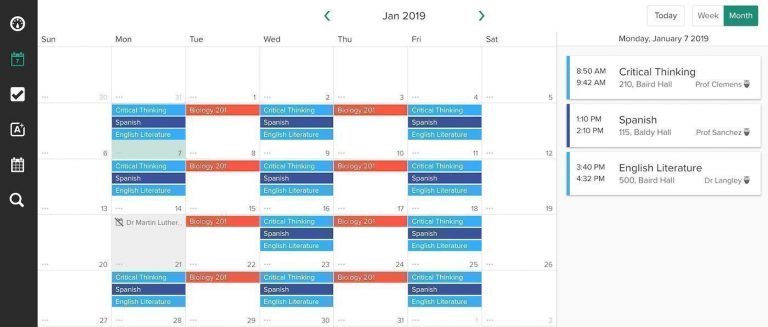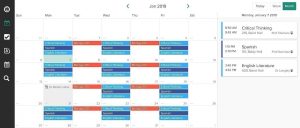 My Study Life is a free calendar app designed to meet the unique needs of students and educators. In the educational world, schedules are drastically different from those in the private sector. Students typically follow a semester or term system rather than a quarterly one. They meet for classes on a Monday-Wednesday-Friday schedule, or maybe on Tuesday and Thursdays only, or perhaps their courses alternate on an A/B day setup. If a national holiday falls on a Monday, students sometimes find themselves going to Monday's courses on Tuesday. In short, educational calendars are full of exceptions and unusual circumstances, and My Study Life was created to accommodate them.
The app is available on the web or as a mobile app for Android and iOS. It's not a bad idea to use the web app when first getting started, at least until you've logged all your classes and their timings. Once you get the hang of the app, it does double duty by letting you log assignments and other tasks you need to do, whether it's homework or preparing a lesson plan as an educator. You can keep track of your progress on assignments, too, noting how close they are to completion as a percentage. Yet another section of the app lets you keep track of scheduled exams.
My Study Life is free to use, and it's a great choice for students who are tired of calendars that don't deliver what they need.
My Study Life Pricing: Free
Best personal calendar app for combining with email and tasks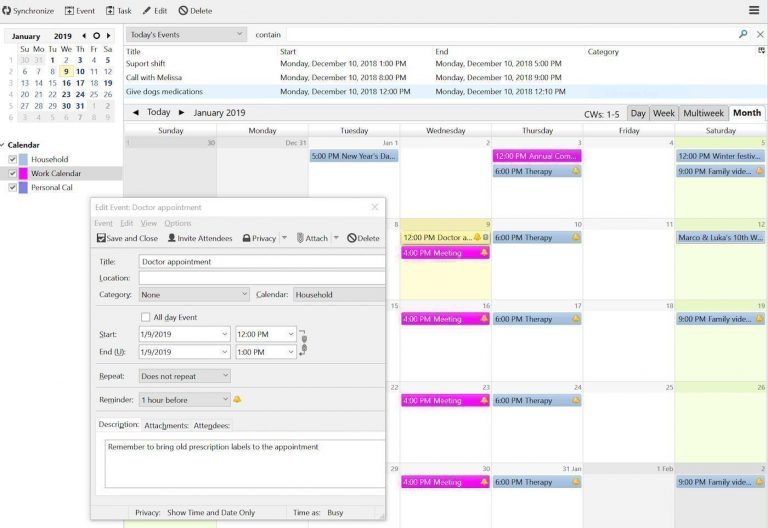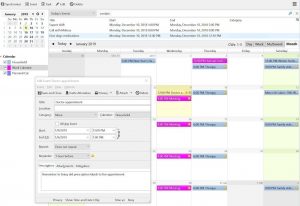 Not only is Thunderbird one of the best email apps you can find, it also is a superb calendar. In previous versions of this app, you had to install the Thunderbird Lightning Calendar add-on to have an integrated calendar, but now it's included with the app from the get go.
Thunderbird gives you a tab for your email, calendar, and tasks. The setup lets you easily hop between communicating, scheduling, and managing what you need to get done. On the calendar tab, you can see a summary of everything on your schedule for today, even if you've paged forward through the months to plan events in the future.
The calendar offers four different views: day, week, multi-week, and month. It also has a convenient search function with time filters and built-in categories for events, such as "birthday" and "calls." Although there's nothing particularly striking about Thunderbird's calendar, having the whole kit and kaboodle—personal email client, calendar, and task-management app—in one app makes it easy to plan your time and keep your life organized.
Thunderbird Pricing: Free
Best paid calendar app for iOS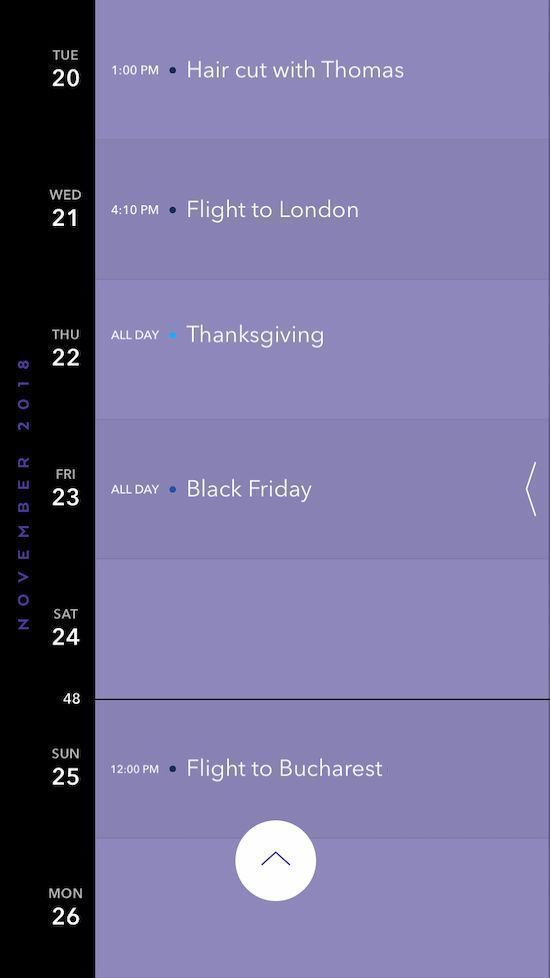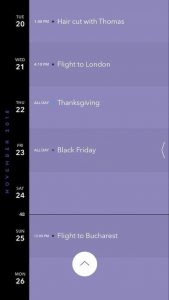 Timepage is one of the most beautiful calendar apps for iPhone and iPad. This paid app comes from the same company that sells Moleskine notebooks, the ones you see on display at bookstores around the world. The app shares the same minimalist design ethos as the paper books. You can choose a color scheme for your calendar, and no matter which option you pick, it still looks sleek and clean. Swiping left and right takes you to a month view and the app settings, while going up and down scrolls you through a day by day view of your agenda. Timepage has page-turning and scrolling sound effects for your vertical and horizontal swipes, too.
A few special features, such as alerts before it rains and a daily briefing, add value and make paying for Timepage worthwhile. The app also comes with the ability to create Siri Shortcuts and widgets. Compatibility with Apple Watch isn't available as of this writing but is purportedly in development.
You can try Moleskine and all its features for seven days, but after that, you'll need a paid subscription to get anything more than a read-only calendar. Once you do have a subscription, you can sign into the app on both iPhone and iPad. The iPad version of Timepage has a few unique features. For example, you can use split screen mode to view your calendar while also looking at another app, such as email. Or you can use a special double view option that lets you see two different views of Timepage side-by-side, in case you need to look closely at today's details alongside a timeline overview of event on the horizon.
If you're an iOS devotee looking for a calendar app with a minimalist design, and you don't mind paying a few dollars per year, Timepage by Moleskine is the calendar app to choose.
Timepage by Moleskine Pricing: $1.99/month or $11.99/year
TimeTree (Android, iOS, Web)
Best free collaborative calendar app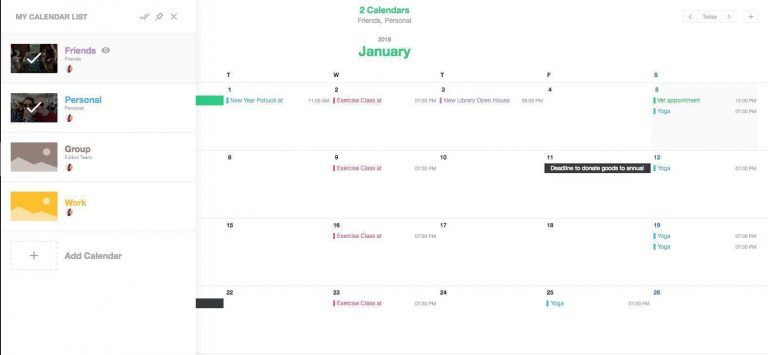 TimeTree is a collaborative calendar app for Android, iOS, and the web that guides you to creating useful calendars by trying to understand your intention for its use first. For example, when you create a new calendar in TimeTree, the app asks you whether it's for personal, family, friends, work, relationship, or group use.
Each option has a descriptor so you can better understand the purpose. For example, the relationship calendar is best when you need to know someone else's schedule, as it's a calendar made for two people to share. The friends calendar, however, comes with features for commenting and discussing plans, such as finding a suitable date for multiple people to meet. You don't have to have only one calendar, however. You create multiple calendars with this app, and as you do, it can display your events in an overlay, giving you a full picture of what's on your schedule. Color coding for each calendar helps you know what's what.
TimeTree is one of the better choices of free apps for managing multiple calendars, including collaborative ones, when you don't want to use one of the big three companies in calendar data storage (namely, Apple, Google, and Microsoft). It also lets you import other calendars, such as those with a list of different national holidays and so forth.
TimeTree Pricing: Free