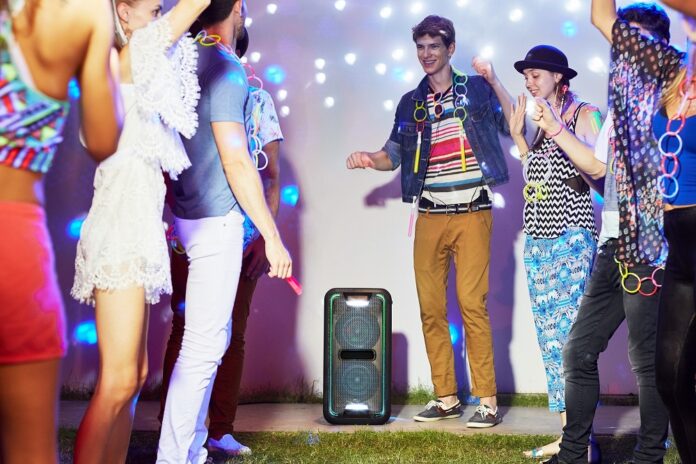 Music can easily take over your nerves and put you in a trance. Quality speakers make that moment more memorable. A good playlist, music and its beat unites people, making them loose their body a little or may be more. Now the question arises how to know or what are the features that a good quality speaker should have?  Well, some of the key features include docking,
What are the types that are available for party speaker?
Planning a party when parents are out of town but don't know which party speaker to get? Well, to increase your knowledge. Party speakers are available in different types. All of them possess different qualities and features as per the need. Some of the popular ones include
Karaoke Speakers
Karaoke Speakers are the kind of speakers that has a microphone attached with it. You can sing along while music is playing. You might have seen some karaoke clubs around. These places have placed these set of speakers attached with LCD where you can see the lyrics and sing your favorite song.
Indoor/Outdoor Speakers
The event or the party could be indoor or outdoor. The indoor parties require some modern technology Bluetooth for example to establish a connection with the smart device for music streaming. These kind of speakers are mostly light in weight and are portable in nature. The pack of battery they has can work for long hours with just a single go.
You can easily take them to the outdoor parties because they have a weather-resistant body. Additionally, the outdoor speaker has a feature that prevents the interference of any kind of wind or other distortion if placed openly outside.
Tailgate Speakers and PA Speakers
PA speakers are also known as public addressing speakers. This speaker comes with the microphone, loud speakers, amplifiers and other equipment. These speakers are mostly used for addressing people however, they are also used for parting purpose when you want the music high and loud. Whereas a tailgate speaker is a party speaker.
The PA speakers if used for party purpose could be handy if it is used for the indoor parties. It can begin to produce the music if it is connected with DVD player or a MP3 player, tablet or any other smart device.
Tailgate speakers however, are mobile as they are attached with the SUVs (Sports utility vehicle) tailgates that helps to take them anywhere and everywhere. These are perfect for beach, pool and all the other kind of outdoor parties.
Features for the best Party Speakers
Now a days, like other sphere, many speakers comes with the advances features like
Bluetooth connectivity with smart devices.
Some of these speakers come with microphone and also work as a Karaoke system so you can sing along too.
The party speaker has another cool feature is the portability.
They are built to be weather-resistant and for 24 hours straight with a single go. Well, all these features made score in favor of tailgate speakers.
 Portability
Portability of the speaker is one important factor. These kind of speakers are wireless and plays the music with Bluetooth connectivity. If you are having a party in a place (a specific location) then portability does not matter however, if your party involves moving and switching of speakers than having a wired one is a hassle.  
Sound quality of party speakers
The high quality party best speakers with light and water come with the feature of LED lights mostly to create and provide the disco environment. The whistles coming from the speaker and the micro phone can really turn off the party mood if quality speakers are not being used.
Power, bone-rattling bass and extremely high volume levels keep up the party. To judge the sound quality, there are two vital criteria for that. The deep bass and loudness to cover every single inch of the party area.
What else to consider: Tip for the buying guide for party guide
Along with the features, here are some more consideration that you should keep in the mind which is
Frequency: A normal human ear uses the frequency ranging from 20hz to 20 kHz. The frequency range of a subwoofer is 20-200 Hz. The THX (Tomlinson Holman's eXperiment) the high fidelity audio production is recommended.
Wattage: It is a unit of power. Many speakers have amp built-in power. The power of any speaker basically tells about the performance. In case of speakers, the rule of more wattage, the louder the performance.
The Driver: A two-way speaker comes with two drivers. Tweeter, integrated woofers and mid-range driver helps to handle the low end of sounds. While getting a good quality party speaker, the number of drivers and the size matters a lot.
Wireless or Wired speakers: A wireless speaker works by establishing a connection via Bluetooth of any smart device for streaming your digital music library. Whereas a wired speaker is dependable and it is not prone to the interference of sound. The only thing that we can count on is not worrying about the battery charging. If you are having an inside party then this wired speakers are the best option.
Closing Notes
A fun party can make you a cool dude in front of your friends and family contributes to make you a poplar personality. Good quality music in a party pairing with quality speakers are the essence of making the party rock. Instead of compromising, it is better to know about the product solely.
Such features if gone through properly can help you to get the best deal for the party speakers. Make sure that the pair of speakers you are going to buy are loud enough to cover every corner of your party area.