[ad_1]

Nearly every Mac photo app or graphic design application can give you some basic information about an imagefile, whether a bit-mapped image or a more complex vector graphic file. Most of the time most Mac users don't want or need any more than the minimum; file size, dimensions, file type.
What if you want more than the basics? As it turns out there's a Mac app just for that. It's a standalone Mac utility called Graphic Inspector and what it does is, well, inspect graphic files, images, and photos, and display all the hidden details that are the but often ignored by some graphic or photo apps. It's so good it also finds files based upon many file attributes.
Under The Hood
Just as all Mac photo apps, image editors, and graphic design tools are not created equal, not all such files have or display the same data. And getting to data that is contained in the file but not easily visible can be a challenge for photographers, electronic publishers, printers, even web designers and developers.
Graphic Inspector inspects the files and spits out the results.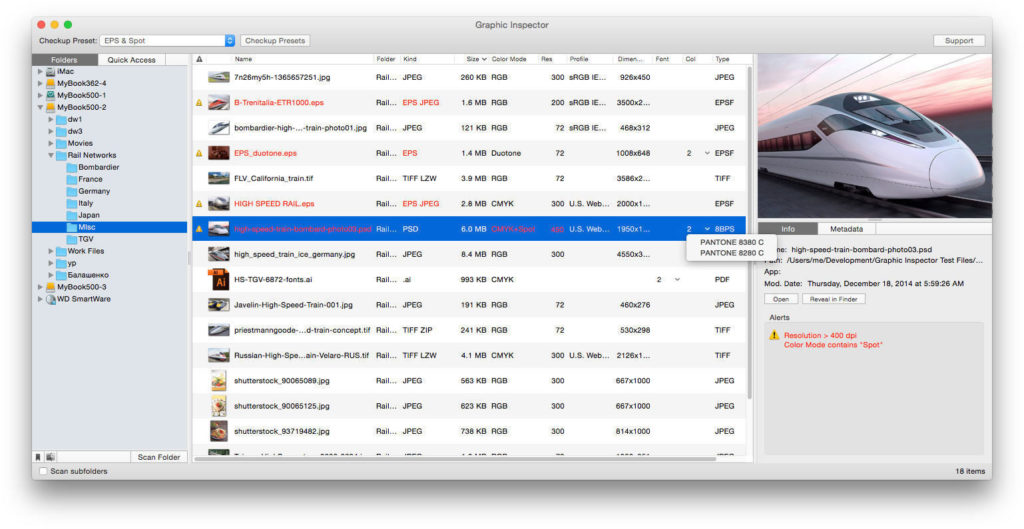 The app works on a single file to display specific data, but can also be used to search an entire folder or disk full of graphic files, images, or photos, and it uses basic search criteria.
For example, let's say you have a folder full of photos of varying sizes, types, dimensions, or whatever else. Use Graphic Inspector to select files by Kind, Profile, Type, Creator, even Color Mode. And each search can be setup and saved as a preset which saves time the next time you want to sort through photos or files.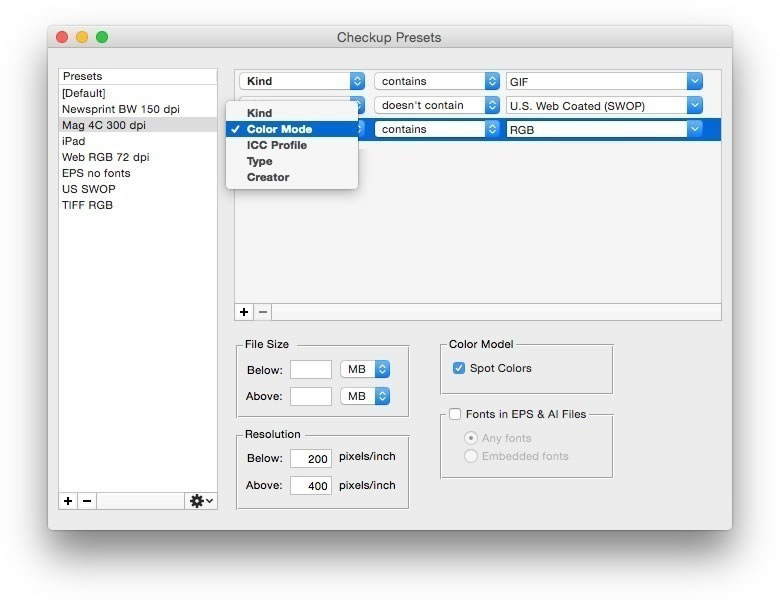 Here is the list of what Graphic Inspector can find in files, in addition to standard EXIF, IPTC, and GPS metadata.
File kind
File size
Color mode
Color profile
Resolution
TIFF/EPS compression
Color mode of Illustrator files
Spot colors in Illustrator and Photoshop files
Fonts in Illustrator files
File type and creator
The real value with Graphic Inspector is multi-fold. First, it pulls specific, searchable data from nearly every photo or graphic file. Second, it lets you search through hundreds of photos or files to find only those that match criteria you set (made easier with presets you can use again). Finally, whatever EXIT, IPTC, and GPS metadata is available gets displayed, too.
The easy-to-use file list lets you navigate folders and files from the sidebar, then displays the relevant data in a list, all searchable, all filtered as needed, and the image is displayed alongside the data.
Sweet.
Not every Mac photographer wannabe needs such detail, but if you do you know you do and now you know there's a solution. And a free try-before-you-buy option.
[ad_2]