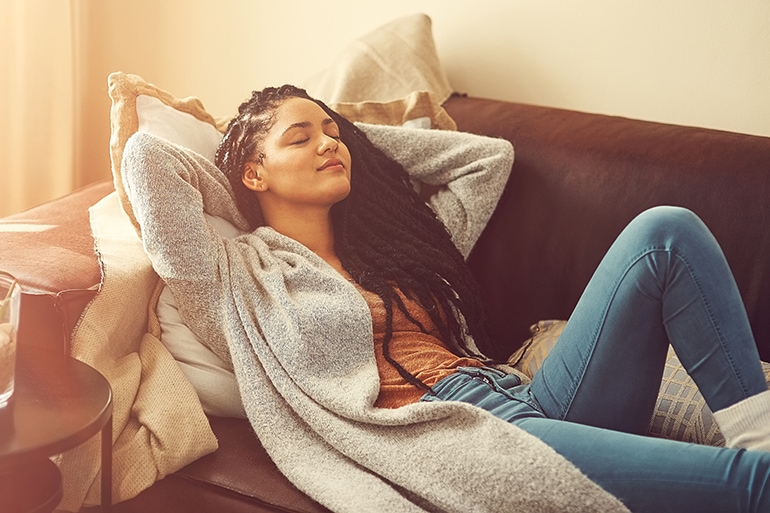 Are you one of those people who have a hard time falling asleep at night? Whether you keep tossing and turning in bed because of work stress, insomnia or any other problem, you need to look for ways to get a restful night of sleep. Chances are, you have already tried all sorts of natural remedies, meditations and strategies to sleep peacefully, but nothing has worked out for you. Well, no need to despair, the technology that has taken over our lives can help you find plenty of apps that you can download in your handheld devices to catch enough sleep. Will these apps not only calm your mind but also improve your sleeping pattern. In this article, we have put together a list of sleep apps that will surely come in handy.
1. Sleep Cycle
If you want to know your average sleep time, then Sleep Cycle is the app you need to download on your phone. Available for both Android and iOS users, this app not only tracks your sleep patterns but also provide effective tips to improve your snooze time. Plus, the percentage of your sleep quality is recorded through the app. Sleep Cycle also comes with an alarm that wakes you up during your light sleep. In turn, you wake up all refreshed without feeling groggy.
2. Calm
If you have a thing for bedtime stories, then Calm is the app for you! As the name suggests, it helps in calming both your body and mind. Nothing can be better than soothing stories to help you fall asleep naturally. The bedtime stories narrated in the app in a soothing voice is a great way to put you to sleep. Also, with a huge library of meditations, this app ensures that you don't take stress or your anxieties to bed with you.
You can use some of its features for free, however, you need a subscription to make the most out of all the features. Before getting a subscription, just make sure you have a stable internet connection. If you are living in Las Vegas, check out cox cable Las Vegas to get seamless internet, TV, and phone, all in one package at pocket-friendly rates. Once connected to high-speed internet, you are likely to download this app instantly and ultimately, sleep through the night.
3. 10% Happier
If you are still looking for a sleep app that can work wonders for you, then consider giving 10% Happier a shot! This app offers an array of meditations, ranging from 3 to 45 minutes to relax your mind and help you get a good night's sleep. To take full advantage of this app, you need to go for its monthly or yearly subscription. However, the good news is you can this app for free for one session only.
4. Nature Sounds Relax & Sleep App
There is nothing like the sound of nature to help you fall asleep. Consider downloading Nature Sounds Relax & Sleep app to listen to sounds of nature as you lay in your bed. The mind soothing sounds of nature will not only help you relax but you will be able to sleep deeply in a matter of minutes. A wide collection of high-definition nature sounds and water sounds are available to lull you to sleep.
5. Good Morning Alarm Clock
Do you always wake up feeling groggy? Make sure you download Good Morning Alarm Clock as it helps in waking you up during your optimal sleep phase. In turn, you are likely to feel energized and well-rested. The best part about this app is that it allows you to create your very own collection of relaxing sounds. You can play these sounds at night in order to get quality sleep.
6. Pzizz
If you are willing to optimize your sleep, Pzizz is the app that will help you do exactly that. It offers more than 100 sound sequences to help you sleep and nap until you feel well-rested. This app is free for both android and IOS, with in-app purchase options.
7. Podcasts
Who does not like their day to end with a few laughs? If every other sleep app has failed to make you fall asleep, then podcasts are worth a shot. It is one effective option to have a good laugh before you sleep. If you use this app, don't forget to use its sleep timer; it will ensure that your sleep is not disturbed once you fall asleep while listening to a long podcast.
8. Headspace: Meditation
The Headspace: Meditation app comes with different sessions to help you sleep through the night. This app will keep on notifying you to meditate throughout the day. If you are one of those people whose mind wanders at night, then this app is a perfect find for you!