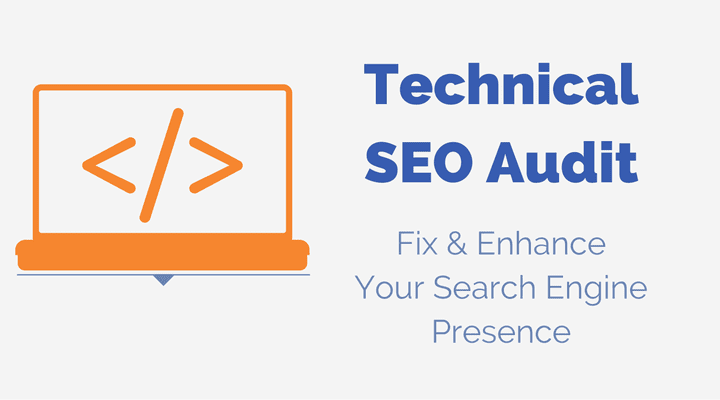 Want to get a very good page rank in Google's search engine results? Then, you have to focus your eyes on SEO (Search engine Optimization), without which your website won't rank higher.
Most of you who are having your website must be aware of SEO. It is quite important to focus on the various aspects of SEO to get the page-rank high and eventually get a greater number of visitors to the website.
For checking everything on your website is perfect, you need to conduct a technical SEO audit regularly. Let us first make you aware of the technical audit.
Technical SEO Audit: What does that mean?
A technical SEO audit is very much required for any website. In the audit, you check the technical aspects of the SEO and find out how good your site is performing and which are the areas that need to be improved to get a higher rank in the search engine results.
It is a good practice to conduct this audit every 4 months. A technical audit is recommended by top SEO services USA as well. If you are techy and know the ins and outs of SEO then you can do this audit on your own too otherwise you can consult a good SEO company to do it for you.
Today, we will let you know the areas which you need to work on for getting a higher page rank. The same measures are performed by popular SEO companies, USA while they conduct the technical audit. So, let's move ahead and check every area in detail.
1. Start With A Crawl
Start the technical audit with the crawling of your website. There are many tools available which you can use for this purpose. These tools will help you find broken links, page title issues, improper keywords, identify duplicate content and much more.
Use Google Search Console to check your crawl budget. For those of you who don't know what a crawl budget is? Let us inform you that the crawl budget is the number of pages crawled and indexed by Google bot on a website within a given time frame.
Follow the below steps for making the most of your crawl budget.
There are some pages on your website which don't need indexation such as Privacy policy, Terms, and Conditions, etc. You should disallow these pages so they aren't crawled by Google bot and in this way your crawl budget will be saved.
Make sure you have a few 301 and 302 redirects. If there are too many redirects then bot won't crawl them. Just reduce the number of redirects and optimize your crawl budget.
If you want to find how many pages on your website have been crawled and indexed then you need to type "site: domain name" on Google and press enter to see the results.
You can also check out the SEO score of your website. It will let you know what's good and what's bad on your website and in this way, you will also know the areas which you need to improve on your site.
2.Review your Website's Sitemap
The sitemap of a website provides information to search engines about the structure of the website.
You should get your sitemap reviewed to check everything is right. If your sitemap is wrong or not updated then it will be troublesome for you.
Have a look at the below guidelines to be kept in mind while reviewing your sitemap.
Make sure that all the website content is added to it so that search engines can know what new pages are added.
There shouldn't be any errors in your sitemap. Also, the sitemap must be having limited URLs. If there are more, then Google won't crawl it. Have a few but important pages!
Inform Google about your sitemap
You have to add your sitemap in Google search console to let it know about it. Also, inform about the sitemap to other search engines such as Bing, Duck duck go as well.
3. Check Internal Links
Internal linking should be proper to get a good page rank. Follow the below steps to ensure your internal linking is proper.
Check out the broken links on your website and make them proper. Broken links often confuse the visitors and make them have negative feedback for your website.
If you want to find out how many clicks away is a page from the homepage, you can do so with Click Depth. You have to make sure that the number is below 3 (means the page should be 3 or less than 3 clicks away from your home page).
4. Check the Site Speed
Site speed is an important factor that plays a big role in getting a good rank for your website.
Ideally, the loading time for a page should be less than 3 seconds. Visitors don't like the websites that take very much time to get loaded; if loading time increases so will be the bounce rate of your website.
You must check the speed of your website using Google PageSpeed Insights. You will also get tips for how you can improve your page loading time. Improve your site loading time and see the drastic impact it brings.
5. Backlink Audit
Backlinks are quite necessary. Search engines put a lot of emphasis on backlinks so it is quite vital to get good backlinks for your website as well.
There are many tools that can let you know the number of backlinks your site is getting and from where they are getting. Keep in mind that quality is more important than quantity. So, rather than focusing on more and more backlinks, focus on getting few but quality backlinks.
These tools can help you figure out areas where you need to put efforts to get quality back-links. Try to get more backlinks with the power of social media too.
6. Re-Crawl the Website
After figuring out the issues that came up during the technical audit, now it's time to fix them. Take the help of an expert to get them fixed.
After the issues get fixed, you have to let Google know to re-crawl the website. You will see the impact of the technical audit in a few days when the number of visitors increases on your site.
So, here was a detailed article on how technical audit is performed by top SEO services, USA. Get a technical audit done today and achieve a higher rank in no time!