Have you updated your website's About Page lately?
Probably not.
If you are like most website owners you created an About Page when you first launched your website and then never re-visited it again.  But what you probably didn't understand at the time was the importance of an About Page and the positive effect it could have on your business.
As one of the most visited pages on your website it is important that your About Page be visually appealing, informative, and user-friendly.
Today we will look at what constitutes an awesome About Page, tips for making yours more effective, and some great page building plugins to help you create a dynamic About Page that will stand out amongst even your toughest competition.
What is An About Page?
When someone clicks on your website, they often become curious about the person behind the interesting information they are reading.
This is where an About Page comes in handy.  An About Page is where you explain in some detail to anyone interested in your website who you are and what you stand for.  Maybe you offer coaching services, sell customized t-shirts, or give great advice? However, your readers will know once they check out your About Page, and from there they will make the crucial decision whether to stay or go.
Your About Page is a good starting point for gaining the trust of your audience.  This is where they decide whether you are a trustworthy brand.  Who knows, you may even gain a customer for life after your reader learns a little about who you are.
However, if you neglect to keep your About Page current, you may lose out on many potential customers who turn away uninterested.  Since this page is usually often frequented, it is essential you put as much effort into it as you do the rest of your website's content.
Actionable About Page Tips
Focus On The Reader
Sure, this page is supposed to be dedicated to you.  But you know, readers want to know what you can do for them.  Of course, they are interested in knowing your backstory and what your company is about, but first they want to know what's in it for them.
This is why I suggest you start out by showing readers what you have to offer before you get too personal.  Do this immediately and make it clear so readers know what to expect from you.
Copyblogger does an awesome job of outlining what they offer readers from the start: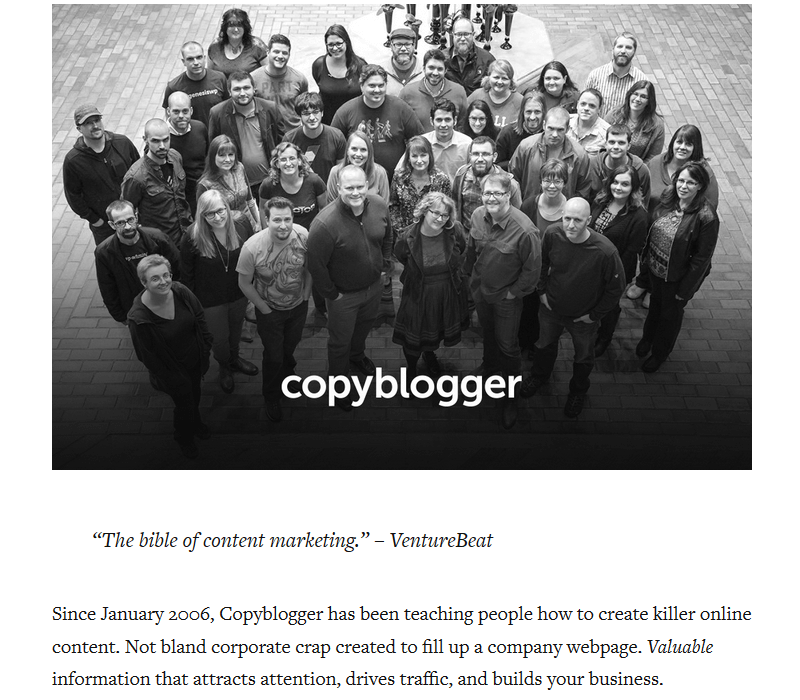 Notice their About Page tells you what they can do for you and the benefits you will reap from the get go.
Now Talk About Yourself
After you have hooked your visitor into wanting to know more, then make it personal.  Write in first person as though you are talking with each individual reader.  Use your own voice and interject personality into your story.  Don't shy away from being funny or quirky.  These traits are what will draw a reader in to feeling like you are an actual person rather than just another website wanting money.
Katie Farrell over at Dashing Dish makes her readers feel like they know her personally.  She comes from an honest place and doesn't oversell herself.
Always remember though, tell your story in the context of what your readers want.  Somehow it all has to be about them, even when it's about you.
Make it Sticky
Show your readers why your website is great and why they should spend more time exploring it.  Your About Page is a great place to interlink to other parts of your website.  Michael Hyatt does a great job of highlighting himself and what he can offer readers in his About Page by interlinking to his best work and highest achievements.
Include a Call to Action
Something Brian Dean of Backlinko found to be very helpful with building his email list was to add a CTA button on his About Page.  While giving your readers information is super useful in introducing yourself and your brand, giving your readers something to do is even better.
Include Social Proof
Social proof adds credibility to your claims that purchasing from you is a good idea.  Your readers want to know you are the real deal so try displaying convincing numbers like HubSpot:
Or including customer testimonials like Tim Ferriss:
Or even adding past clients to showcase where you have succeeded like Robbie Richards:
Page Building Plugins for Your About Page
Now that you have a good idea about how to craft an attention grabbing About Page that does more than just introduce yourself to your readers, let's take a look at some WordPress page builder plugins that give you the ability to incorporate all of the above actionable tips into your page.
Beaver Builder
Complete with a pre-made template to get you started, Beaver Builder is one of the hottest premium page building plugins on the market right now.  It has an easy to use drag & drop interface.  You can add backgrounds, content blocks, buttons, and more.
Price – Starting at $99
Page Builder by Site Origin
With over 800,000 active installations, this fully functional plugin offers plenty of features.  It is compatible with any WordPress theme, has a drag & drop interface so no coding knowledge is required, it includes customizable widgets, and even has a history browser so you can switch between different layouts easily.
Price – FREE
Visual Composer
Touted as WordPress' number one page builder plugin, Visual Composer has everything you need.  Enjoy a frontend and backend editor, WordPress theme compatibility, a skin builder for brand design, an advanced grid builder, full responsiveness, and more.
Price – $30
The Divi Builder
The Divi Builder is a simple to use but powerful drag & drop page builder accessible from your WordPress visual editor.  With plenty of pre-made layouts, customization options, and the ability to add tabs, sliders, buttons, and boxes, there is no going wrong with this page builder.
Price – $89 with access to all of Elegant Themes' Products
Themify Builder
Included with any Themify theme, but also available to anyone using WordPress, Themify Builder is a great plugin that boasts several ready to use modules.  You can edit from you dashboard and live site, change all color schemes, and even support shortcodes.
Price – $39
Final Thoughts
In the end there is a lot that goes into creating a high quality About Page for your website.  This section of your website is where you lay the foundation for who you are and what you can offer both loyal and potential customers.
Don't just write about yourself and hope customers will flock to you.  Engage them, interest them, and appeal to them.  Make them feel like they know you, impress them with your design skills, and prove to them that you are the best purchasing choice when it comes to your product or service.
What tips have I left out that you feel are important to making a great About Page?  Do you have any experience with the page builder plugins I mentioned?  I would love to hear all about it in the comments below!