The online world spans across the globe. And, despite doing everything right in terms of site optimization – killer content, fast loading speeds, optimal performance, SEO, affiliate marketing, and more – you may still be in need of something else to establish yourself as an international brand.
Reaching site visitors that speak a different language than the one you have your website written in is the key to expanding your brand and catering to your growing audience.
And what better way to do this than to translate your website's content into various languages?
Luckily, thanks to the versatility that is WordPress, there are plenty of easy to use multilingual plugins available for website owners that do not cost a lot, if anything at all. That said,  today we are going to delve into why having a multilingual website may be in your best interest, as well as take a look at some of the best multilingual plugins on the market today for offering your site in multiple languages.
Why Turn Your WordPress Website Multilingual?
Though the most widely used internet language in the world is English, you may be surprised to learn that English only makes up 26% of total online users. That means that many other languages, such as Chinese and Spanish, make up a significant amount of website visitors. And, those same visitors may be interested in what your website has to offer.
Here are some of the best reasons you should consider translating your website to reach non-English speaking readers:
Reach a larger target audience. Localization helps your website reach a wider audience. This is because non-English speaking readers are encouraged to visit your website if the content is translated into a language they are more comfortable with.
Higher Conversion Rates. In addition to garnering more website traffic, chances are high that you will also convert more site visitors into customers by providing your products and services in a language they understand.
It's Cost Effective. WordPress multilingual plugins are relatively inexpensive. In addition, once you purchase one and translate your website, you will continue to expose your website to new customers that speak different languages, without having to spend another penny.
The Best WordPress Multilingual Plugins for Translating Your Website's Content
Here is a look at some of the most popular translation plugins site owners like yourself can use to turn your content multilingual.
1. ConveyThis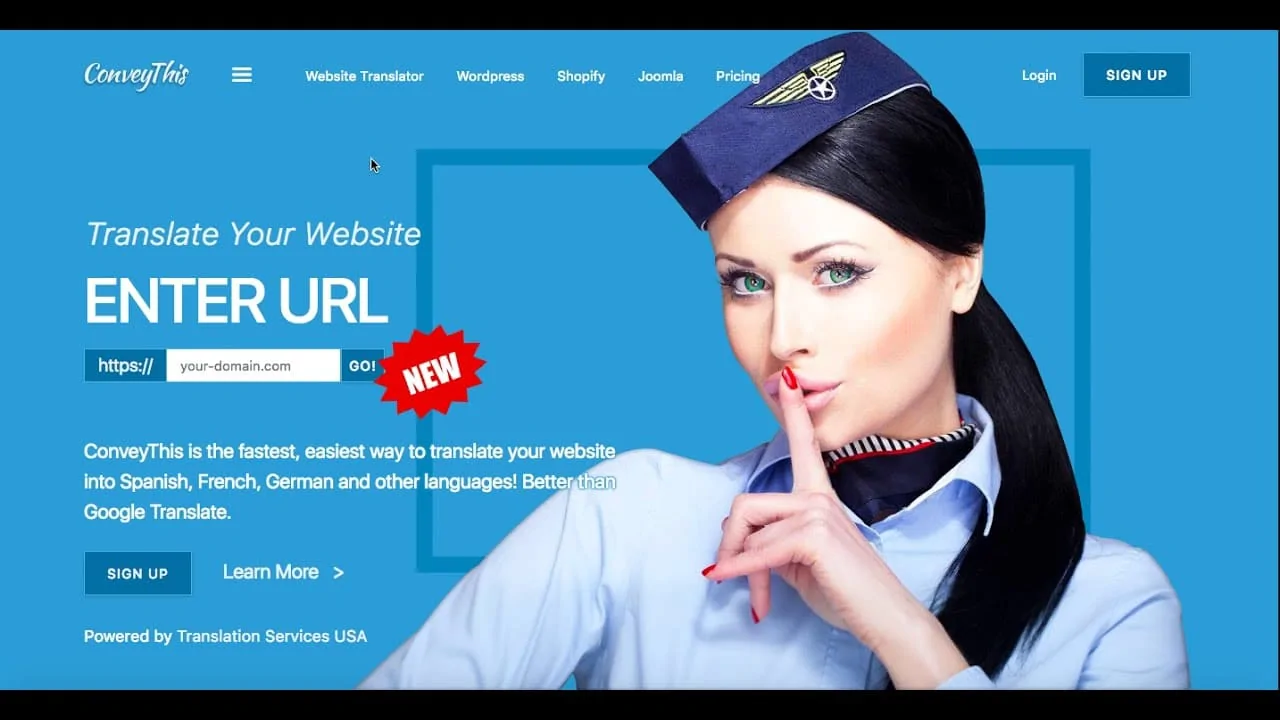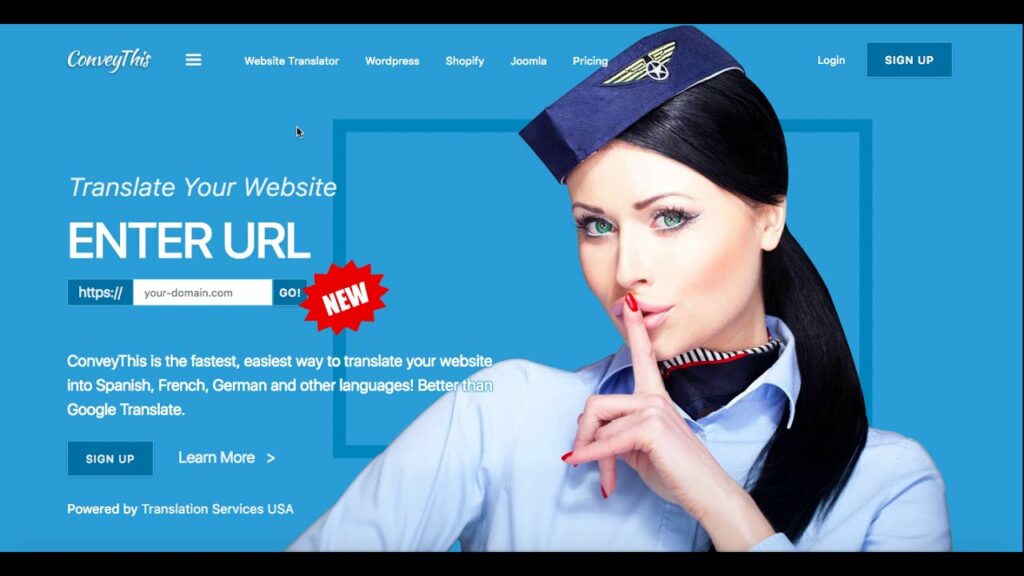 If there is one truly convenient way to translate your website, it must be through ConveyThis!
It is the most translated language plugin in the WordPress directory (over 38 language contrubutions) and is growing fast. ConveyThis makes it very simple to integrate into WP website and activate as many as 100+ languages.
ConveyThis uses automatic machine translation to translate your entire site, and adds a language switcher button. So within the first couple of minutes, you'll already have a working, SEO-friendly multilingual site.
It comes with both free and paid plan. Free plan that lets you translate up to 2,500 words into one language, the paid plans use SaaS-style billing, which means you'll need to continue to pay for as long as you want to use the service.
Paid plans start at €4 a month for one language and up to 10,000 words.
2. Google Language Translator
Google Language Translator is a free WordPress plugin built on top of the popular Google Translate tool. Though not associated with Google itself, this multilingual plugin offers website owners a simple and fast way to translate content using a simple shortcode embedded into posts, pages, and even widget areas.
Supporting over 80 languages, Google Language Translator also offers inline and vertical layout options, the ability to turn Google branding off for a more professional look, and gives readers an easy way to switch between languages while perusing your content. Translating your website automatically, this plugin eliminates the need to manually translate content or hire the services of a professional.
3. WPML

WPML is a premium WordPress multilingual plugin that gives website owners everything they need to turn their website multilingual. Depending on the pricing plan you choose, this translation solution gives you the option to translate content manually, translate it automatically, or connect you with world-class professional translators at affordable rates.
Working well with any WordPress website that uses the WordPress API, WPML integrates seamlessly with WooCommerce for translating your online shop, has minimal configurations to deal with upon setup, and has 40+ built-in languages. Additionally, using their exclusive WPML language editor, you can add any language you wish to use for translation. Moreover, rest assured that no matter the language you choose, this translation plugin will optimize your content in terms of SEO for better search results.
4. Polylang

Polylang in another free translation plugin designed for WordPress users. Easily define the language for each post or page you create and include media, categories, post tags, menus, and widgets in the translation. More so, support as many languages as you want, including RTL scripts.
Customize your website's language switcher after manually translating all of your site's content and make it easy for site visitors to switch between translated content. In addition, add the Lingotek Translation plugin found in the WordPress Repository for adding an automatic or professional translating service to your multilingual efforts.
5. qTranslate X

qTranslate X is a popular WordPress multilingual plugin available to website owners at no cost.  As a free solution that offers plenty of translation features, this plugin ranks as one of the highest rated amongst users. To start, translate your content into whatever language you want your content to appear in as multiple versions of the same post, page, etc.  Next, add one-click translation switchers for site visitors to use. Lastly, enjoy the fact that times and dates translate as well.
One intuitive feature of qTranslate X is the fact that your site content will appear as the site visitor's default language based on their web browser so long as you have translated your content into that language. In addition, all multilingual content URLs come SEO optimized.  Lastly, qTranlsate X has a free add-on should you want to translate your WooCommerce shop's content as well.
6. Lingotek

Lingotek uses cloud-based localization and translation so that you can easily manage your multilingual website without having to do too much translation yourself. Choosing between automatic translations, crowd-sourced translations, or the help of professional translating services, your content translates appropriately and cost-effectively.
This multilingual plugin supports using multiple languages, provides a WordPress admin language switcher, and even gives you an in-progress status when others are translating content for you.
7. Weglot Translate

Weglot Translate is similar to Google Language Translator, though it has the added feature of allowing you to make manual corrections to the automatically translated content in the case of errors. In addition, you have the option of purchasing professional translation services through the Weglot dashboard should you need help with some of your translations.
With over 60 available languages, Weglot will have the language you are looking for. More so, it comes fully compatible with all WordPress themes and plugins eliminating the fear of conflict and security breaches. Lastly, no matter the language you decide to display, all of your content is SEO optimized and indexed by Google for great rankings.
Final Thoughts
As the online world becomes more and more competitive, it is crucial you take the extra step and turn your website multilingual is you are looking to stay relevant and build an international customer base.
Luckily, with so many available options to choose from, picking from the list of WordPress multilingual plugins is not that hard. Simply take note of your budget, translation knowledge, website industry, and language quantities and find the plugin that best fits your needs. In the end, translating your website's content will have a powerful effect on your branding ability, site exposure, conversion rates, and sales.
Have you used any of the above-mentioned WordPress multilingual plugins? Is there one you feel is worth adding to the list? I would love to hear all about it in the comments below!