Android includes a clipboard manger, one which permits you to replicate your text in 1 program and paste it into a different place. On the other hand, the inventory clipboard is concealed from sight and can be very easy, which means you could not have learned about it.
This article shows how to make use of your Android clipboard for copying and pasting and also ways to make it more useful.
Is the Clipboard Accessible via Settings?
Unfortunately, the clipboard is not easily accessible through your device's settings. Depending on what device you have, you can see the clipboard option when you copy a text, but it's not a sure thing.
How to Copy and Paste on Android Clipboard
You know it's there by long-pressing on a word and tapping on the "Copy" option, but you should also see a message letting you know that the text was copied to the clipboard. Your copied text won't be stored in the clipboard forever, though. If you don't paste it immediately, it will be erased from the memory after a short while or when you copy another piece of text.
Switch to the app where you want to paste the text. Long-press on the text area where you want to paste and the Paste option will appear. Tap on "Paste", and your copied text will appear.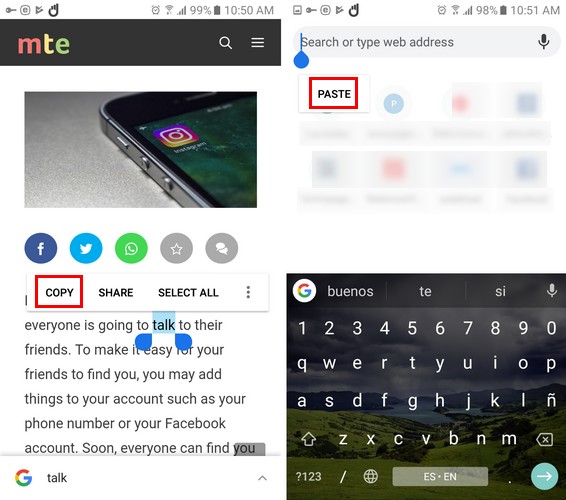 Another way to copy text to the clipboard is to also long-press on the text, but instead of tapping on the "Copy" option, tapping on the "Share" option. You might need to swipe left to see the "Copy to Clipboard" option.
How to Have More Control Over the Android Clipboard
As you can see, the stock clipboard is extremely limited. If you need more control and usability, there are plenty of clipboard apps you can install from the Play store. Clipper is one good option since it gives you quite a few options to better organize your clips. It allows you to store your clipboard content and offers you multiple options to utilize them.
You can sort your clipboard item by date or by content. By tapping on the trash icon at the top on the main page, you can erase all your clips simultaneously. When you tap on the three dots to the right of a clip, you get options such as View, Edit, Delete, Pin, Move, Share, and Select.
If you see something you want to copy to Clipper, long-press on the text and select the "Share" option. The Clipper should be among the first options available. To add any text you already copied to the app, press the blue circle with the white plus sign and paste your text. Remember to give your note a title and select "Save."
Do note that the clipboard manger saves everything you copied, including your password, so remember to clear your clipboard content regularly if you are copying/pasting sensitive content.
Conclusion
It's disappointing that the only thing you can do with the stock Android clipboard is copy and paste text. Considering that many users regularly copy text either online or from an app, you would think you would be able to see at least a list of what you copied. What features would you add to the stock Android clipboard?