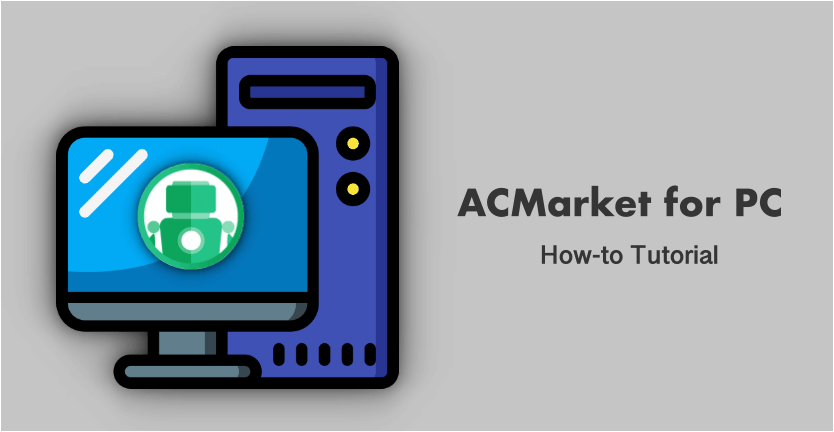 ACMarket is the top-rated alternative to the Android app store and, until now, has only been available on Android devices. It offers thousands of unofficial Android apps and games, lots of the modified with cool new features, and now it is possible for Mac and Windows PC desktop users.
It has compatibility with Mac OSX, Windows Vista, XP, 7, 8, and 10, so read on to find out how you can download it today.
How to Download ACMarket for PC and Mac
Installing ACMarket on your Mac or PC is relatively simple to do, but you will need an Android emulator to do it. We're using Nox Player and Bluestacks, but you can use any that you are happy using. Installing ACMarket on your computer offers more benefits than using a mobile device, not least that you have more RAM at your disposal and much better graphics too, not to mention a much larger screen.
Here's how to get ACMarket on your computer:
Download BlueStacks emulator by clicking on the download link – we prefer Bluestacks because it is much easier to use
You will need a Google account – if you don't have one, go sign up for one now, it's free
Login to your account and download the ACMarket APK
The Bluestacks app icon should appear on your desktop home screen
Double-click the emulator to open it
Type ACMarket into the search bar, and you will see the APK file you downloaded
Click it, and the download will begin
Be patient as this can take a few minutes; you will see the ACMarket icon appear on the Bluestacks home page when it's done
Now you can use ACMarket to install your favorite Android apps and games on your desktop computer.
App Features
ACMarket offers plenty of features for desktop users, including
Free to use
User-friendly app
Choose from thousands of games and apps
Use the built-in filters to find your favorite apps and games quickly
Every app and game is free
Unlike the mobile version, the PC version of ACMarket is not ad-supported
It doesn't use up many resources on your computer
You don't need to register to use ACMarket
How to Fix App Crashing Problem
ACMarket has long been the best way for Android users to install third-party content, without needing to root their devices to do it. Unfortunately, because it is an unofficial app, the Google Play Store won't be happy about you using it and will revoke the app certificate within a few days of you installing it. The app installer will crash, as will any app or game you installed. The same applies to install it on a Mac or Windows PC.
You can reinstall it all, starting again, but you will have to do this every few days. Luckily, there is a couple of ways around this – you can install a VPN on your computer. This will hide the certificate, stopping Google from tracking it and revoking it.
ACMarket offers you a great choice of apps and games, including loads of modified content you can't get from anywhere else. Everything in the installer is an APK file, which is why you need to use an Android emulator for installation purposes. It is a secure method of installing the apps and games you want, although there is a downside – you may not get the updates to your chosen apps.
When a developer issues their app via the Play Store, they can update it via the internet – when you use an unofficial app installer, that doesn't happen.
Regardless, ACMarket is well worth trying, given everything it offers for free. Download it, and don't forget to share this with your friends.