[taq_review]
TunnelBear stands out right away with it's cute and charming bear character and a more lighthearted approach to its communication. But under that cute facade, you will find a very capable VPN that has all the bells and whistles you need and some you don't even know you need.
Features
Vigilant Mode
Closest Tunnel feature
Always on feature
minimal logging
20+ Countries
AES 256-bit encryption
Up to 5 devices
GhostBear feature works in high-censorship countries
Free plan available
Compatible with different platforms
Torrenting supported
Chrome and Firefox extensions
VPN kill switch
Located in Five Eyes jurisdiction
Privacy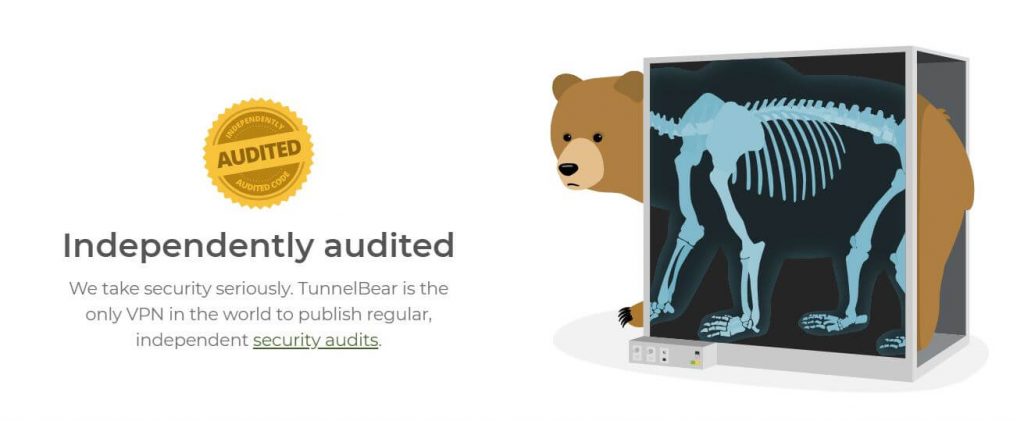 TunnelBear has a very clear and transparent Privacy Policy and it's almost completely log-free. But there are some things that do get logged like bandwidth use, total lifetime connections and whether you have connected in the last month. Those again, are things that can't be linked to a specific user so that's not a big issue. TunnelBear is based in Canada though that is part of the Five Eyes alliance and not the best location for a VPN provider. Tunnelbear was also acquired by McAfee in 2018 so it falls under Canadian law. Canada is a nation that shares intelligence data with both US and UK.
TunnelBear was recently in a report conducted by CDT CDT (Center for Democracy & Technology) and that report confirmed that each server is hardened with disk encryption, intrusion scans, and intrusion protection and malware protection techniques. It's always good to have that kind of reassurance from a third-party auditor. In any case, if you are not into some hardcore illegal activity you should be more than fine.
Compatibility
TunnelBear works on:
Windows
macOS
Android
iOs
Chrome (Extension)
Firefox (Extension)
Opera (Extension)
And that`s about it. TunnelBear does offer instructions on how to use it on Linux but no official full compatibility. You will also not be able to use it on your Kindle/eReader, Windows Mobile, Apple or Android TV, gaming systems or manually install it on a Router. For more advanced users this can be the dealbreaker so think it through if you need to use the VPN on any of those devices. The positive here is that TunnelBear also has an extension for Opera browser which many competing providers don't have. Keep in mind the browser extensions do not offer the same level of encryption as the desktop or mobile clients, but nonetheless, they are definitely useful.
Support
Tunnelbear has decent online documentation and knowledgebase but not as thorough and comprehensive as some VPNs do. There are no screenshots in the FAQ nor int he Getting Started section so if you feel more comfortable following instructions with clear visual aids you might get stuck. To contact support you need to be a customer, either have the free plan or any of the paid plans but you do need to log in to send a question to the support team. So any potential customers are left out and there's no online support chat to get fast answers to your problems. You actually can bypass the login requirement (Unable to log in link below the log-in fields) but it definitely can deter some new customers if they don't see that option right away.
Installation and app usage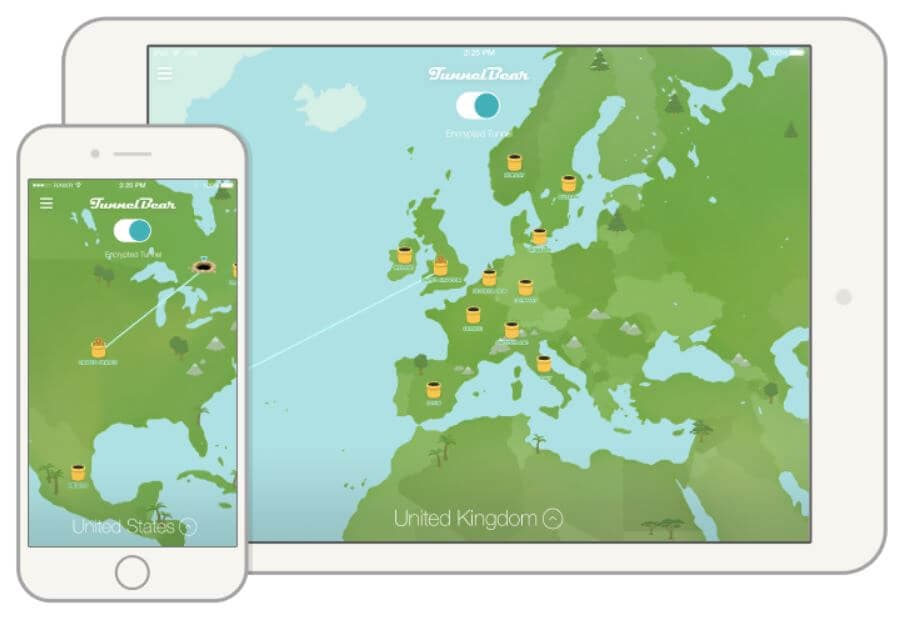 Installing the desktop client or the app is as easy as you would expect. The setup process is fast and you can start tunneling right away. The UI is intuitive and the design is definitely more thought out than your usual run-of-the-mill apps. The cute bear and its tunnels represent the locations and you can see your bear popping out of a tunnel after a connection has been made successfully.
You have all the basic options like the location selector, security options and you can check how many ads it has blocked. The app is built around the world map instead of a list of countries that make choosing the server locations a bit more fun, but if you have absolutely no idea what country is where you might want to stick to the list.
Security and Speed
The speed test did impress us a bit. For a VPN with some limited options and a smaller than usual server list we expected it to perform not as good as it did. The country list to choose from is also a bit scarce and although you get 22 countries with all the major places available with many locations to check the full list before buying.
The security features are very decent but lack some configuration options for more advanced users. TunnelBear uses IKEv2/IPSec, L2TP/IPSec and OpenVPN (TCP/UDP) Protocols and AES-256 Encryption.
It also has the DNS Leak Blocking, First-Party DNS and the VPN Kill Switch along with the more advanced feature Double VPN that are the very essentials in any VPN provider.
TunnelBear uses OpenVPN for Android and desktop and IKEv2 for iOs. These protocols are secure and perform great but more options to choose from would be great.
Speed Test
AutoConnect picked the Swedish server that worked really well, the loss in speeds averaged around 7%.

All the other locations showed great speeds with Denmark around 7% speed decrease, USA at 45% and most surprisingly, Hongkong had only a 31% drop download speeds. This is way above average for a server this far away. The upload speed was much worse but still the fact that the download did not suffer much is a big plus.



The torrenting test showed results on par with competing VPN providers.


Netflix and Torrenting
Torrenting is allowed on all TunnelBear servers and thanks to the decent upload and download speeds you will have no issues torrenting with TunnelBear. The VPN Kill Switch is also handy and makes torrenting safer along with the almost no-logs policy.
Using Netflix however, has shown to be problematic. The access to Netflix and other streaming services has been fairly inconsistent and some days work better than others. There is no information on using Netflix on Tunnelbear Help page so they clearly try to stay away from having any official ties with bypassing geo-located content from the big boys.
So if you want to stream content from Netflix or HBO or other streaming services, TunnelBear is not the service for you.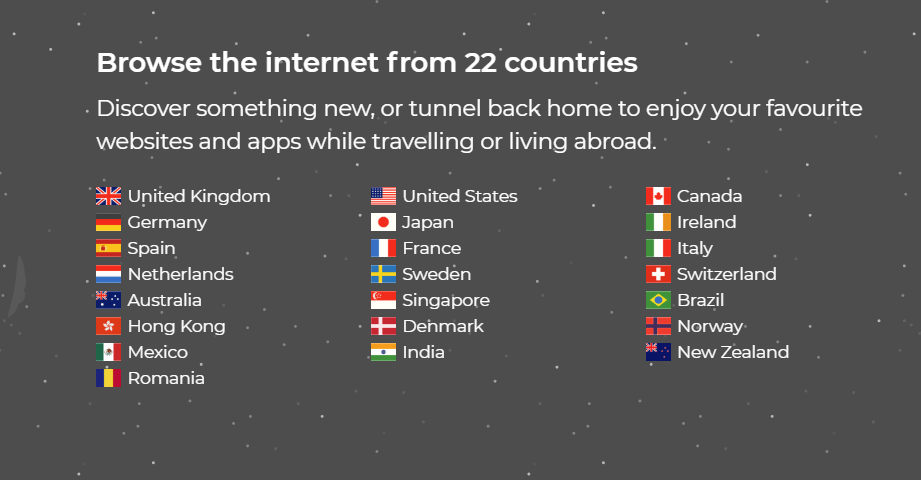 Pricing
TunnelBear is one of the few that offers a free plan. You can use 500Mb for free per month to test the service out. Although the free version works pretty well the 500Mb limitation is crippling and only suitable if you want to browse a few pages per month. To go for the full, unlimited version you have only TWO options.
1 Month Plan – $9.99/Month
1 Year Plan – $4.99/Month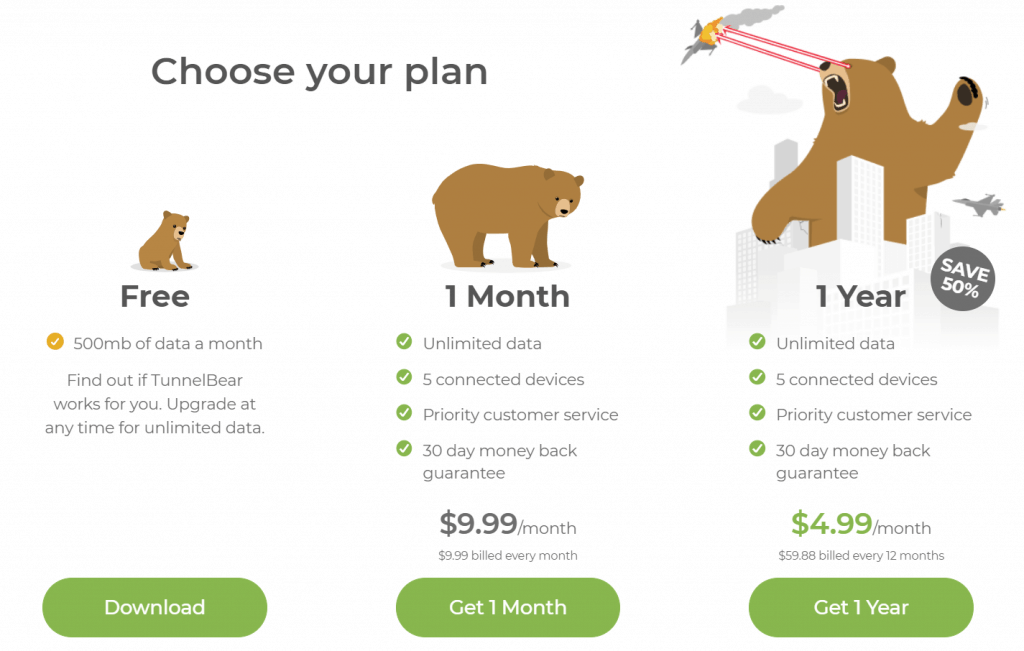 They both have unlimited data, 5 connected devices limit and Priority customer service (Over free plan users). TunnelBear also has the standard 30-day money-back guarantee and you can pay with a credit card, Paypal or Bitcoin. Applying for the money-back refund is pretty simple and you need to follow a few steps in the help section.
Pros and cons
Verdict
TunnelBear in our minds can't fully compete with the top players. It doesn't have that many servers available, the pricing options are limited and the fact that it`s owned by a Canadian company can be a problem for some users.
The FREE option, however, is very appealing if you need a VPN service for a few days or weeks and don't want to sign up for a paid plan. The 500MB will suffice for some browsing.
If you need a top VPN service with the best features and maximum security we advise you to pick ExpressVPN or NordVPN for example but if you want a free service for a short period of time the FREE TunnelBear account is a great solution.