Your notebook battery is plugged yet not charging is a kind of a problem which each and every notebook user encounters one or more times in its life. Obviously, that it's a really peculiar state where after being plugged for many hours, the charging does not appear to get launched, and the battery status stays stuck in the 0 percent level. Even though it would demonstrate the plug in position but not the charging position, that's the actual hassle to manage.
The problem is considerably supposed to be operating system or software oriented, but on many cases it turns out to be a real hardware issue as well. But before you take a stand for a hardware checkout or a complete replacement of the battery or any commercial service from technicians, it is always better to give it a try yourself. Many a times, the situation is not as critical as it appears to be and can be resolved with puny technical tricks.
Method 1. Freshly Install Battery Drivers
 Here we would first uninstall the laptop battery driver, and would then reinstall it. In fact you don't need to reinstall the drivers in real, as when the system is restarted they get installed all of their own accord. So the basic criterion involves the uninstallation of the battery drivers which are explained as follows in the article below:
Step 1. With your home screen wide open, press "Win + R" and a small search box of "Run" tool would appear at the bottom left corner of the screen. Type "devmgmt.msc" and hit "Enter". It will simply open up the "Device Manager" operating windows.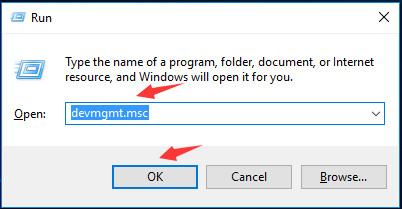 Step 3. Search for the "Batteries" option in the long list and click on it to expand the option.

Step 4. Here you will get to see two options- Microsoft AC Adapter and Microsoft ACPI-Compliant Control Method Battery 

Step 5. Right click on each of them and select "Uninstall device" to uninstall both the drivers one after another.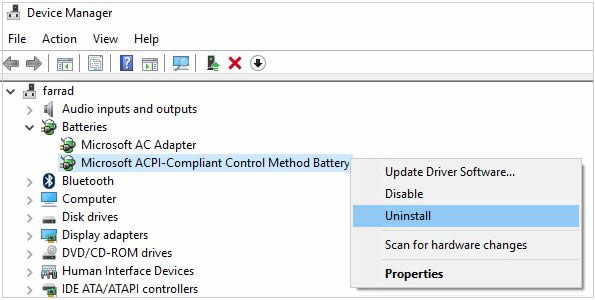 Step 6. After you are done with uninstalling the battery drivers, shut down your laptop and remove the battery if you if it is removable.

Step 7. Put the battery back to its place and plug in the adapter.

Step 8. Turn on your laptop and click on the battery icon to check if the battery is charging actually this time or not.
Most probably the fresh installation of the battery drivers will settle the issue in no time. But if the problem is still appears to be the same, then move on the next method undoubtedly without wasting any further time with this trick as you are running out of juice.
Method 2. Update Battery Drivers
Sometimes after you have upgraded your operating system, the drivers that are lately working on it are outdated, so it causes cross compatibility issue. Thus you seriously need to update your battery driver from time to time even if you are not frequent with OS update. 
Step 1. Also you need to open Device Manager Window.  Click on "Batteries" section to expand it and then right click on "Microsoft ACPI Compliant Control Method Battery" and select "Update driver software" from the context menu.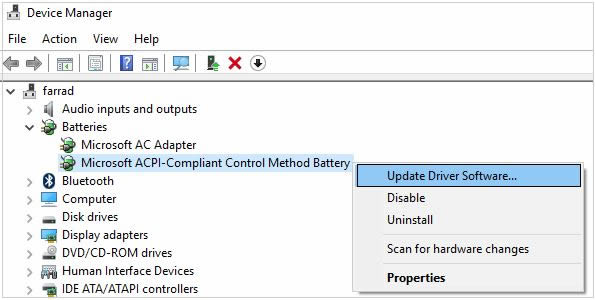 Step 2. From the next windows that turns up select "Browse my computer for driver software".
Step 3. Now click on "Let me pick from a list of device drivers on my computer" and click "Next".
Step 4. Choose the latest driver from the list available and click "Next".
Step 5. Select "Yes" if asked for confirmation and the let update process in its usual manner.
Step 8. Now follow the same procedure for the "Microsoft AC Adapter" option under the "Batteries" section.
Step 9. Once done with the updates, reboot your laptop to apply for the changes and if done perfectly it is likely to solve the issue definitely.
The two methods mentioned above will may help you on an easy go manner to resolve the battery charging issue, if it still not work, then you can try to change another battery or go to the maintenance shops for help.  If you have fix the issue "laptop battery plugged in but not charging " with other methods, please leave a comment below and let other people knows!