Android phone backup is not a new thing anymore today since more and more Android users are aware of the importance of Android backup. With it, we don't need to worry about losing the significant files from our Android devices for we can always get them back from the Android backup. Besides, it is always recommended to backup files on Android device in case of data loss. So for your reference, the full guide on how to backup everything on Android device will be offered as follows. Let's see how to keep your Android data safe.
The Main Tool We'll Use to Backup Android Files
To easily and effectively backup everything on Android device, it is required to take use of some Android data backup tools. Among all the Android data backup tools, MobiKin Assistant for Android stands out and is capable to meet our expectation.
It allows us to freely back up contacts, call logs, text messages, photos, videos, apps, music, books and other documents from Android to computer with 1 click. Almost everything on your Android phone can be easily backed up, and you can also restore the backup files to any of your Android phone once needed.  Another Android file transfer tool.
By the way, the ways to backup Android files with Google Drive and Android phone's settings will be also provided for your reference. You are free to refer to the detailed ways and back up Android files. You can also check out more options for backing up Android data to PC here.
Instructions to Backup Everything on Android
In the following part, I will show you how to backup everything on Android phones in accordance with different Android file types, mainly using the powerful Android Backup App – MobiKin Assistant for Android. To some extent, it's a full guide to backup Android data for all Android phones and tablets, including but not limited to Samsung Galaxy S10/S10+/S10e, HTC U11+/U11/10, HUAWEI Mate X/Mate 20/Mate 10 Pro, LG G7/G6+/G6, Xiaomi 9/9 SE/8, etc.
1. Backup Everything on Android in 1 Click
I know we have mountains of files on our Android phone, which is troublesome for us on backup. Fortunately, this Android Backup App – MobiKin Assistant for Android can help you backup everything on Android in 1 click.
After connected, you can go to the Super Toolkit section on the interface, and then click the "Backup" option. On the pop-up page, you will select all the contents of your Android phone. Finally, click the "Back Up" button. Wait for a while, the process to backup everything on Android will be finished.
2. Android Apps Backup
If there are a lot of apps on the Android phone, how to backup the Android apps? You may also  have a try on this Android Apps Backup tool – MobiKin Assistant for Android. You can backup APK apps from Android phones to the computer briefly with this app. What's more, you may browse your Android apps on the computer, select whichever apps to backup and also install/uninstall apps for your Android device.
3. Android Contacts, Call Logs, Text Messages
Contacts, call logs and text messages on the Android phone are our personal and important information. To avoid losing them, I will backup them regularly, especially the contacts backup. In my daily life, I always backup Android contacts to PC with the Android Backup App on time. I think it is a good habit which is convenient for me.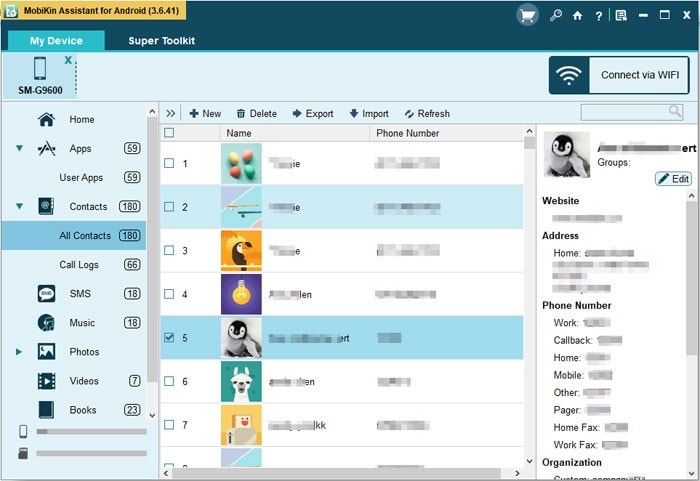 After using the Android Backup App, you will find it easy to backup your Android contacts, call history and SMS. There are several formats for export on these data. If needed to view, you'd better choose the formats which support to open and view on the computer, such as HTML format.
4. Android Media Files Backup
In general, I prefer to backup my Android media files from Android phone to the computer. I used to backup the Android videos with file explorer, which is very slow and I have to wait for a long time. But now, I can backup all the Android videos, music and photos with this Android Backup App in a short time.
By the way, I can add and delete my Android music, move my photos and refresh the videos on my computer with the app.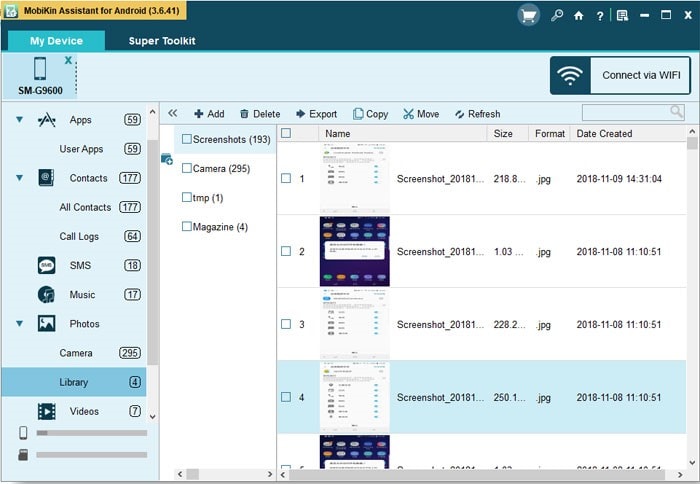 Another useful media file backup tool is Google Drive. When the Wi-Fi is available or I am without a USB cable, I will choose Google Drive to backup my Android media files. However, Google Drive can't backup everything on Android in a quick way. So I need to take much time when backing up large files, such as the films, songs and photos.

5. Android Books and Other Documents Backup
If you love to read e-books on your Android phone and plan to backup the favorite e-books, you can also use this Android Backup App to achieve the backup. This app can scan your documents quickly, and then you can pick out the files which you want to backup on the computer. Select a location to export your selected documents in the end.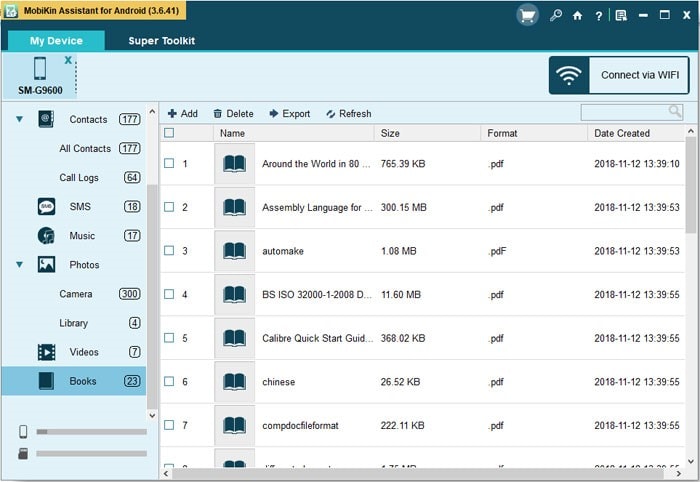 6. Android Settings Backup
Sometimes I need to backup my Android device settings. In this case, I needn't use any apps for this backup. I can realize it with the steos here: Open the Settings app on Android phone, go to "Cloud and account" (or "Accounts and backup" for different Android versions) where I can backup my "Device settings" to my personal Google account.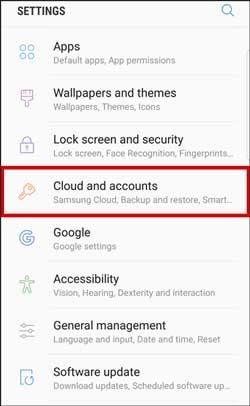 Words in the End
Have you backed up yet? So this is my Android backup experience, which helped me a lot to keep my Android data safe and I will keep using it in the future. MobiKin Assistant for Android is the most all-round one for me since it can backup almost everything on my Android phone effectively and easily. What about you?