Ultra high security features along with compatibility with nearly every third party app available in the market are some of the key features why people all over the world admire Android OS. With 2 billion current users and counting itself states its popularity.
There is no end to the list of features as to why this OS has surpassed others. Almost every feature is imbibed in this OS to ease out the things for the users.
Even though this OS has everything but one thing that is lacking is the option to print SMS from Android phone. Many users complaint that at times they have found themselves stuck in a situation (generally while court submission) where they are to take a print of their chat messages in support of their statement. Other situations like broken or lost phone where the users complaints that they have lost important client data because of the absence of this feature.
SMS EasyReader&Printer emerged out as a boon to the users who are stuck with this kind of situations. Using this awesome software App they can print SMS text message from Android Phone in just a few clicks. Additionally there is an option to store all important messages securely so that their data is intact and can be retrieved in the form of hard copy anytime.
After thoroughly analyzing a number of third party Apps through various angles, SMS EasyReader&Printer has passed the test with outstanding marks. It has got almost all the features that a user can expect in a software App. And the best part is that you don't need to be a tech savvy to enjoy the awesome features of this App. Even if you are a layman you can go ahead and perform the process of printing your chat messages in just few clicks.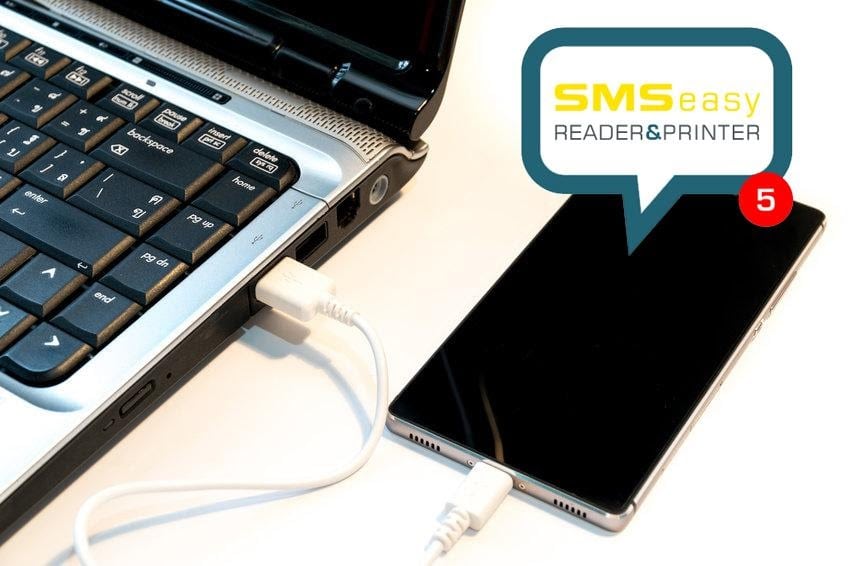 This software is compatible with almost all file formats like XML • MSG • VMSG • VMG • CSV • TXT, hence you need not to worry about the format. The user can read, manage, select, search, generate chats, delete chats, emails. Provision for printing Gifs and MMS is also there. All this in 9.99$ for lifetime, nothing much can be expected.
In this article, you will get to  learn how to print SMS from Android by using the SMS EasyReader&Printer web solution. Please note that this software is a home to awesome features. Mentioning all the features here is not possible. Give sometime to this and explore its awesome features.
Follow the steps to print SMS from Android Phones.
Pre-requisites: The first step before proceeding with the printing process is to download and install SMS EasyExporter for Android. It is a free App and you can download it from SMS EasyReader&Printer homepage (https://sms-vmsg.org). This App is compatible with SMS EasyReader&Printer web solution and you can leverage printed copies in few clicks. Once downloaded, go ahead and install it. Once done with this process, you can proceed with the steps mentioned below.
Look for setting icon on your App screen. Click on it. Search for the Export option there. There will be three options namely Export SMS, Export MMS, or Export all (SMS+MMS). Choose an appropriate one.
In the next step you will have to choose a directory. Sms_android.vmsg, mms_android.vmsg, and sms_mms_android.vmsg are the inbuilt default directories. Choose any one directory to store your files.
Connect your phone and laptop/PC via a USB cable. Copy the file that you wish to print on your computer in a convenient location.
Enter https://sms-vmsg.org in any web browser of your choice
Upload the file that you wish to print to SMS EasyReader&Printer.
Click on Print. The process is complete.
As evident from above, the process is so simple. 100% data security also there. The moment delete this file from your system, it will be removed from the database also.
Other advanced features like ad-free functioning, SMS pagination list, wider screen display (9.9"), 100% accessibility to your chats and support to large size file(20Mb) all in just 9.99$ for a lifetime is worth an investment. These many features are not available with any other web solution and at such a cheap cost.
All in all SMS EasyReader&Printer SpeedPRO is undoubtedly the unanimous leader in the market.