Either you'll hate work scheduling, or you'll love it.
Sadly when you factor in your employees' varied time availability, shift rotations, and the last-minute changes in their schedules, chances are, you'll end up hating it.
And we're just talking about your staff scheduling, by the way.
When you consider how your personal schedule is also a living breathing organism (that has mood swings), everything about work scheduling becomes even more complicated  — that is, if you don't have any methodologies in place to better manage your scheduling work.
To help you stay on top of work scheduling so you can improve your productivity, allow me to share with you these four tips.
1. Use a schedule template.
Instead of having to create your schedule plan from scratch every single time, you'd be far more productive if you used a scheduling template.
Here's an example from vCita.com.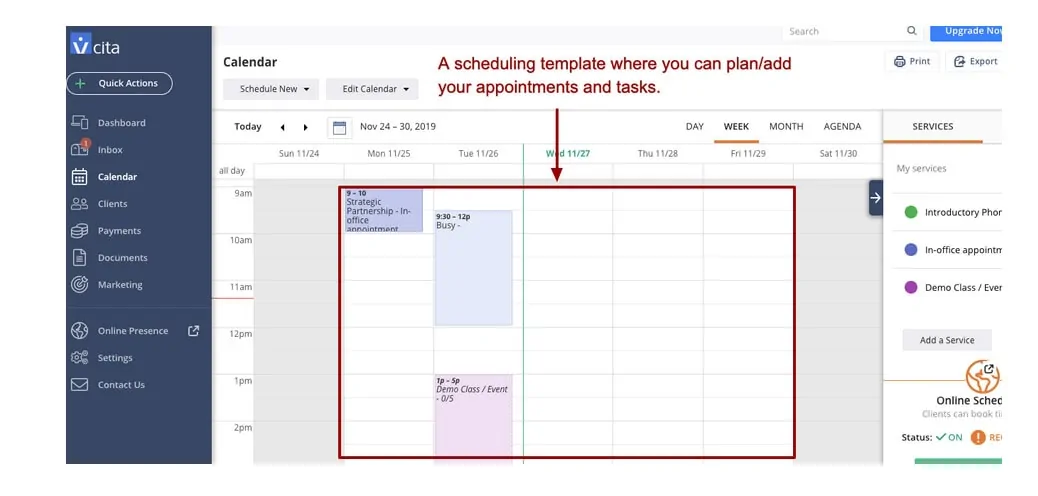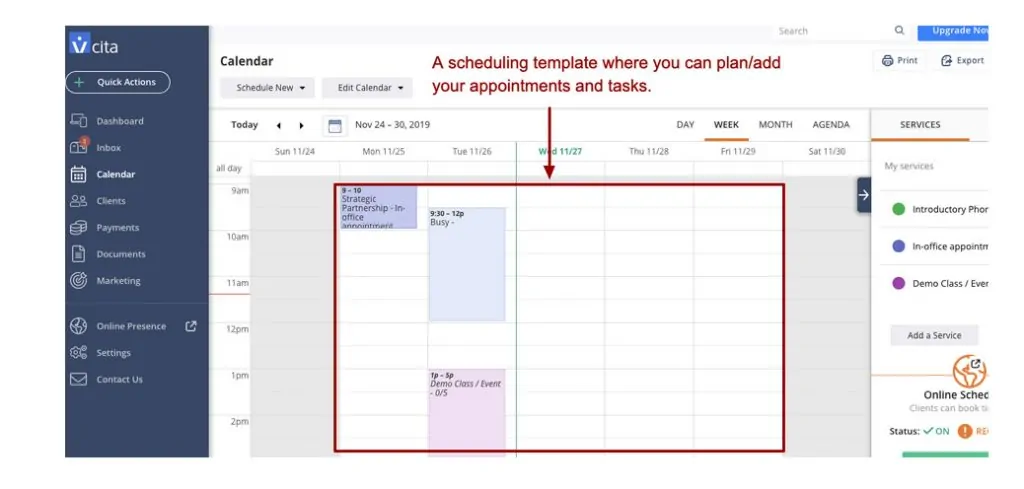 Templates are great because you won't have to think about how your plan should be formatted, and you'll pretty much be reminded of all the pertinent information that you need to add.
For example, if you plan on running a group event where you'll train your writers via Skype, you can schedule the event and enter all the pertinent information that the platform will ask from you.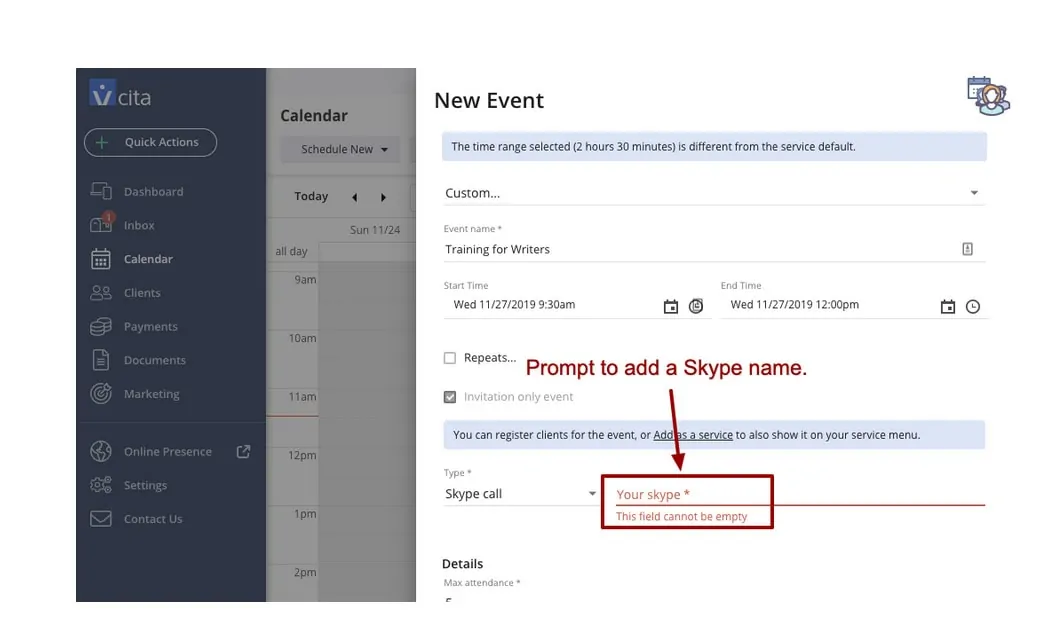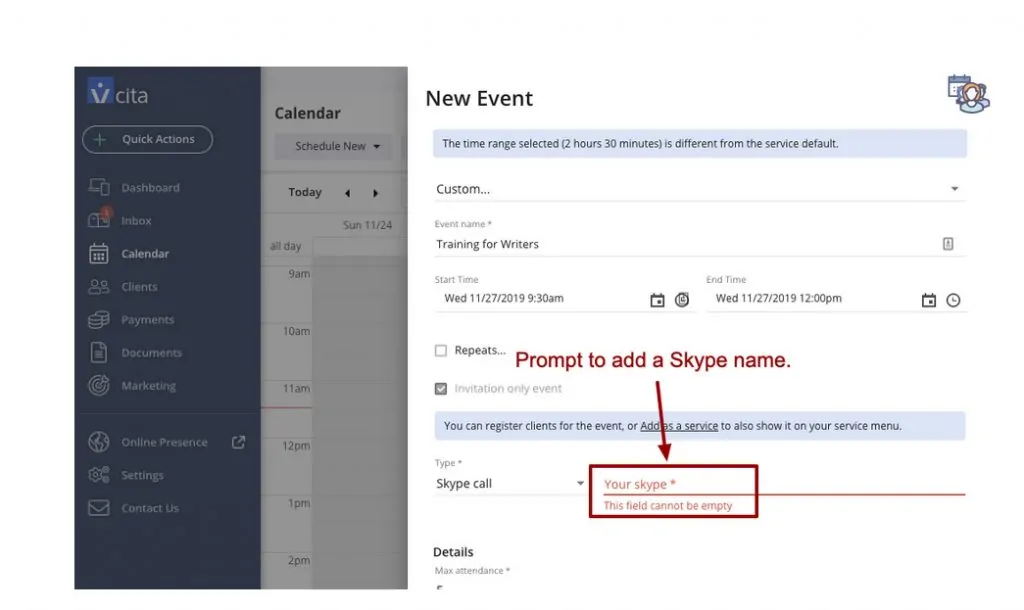 In the screenshot above, notice how the platform prompted the user for a Skype info because the type of event that was scheduled is a Skype call.
Can you imagine how tedious it would be if you had forgotten to add your Skype account? Not only will you and your team needlessly waste time by waiting, but the goal you had intended to achieve for the event won't end up getting accomplished, as well.
To integrate schedule templates into your existing work scheduling framework, vCita also has schedule templates for Word and Excel. If you've been using Microsoft Excel or Word for preparing your schedule, then you won't have any issues integrating the platform into your process.
With the help of schedule templates, preparing your schedule plan becomes insanely easier (and faster), helping you increase your productivity. At the very least, you'll be able to cut down the time you spend on your work scheduling tasks by half, giving you more room to do more.
2. Set up reminders.
With how busy people have become, it pays to set up reminders for up and coming schedules.
Remember, your planned schedule won't be of much good if, in the end, you end up forgetting about them.
If your teammates don't make it at the event because they forgot, it doesn't matter if you spent countless hours planning, visualizing, and orchestrating your entire team's schedule so they can work cohesively — it'll all be for nothing.
That's why you need to have reminders. It will ensure that you, or your teammates, won't forget about the tasks/appointments that they've been scheduled for.
These safety measures are great because, depending on the task scheduled, the results can be catastrophic for your company if you (or your team) missed a scheduled event/task.
3. Build relationships with your employees.
You might think it's strange why this tip is included in this guide, however, when you really zoom in the fact that your employees are still human — it'll all make sense.
Here's the thing, no matter how carefully planned out your schedules might be, everything can go haywire if you don't have your employees' commitment.
If they don't cooperate, everything will still be a total wreck.
I mean, sure, you can fire your employees all you want, but if you don't get the commitment of your new employees, everything will still pan out the same way.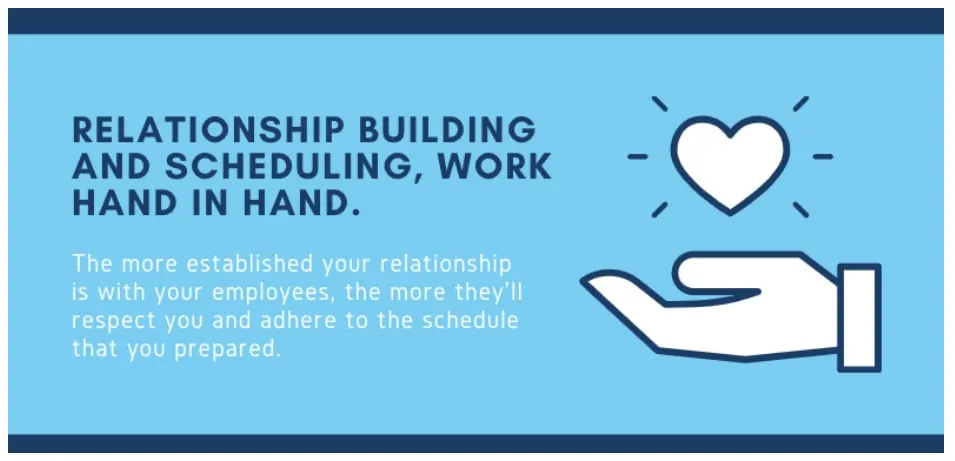 It's precisely because of this why you should build a relationship with your team.
You need to inspire trust, confidence, genuine concern, and make it apparent that you care for them.
It is when you do this when your team becomes more cooperative.
It's when you do this when you win your team's respect and commitment — ultimately causing them to hold the ropes for you by following your carefully planned out work schedule.
4. Enforce your scheduling policies.
The more you enforce your scheduling policies, the more it comes naturally for your employees to abide in it.
Of course, when your employees start abiding in your scheduling policies, your collaboration with them becomes even more predictable — which is a good thing.
For example, if you have a policy in place about not swapping schedules, then your employees won't ask for 'em, making your life a lot less complicated.
What's more, the more your employees accept and follow your scheduling policies, the less friction or firefighting you'd have to do — this will allow you to focus on doing more important things instead of going back and forth with your employees to finalize their schedules.
The key here is to make sure that your scheduling policies are reasonable, and that it's shared with your employees so they can check it when they need to.
To help make sharing your policies easier, you can upload a document that contains your scheduling policies/guidelines in a cloud-based platform, then come up with a shareable link for the document.
If your policy is stored in the cloud, anyone from your team can view it at any time, provided they have access to the internet.
This will keep them from asking you questions about your scheduling policies since they have access to it.
Can you imagine how much time you'd save in a year if your employees can figure out the answer to their scheduling questions and not have to ask you about them?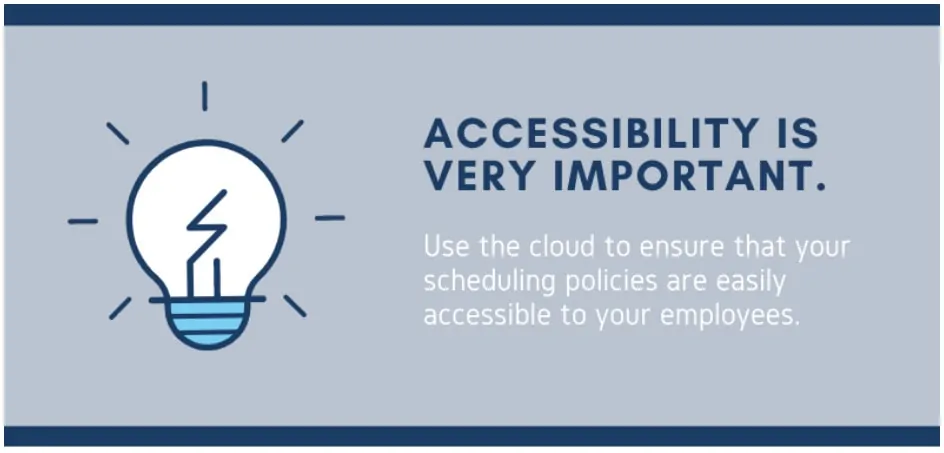 What's next?
While there are countless ways you can improve your work scheduling tasks to improve your productivity, the 2tips we covered here should do you wonders if you'll take the time to implement them.
If you have other strategies, questions, or ideas that you'd like to share to help our readers with their work scheduling, feel free to add them in the comments section below. Cheers!