You can't simply set up an eCommerce website and expect it to thrive — it's important that you put a lot of time and effort into getting the results you want!
In this article, we're going to outline how you can improve your eCommerce sales, including by using SEO, incorporating video content, and more.
Let's get started!
Reach the right people with SEO
Search engine optimization, or SEO, refers to a variety of techniques that can help your website rank higher on the search engine results pages (SERPs). It's important that eCommerce websites use SEO strategies to attract high-quality traffic. This will consist of people who are actually interested in purchasing your products.
There are three main aspects of SEO: link building, content marketing, and technical SEO. Let's break these down.
Link building
Link building is the process of acquiring links from other high-quality and reputable websites. When this happens, Google will take it as a vote of confidence in your expertise and give you a boost on the SERPs as a result.
To acquire links, you need to create great, shareable content! Infographics, original research, and free tools are all examples of content that people will want to share with their own audiences, citing you as the original source.
Content marketing
Content marketing is another great way to boost your SEO. Start by conducting some keyword research. Head to a tool like Google Keyword Planner with different words and phrases related to your business. Google will then provide you with a list of keywords, many of which will be good starting points for content topics.
They'll be organized based on their competitiveness, or how hard they are to rank for, and their average monthly search volumes. Try to find a balance between these metrics — you want to be able to reach the most people possible but, if the keywords you choose are too competitive, you risk not ranking at all.
Once you've identified some informational keywords you would like to target, start creating articles based on them! Weave them into the titles, headers, the first 100-150 words of your article, and throughout the copy. This will give Google more context as to what your website is about and give you a boost on the SERPs for these queries.
Technical SEO
Technical SEO refers to the technical requirements modern search engines look for when determining the quality of your website. In short, the higher your website quality, the better your technical SEO. Here are a few things to consider when trying to improve these metrics:
Have a fast loading speed
Ensure your website is responsive on all devices
Compress your images
Remove dead links
Use internal links to give Google an idea of how your website is structured
Use these tips and you can prove to Google that you have a high-quality website, boosting your SEO.
Use video content to get people excited about your products
Video marketing is becoming more and more popular every year! In 2020, 96% of consumers increased their online video consumption, according to InVideo. It's a great way to help get people excited about your service, show how to use or maintain your products, and increase your sales overall.
Let's take a look at an example of a business that has great video content on their website for inspiration.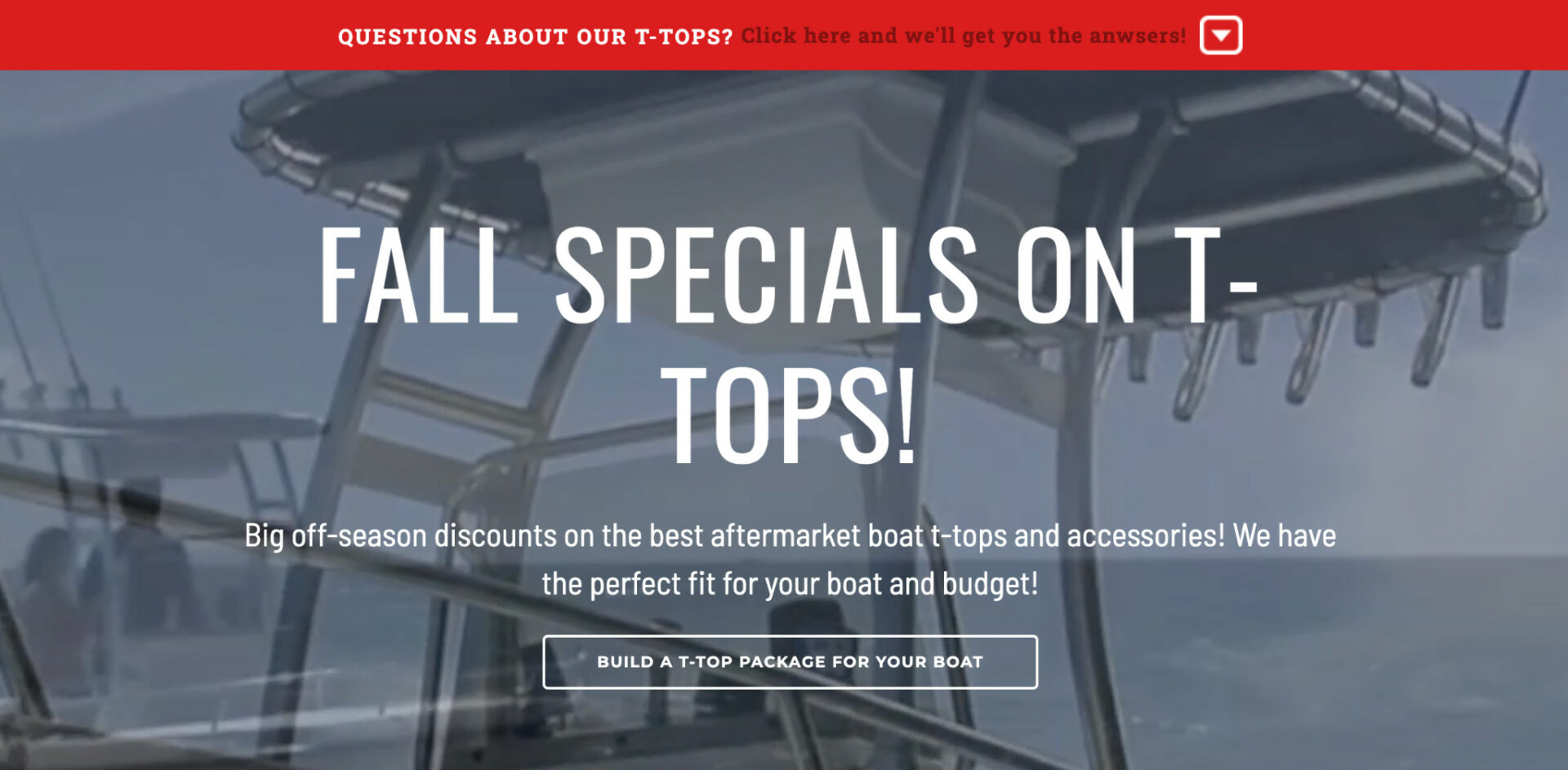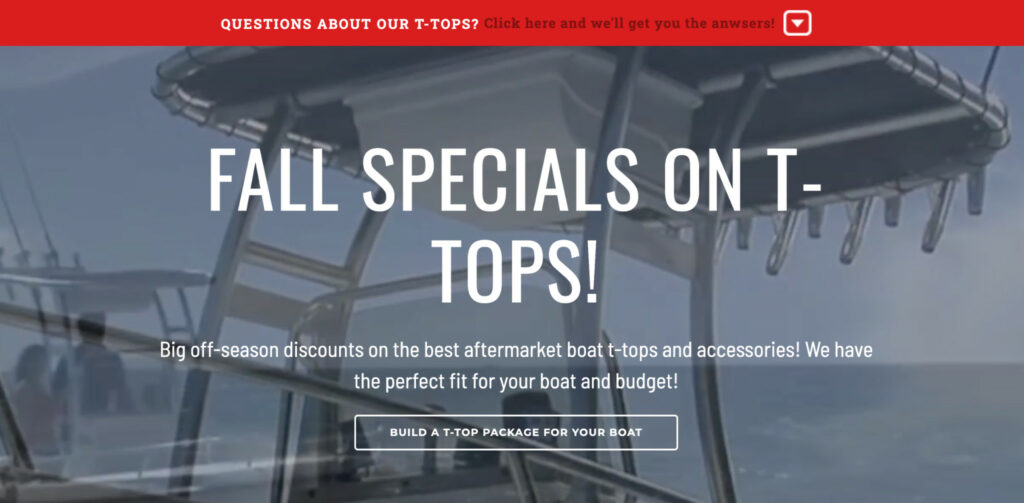 Stryker T-Tops, a seller of aftermarket T-tops and boat accessories, uses video content on their homepage, for instance. One of the first things you see on their homepage is a hero banner that features a video of people using their products out on the water — it's a great way for Stryker T-Tops to get people excited about using the items they stock!
Consider using a similar video on your homepage. Show people having fun with your products! This will get people to imagine themselves using your them and encourage potential customers to make a purchase.
Focus on providing fantastic product images
Your product images can make or break a sale. If your images are blurry, crowded, or simply low-quality, you risk the viewer not understanding what your product is or what it can do. This means that you need to get the images on your website, and particularly those on your product pages, right.
With all the devices and software available on the market today, you don't have to be an expert photographer to take solid product photos. Be sure you have a good camera (most smartphone cameras will do) and a tripod to ensure consistency and quality when taking photos. Remove background clutter and make sure that the product itself is the focus of your photo. You could even place your products on a white background when taking the photo to ensure they stand out!
You can also use your product images to get the website visitor to imagine themselves owning your products. If you sell clothes, for instance, having models wear them can give the user an idea of what they would look like wearing the product. You can do something similar with decor and accessories, placing them in rooms or on people that would use them.
Let's take a look at a few examples of businesses that have great product imagery for inspiration.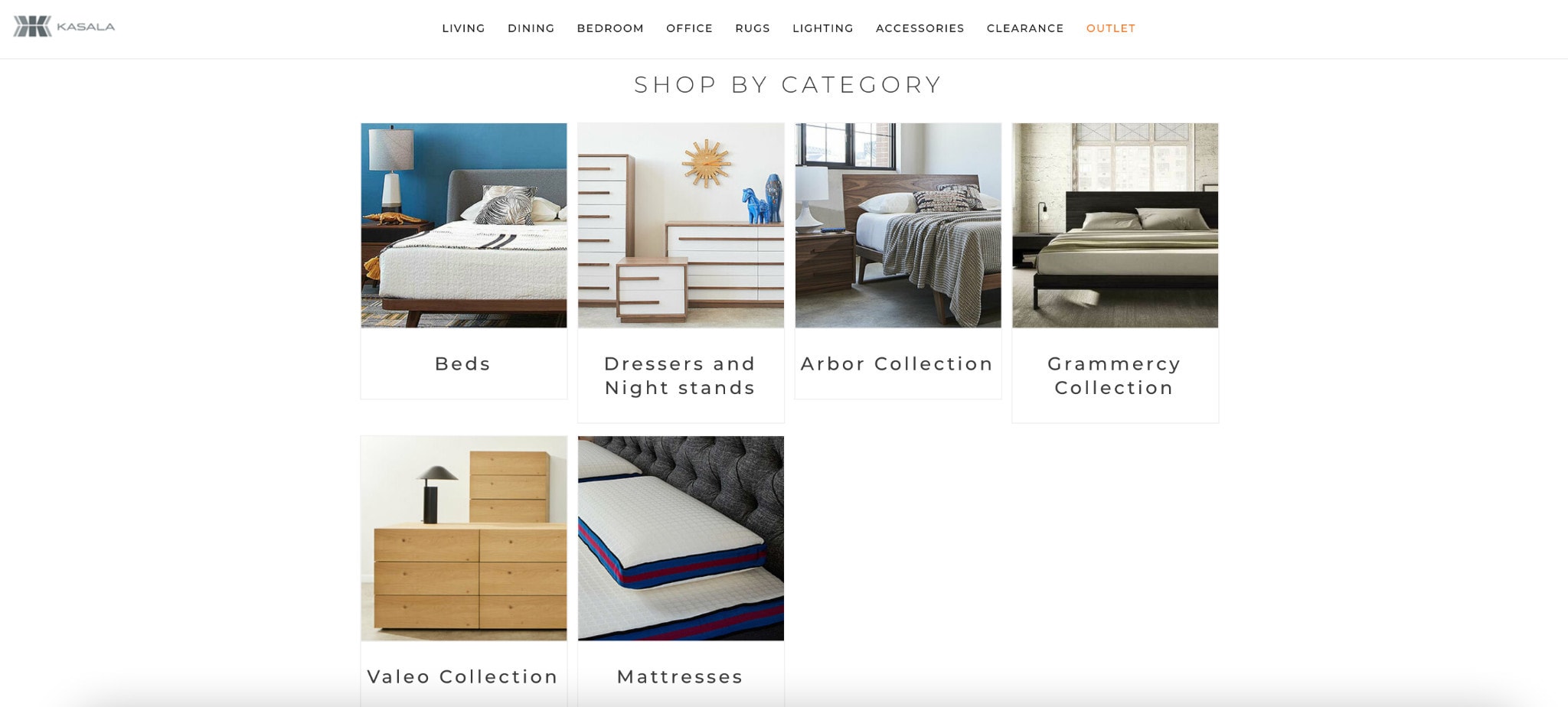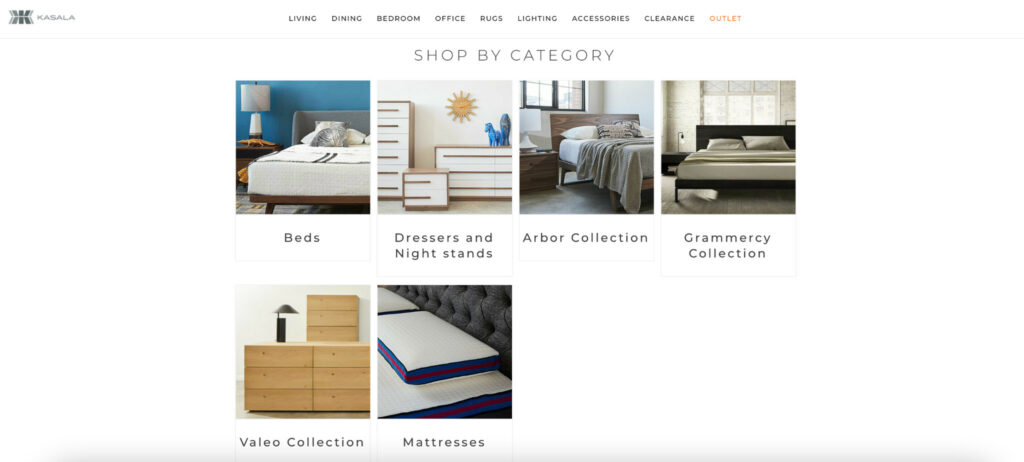 Kasala, a Seattle furniture store, has great imagery on their category pages. As you can see in the image above, they have images for each type of product found in a bedroom, including mattresses, beds, dressers, and some of their collections. This imagery is clear and gives a user an idea of what they'll be getting from Kasala. By splitting up their products with images and categories, they can direct their users to a section of their website that is the most relevant to their needs, which can increase their sales!
On your website, consider using imagery to break down your category pages. This is an eye-pleasing way to help your users navigate through your website. It will help them find the products they are looking for, helping you to make more sales!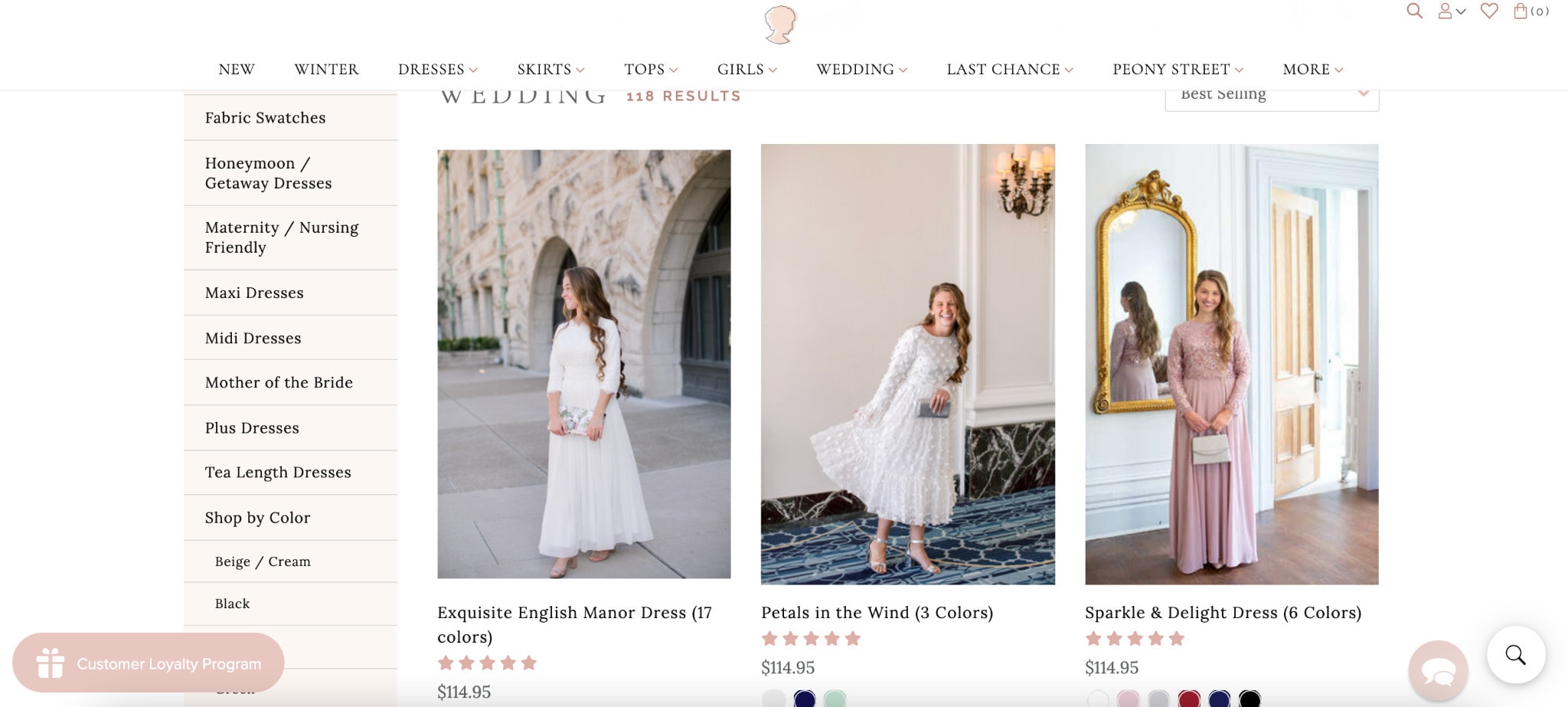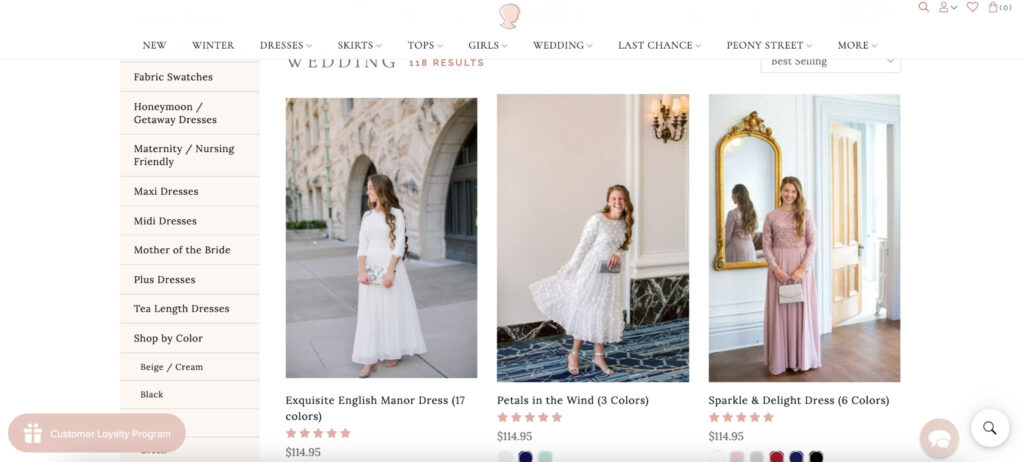 Dainty Jewells, a women's and girls' clothing retailer, has excellent imagery throughout their website, too. On their modest wedding dresses page, they show off their dresses on various models. This is a great way to help get the website visitor to imagine themselves wearing these dresses, making it more likely that they'll make a purchase!
If you sell clothes or accessories, consider modeling your products on people and posting these images on your website. This will help get potential customers excited about what they'll look like wearing your products and encourage them to make a purchase with you!
Showcase positive reviews to earn your customers' trust
If you can provide positive customer reviews on your website, you can prove to visitors that you have quality products. This will build trust with them and encourage them to make a purchase, increasing your overall conversion rate!
Two common forms of reviews are star ratings, in which a customer gives a rating on a scale of one to five, and written testimonials. To collect these reviews, you just have to ask. Consider sending out a post-purchase email asking your past customers to leave a review, perhaps in exchange for a small discount. This will incentivize them to leave a review and make another purchase with you!
Once you have some reviews, you then need to display them on your website. There are a lot of ways you can do this — if you want to help a visitor quickly compare products, consider posting star ratings under each product. Or, you could have a dedicated section of a page or your website for longer testimonials.
Let's take a look at a few examples of businesses that showcase positive reviews on their websites for inspiration.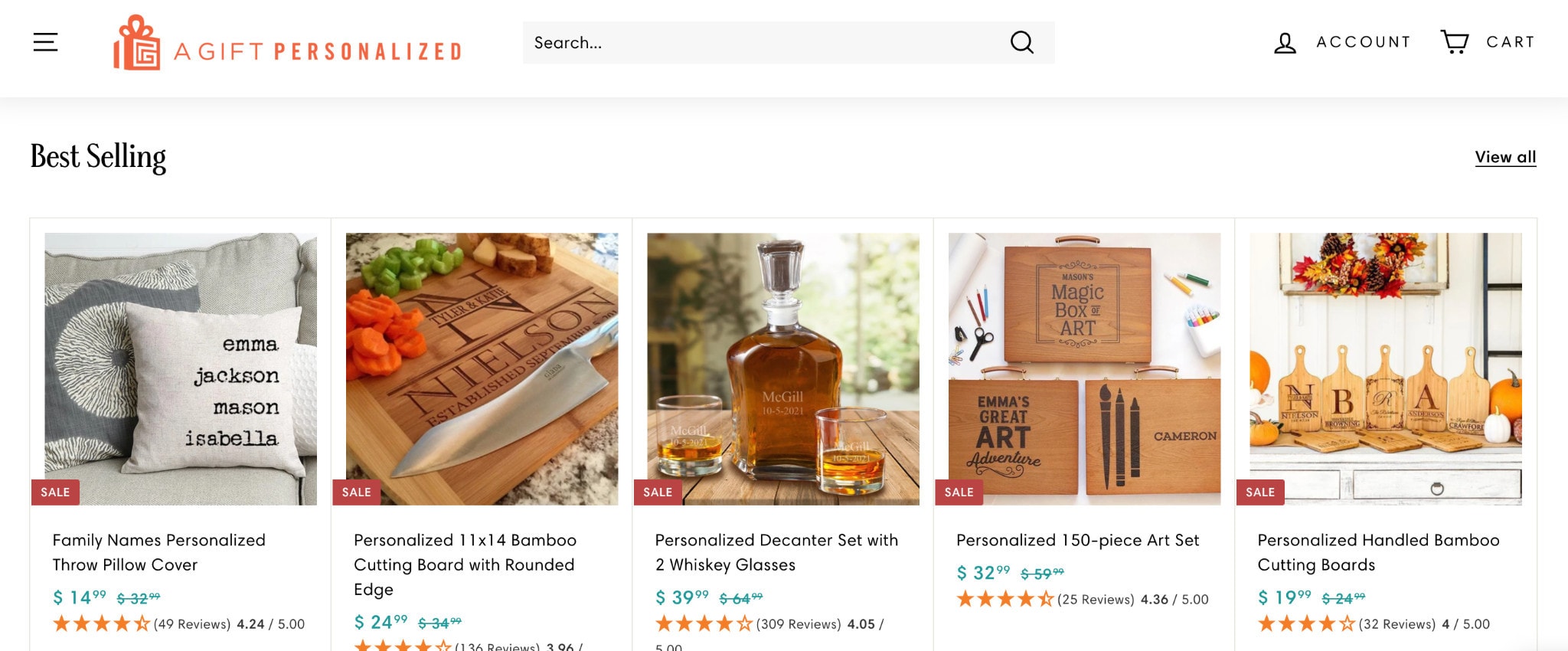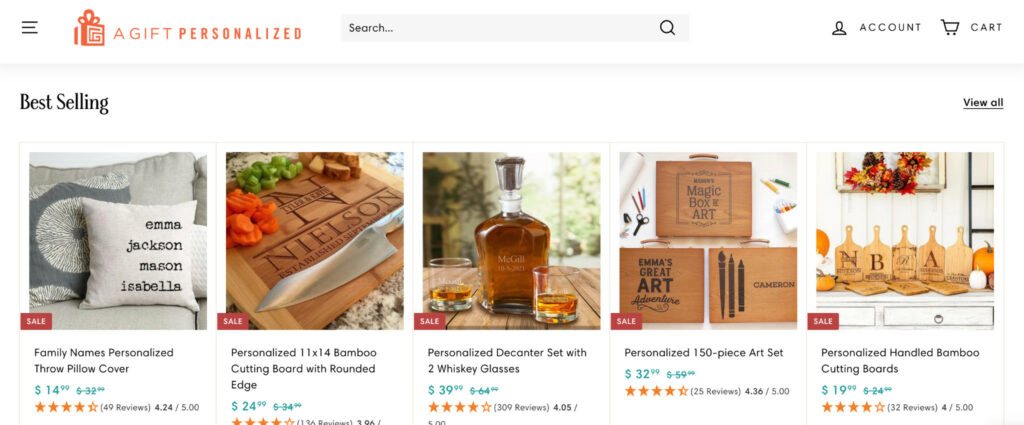 A Gift Personalized, a retailer of custom gifts, uses star reviews effectively on their homepage. As you can see in the image above, their best sellers section shows a variety of different products and their ratings. Reviews like this are very important for a custom gift retailer — potential customers are going to want to know that the personalizations are accurate. By showing off their star ratings, browsers of this website can quickly and easily compare different products, helping them come closer to making a purchasing decision.
If you have a lot of different products, consider using star reviews in a similar way. This will help your visitors determine which of your products are right for them, which will encourage them to make a purchase.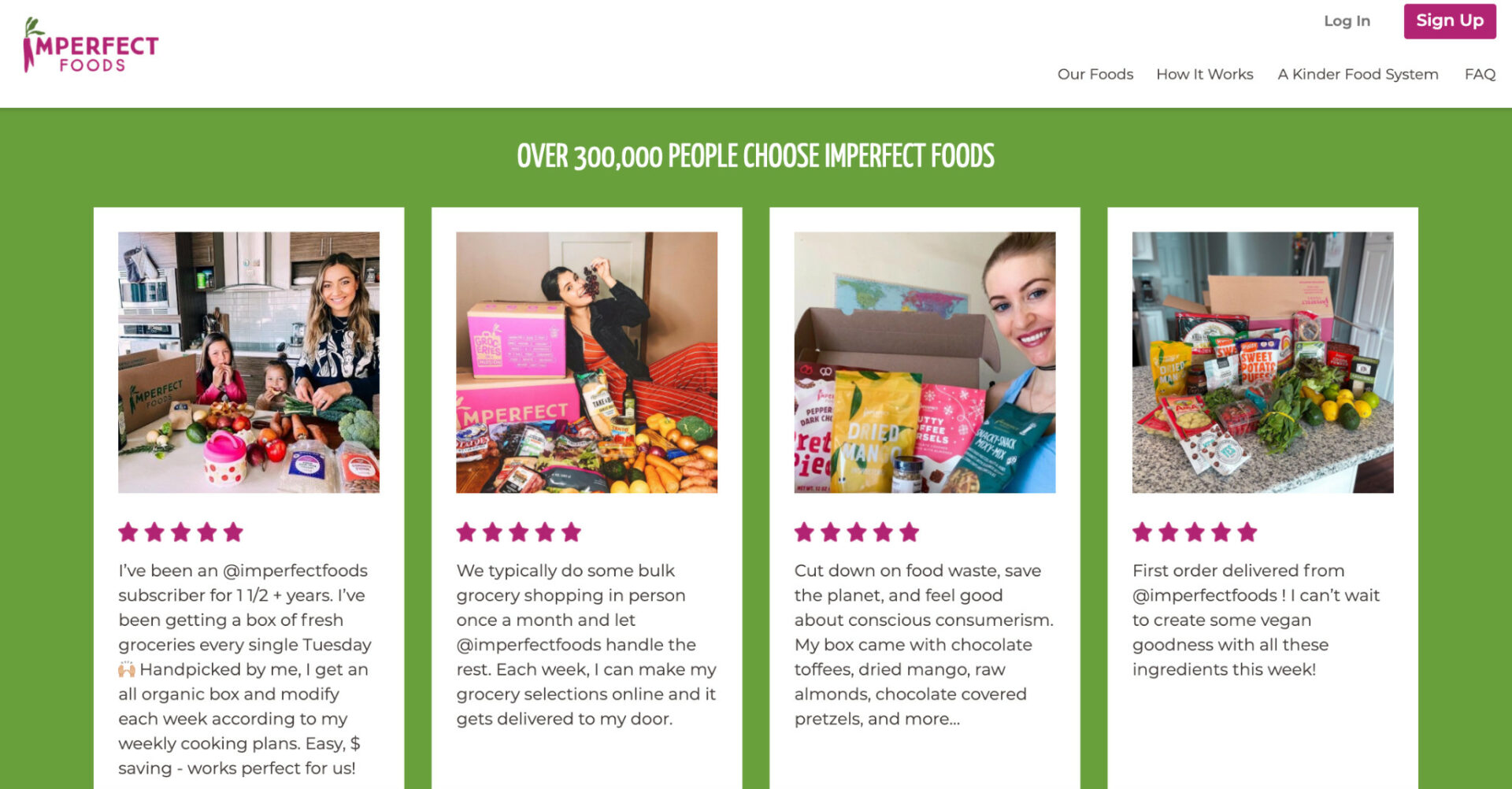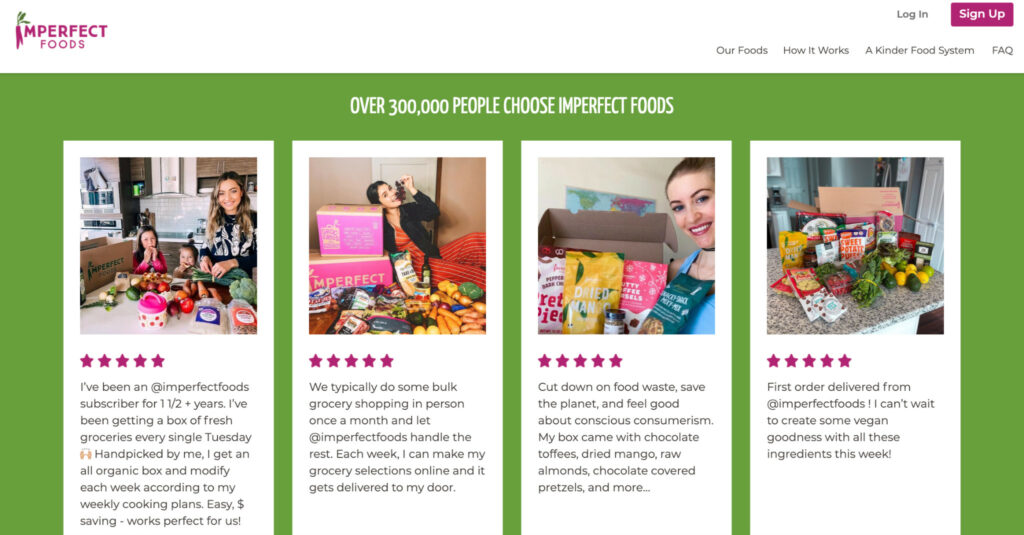 On the other hand, Imperfect Foods, a grocery delivery service, uses a combination of star reviews and written testimonials on their homepage. As you can see in the image above, they have user-generated content with images and testimonials from their social media pages. Happy customers rate the service and post an image, and Imperfect Foods highlights these reviews on their website. Seeing the user-generated content and reviews is going to be very reassuring for website visitors. These reviews show that Imperfect Foods provides great products for their customers and can help convince visitors to make a purchase.
On your website, consider showcasing user-generated content. If visitors see that people just like them are happy with their purchases, they'll be more likely to shop with you themselves.
Publish content to help customers with their purchases
Publishing certain types of content can help your customers make better and more informed purchases! This means that, to improve your content strategy, you need to incorporate helpful and expert content. This will help people trust you as a source of information, making it more likely that they'll spend money with you.
For instance, if you publish content that shows how you can maintain your products, you can help your past customers and draw them back to your website. This will help you build customer loyalty, making them more likely to purchase from you again. You can also use content to outline how your products can or should be used. Giving people helpful guides and tips can ensure that they get the most out of the products they have purchased from you, leading to happier customers!
Let's take a look at a few examples of businesses that have great content on their websites for inspiration.
Tesla, an American vehicle manufacturer, has content on their website that helps with car maintenance. It outlines what in a Tesla needs to be maintained, what doesn't, how often maintenance needs to be done, and more. By providing this article on their website, Tesla makes it easier for their drivers to learn about their vehicles. This can ensure that they become happy and loyal customers!
Use your blog or knowledge hub to outline how your products need to be maintained and taken care of. If you do this, you can draw past customers back to your website and increase their loyalty to your brand. This will encourage them to recommend your products to others or make another purchase with you!
Duolingo, a language-learning website, also has great content that can help their users get the most out of their products. Take a look at their article on preparing for the Duolingo English Test, for instance. The article outlines what the test is, what a passing grade can do for the user, how to prepare, and more. The Duolingo English Test is a pretty high-stakes exam — the score can show the user's proficiency level in English, which is required for many universities. By outlining how to prepare for this test, Duolingo can help their users get the most out of their app and improve their scores. This shows the user that Duolingo cares about their success, helping to build brand loyalty!
You can use your blog to help your customers get more use out of your products, as well. How-to articles, styling guides, or even videos showing unique product applications can all achieve this. The result will be a boost in customer loyalty, making it more likely that they'll continue to use your products.
Summary
Running an eCommerce business requires a lot of skill and work! In this article, we outlined how you can get the most out of your eCommerce website, including by writing top-notch content, incorporating videos, and using SEO tactics.
Need more help? The Techolac business archives can help. They have articles on influencer marketing, using AI in business, and more.
 Author bio & headshot: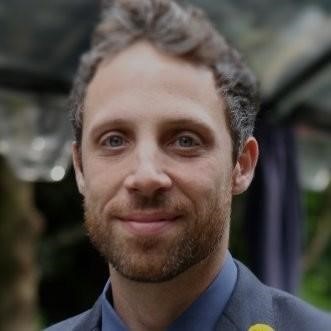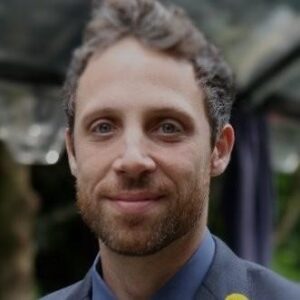 Aaron Haynes is CEO and co-founder of Loganix. The company is an SEO fulfillment partner for digital marketing agencies and professionals, which provides the services businesses need to improve their online visibility and grow. If you liked this article, check out the Loganix blog, where you'll find more SEO guides full of expert advice.