In the B2B world, implementing an efficient sales process involves many factors, from employing the right strategy for your sales team to ensuring clear communication. After all, gaps in your sales process, workflow, and operations can result in massive losses due to missed opportunities. In fact, 67% of lost sales are caused by sales reps failing to properly qualify prospects before leading them in the sales process.
While there is no one-size-fits-all solution to increase sales, investing in the right enablement tools can boost your chances. In this article, we'll go over five tools that are helping sales teams increase productivity and work more efficiently.
1. Demoleap
Demoleap is a real-time guided selling assistant powered by AI. The sales enablement tool guides sales reps during calls, helping them consistently run efficient discovery, qualification, and live sales calls and demos.
The platform has two versions: The basic version featuring real-time sales playbooks, and the premium version, Demoleap Mastermind, with enhanced AI capabilities.
The real-time sales playbooks include the following features:
Discovery playbooks. These include lead discovery templates for standalone sessions.
Qualification playbooks. The qualification playbooks ensure that your SDRs and BDRs ask the right questions when they sift through leads.
Demo playbooks. The demo playbooks give your sales reps access to pre-demo planning, in-call assistance, and live AI co-pilot presentation capabilities. The AI co-pilot effectively takes over mouse and keyboard functions for the rep, so the rep can focus solely on speaking while Demoleap presents.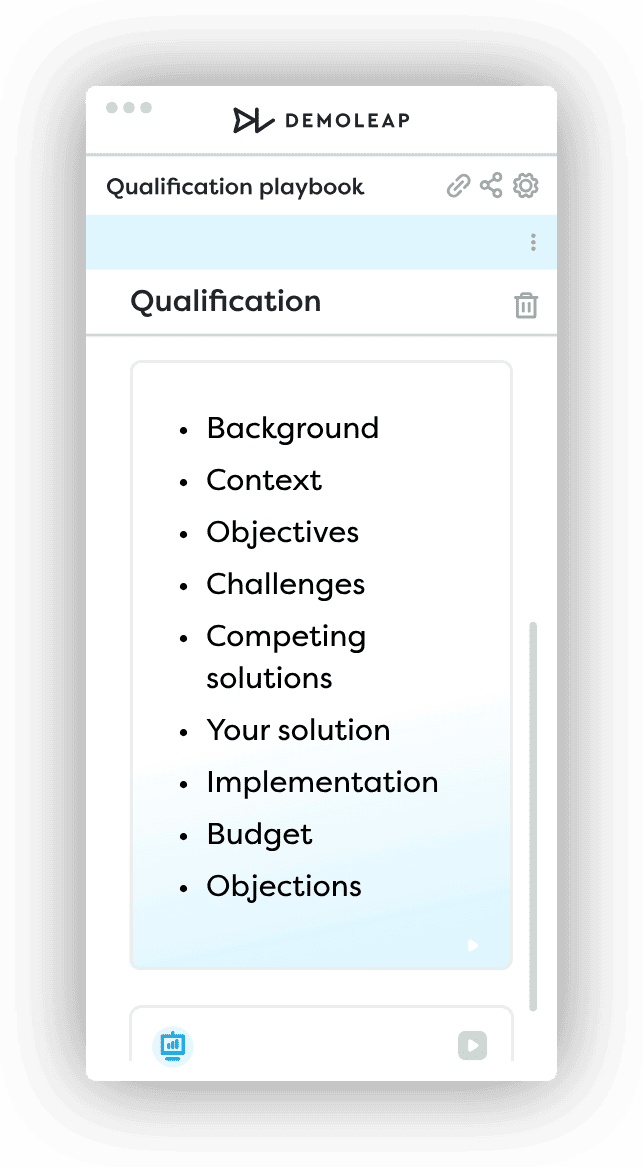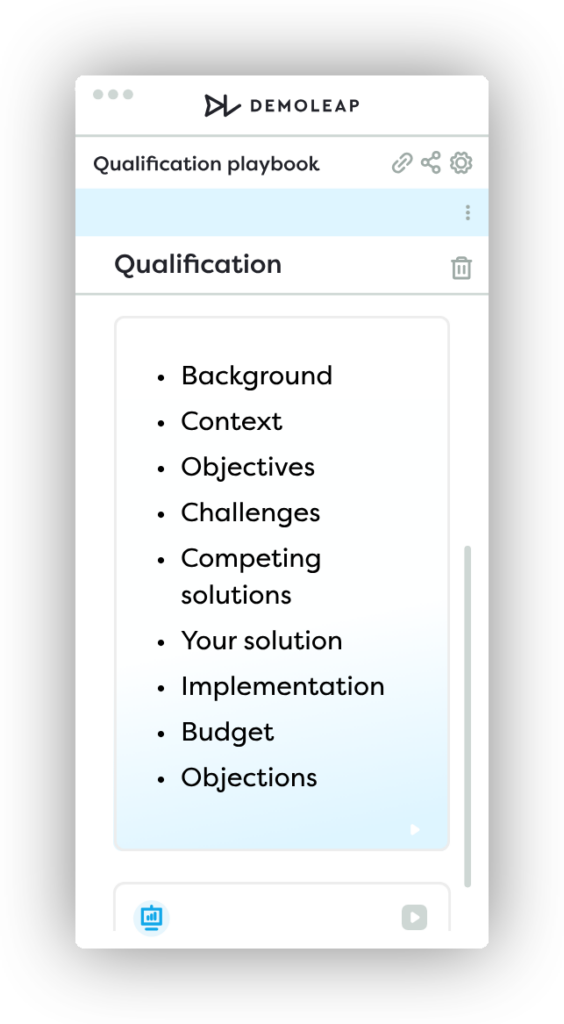 Demoleap Mastermind offers more advanced features, including in-call battle cards, real-time dialogue transcription, live speaker insights, and data capture and syncs to your CRM.
Demoleap's other features include analytical tools to help you measure and improve your playbook performance, CRM integrations, and more. The solution's usage of automation, AI, and analytics equips sales reps with the tools to work more productively, putting teams in a position to exceed quotas.
2. Hunter.io
One of the best tools for B2B email outreach and lead generation is the cloud-based solution Hunter.io. The cold email platform helps your sales team scour specific publicly available domains, companies, and others on the web to find and verify professional email addresses.
Hunter.io's email search and verification tool lets you search and verify email contacts for your outreach and lead nurturing efforts easily. Suppose you run a SaaS-oriented blog and want to reach out to other blogs in your niche for link-building. With Hunter.io, you can copy and paste the blog's website name in the search bar and receive a list of people who work for the site, including publicly accessible information, such as their position and email addresses.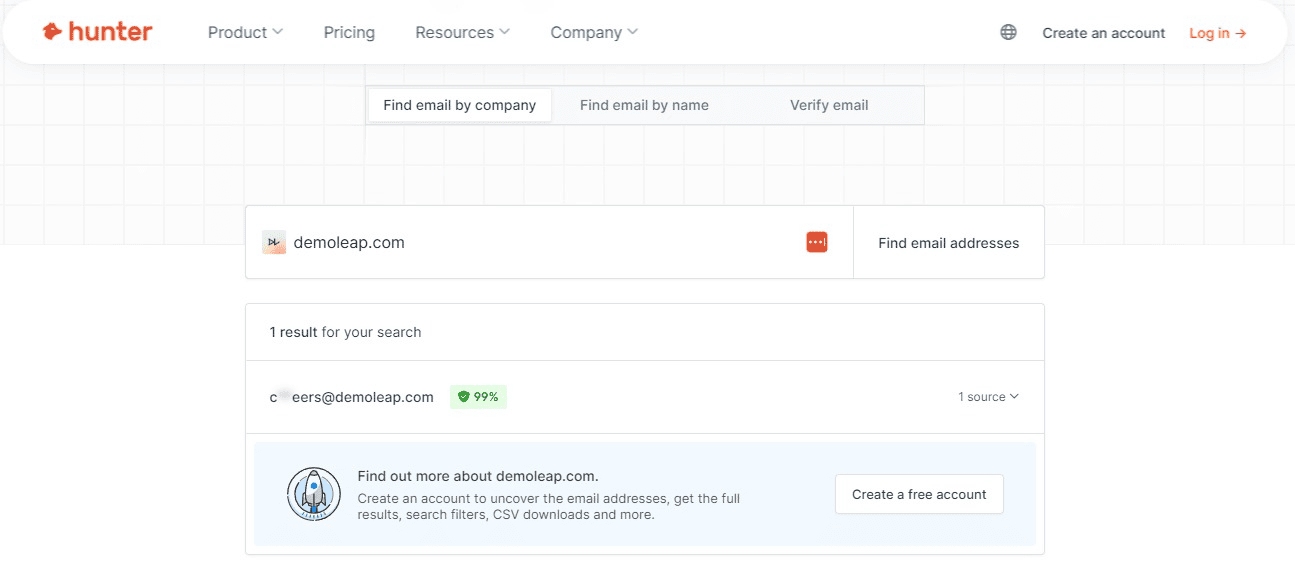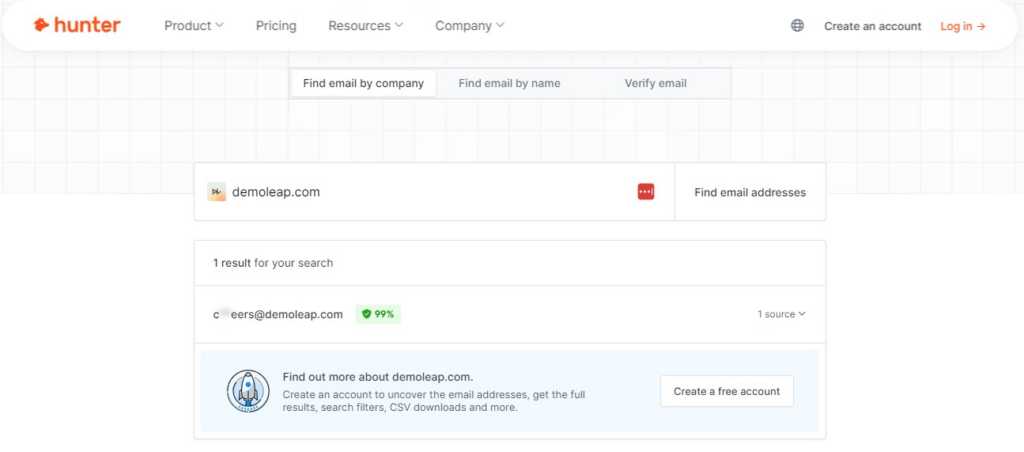 Once your team has the email addresses, they can use the platform's email verifier to check whether the addresses receive emails.
Hunter.io's other key features include:
Bulk email management tools to search and verify large amounts of email addresses in one go.
Email campaign management options that let your sales team automate cold email outreach efforts. Your team can create, personalize, and schedule emails while managing replies and tracking opens, clicks, and recipient activity.
Lead management features, including a CRM dashboard that allows easy email database storing, sorting, and filtering. Your sales team can also track recipient activity and segment addresses into lists for export.
Lead nurturing through email outreach and marketing helps your sales team discover, nurture, and build customer relationships effectively, ultimately driving sales.
3. Polymer Search
Analyzing and reporting on your sales data is vital for understanding which areas work and which need improvement. However, sales data can be complex and difficult to understand.
One tool to help make sense of your sales data and extract valuable insights is
Polymer Search. The business intelligence (BI) software offers intuitive features that let you create and present your sales data visualizations and dashboards easily without coding or a complicated setup. With Polymer Search, you can connect your data source, such as Google Sheets or other platforms, pull in your sales data, and sort and filter accordingly to quickly find the specific data you want to visualize. You can also use Polymer's user-friendly visualization builder tools to add graphs, charts, and tables, and specific fields for your visual elements.


You won't need to add data to feed your visualizations manually since Polymer sets everything up automatically from your connected data source. It only requires specifying the sales data you want the platform to create visualizations for, making it easy to analyze, present, and understand your data. You can extract insights to improve and optimize your sales processes in a flash by viewing sales trends, patterns, gaps, and wins.
4. Proposify
One of the crucial yet most challenging aspects of your sales process is completing proposals before closing deals. Leverage a proposal software like Proposify can help your busy sales team overcome document bottlenecks.
Proposify helps you manage and design proposals to ensure consistency by facilitating easy creation, tracking, and sending of proposals so your sales team can focus on the most important part: closing deals.
The software's main features enable you to:
Automate key tasks such as generating proposals and e-signatures.
Create interactive and error-free quotes for your prospects efficiently.
Streamline your sales team's workflows with pre-approved content, allowing them to send proposals to prospects with a few clicks.
Tailor pricing fees, options, and discounts for your proposals via interactive fee tables. It allows your prospects to choose their preferred custom prices while reducing the back and forth when closing deals.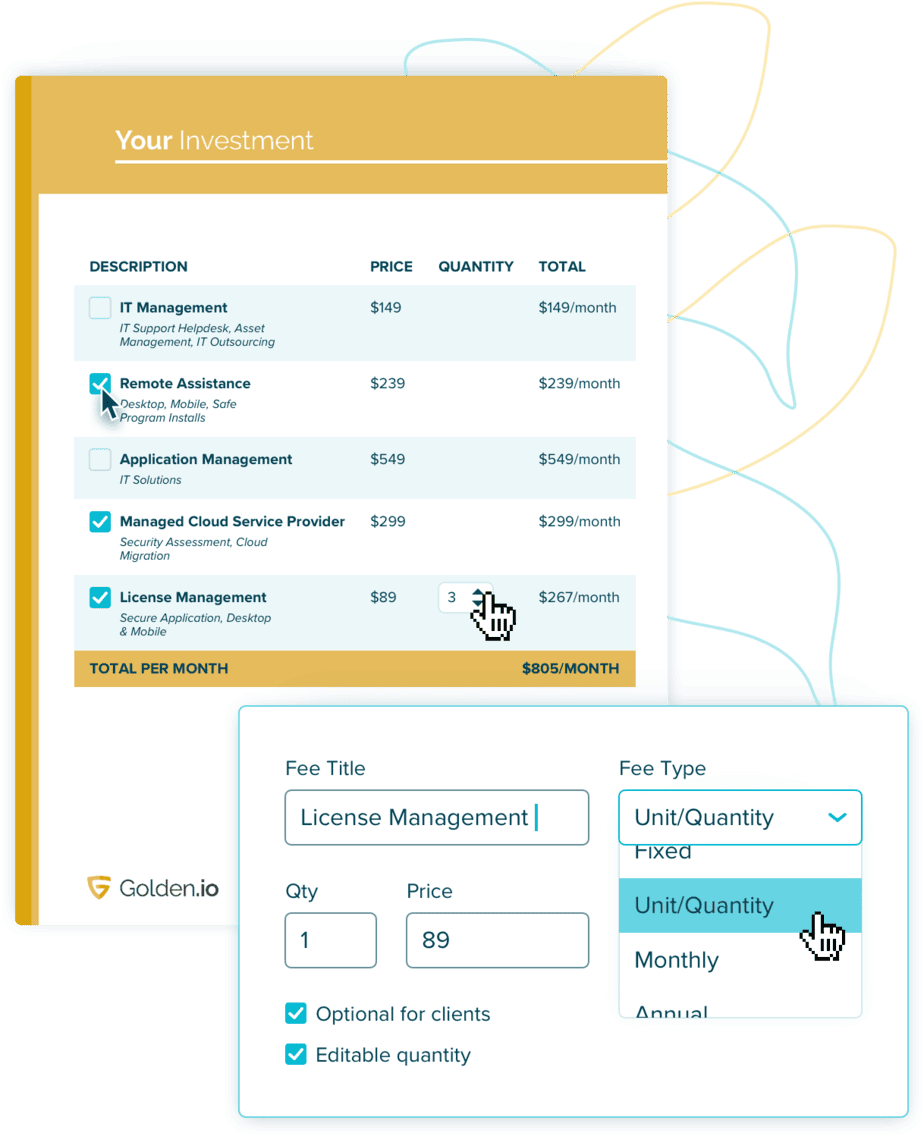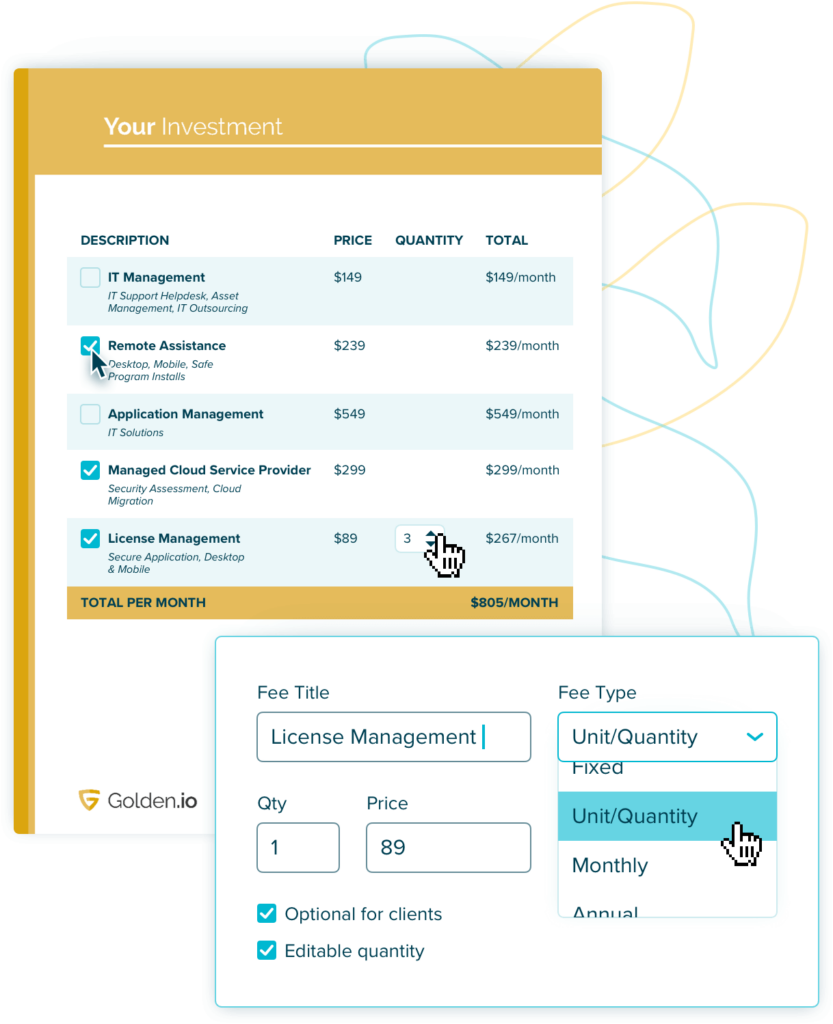 Proposify's other features include a user-friendly and flexible proposal design editor, data-based insights, content management, approval workflows, CRM integrations, and more.
5. RollWorks
RollWorks is an account-based marketing (ABM) platform that helps sales and marketing teams determine the best-fit accounts.
The tool helps your teams engage buyers across online channels, such as ads, social media networks, email, and more.
The platform's main features include the following:
An Identification Solution that helps your sales and marketing teams spot ideal customer profiles, key buyers, and target account lists. The platform combines your existing sales and marketing data with its own to validate targets, discover new opportunities, and advance your account-based programs.
An Engagement Solution that lets your teams run account-based, personalized, and retargeting ads and send automated SDR emails to amplify your lead generation efforts.
A Measurement Solution to track your ABM program's effectiveness by analyzing your reach, clicks, impressions, view spend, and more. You can view and monitor everything through the platform's dashboard, or within your marketing automation or CRM system.


Leverage the best tools for your sales team
Using the right sales enablement tools can make or break your team's productivity, effectiveness, and success. B2B organizations should seek out the best tools that equip and empower their sales teams while streamlining and supercharging the sales process. Starting with this guide's five suggestions is a great way to begin.