Only a couple of years ago, the term "digital nomad" wasn't even slightly as popular as today. Having the freedom to work remotely while traveling to different destinations only a few people could manage. Now it's as simple as it can be. Traxplorio will allow you to learn more about this adventurous lifestyle, allowing digital nomads to explore new cultures, meet interesting people, and live on their terms. Of course, there is also another side to the coin.
We will talk more about the challenges and rewards of this unconventional lifestyle.
Why should someone become a digital nomad?
For some people who love to create a home in one place and be close to their friends and family most of the time, this might not even be interesting, but adventurous people who would love to travel and have the flexibility to work with laptops, becoming a digital nomad is something to strive for. There are some good reasons why one should become a digital nomad:
The freedom to work from anywhere in the world allows them to travel and explore new cultures while still earning an income.
They can set their schedules and work on their own terms, providing a better work-life balance.
Living and working in different parts of the world can lead to personal growth and a broader perspective.
Digital nomads can often live in more affordable destinations, saving money on living expenses.
How can one become a digital nomad?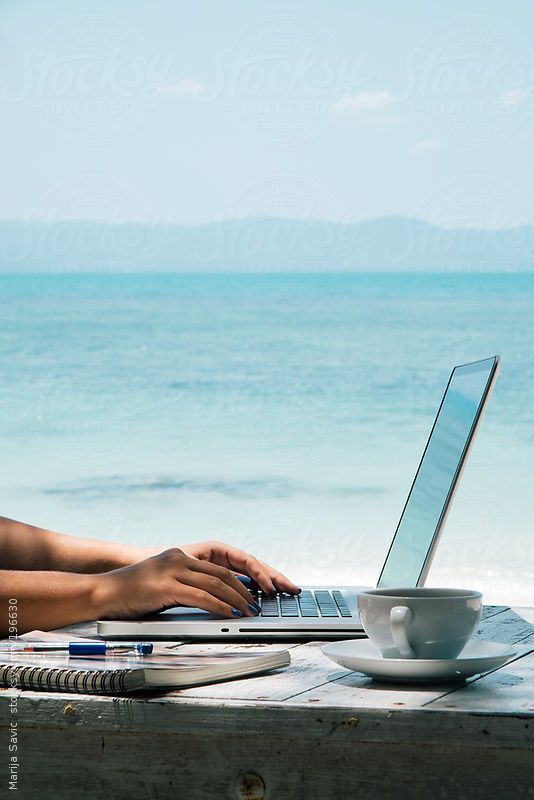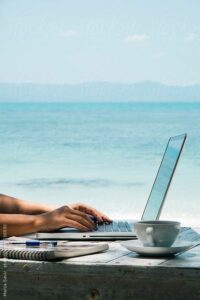 In many professions, it is crucial to work on-site; let's wait to start naming them and focus on the ones that allow remote work. Most jobs are within coding, design, writing, or marketing.
So, the steps to become a digital nomad are as follows:
Develop skills in these areas of work.
Creating a financial plan before you take off and travel is crucial.
Connect and get to know other digital nomads, read blogs, ask for advice, and listen to their experiences.
Choose a first destination.
Last but not least, take a leap of faith.
The Pros of being a digital nomad
If you're considering becoming a digital nomad, there are many reasons why it can be a life-changing decision. Here are some of the pros that you might find convincing:
The sense of freedom, independence, and flexibility: As a digital nomad, you can work from anywhere in the world and set your schedule, leading to a better work-life balance and greater independence. Those years you spent learning, face down in books or computer to comprehend high-demand skills, now can offer you as much time as you want in the place you always wanted to visit.
The opportunity of traveling the world: Being a digital nomad allows you to travel to new and exciting places while still earning an income, which can be a dream come true for many people. Lots of people reach the age of 50-60 years before leaving their hometown. For some, this is not an issue, but some people strive to get out to see more to experience more. Working remotely can give you such opportunity.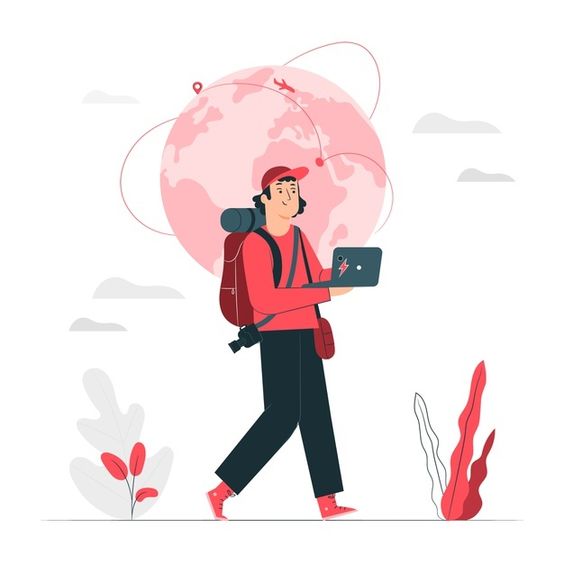 Experiencing new adventures: Living and working in different parts of the world can lead to new and exciting adventures, whether trying new foods, exploring new cultures, or meeting new people. Be open-minded and understanding when you find yourself in an unfamiliar atmosphere.
Personal growth: Being a digital nomad can lead to personal growth and self-discovery as you navigate new challenges and learn new skills. Broadening horizons always bring something fresh to your life.
While becoming a digital nomad has challenges, the benefits can be significant. With the right mindset and resources, you can create a fulfilling and adventurous lifestyle that allows you to explore the world while pursuing your career goals. You will agree that nothing comes easy in life; of course, this lifestyle also has cons. We will talk about them next.
The Cons of being a digital nomad
While being a digital nomad has many benefits, there are also some cons. Here are some reasons why it might not be the best choice for everyone:
Life/work balance becomes hard to maintain: Being a digital nomad often means working irregular hours, dealing with time zone differences, and being constantly on the move, which can make it hard to maintain a healthy work-life balance.
Being stressed while in a new location: Traveling to new places can be exciting, but it can also be stressful, especially if you are unfamiliar with the language, culture, or customs. This can add an extra layer of stress to an already demanding job.
Technical issues: As a digital nomad, you use technology to connect with clients and colleagues. Technical issues such as poor internet connection or computer problems can be frustrating and cost you a buck.
Lack of stability: Being a digital nomad means constantly moving and not having a stable home base, which can lead to feelings of loneliness, isolation, and a lack of community.
It's important to weigh the pros and cons carefully before becoming a digital nomad. If you value stability and routine, being a digital nomad is not your best choice. If the cons made you think twice and reconsider, maybe it's not for you, and it's fine; we are all different; some prefer a more homely atmosphere and riding a bike to work in the same neighborhood. As many people there are in the world, as many reasons one can find to be or not to be a digital nomad.
So weigh your pros and cons before deciding. If you value being close to people nearest to you, being a digital nomad might not be your best choice. Suppose you have the flexibility and readiness to face the uncertainties while being away and taking this journey by yourself. In that case, you will be awarded amazing destinations and views you will remember.