For many businesses in the catering industry, the issue of efficient use of working zones and the opportunity to optimize the productivity of prep processes are essential components of successful existence. Thus, the decision to purchase a durable, easy to maintain and sanitize, rust-resistant commercial stainless steel table that can withstand frequent temperature fluctuations and the effect of food, liquids, and cleaning chemicals is a top priority. In addition to its beneficial features, such a steel workstation can have accessories like casters that ensure easy movement, the material is lightweight, and tables with metallic finish add a contemporary and aesthetic component to commercial kitchens.
The market of stainless steel work tables offers a wide range of options depending on the size, the presence of backsplash for protecting the wall, edge types, countertops, stainless steel gauges, and accessories such as under-shelves, build-in-sink, drawers for more storage space. Regardless of the option you want to choose, a reputable manufacturer always guarantees the high-quality and longevity of professional kitchen equipment. But how to be sure that you have picked the right products and small stainless steel table for meals prep will satisfy your commercial needs and comply with standards?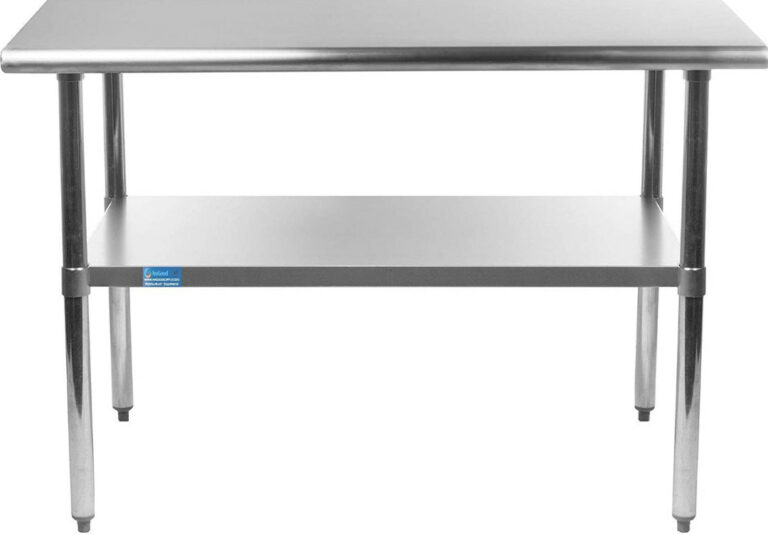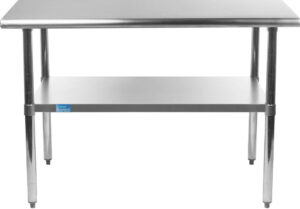 Guide to buying a small stainless steel table for your business
Buy only in manufacturers with impeccable reputation: you should always give preference to products from industry leaders. How to understand whether a particular brand worth your attention and you can rely on it? The number of grateful reviews from real clients over the quite long period is an indicator of credibility and quality of products.
Decide on the preferable table style before purchasing: before investing in the work table, determine your main purposes and how you will use it. Thus, you will know what type of additional upgrades and modifications you need for more convenience at your kitchen, whether a small workstation will be enough and fit the space, and if stainless steel industrial table designs will perfectly cater to your needs.
Evaluate all features of a particular item: you must carefully study the sales proposal, what benefits a manufacturer offers, and product description. Stainless steel itself has lots of pros. However, check some individual characteristics that include the easiness of the assembly process, weight, and dimensions. Also, choosing a food prep table online, don't hesitate to ask for details on shipping, delivery options, and return policies.
The great buying outcome depends on the supplier you decided to cooperate with. If you want to get exactly what you want, a product that will match your kitchen and provide pleasant food prep experience, choose AmGood Supply. Picking an AmGood option of a small stainless steel table with under-shelf for your foodservice establishment, you ensure yourself with food safety, easy surface sterilization without damaging the steel top, stress-free and simple assembly that takes 10-15 minutes. It is an ideal solution for a busy commercial kitchen, as the product design increases functionality, simplifies the preparation routine, and provides additional storage space.