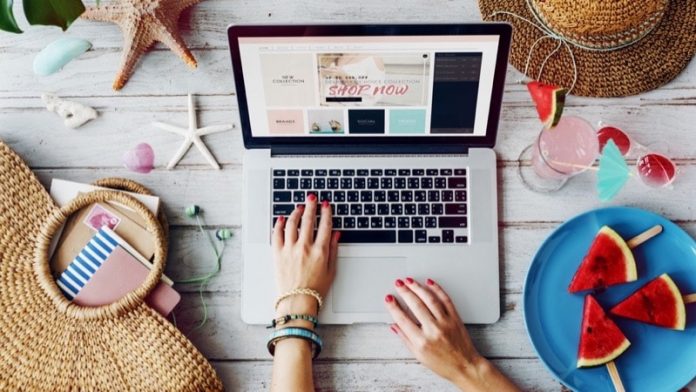 Though the global pandemic due to the COVID-19 virus has impacted many brick-and-mortar businesses, eCommerce continues to thrive. In fact, many online brands have grown and are seeing more sales than ever. Here, we'll discuss eCommerce trends during coronavirus and how sales are faring. We'll also explore one example of a thriving eCommerce site, Jote-ta.
How is COVID-19 Impacting ECommerce?
At the beginning of the coronavirus outbreak, toilet paper, hand soap, and hand sanitizer sales were off the charts. But once the surge calmed down, new trends started to emerge.
You might expect eCommerce to tank the same way that in-store businesses did. After all, many industries—including retail, food, transportation, and tech—have experienced devastating drops in sales.
But instead of worsening, many eCommerce sales skyrocketed. In the first quarter of 2020, consumers spent 14.5 percent more at online retailers than they did the previous year. That's a difference of nearly 20 billion dollars, and that was only in the first quarter of the year.
Why Is ECommerce Doing So Well?
The truth is that many people prefer to shop online rather than venture out during the pandemic. A combination of boredom and the desire to continue life as normal leads people to shop online. And, as the evidence confirms, consumers are buying even more than they used to. But there are more reasons why eCommerce is faring well.
Ease of Shopping
ECommerce continues to do well because it's easy for people to buy the things they want online. In fact, it's far easier to buy online than to shop in-person, especially if you are looking for a specific product.
Mobile Shopping
Being able to shop from home is one thing—but shopping via smartphone is another. The fact is that many consumers shop from their smartphones and tablets. Whether through apps like Amazon or on their phones' browsers, many shoppers don't sit down at the computer to purchase.
ECommerce sites with mobile-friendly websites have the best offerings for customers. And, as Statista confirms, nearly half (49.2 percent) of retail commerce sales were mobile in 2020. In 2021, the figure is expected to grow to 53.9 percent. For retailers with mobile-friendly sites (or apps), that's excellent news, despite the economic impact of the coronavirus.
Payment Flexibility
Plus, accepting a range of payment types—from PayPal to Venmo to Android and Apple wallet options—helps eCommerce sites retain more business than ever.
ECommerce Case Study: Jote-ta Online
During a time when many traditional, brick-and-mortar businesses are closing, shops like Jote-ta are flourishing. Selling items that can ship anywhere in the world is a significant perk of eCommerce.
Just as you can ship items across the globe, you can also attract an international audience of consumers.
What is Jote-ta?
Jote-ta is a Korean digital shop that sells special items for Korean traditions. From clothing for special occasions like dol to printable templates for a doljabi board, Jote-ta has a range of products for shoppers to choose from.
Why Is Jote-ta Doing Well Despite COVID-19?
Stores like Jote-ta continue to see high sales because people are still shopping. The online business model means that consumers can find the products they want, like a Doljabi set, without going into the city to buy them.
There's also the fact that multicultural families based all over the globe have certain products in mind when they shop. For doljabi, for example, Korean families outside of Korea will find it difficult to buy the products they want for the tradition.
Because of economic closures in all countries, asking family to buy items for your child's doljanchi and ship them to you is nearly impossible. It can also be more expensive than shopping online for the same products.
What is Jote-ta Doing Differently During COVID?
All of Jote-ta's products are made in Korea, and each item can ship internationally. Because of the shop's online model, there are few adjustments to make for the business to survive COVID.
To date, the only change to Jote-ta's methods is a bit longer shipping time. While pre-COVID shipping timelines were four to six days for international orders, the pandemic has pushed those dates to 10 to 15 days instead. Domestic orders also increased to a three to five business day window, rather than one to three days.
Jote-ta continues to offer high-quality products for children and families. And with the benefit of a user-focused site experience via Shopify, the website has remained accessible to all shoppers—both international and domestic.
Fortunately, the digital Korean shop was already well-equipped for the effects of the pandemic. Beyond shipping date adjustments, the business has weathered the coronavirus exceptionally well.
What Consumers Are Buying on Jote-ta
Though most children's birthdays and special celebrations—like graduation—are canceled due to social distancing, families still want to celebrate. That means birthday, graduation, and other celebration supplies are best-sellers online.
Many consumers are purchasing hanbok sets, first birthday decorations, and doljabi sets for their children.
Think about how you, as a shopper, would approach your family's special occasions during the pandemic. Even though the family may not be able to gather for a birthday, marking the event helps your loved ones make and share memories.
Maybe your child's doljanchi is coming up, and you want a special baby boy hanbok or baby girl hanbok. Or maybe you are celebrating their first birthday and need a doljabi banner.
Either way, everything is available at Jote-ta, helping families maintain a sense of normalcy even while the pandemic changes everything about their daily lives.
Final Thoughts on ECommerce During Coronavirus
From celebrating your child's first birthday to preparing for their doljabi, you can find the traditional Korean products to suit. More than that, thanks to eCommerce, consumers all over the globe can find and buy the items they want to commemorate special family moments—and more.
Despite COVID-19, online businesses like Jote-ta are thriving. Based on the evidence so far in 2020, eCommerce is the way to go for global retailers who want to remain in business during and after the pandemic.