Branding is everything for your business. Forging connections has always been important for trade, and for millennia goods and ideas were moved across continents. Today, billions of people use the internet, meaning that every business has the opportunity to exploit digital business branding tools to build a brand.
Building and managing any brand certainly requires the right tools, but as Jan-Benedict E.M Steenkamp writes in this article, businesses need to keep an eye on branding trends, especially global connectivity. In his article, Steenkamp observes how some companies innovate ahead of marketing research, giving them a lead above others when it comes to branding dynamics. Some excellent examples include Amazon, Airbnb, Uber, and Google.
Branding Tools Reflect Your Brand
Your company needs strong branding. This comes from its name, logo, core values, color scheme, and marketing. Undeniably, the name and logo of your business are the two most important components of your branding strategy. Both will help your startup by improving recognition, creating trust, adding financial value, supporting your advertising and SEO, generating new customers, and inspiring your employees.
In branding, consistency is key, ensuring your brand is accurately represented throughout your marketing strategy across all channels. The right branding tools help make all your interactions, messages, and content reflective of your brand to your target audience.
These are currently the top business branding tools that can help make your startup memorable: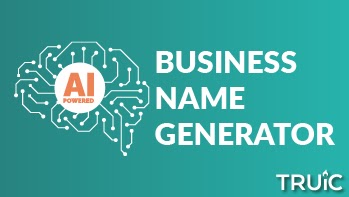 Copyright: TRUiC
Business Name Generator
One of the most important, yet challenging steps for any new entrepreneur is naming their startup. There are several ways to Find A New Business Name.
Besides following your state requirements for naming your business, remember that the best brand names are usually short, very pronounceable, memorable, and unique. In short, the best brand names enhance the customer experience.
New business owners often use different techniques to brainstorm a business name, including word associations, mind maps, freewriting, and getting friends and family involved. This type of creativity is exciting and often yields perfect names, but if you are stuck, then TRUiC's Business Name Generator is the ideal branding tool.
This is a free online Business Name Generator that uses advanced AI tools to help you create a perfect name for your business. A bonus is that the hundreds of names the search will provide you with also have an available domain.
Using this branding tool is as easy as entering a few keywords into the search bar and selecting the industry and location. The tool ensures all your data is private since no information is recorded, even by the domain registrars. You have a choice of hundreds of names to choose from.
Securing A Domain Name
Domain Name Generators are also excellent branding tools, helping you choose a creative domain name for your website. They can also help you generate a business name. Once you have chosen your domain name, don't forget to secure it by registering it.
Logo Maker
Your business logo is vital, ensuring your brand is easy to recognize. You can either employ the services of a marketing agency to generate a logo, or you can use one of several online tools. These can help you create the best logo in just a few minutes without you needing any designing experience. In just a few easy steps, TRUiC's free logo maker allows you to get the whole editable design for free, including a high-resolution image to use on all channels.
Creating A Website
Even the smallest startup today needs to have a website to enhance its branding. Luckily, website building is very easy when using the right tools. WordPress, Wix, GoDaddy, are just some of the website builders that allow even the most inexperienced person to create their business website.
Marketing Strategy
Social media posts, optimized SEO, and email marketing are also part of your branding strategy, and there are several tools that you can use to ensure you have a strong online presence, defined brand guidelines, and increased awareness and visibility among your target audience. HubSpot, Adobe's Lightroom, and SEMrush are just some of the branding tools you can add to your arsenal as you get your business off the ground.
Last Word
These are the branding tools that make it simple for you to market your business. Most are easy to use and free, so go ahead and explore how they can help you. After completing the initial, and most important steps in your branding strategy, namely your business name, domain name, and logo design, you will want to register them immediately after ensuring they are available.