Some may say that call centres are a thing of the past, but nothing could be further from the truth. The more customers are getting used to personalisation, the brighter the call centres' future. Just imagine, that over 60% of consumers report having stopped transacting with a company as a consequence of poor or bad consumer service experience. Thus, be it B2B or B2C, high-quality personalised communication is key for surviving on today's competitive markets.
For 73% of call centres, customer satisfaction is a crucial metric and it will keep that status in the nearest future. Certainly, business partners and final consumers require a different approach. In the same way, B2B communication should be different depending on the position of the contacted person within a company. Surprisingly, however, reports show that only a limited number of organizations have or are planning to form a team for C-level customer service, which would be a considerable step up and an attractive feature for any B2B company.
In the same light, having a wide range of communication tools ready for use, customer service can no more be limited to phone calls only. The conversation with the same customer and, particularly, business partner can take place by email, chat, phone, or messaging platform simultaneously. Hence, keeping a consistent conversation over these all may oftentimes become a challenge. Regardless of what we are talking about – B2B or B2C, 31% of the surveyed customers found among their most frustrating experiences with customer support the need to repeat or submit their data multiple times.
Of course, there are tools out there for the optimization of this process. However, especially when talking about B2B companies that have thousands of business partners, it shouldn't be of surprise that employees in one department have more knowledge about each partner company and manage to get a better feel of it and its representatives or decision-makers than employees from another department of your organization. This is why call centres do need automatisation, which would be based on comprehensive yet timely and accurate information, hence the rising need for company intelligence and business directories.
First of all, long-established or newly founded, call centres look up new customers to offer their services to. Having all the necessary equipment at hand, all that's left is to find the right people, and a company directory would be the perfect solution to both – finding the needed information and saving time.
Moreover, when the task assigned to the call centre does not specify certain companies but rather implies, for example, contacting active businesses from the UK that use marketing automation, company directories are of great help. Usually, these provide filters, making it possible for such tasks to be completed in no time. Considering that not all databases offer the segmentation tools that make the task easy, get assured that your (potential) data provider has them and/or that you have access to them.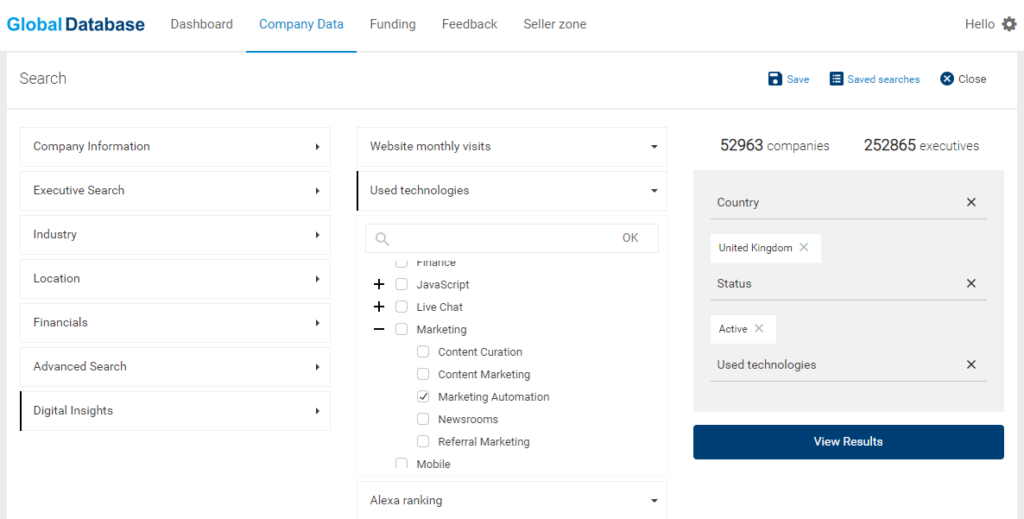 Contacting either existing or new business partners, information would give you the advantage of preparing your message in a way that would allow you to make the most personalized call that the other party has ever received. Even if you have accumulated their more or less complete business profile in your CRM, it will never cover some key points that might be impolite to ask, and not available via a fast online search. The key points can be filled by company data providers.
Similarly, if you have your own database of current clients, but it lacks pieces of data, a company intelligence directory will be the perfect solution source to fill in the blanks. Known as data enrichment, the process implies completing the information you already have with the one you need for each entry. If your data provider and what it delivers is of high-quality, you'll receive a dataset with no obsolete entries and, even better, you'll be able to integrate it with your CRM or any other automation tool of yours via an API.
Some data providers, like Global Database, offer the possibility to benefit from bespoke data research, so that you could request specific data for your particular purpose and be sure that the datasets you have are quite unique.
Indeed, the freshness and accuracy of data are yet another advantage of company intelligence directories for call centres. It may be extremely frustrating to prepare for a call and end up having to talk to someone totally different, who now has the position you were targeting. This conversation would have to be limited to a solely technical discussion, with no degree of personalisation whatsoever.
In addition, call centres trends for 2020 are given by the latest digitisation thereof. Data-driven ones are now increasingly integrating artificial intelligence into customer interactions, for call routing. Managing to layer customer satisfaction, credit risks, propensity to churn and other data in AI will definitely result in generating the highest value out of each call, especially for early adopters. As I am not going to make this a mile-long article by digging deep into the latest technologies and IoT revolutionising call centres' activity, I'll just mention that data-driven tweaks are aimed at streamlining experiences for both – agents and customers. The big data needed for that purpose is delivered by company intelligence platforms.