A healthy sales pipeline is essential to increasing the number of sales you make, especially during purchase seasons. In addition to this benefit, it can help you qualify individuals, manage warm leads, and clearly visualize where potential and current clients are in the buyer's journey.
Despite these advantages, many opt out of using this tool or don't use it to its full potential. Don't let sales opportunities pass you by and start preparing your pipeline for purchase season using the tips below. From setting up your sales pipeline to ensuring it's properly maintained, you'll be well off this season.
1. Standardize Your Pipeline Process
It's important to standardize your mortgage loan pipeline management process from start to finish to generate more sales and qualify leads quicker. This becomes more crucial to do as you begin to grow your team and take in more clients.
When defining your pipeline management process, ensure that there are clear touchpoints or milestones to seamlessly move clients from one step to the next. The ultimate goal should be landing that sale and keeping current clients satisfied. Having a customer relationship management system (CRM) can help you and your team stay on the right track.
2. Take Advantage of Technology
If you're just starting out, a spreadsheet may be enough to track and manage your pipeline for purchase season. However, as you begin to receive more traffic, grow your client list, and hire more team members, it can be difficult to do this manually on a spreadsheet. Enter: automation tools. With the power of automation, your team can take advantage of the following:
Set up reminders to follow up with leads and clients
Send automated emails to those in your CRM when special events occur
Keep track of essential customer details, such as their name, title, email, and phone number
Following up with clients isn't easy, so it's in your best interest to automate your pipeline as soon as you're able to. This can ensure potential sales and current clients don't fall through the cracks.
3. Combine Marketing Techniques With Sales
Sales and marketing go hand in hand, so it's vital to leverage a CRM that can help you market to those currently in your pipeline. For instance, if a few clients are near closing, you can create an email marketing campaign to help them get there.
Another way that you can combine marketing and sales is to implement social media strategies and ensure that they know where to find you on popular platforms. Social media management software is a great tool for any business, regardless of the industry, because it can help you increase your engagement with those interested in your services and funnel them through the sales pipeline.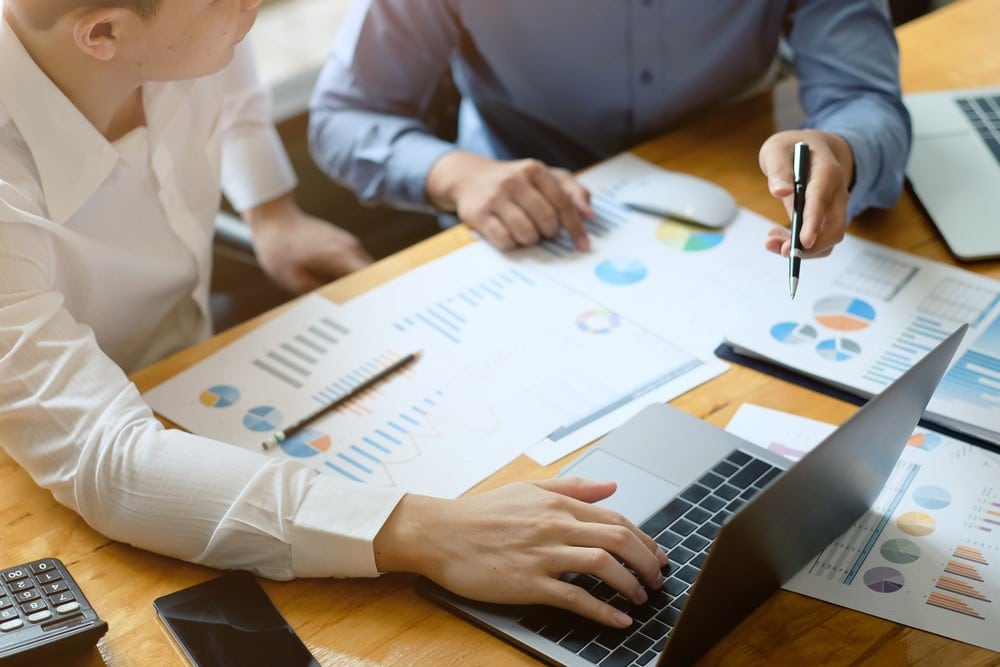 4. Review Your Pipeline Frequently
The key to a healthy pipeline is to review it frequently. Set aside time each month to discuss the overall process with your team, current bottlenecks slowing down sales, and ways to improve the buyer's journey. Consider conducting these pipeline reviews every month. Depending on what your pipeline looks like, it may take a few hours to verify your pipeline is the best that it can be.
During your monthly pipeline reviews, take the time to also ensure that everyone on your team is on the same page about the sales funnel process. Ask them if they know about the resources available that can help qualify leads quickly and effectively.
5. Monitor Your Pipeline Metrics
Along with reviewing your pipeline, it's also a good idea to allocate time for monitoring vital sales metrics, such as:
The number of open deals in your pipeline
The average time it takes to close deals
The average number of deals closed
The average number of deals lost
You can review metrics weekly or every few weeks to confirm the health of your pipeline.
Purchase season can be overwhelming for many lenders. However, by adequately preparing your pipeline ahead of time, you can maximize your sales efforts and ensure clients don't slip through the cracks. Use the tips above to help you get started today.