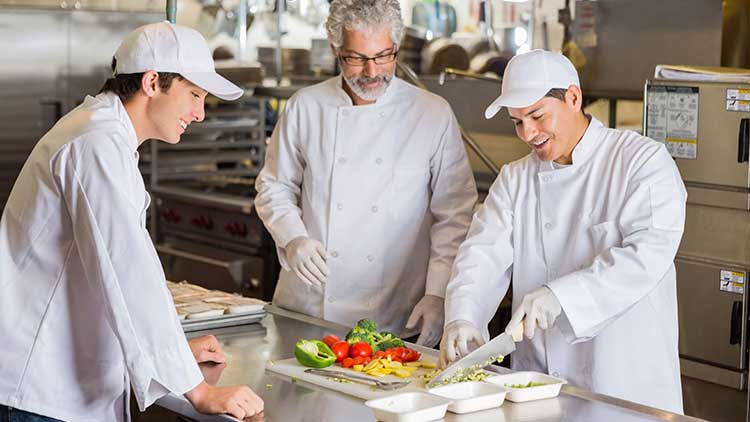 The recent struggles of popular television chef Jamie Oliver have drawn attention to the restaurant market in the UK, which is currently is the grasp of its biggest decline in seven years.
More specially, this competitive marketplace is expected to contract by -3.1% by the end of the year, at least according to the latest research from industry experts MCA Insights.
With this in mind, successful restaurants must rely on the quality of their food and the ability to get the basics right. Maintaining a high level of personal hygiene amongst staff is central to this, and here are stops to achieve this objective.
1. Make Sure Employees Always Wash Their Hands
 Let's start with the basics; as it's imperative that your employees wash their hands regularly during their shifts.
Whilst this particularly applies to employees who prepare and cook food, handling staff such as waiters should also have clean hands that are unlikely to be contaminated by bacteria or toxins.
Of course, it's also important to maintain a functional service in which food is delivered quickly and to a high standard. The general rule is for employees to wash hands as frequently as possible during their shift, however, and certainly after their lunch break or instances where they've blown their nose!
To help achieve this, you should ensure that your kitchen has this type of accessible sink and wash basin installed. Otherwise, it may prove challenging for staff to keep their hands clean whilst optimising their productivity levels.
2. Avoid Nail Polish, Perfume and Aftershave
 Although you may want your staff members to look their best at all times, there are some superficial adornments that may prove either unsuitable or impractical in a restaurant setting.
Take nail polish, for example, which can make your employees hands look prettier but also expose food items to potentially harmful toxins.
Perfumes and aftershaves may also be unsafe, particularly when they're applied in the kitchen. At the same time, strong fragrances can also be off putting to customers, so it's best to avoid them as a general rule.
3. Ensure That Staff Members with Long Hair Tie it Back
 Whilst this may seem like something of a no-brainer, it's important to create clear guidelines for all staff to adhere to pertaining to their appearance.
Those with long hair must be encouraged to tie this back, for example, as the last thing any diner wants is for their mains to be delivered with a side of fuzz!
Not only is this unsightly, but it also provides a constant contamination hazard, so hair needs to be bound and well out of the way when preparing, cooking and serving food.
The same applies to facial hair, which is why some restaurateurs may ask their employees to be clean-shaven or sport nothing more than slight stubble.