Stainless steel equipment is an indispensable assistant for quick, efficient, and smooth kitchen staff operation. The metal countertop, where the main food prep processes are implemented, must be resistant to temperature fluctuations, food and liquid spills, cleaning agents, stains, pore formation, and scratches. Thus, the correct selection of a stainless steel work table for the kitchen is one of the key aspects for the competent and smart space organization and the creation of a secure and healthy environment free from germs and bacteria.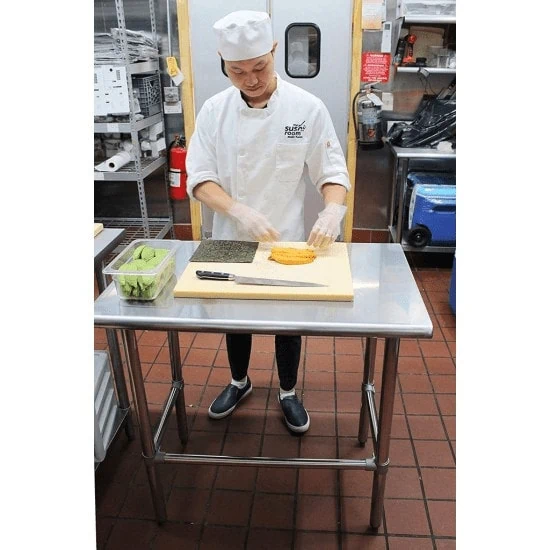 The tabletop is always made of food-grade stainless steel type 304 due to its ideal withstanding of rust and corrosion. For mild rust and oxidation susceptibility, stainless steel 430 also can meet commercial needs. It's cheaper and durable. And even if it is less resistant to corrosion, the 430 stainless steel work table still has perfect resistance to acidic compounds. Such a type of table surface is great for cutting vegetables and fruit.
Best types of stainless steel work tables to simplify kitchen routine
Built-in-sink. For extra convenience of washing activities, a table with drop-in-sink is a solid solution.
Mobile tables with casters. The cleaning procedure of the whole area is much faster with a flexible and moved-around table on wheels.
Extra mounted shelving. Investing in a table with under-shelf, you will gain extra space for storing products and kitchen items within reach.
Drawers for extra space. You cannot imagine prep meals without knives, cutting boards, grater. Thus, to keep tools at hand, consider the option with a couple of drawers.
Features to consider when selecting the best possible option of commercial metal tables
To choose furniture for commercial kitchens, there is a need to take into account a lot of nuances. But most crucial parameters include:
The convenience of food prep processes. Space management should be carefully planned. Furniture items should be located at a convenient distance from each other, meeting ergonomic standards so that your employee of any size and height can cope with restaurant tasks without obstacles.
Steadiness. This requirement is extremely important because a wobbly and shaking table causes discomfort and can lead to the most unpleasant consequences. Moreover, the stainless steel work table should compensate for the wavy and uneven floor, ensuring the safety of workers.
Hygiene norm compliance to prevent foodborne illness. For a food establishment, it is crucial to maintain cleanliness and meet with sanitary and hygienic standards. Choose furniture made of materials that have water-repellent properties, can withstand disinfectants and repeated processing with chemicals. The kitchen employees can easily deal with the objective to keep the surfaces clean and avoid infection development and contamination by using stainless steel working surfaces, appliances, and tools.
Aesthetics component. Strength and longevity are integral features when it comes to a stainless steel work table. However, don't ignore the design and beauty of commercial kitchens, as the principle of harmony must be observed to keep everything in order and enhance the good mood and positive attitude of the staff.
To obtain all benefits from stainless steel equipment, consider AmGoodSupply superior quality wear-resistant metal tables at fair prices to help your food establishment always stay on track and keep serving its guests.