An Associate Product Manager is someone who works in conjunction with the Product Manager(s) to either support them in their work or decrease their workload. You work as an intern apprentice under a senior qualified Product Manager who helps you learn the ropes of the trade. As a beginner, you need to realize your job role and responsibility to work more effectively.
What are the Responsibilities Of An Associate Product Manager?

As an Associate Product Manager (APM), you are expected to do the following:
You must be able to produce product data and metrics by conducting market research.
You must know how to add up all the data to provide research on customer habits and desires.
Create a user story from the customer research and prepare a list of new features that you can incorporate in your product.
Make a bill of materials required to accomplish the project. Make sure to check if the current infrastructure requires any upgrades.
Talk to all the stakeholders and keep close communication to realize the project, making sure everything is progressing on time.
Suggest new product features and develop product strategies.
What is the Job Role of an Associate Product Manager?
The job role of an Associate Product manager differs across different organizations.
In some organizations, an APM works without any direct interaction with the engineers. In some organizations, they execute a sprint and agile framework, along with the Product Manager (PM).
However, in some organizations, they are in charge of a small product development team and work with them. Sometimes, the Associate Product Manager works on a different aspect of the product and reports to the Product Manager at the end of the day to improve the coordination of work.
Why Organizations Need Associate Product Managers?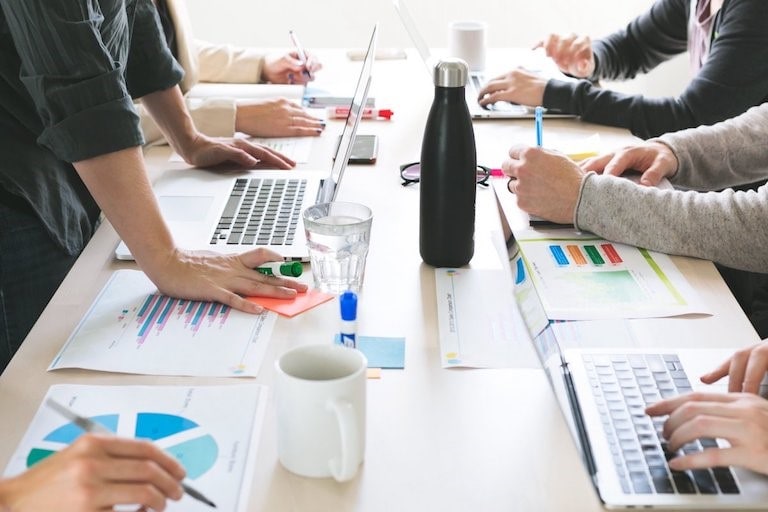 There are mainly two reasons an organization hires an Associate Product Manager. They are as follows :
As an organization becomes seasoned and reaches a level of maturity, they'll start focusing on capturing new talent early on to focus on long term goals. Qualified product managers can be difficult to acquire and very expensive. Hence, organizations search for an APM and train them to become the Product Manager.
In the second case, the organization may realize that the existing product managers are not sufficient to handle all the aspects of the workplace, and they can not afford another product manager. Hence, hiring an Associate Product Manager is the best choice for the organization.
How Can the Associate Product Manager Role Shape Your Career?
As an Associate Product Manager, you will work closely with other PMs. Since a Senior Product Manager will be your direct in charge, you can quickly learn their skills and frameworks from practical involvement.
The Associate Product Manager position a junior role to the PM. Hence, you do not have to bear all the pressure and stress that product managers need to endure. Your senior will not only mentor and guide you but also absorb a lot of the workload and pressure that comes with being a full-fledged Product Manager.
How Can You Become an Associate Product Manager?
The post of an APM is just like a substitute Product manager in training. Hence, you should prepare for it as if you are applying for a Product Manager.
Recruiters look for the following skills and qualities that you need to demonstrate to land a job as an Associate Product Manager, and succeed in your career:
1. Communication Skills
Since you will need to convey, coordinate, manage, lead, and guide product management teams, strong communication skills will be the key to keep everyone on the same page. Since you will need to address cross-functional teams, you will require good interpersonal skills.
2. Analytical Skills
As an Associate Product Manager, you need to conduct market research and translate the data into ideas for new products and features, or simply to increase the user experience and ease of operating existing products. You also need good analytical skills to analyze the market trends and prepare a list of ideas that you think will benefit the organization.
3. Time Management Skills
As an APM, you need to deliver products within the deadline for a successful product launch, along with all the necessary features. Hence, you not only need to have good workforce management but also require good time management skills.
4. Decision-Making Skills
As an APM,  you need to know how to prioritize conflicting needs and interests to properly handle shipping and product launches. You must have quick negotiation and on the spot decision-making skills.
5. Quick Learner
Usually, organizations recruit students straight after their graduation because they are a clean slate. It is easy to mold them to serve the purpose of the organization. As an APM, you will need to learn the ropes of the trade from scratch.
Hence, showcasing your talent to learn from mistakes will serve as a major boost.
6. Training
Organizations also consider the cost of training a recruit. Hence, you must undergo a product management training program from a reputable organization. Since the goal of training is to find a job, you need to look at their placement history and placement assistance programs.
How Long Does it Take to Get Promoted to Product Manager?
The answer to how long it may take you to get promoted as a Product Manager depends on the organization. It is usually based on either one out of these three factors.
1. Tenure
Some companies will promote you after a certain fixed tenure. Usually, the tenure is somewhere around 2 to 3 years of working as an APM.
2. Performance
Some companies will promote you based on your performance.
If you can show your benefits to the organization through your work, you will get promoted to a product manager. It usually involves an achievement that you accomplish all by yourself. These organizations look for reliable people who can lead the company forward in the long term.
3. New Opportunities
The remaining organizations will not promote you until new opportunities appear, and they require a dedicated project manager for the task.
What are the Best Places to Work?
While choosing the best places to work, you need to pay attention to the Associate Product Manager salary and benefits offered by them.
According to Product School, the best companies for Associate Product manager are as follows :
Amazon
Google
Magic Lab
Conclusion
Before taking up the role of an APM, you need to be aware of a few things.
As an Associate Product Manager, you may sometimes have to fill in the shoes of the Product Manager. You also need to pay attention to the type of organization you are working in; otherwise, you will be stuck without being promoted to PM for a long time.