Every company happens to be confronted with obstacles that, to a greater or lesser extent, hinder its growth and negatively affect its employees' performance. Instead of solely wondering whether such unfavourable circumstances will ever change, resourceful managers and executives need to focus on how to counteract the situation and, simply, get back on track. We will not be surprised if this sounds familiar to you.
The main question is: how to find the remedy if you feel you are not capable of doing it on your own? Well, you may need business consulting services offered by knowledgeable business growth consultants. Who are they, and, more importantly, how exactly can they help you? You are just about to find out.
The definition of a business growth consultant
In simple terms, a business growth consultant is an expert advisor whose knowledge and experience make them able to understand what a given company is aiming to achieve, recognize all the difficulties and key challenges it is struggling with and propose adequate solutions thanks to which the company can adopt the right strategy for its further development. This can help businesses increase efficiency, explore potential opportunities, get closer to financial success, and, generally, lead them towards their desired results.
How can a business growth consultant help your company?
If you are prospering well, and you do not need any external help to push your business forward, you may not even recognize what kind of obstacles other companies are faced with. Some examples of the most typical growth-stifling barriers include:
ineffective management,
poor business planning and lack of good business strategies,
an inability to build a "growth mindset",
financial difficulties,
lack of understanding of the target market,
poor customer experience management,
or insufficient marketing.
And these are just a handful of the most obvious ones. Business growth consulting can help companies overcome such problems by giving well-thought-out business diagnosis and offering solutions for improving the situation.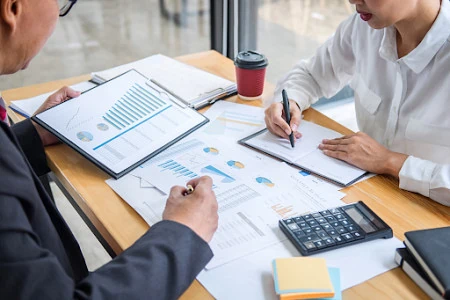 Key phases of effective business consulting services
Many business consultants are thoroughly familiar with the business world — they are often entrepreneurs, investors or other specialists that know exactly what is needed to move in the strategic direction and how to facilitate business growth. Their remedial strategy — i.e. solutions they are offering to help you turn your company into a successful business — often consists of the following steps:
RECOGNIZING PROBLEMS
At this stage, business consultants collect information about their clients in order to identify structural flaws in their business strategy, recognize their main challenges, find out what business goals the companies wants to reach, who their major competitors are, what the employees are anxious about, etc. This involves asking questions, discussing, observing and drawing conclusions that are supposed to help the consultant devise an adequate strategy.
PLANNING
All the data business growth consultants have managed to gather is the key to the strategy planning process. A solid action plan should be focused on pursuing long-term business goals — including taking advantage of every opportunity for improving things — as well as on choosing a set of proper tools by means of which those goals can be achieved.
TRAINING
What business consultants need to do after coming up with a detailed action plan is offer training to all members of the staff. This is vital for the employees to understand all the aspects of the new strategy and be well aware of what steps are going to be taken next.
INTRODUCING CHANGES
Action plan implementation is the crucial phase during which a company employs the innovative strategy provided by the business consultant. The role of the advisor is to supervise the realization of the process in order to make sure that measurable results can be expected.
EVALUATING
The final phase relates to assessing — performed by both the company and their specialist — whether the implementation of new guidelines and tactics has produced the expected result.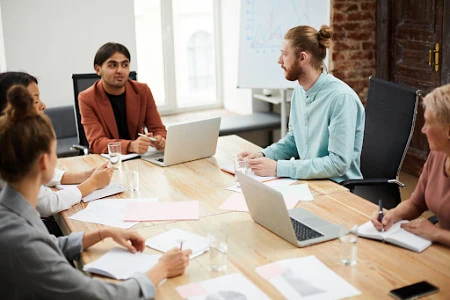 Business consulting services — examples of specific tasks
The range of business consultants' responsibilities depends hugely on specific needs of their clients. What tasks may a business growth consultant be confronted with? The list includes a vast variety of things, for instance:
investigating and/or redefining the very fundamentals of your business, including conducting SWOT analysis (strengths, weaknesses, opportunities, and threats), or identifying your buyer personas;
working towards accurately defining the company's brand values and vision;
evaluating the company's organizational culture, hiring strategy, the level of employees' competence and skilfulness, communication skills, etc.;
conducting research aiming at finding new revenue streams;
providing management consulting services;
and many more.
What benefits can you get?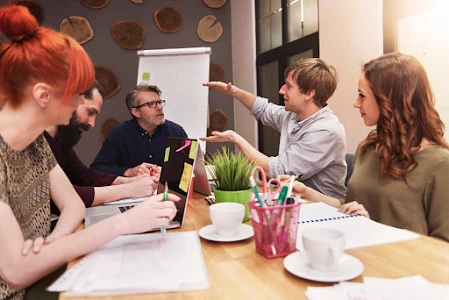 Although it is impossible to predict and list all potential advantages of cooperation with a business consultancy expert, we would like to present some particularly significant and promising issues.
Looking at things from a different perspective
Very often companies (especially small businesses and start-ups) may lack experience needed to set emotions aside and be impartial. An independent and unbiased advisor can help them develop a new attitude, gain more confidence and see the big picture, which is essential to be better able to recognize problems and react to them properly.
Learning from the more experienced
As business consultants are experts in the business field, they bring knowledge, professionalism, and insightfulness that both new and more mature companies can significantly benefit from.
Saving money in the long run
Even though hiring a business consultant does not come for free (bear in mind, there is no guarantee of success either), acting upon professional advice may reduce the risk of making redundant decisions and sticking to ineffective solutions, which, in turn, could generate considerable costs in the future.
Getting help that is well-suited to your needs
Thanks to their expertise, experience and full engagement in the strategy planning process, business consultants are capable of tailoring their advice to the actual needs and goals of their clients. This means that — instead of relying on vague promises and random tactics — business owners can receive highly personalized feedback on their companies performance and be equipped with a whole range of suitable tools and valuable resources. Getting precise and carefully analysed answers to your problems seems to increase your chances of having a profitable future (and this is essentially how many business consultants justify their rates).
Business growth consulting for the better
Given the impressive versatility of the services a business growth consultant can offer, there is no doubt you and your business can benefit hugely from hiring such a specialist. Strategic action plans, and the result-oriented approach are the factors that can not only help you successfully go through the hard time in your business life cycle, but also provide you with the strategy for further growth.