One can't help but appreciate what an incredible platform the internet has proved to be in the past few decades. But what many people fail to realize is that it also comes with a decent amount of hindrance mainly in the form of hackers.
Most hackers aim for businesses to hoard money from but that's not to say that solo users are immune from attacks. In fact, according to a 2019 research, there are about 300,000 new pieces of malware created every day. This gives us an estimated figure of a cyber attack every 39 seconds. Therefore, as a user, odds are always against you. So, using a reliable browser such as Mozilla Firefox must be the first priority.
As we know, Mozilla Firefox is one of the most secure internet browsers out there. Despite that, its stock version does not provide complete immunity. Hence, it is recommended that you use Firefox browser add-ons that provide an extra layer of security towards your browsing experience. But it is also worth noting that unlike the Firefox browser itself, most of the available add-ons are uploaded by third-party companies that don't always deliver as promised. Here are some of the best security add-ons for the Firefox browser that will enhance your immunity from cyber attacks.
5 Best Firefox Add-ons for 2020
VPN Service
Similar to most internet browsers, Mozilla Firefox does not provide protection from ISPs collecting and selling your data. Therefore, hackers can easily initiate an attack on you as all of your internet activity can be penetrated using your IP address. To protect you from this possibility, software such as Firefox VPN add-on will do quite nicely. Even if you are somehow safe from cyber attacks, it is still unsafe to leak all your data to your ISP.
Virtual Private Network Service is one of the best Firefox browser add-ons in terms of security. As its name suggests, it provides the user with an encrypted platform to browse the internet. For doing so, it uses secure channels that hide your IP address which means that no third party can intercept your data. Furthermore, it also comes with an ad-blocker and a malware protector that optimally shields you from any attackers.
HTTPS Everywhere 
Although the secure version (HTTPS) or HTTP has been around for quite a while now, most websites on the internet have limited support for it. Additionally, since all the websites have third party links and ads, the likelihood of opening an unencrypted web page during your browsing session is quite high. Therefore, using an HTTPS exclusive Firefox add-on such as HTTPS Everywhere becomes a necessity.
Started by the Electronic Frontier Foundation, HTTPS Everywhere is a Firefox extension that encrypts every single web page accessed using the browser. Other than that, it also encrypts the search bars and other trivial activities performed by the user. In terms of its working, its job is to rewrite the URL and add exception filters in order to encrypt data and open websites using HTTPS. In case a website seems fishy and can't be encrypted, it displays a broken "lock icon" that allows the user to back off from it in an instant.
uBlock
We can all agree ads are annoying, right? Not only are they annoying, but they can also be downright intrusive, collecting data and targeting us with ads of products we've looked at in the past. Plus, there have been many cases of cybercriminals hiding crypto-miners and other forms of malware behind advertisements.
Fortunately, uBlock is easy to install onto Firefox. With uBlock, you'll be able to block any and all advertisements that are supposed to show up, ridding you of both annoyance and danger. If you're not already using one, you should install it immediately. It's a whole new world compared to the Internet without one!
(Side note: other adblockers, such as Adblock Plus, have been found to sell user data to other companies. Download uBlock and Ublock only)
Bloody Vikings!
While spam E-Mails aren't always direct attacks initiated by hackers, they can be troublesome to deal with. Even if you deal with them momentarily, the cycle of spam E-Mail never stops as you are constantly giving away your E-Mail address to a variety of sites on the internet. A good way of dealing with this problem is to use a disposable E-Mail address instead of your primary one. Bloody Vikings! is a firefox browser extension that is designed to keep the same idea in mind.
Bloody Vikings! is a simple yet elegant browser add-on that provides its users with disposable E-Mail addresses. It is a combination of multiple E-Mail services that provide its users with a certain expiration date. To use this extension, one must simply call for it from the add-ons page, select a type of E-Mail address service. After that, your fake address will be generated.
Decentraleyes
It is safe to say that the internet has an immeasurable amount of data exchange. Therefore, to make things easy, it uses central delivery networks (CDN) that deliver web pages and its content to the user as per their geographical location. Now, these CDNs are mostly big companies such as Google and Microsoft. Therefore, alongside providing users with web pages and content, they also access your activities and, in most cases, curate business strategies according to it. To avoid this, you need a CDN barrier Firefox extension such as Decentraleyes.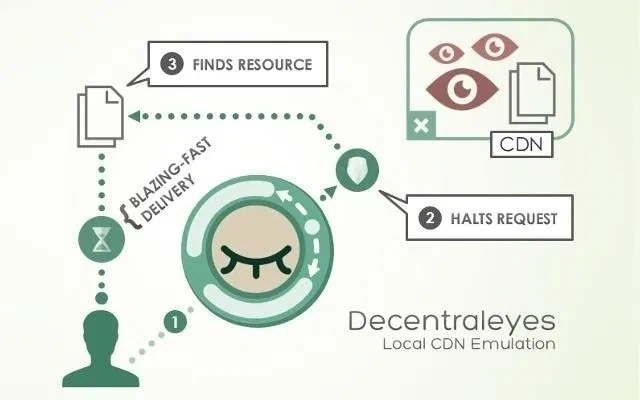 Decentraleyes is an advanced open-source add-on for the Firefox browser that allows its users to use local CDN resources. In other words, it prevents primary CDNs from accessing and using/selling your data on the internet. If your browser does try to access a CDN network, it blocks the request and shifts to a local network automatically. Simply put, it is a great way of protecting yourself from data tracking.
Conclusion
The internet is a great place to connect and gather information. However, it can also be quite draconian if you aren't careful. From cyber attacks to spam E-Mails, there are several ways your data could get leaked into the wrong hands. To avoid this, the first course of action should be using a safe and reliable browser such as Mozilla Firefox. Secondly, you must add all the tools (add-ons) to it that make it an unbreakable shield. To help our readers, we curated the list of the best Firefox browser security add-ons to get in 2020 above. So, make sure you check them out and have a safe experience on the internet.