Who in this world does not like music? Life would definitely be boring without the sound of amazing songs sung by famous artists around the world.
If you totally agree with the above statement, then what music streaming service are you making use of at the moment? Well, if you happened to use Spotify among the many available applications, then I bet you should also be aware on one software program you can use alongside your Spotify experience. The tool we are talking about is this DumpMedia Spotify Music Converter. Have you heard or read about this one before?
In this blog post, our main discussion would linger around the ideas about mentioned converter – what it actually is, the perks and advantages of using it, what the software is capable of, how you can utilize it correctly, and how it can be beneficial to users like you.
Are you excited to get to know one amazing third-party software application such as the above mentioned? Let us start with our discussion then.
Part 1: Know about Spotify Application and Its Limitations
You might be so hooked with a lot of popular songs introduced to public nowadays. If you are a person who truly loves music and take it as a hobby during spare time, then you must be aware on the much music streaming services out there. Well, Google Play Music, Amazon Music, Apple Music, and of course Spotify, are only some of the many sites well-known to people and are commonly used.
The Spotify application does not only offer the best music. You can even listen to podcasts, audiobooks, and other contents created by several different artists. What is good about this is that it is very much compatible with several devices. This means that you need not worry that much in terms of streaming.
Using the Spotify application requires a person to purchase the premium subscription (9.99 USD per month) in order to unlock its many advantages and capabilities – unlimited skipping of songs, choose any music you wanted to listen to, no interrupting advertisements all throughout your listening experience, be able to download songs and keep it for offline streaming, and a lot more. But is there a way to enjoy Spotify but avoid paying the premium fee?
It is true that you can still enjoy the songs from mentioned application for free but there would always be drawbacks. You will be experiencing the total opposite of what you can enjoy while subscribed to a premium – which is surely frustrating and irritating.
If you are thinking about the same thought as others, that getting a premium is a great thing, you could probably be right. However, you should first look into the limitations of getting the premium subscription.
Limitations Of Premium Spotify Music Subscription
Downloading of songs for offline streaming is indeed possible. But you can only save the songs in a maximum number – three thousand thirty-three songs per device (up to three devices).
Once songs are saved, you must be able to sign in once every thirty days to keep those. Failure to do so will result to disappearance of those songs in the device.
You cannot share the downloaded songs with anyone not using the application without premium. (Since sharing of playlists is possible for premium users).
Once your subscription ended, the songs downloaded will be gone as well.
With the above, have you thought about any other ideas? Have you ever thought of looking for a procedure which will help you remove all those limitations if you got a premium account? What if you are a free Spotify user?
We are to answer all the questions mentioned as we go along this blog post. If you are interested, then continue hopping in.
Part 2: An Overview to DumpMedia Spotify Music Converter
Once you hit your keypads or keyboards and enter some words in the search bar pertaining to converters like this DumpMedia Spotify Music Converter, you will surely be seeing a lot of options in the web. A lot of creators have made and developed software applications with the same purpose of converting your favorite Spotify songs to many other available formats. But what makes this DumpMedia Spotify Music Converter stand out? What does it have to be called the best?
Technically, this DumpMedia Spotify Music Converter is a tool which has the main purpose of transforming a number of Spotify songs from its current format, OGG Vorbis to many other supported formats such as MP3, WAV, AAC, FLAC, and more.
Apart from its main use, you can actually utilize the tool for many other functions. Below are the features you can enjoy while using mentioned software program.

Part 3: Features Of DumpMedia Spotify Music Converter
While using the application, you can indulge yourself to the many good things it can offer to every user. Below is the list for your quick reference.
Easy Removal Of DRM (Digital Rights Management) Protection
If you are not yet aware, the songs you are listening to in Spotify application are DRM protected. What does this imply?
All type of contents, not only music, could be DRM protected. Mentioned protection is being used by creators in order to avoid the illegal copying, downloading, or using of contents without prior permission from the owner. This hinders many people from keeping the files in any unauthorized gadgets. If contents are DRM protected, then you can only have those played and opened in the specific and approved applications.
With the help of DumpMedia Spotify Music Converter, DRM protection would easily be removed allowing the person to keep the songs and play those in any device even without an internet connection. Sharing with friend and family members would now be doable as well!
Conversion And Downloading Spotify Songs
With the help of DumpMedia Spotify Music Converter, you can have all your favorite Spotify songs under several playlists and albums transformed to any format you want. This converter supports numerous input and output formats.
Input Format Formats
Spotify songs, albums, and playlists (in OGG Vorbis format)
You can have the songs converted to below.
Output Formats
MP3 – the most used file format.
M4A
FLAC
WAV
Preservation Of ID3 Tags And Metadata
Looking at this tool's speed and performance, you can actually expect an output after performing the whole process of downloading and conversion. The speed of the transformation is actually five times faster than the other software.
What is best with this is that you can expect a resulting file with almost the same quality as the original. During conversion, ID3 tags and metadata are being preserved and maintained. This only means that you can still keep the name of the artists, titles of songs, the artwork on each album, playlists, albums, and more.
Enjoy Advance Features
Apart from the mentioned, with this DumpMedia Spotify Music Converter, you can also get the chance to experience great and advanced features.
When it comes to the application's interface, apart from being too easy to navigate and control, it is very usable because it offers guides and information in three languages. The team is working more on this and is developing and planning to add more.
You can also perform basic editing functions in this device. There is a room for customization and personalization depending on what the user prefers.
Nothing to worry as well when it comes to importing and uploading of Spotify songs into the system. You can easily do the usual dragging and dropping process.
Part 4: Installation Requirements: The List You Should Also Know
Now, upon reading the above awesome things about this DumpMedia Spotify Music Converter, you are surely thinking about the things needed to keep going.
What do you need in order to successfully utilize the tool?
In terms of operating system, DumpMedia Spotify Music Converter, works well in Windows 10, 8, 7 (in 32 and 64 bits). It also functions great in macOS in 10.9, 10.10, 10.11 and 10.12, 10.13 and 10.14 versions.
1G Hz processor or above is as well a requirement.
The monitor to use should have 1024×768 pixels or higher resolution.
When it comes to Random Access Memory or RAM, you must use 512 MB or higher.
Of course, a stable connection plays an important role as well since tool is to be downloaded from the web.
Now that we are good to go as we are already aware on what you have to prepare, we will now be tackling about the steps needed in order to fully utilize this DumpMedia Spotify Music Converter.
Part 5: DumpMedia Spotify Music Converter: A Guide On The Procedure
As initially mentioned on the previous part of this article, this tool's interface is very user-friendly. The control and navigation are very easy to perform.
Here is what you need to know to finally proceed with successful Spotify songs' transformation.
The guide is presented below.
Download and install the DumpMedia Spotify Music Converter.
Import the Spotify song/s and choose an output format.
Finally, proceed with conversion.
Of course, we have the details corresponding to each step mentioned.
Step 1: Download And Install The DumpMedia Spotify Music Converter
The first thing that you need to do is to have the tool downloaded and installed on your personal computer. The program offers a trial version which you can use temporarily to test if it really suits your needs. If you'd like to proceed with the paid version, then you can unlock limitless features being offered by the tool.
Once you are done with installation, you can just launch the program to arrive at the main interface. Alongside with this, ensure that your Spotify application has been opened as well.
Step 2: Import The Spotify Song/s And Choose An Output Format
Upon finishing the first step, you can now import your favorite Spotify songs which you intend to be converted. You can actually import not only one but a bunch of songs because the tool supports batch conversion. You can do the uploading by just performing the dragging and dropping of files into it. Conventionally, you can as well do the usual adding of files if prefer doing so.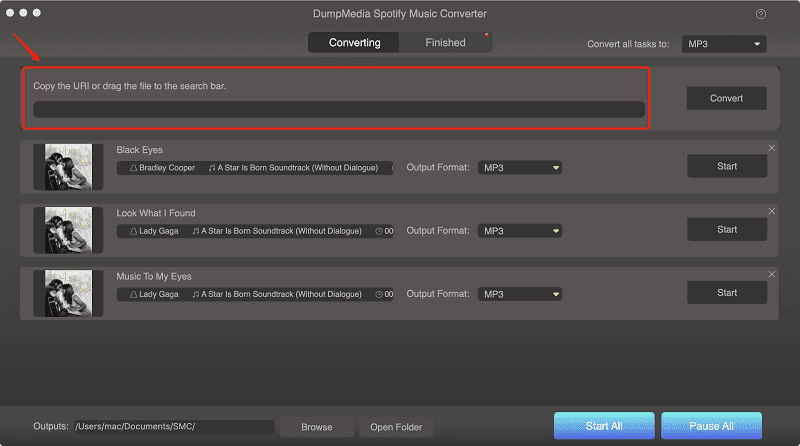 Once all files have been imported, then you can just choose the "output" format you want among the options available. Do this by heading to the "Convert All Tasks to:" button located at the upper right corner of the screen. In this step, you can also do the basic editing when it comes to bit rate, sample rate, and more. As mentioned, DumpMedia Spotify Music Converter supports customization.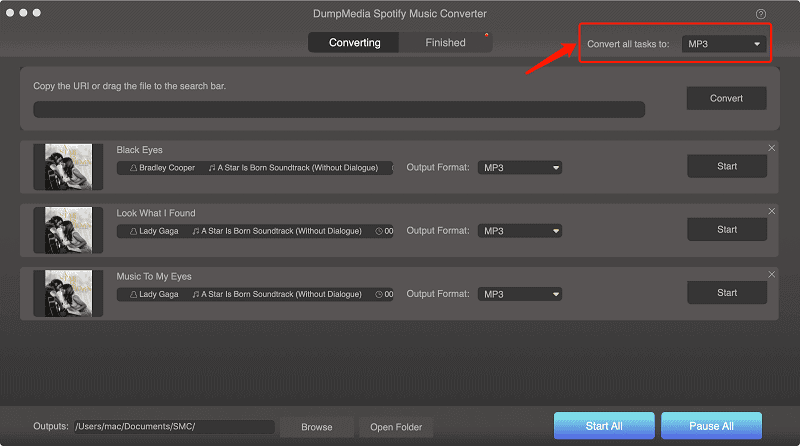 Step 3: Finally, Proceed With Conversion
Once everything has been set up correctly, then you can simply proceed with the conversion process. You can easily perform this by just hitting the "Convert" button which you can immediately notice in the screen.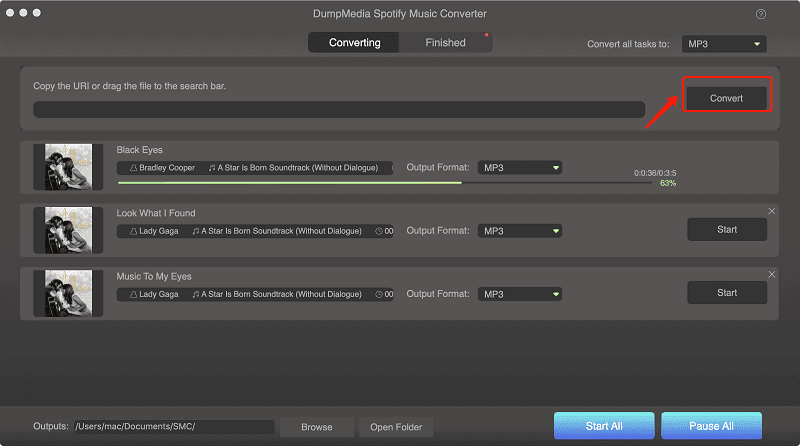 Since conversion is too fast (five times faster speed), you can have the output file in just few minutes ensuring that quality is as good as the original. Progress bars are as well shown in the screen for monitoring of the transformation process.
You can also hit the "Pause" button in case you intend to suddenly pause the process. Make sure as well that you correctly inputted the output path wherein the final file will be saved. There is a "Browse" button in the screen which you can use to choose the folder from your computer's library.
Part 6: To Wrap It All
In this blog post, we had shown how great this DumpMedia Spotify Music Converter is. You got to know the features this application has, the requirements in order to use it, and even the procedure on how you can easily navigate it once downloaded.
Mentioned tool is indeed very useful to every user who intends to download Spotify songs and transform those to any other format. Now, there is nothing you must worry when in comes to keeping your favorite Spotify songs. Well, you can have this tool anytime you want to! Why not give this a try?