Have you ever met some iOS systems issues and you don't know how to solve them? Such issues are something like iTunes error code, iPhone stuck in recovery mode, Apple logo and other kinds of problems. I used to meet the problem of iTunes error code and I searched on the net of how to deal with such kind of problem. Then I saw some articles introducing tools of iOS system recovery. Among those tools, I tried FoneDog iOS System Recovery and I found this software is customer-friendly. It really helped me solve my issues. So here, in this article, I will introduce this wonderful software to all of you. I hope you can solve your problems using FoneDog iOS System Recovery after reading this article.
Part 1. Two Ways to Fix Your iOS System Issues
If you encounter iOS system issues, then don't worry about that. There are two ways for you to handle and solve these issues by using FoneDog Toolkit –  iOS System Recovery. At first, you need to know that this software can be used to detect whether your iPhone is in normal state or not. Then, if it found something wrong about your device, it will show you two options.
1. Standard Mode
No one wants to loss their data. So when you have some problems on your iPhone and you want to deal with them without losing data of great importance, then you can choose "Standard Mode". Under this mode, your data will not be lost and all your text messages, photos, contacts and other crucial data can be saved well.
2. Advanced Mode
If the first choice fails, that is to say, if the Standard Mode cannot work, then you still have the second choice which is the Advanced Mode. Why we say it the second choice? Because it is not as good as the first one. Under such mode, your data may be erased and you are in the danger of losing some very important data. Even so, you can still use it to fix your iOS systems issues.
Part 2. How to Use FoneDog iOS System Recovery
Now that you have understood the two ways to fix iOS system issues, it is time to let you know how to use FoneDog iOS System Recovery. The steps to use this software are quite simple. Let's look at them one by one.
Step 1. Download FoneDog iOS System Recovery
First of all, you have to go to the official website of FoneDog. After you see the homepage of this website, you need to find the toolkit interface and then select "iOS System Recovery" option to start with. Then, you have to connect your iPhone or iPad to your computer with the help of a USB cable. After all of that, you could just click on the "Start" button.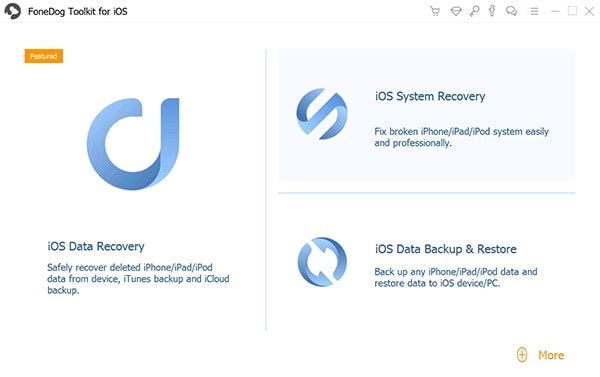 Step 2. Confirm to Download Firmware
If you want to fix the abnormalities in your operating system by using FoneDog iOS System Recovery, you have to download the firmware. That is to say, when you are asked to install the firmware, you have to confirm it. Then, you will begin to download the newest iOS version. Therefore, all you should do is to choose the "Repair" button and wait for a while until the firmware being installed.
Step 3. Automatically Repair
As long as you have installed the FoneDog iOS System Recovery, then it will begin to repair your device automatically. You have to pay attention that during this process, you cannot use you iPhone or iPad. If you use your device, then it will have the problem of being bricked.
Step 4. Waiting for the Process Completed
After the software finishing its repair, it will give you a notice. Before that, you cannot unplug your iPhone or iPad. So just be patient and wait for a while until you receive the notice of finishing the repair.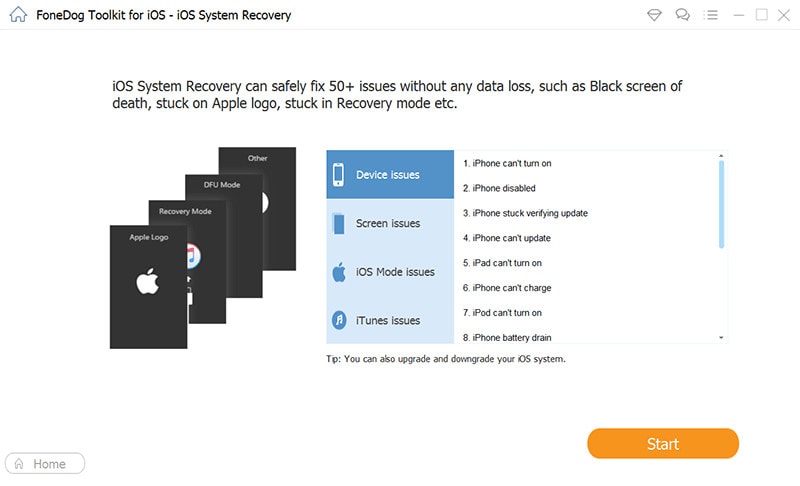 Part 3. When to Use FoneDog iOS System Recovery and Its Supported Devices
Sometimes you may not know when should you use FoneDog iOS System Recovery. Here are some circumstances that you can use this software.
When your iPhone has some problems in its recovery mode
When your iPhone is trapped in DUF mode
When your iPhone has something wrong with its Apple logo
When your iPhone is trapped in a constant reboot
When your iPhone doesn't run well in its headphone mode
When your iPhone has a screen in black, blue, or white
When your iPhone is frozen or disabled
After you have known when to use this tool, you also need to know what types of devices it supports. It supports nearly all kinds of iPhone, iPad, and iPod. For iPhone, it supports all types of iPhone from the generation of iPhone 5 to the latest generation of iPhone XS. For iPad, it allows all models of iPad Pro, iPad Air, and iPad Mini. For iPod, it supports iPod touch 5 and iPod touch 4.
Part 4. Conclusion
It is common that you may encounter such problems like iTunes error code, iPhone stuck in recovery mode, Apple logo, and so on. But take it easy, because the FoneDog iOS System Recovery is here to help you solve all these issues. In this article, I have introduced this quite useful iOS System Recovery. I believe all of you can understand how to use it fixing your problems. But just understanding is not enough, you have to take action. Go to download this software and try it to make your iPhone or iPad normal again.