Over the past few years, there has been a rise in the number of external hard disks being produced as more and more people use external hard roves to store backups and data sop that it can be shared between different devices with ease. If the external drive not showing up and you are not being able to access the files that you have saved in it, it can be a big issue. This is because these devices are used to transfer large sized data that might be important for you. This can be caused due to a number of different reasons and there are multiple solutions for external hard drive not showing up.
Different reasons for this issue
If external hard disk not detected this can be a result of a lot of different reasons involving both hardware as well as software. If your hard disk in not readable, you will not be able to open it and access the files that are present inside it. In order to understand the methods that will be used resolving this issue, you need to understand the causes behind it as well. This will help you understand the issue better and will also allow you to resolves them before they even happen.
The following are the various reasons-
Errors like external hard drive not detected can be caused due to faulty connection. Make sure that the USB is properly plugged into the computer tightly. Also pull it out and blow into the ports as sometimes dust can also cause similar issues. Try to check the wiring of the ports and their connection with the motherboard of your computer.
It can also be caused if your USB port does not support the USB version of the device you are plugging in or due to the fact that the ports are damaged. This is a very common problem that can occur any time. The only way to resolve this is by repairing or replacing the ports.
If you don't regularly update the drivers of the USB port and the USB devices that you use like external hard disks, your system might not be able to detect it when you plug it in. In order to update the drivers of your device, right click on it and go to the properties option, here check for updates and updates it.
Virus or malware infections
Errors like hard drive not showing up can also be caused due to virus infections or malware that are present in your system of external hard drive. In order to avoid this issue, make sure that you have effective antivirus software installed that can repair and delete the viruses and protect your data from getting corrupted or destroyed.
Your operating system is responsible for reading the external drives and to process them. System keeps on receiving updates in order to remove any issues and to enhance the usability and effectiveness of the system. If you don't regularly update the system, issues like external hard disk not detected can be noticed. Make sure that your system is up-to-date with the latest versions.
How to recover files from external hard disks if it is not recognized?
One of the most reliable and easy way to recover files from the external hard drives is by making use of Recoverit. This is a free to use third party software that can be used to recover files and data from internal as well as external, storage devices with ease. Using this tool, you will also be able to recover some deleted and lost files as well. Despite the fact that it is completely free to use, there are no compromises done on the basis of the features and the usability that is being offered to you with a clean and simple user interface.
The following steps will help you to recover files from External hard disk.
Step1 Download Recoverit
The first step is to download, install and launch Recoverit. Now, select the external drive that you wish to recover from.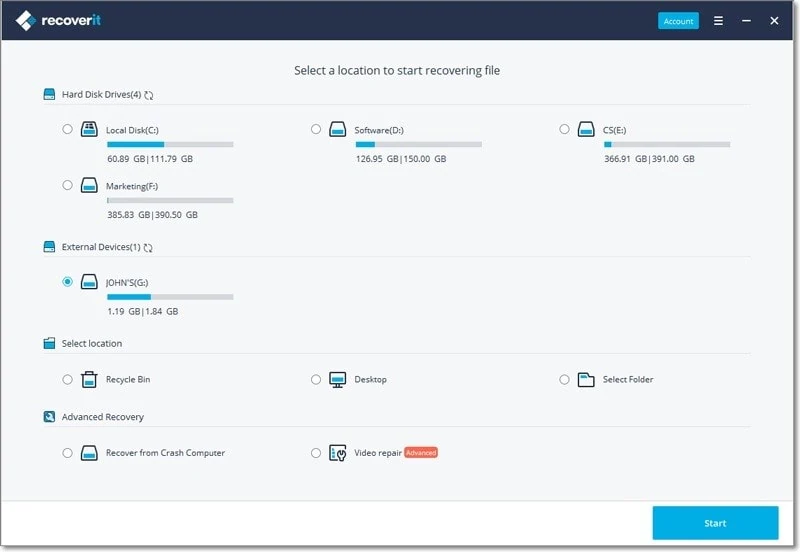 Step 2 Start the scan
Now, that the drive is selected, click on the start button present on the bottom right corner to start the scan.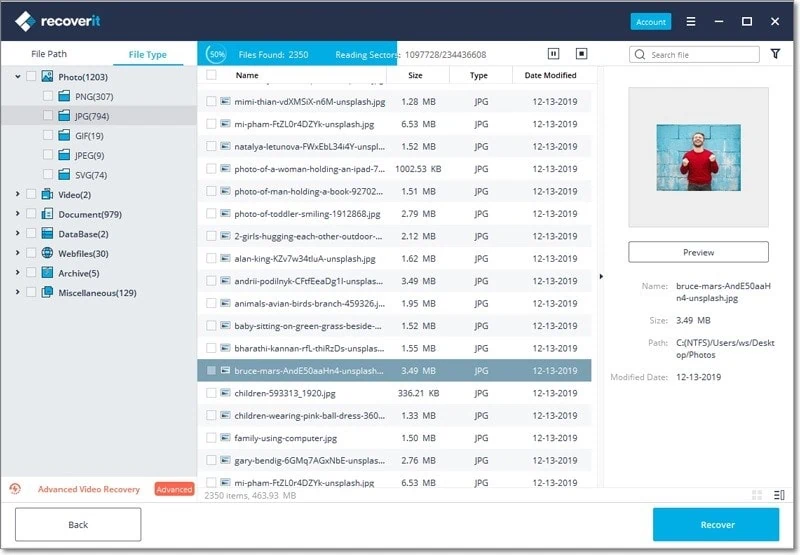 Step 3 Preview and recover the files   
Now, you will be able to see the list of the files that can be recovered, click on them and preview them, If everything seems fine as per your requirements, make sure that you select them and click on recover.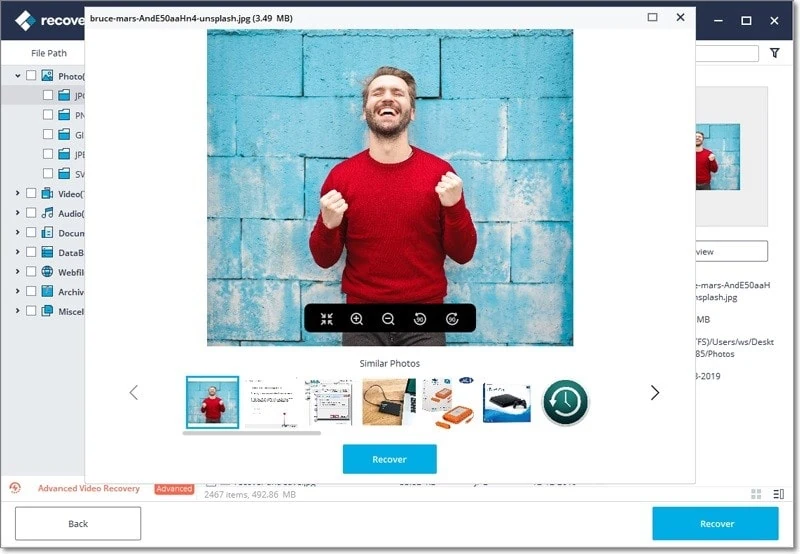 Conclusion
External hard drives can be used to store large amount of data and they also have a lot faster data transfer speed. Due to this, it is being widely used to store data like videos, audios, files and backups etc. Often, you might not be able to access the files in the hard disk as the external drive not showing up. One of the best ways to recover data out of such hard drives is by using third party tools like Recoverit, which is completely free to use and is quite easy to use as well.
Get discount here : 15% OFF COUPON: LENyt409