SD cards are ubiquitous and used in almost all portable devices. They are used to store data from digital cameras, phones, tablets, and other electronic devices. But what happens when you accidentally delete files off your SD card? Don't worry – there is a way to get the files back.
If you've lost files from an SD card, formatted the device, or experienced file system corruption, there are several SD card data recovery softwares that can reliably restore your data. However, our favorite pick to recover files from an SD card is Wondershare Recoverit.
Part 1 – Common Data Loss Reasons on SD Cards
There are many scenarios that can cause data loss on SD card. Let's find out the details below. And no matter what caused your data loss, you should stop using the SD card immediately so that no new files can be written and existing ones cannot get overwritten.
Accidental Deletion 
You can mistakenly delete files or even folders from your device. For example, when you're trying to delete one single file, but delete a bunch of files. When you're trying to rename the document, but click Delete by accident. That can cause trouble.
Formatting 
Formatting an SD card is another way to cause accidental data loss on your device. When you format an SD card, all existing data will be wiped out and cannot be recovered without specialized tool.
Physical Damages
If an SD card gets physically damaged due to water immersion, extreme temperature changes, or other factors, the content stored on the card can become inaccessible.
Virus Infection
Viruses and malware can also cause data loss on an SD card by corrupting its existing files.
File System Corruption 
Corruption in the file system is another common cause of data loss on SD cards. This happens when there are inconsistencies in how a computer reads and writes data to an SD card, making some saved files unreadable.
Improper Insertion
Improper insertion or removal of the SD card from the camera, phone, computer, or card reader can cause the card damaged. And the files can get lost.
Part 2. Best SD Card Recovery Software
We recommend Wondershare Recoverit to recover files from SD card users because it is reliable and easy to use. The software can recover deleted files, photos, videos, documents, audio recordings, and more from almost any storage device.
Wondershare Recoverit provides a deep SD card recovery feature that scans the entire SD card sector-by-sector to look for existing or deleted files. This way, you can be sure that even if some files have been overwritten, they will still be recoverable with this tool.
Recoverit has a user-friendly interface and is easy to use. It also guarantees your files will be restored to their original condition regardless of how they have been lost or deleted. Furthermore, Recoverit has a preview feature that lets you check out each file before restoring them to your computer.
Besides SD cards, Recoverit also works great to restore lost or deleted data from hard drives, USB drives, digital cameras, and other storage media.
Key Features:
Crashed Computer Recovery 
If your computer system has crashed or stopped working optimally, Recoverit can restore your lost or inaccessible data. If you mistakenly formatted your drive, Recoverit can restore all the data from that drive. It also supports partition recovery and restores lost or deleted files from corrupted, damaged, or formatted partitions. This tool can also help you recover data from missing partitions on your hard drive.
NAS/Linux Recovery 
With Wondershare Recoverit NAS Recovery feature, you can get your lost or deleted data from damaged, failed NAS storage devices such as Western Digital, Synology, Seagate BlackArmor, and more.
For Linux-operated server, laptop, or desktop, Recoverit also can help you complete data recovery easily. The Linux file systems it support include EXT4 , BTRFS, XFS, and BFS.
Enhanced Video Recovery 
With Recoverit, you can retrieve any lost or deleted video files promptly. No matter the format of your video file and the platform, this tool can restore videos to up to 500 scenarios across all operating systems and storage devices.
Tech Specs
For Windows XP/Vista/7/8/10/11
For macOS X 10.10 – macOS 13
Compatible with almost all file systems
SD Card Recovery with Wondershare Recoverit
Below is the step-by-step to recover your lost or deleted data from SD card with Wondershare Recoverit.
Step 1. Launch Recoverit on your PC
First, download and install Recoverit on your PC. Connect your Micro SD card to the computer.
Step 2. Select your SD Card
Launch Recoverit and find the SD card detected by your computer. Select it, and click the "Start" button to process.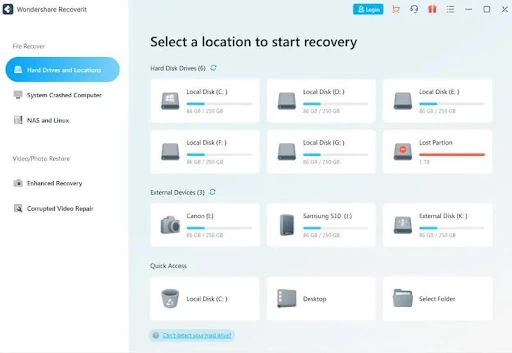 Step 3. Scanning the SD Card
Recoverit Data Recovery software will start scanning the SD card to find your lost data. If you can't see any of the files you need, scan again with the "Deep Scan" feature. This will perform a more thorough search to get your files from the SD card.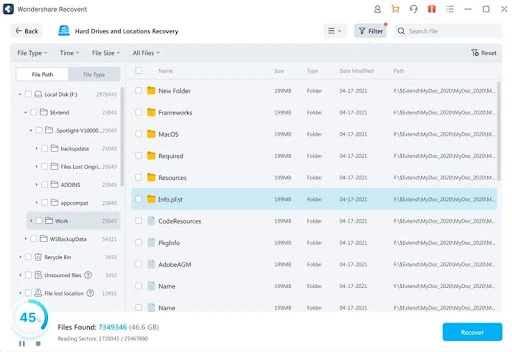 Step 4. Preview and Recover Data
After the deep scan is completed, you can see all recovered data files. You can preview the photos, videos, and other recoverable files. Select the files you want to retrieve and click the "Recover" button. The files will be restored to your preferred location on your PC.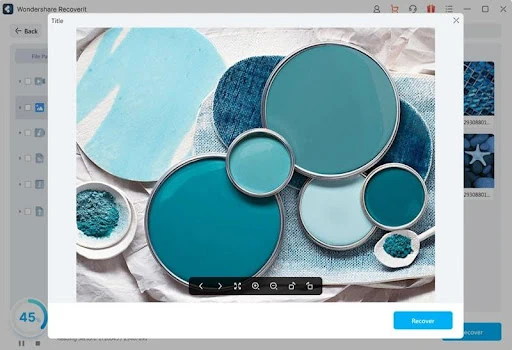 Conclusion
Wondershare Recoverit is the ultimate SD card data recovery tool with reliable features that makes it easy for users to restore deleted or lost files from SD cards, hard drives, and other storage media. It lets users preview recovered files before restoring them and ensures the videos are restored without corruption. With Recoverit, there is no need to worry about losing your files from an SD card. We highly recommend downloading this software and trying it out—you won't be disappointed!