Yes, it is possible to restore photos even after permanently deleting them from your computer. This is because photos you have deleted are present on your hard disk. And with the help of photo recovery tools like Wondershare Recoverit, you can restore deleted photos or files with a single click.
There are hundreds of tools out there claiming to be perfect. However, most of them are incompatible or present a complex interface that makes it troublesome to recover permanently deleted photos. But that is not the case with Wondershare Recoverit. Scroll down to learn how to recover permanently deleted photos.
Wondershare Recoverit
Recommended and used by millions of users, Wondershare Recoverit is the most effective way to recover permanently deleted or lost photos. Every option on the interface is self-explanatory. For context — on the main interface, you can choose the hard drive from where the images were lost. This makes the photo recovery process quick and simplistic. Moreover, once the hard drive scans the deleted files, the File Type view lets you quickly sort all the photos and find the desired image.

But what's exceptional about Wondershare Recoverit is lets you recover the files in the original quality. The photos will also have their original names, making it simple to identify and recover the deleted images.
Beyond this, Wondershare Recoverit can recover lost data regardless of the scenario. This means whether the computer crashed or you lost the images due to a disk partition, the tool will help you recover them seamlessly.
Supporting more than 2000 storage devices, you can also recover deleted photos from an external hard drive like a pen drive, floppy disk, action camera, drone camera, dashcam, camcorder, video player, etc.
Photos are not the only thing you can recover using Wondershare Recoverit. Supporting more than 1000 file formats, Recoverit allows you to restore all the deleted files in their original quality and names.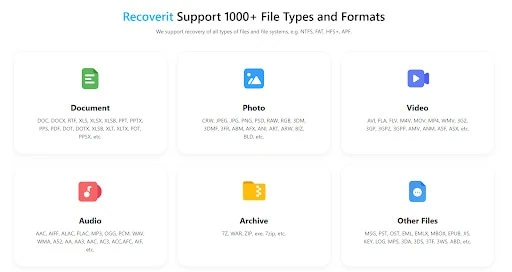 How To Recover Permanently Deleted Photos Using Recoverit?
Recoverit's straightforward and self-explanatory user interface makes it easy for even tech-neophytes to recover permanently deleted photos within minutes. You can download Wondershare Recoverit on PC or Mac and follow the below-mentioned to get back the deleted pictures.
Step 1: Select Storage Location
Run Recoverit Photo Recovery on your PC and choose the hard disk drive which the photos got deleted from. Afterward, click the 'Start' button to start scanning.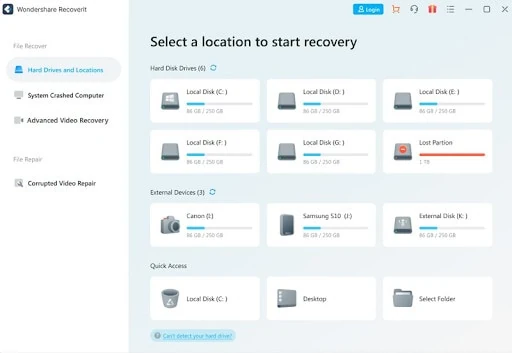 Step 2: Scan Hard Disk
Once you click start, Recoverit will instantly perform a thorough scan of the hard disk to find all deleted photos. Just be patient for the process to be completed.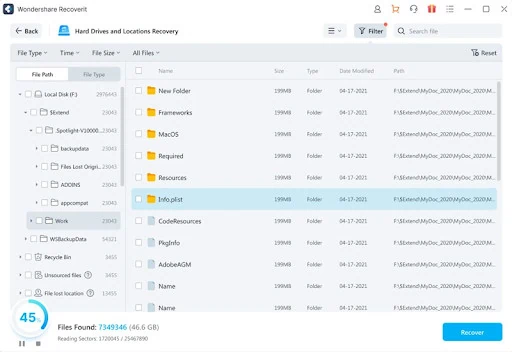 Step 3: Preview and Recover Deleted Photos
After the scanning operation is completed, Recoverit will display all deleted photos found on your PC screen. You can Preview the images and click 'Recover' to restore them to your PC storage.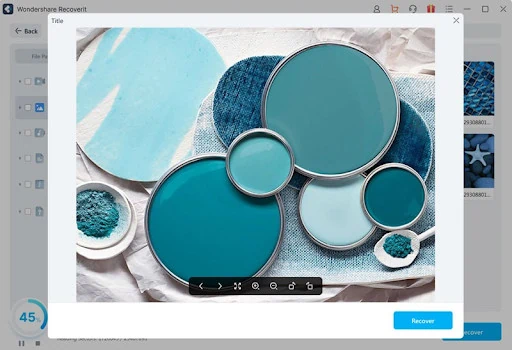 That's how simple it is to recover permanently deleted photos with Wondershare Recoverit.
Why is Wondershare Recoverit the Best Program For Photo Recovery?
Wondershare Recoverit is recommended by every user that has recovered their precious files and miraculously found them because of the program.
Aside from users, distinguished and acclaimed tech critics like Xda-developers also recommend Recoverit for any data loss situation. And for good reasons:
Recoverit requires no prior commitments: Not many photo recovery tools allow you to review the recoverable files and only then purchase the license. It charges you only when the files are found. Even if you buy the tool, there is a 7-day money-back guarantee.
Self-explanatory user interface that isn't hard to understand: the sleek, clean, and modern interface are intuitive enough to make the photo recovery process simple and easy.
24/7 customer support: the customer support team helps you to recover the files and deal with technical difficulties whenever you need them.
Recoverit supports a quick and deep scan: save time with the quick scan. If the quick scan fails, use the deep scan to increase the chances of photo recovery.
Sort by File Type: don't want to look for other file types? Use File Type view and quickly sort all the images to simplify recovery. You can recover single files or an entire folder at once.
How Much Does Wondershare Recoverit Cost?
Recoverit provides several plans at affordable prices and you can pick the package you're your requirements. Here's what you have to know about Wondershare Recoverit program for Windows and Mac:
Wondershare Recoverit — Windows version:
The Windows version of Wondershare Recoverit comes for free. You can scan the hard disk and know whether the permanently deleted photos are recoverable or not. If Wondershare lists the files as recoverable, you will have to upgrade to unlock certain features.
Essential: US$ 69.99 (1 PC)/ Year
If your computer is working and you do not have to create a bootable disk to reformat the disk, then the Essential plan is suitable. All you have to do to recover photos is to download the tool, scan the drive, and recover the images.
Standard: US$ 79.99 (1 PC) / Year
If your computer is crashed or not working, the Standard plan allows you to create a bootable disk (imagine it as an operating system). And still, recover the files from the crashed computer.
Premium: US$ 89.99 (2 PC) / Year
The Premium plan is suitable for users looking to recover videos and repair them if necessary. It includes several advanced tools to restore and improve permanently deleted videos.
Wondershare Recoverit — Mac version:
Wondershare Recoverit also has a Mac version. Depending on the chosen plan, the plans and their capabilities remain the same. Moreover, the simplicity and quick recovery features, as discussed, also are similar.
Conclusion,
Photo recovery should be a simple process. And Wondershare Recoverit, as shown, makes it simple and quick. Just download the tool and check whether the permanently deleted files are still present on your computer or not. If they are, Wondershare allows you to preview and download them instantly. Of course, there is no commitment required from your side beforehand. Only once you confirm do you have to purchase the license. This is where Wondershare stands out from its competitors. Many "so-called" photo recovery tools claim to be the best but charge you beforehand and give no refund when the tool couldn't recover the desired images.
Another thing to consider is the 95% recovery rate of Recoverit, which ensures that if the images are recoverable, the program will recover them. So, do not hesitate and recover the photos using Wondershare Recoverit before they get replaced with other data on the computer.