When it comes to PC maintenance, some users may not be aware of the importance of driver updates. The first step here is to understand it better. So, what is a driver exactly?
Your PC's drivers are software that helps the operating system on your computer interact with other components. This can be hardware or software. For example, if you want your computer to send information to your printer, you need a driver to make that happen. The same goes for games, using your wireless keyboard or plugging and downloading pictures from a camera.
Driver Updates—Why it's a Priority
When you're attempting to use updated software or a new piece of hardware, but your drivers are outdated —you won't be able to use your equipment optimally.
Outdated or corrupted drivers can result in a poor system performance unnecessary expenses and wasted time, so it is better not to wait before you start updating.
Benefits of Updated Drivers
Your computer will work faster and perform better
Smoother interaction with software or hardware
All your hardware will work the moment you plug it into your PC
 Risks Associated with Outdated Devices
Wasting time with error messages popping up on your screen
Equipment or programs won't work, which can waste time and limit productivity
In extreme cases, your computer may crash
Slow performance
Device malfunctions while you're using hardware equipment
There are many ways to keep your drivers updated, one of them is by using an effective tool such as Outbyte Driver Updater. It handles driver updates on your behalf, so you avoid the risks mentioned above and don't have to waste your time doing it manually. It also makes sure the updates are of the correct type to ensure efficiency.
Ready to Update? Using Outbyte Driver Updater for Your Benefit
The process starts with a download from Outbyte.com and scanning your PC. The software will examine all necessary aspects and show you the results in the 'Diagnostics' tab while it's working.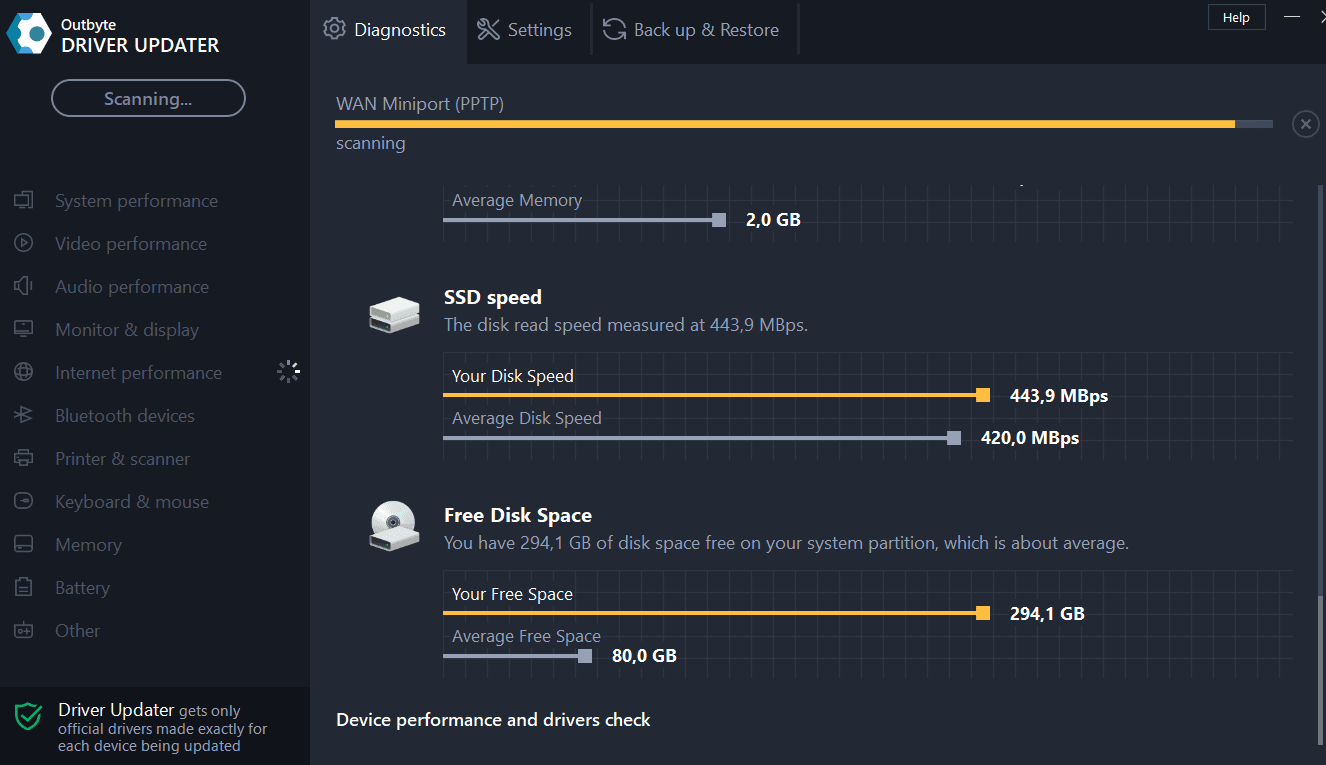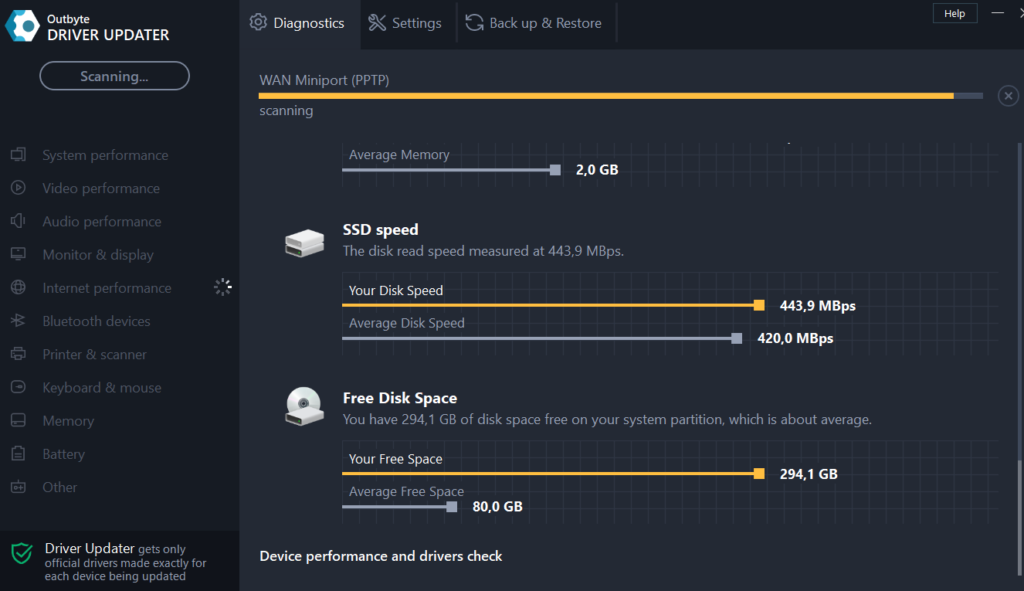 It will show a summary of the outcome when it's done scanning, so you know if it's necessary to update anything.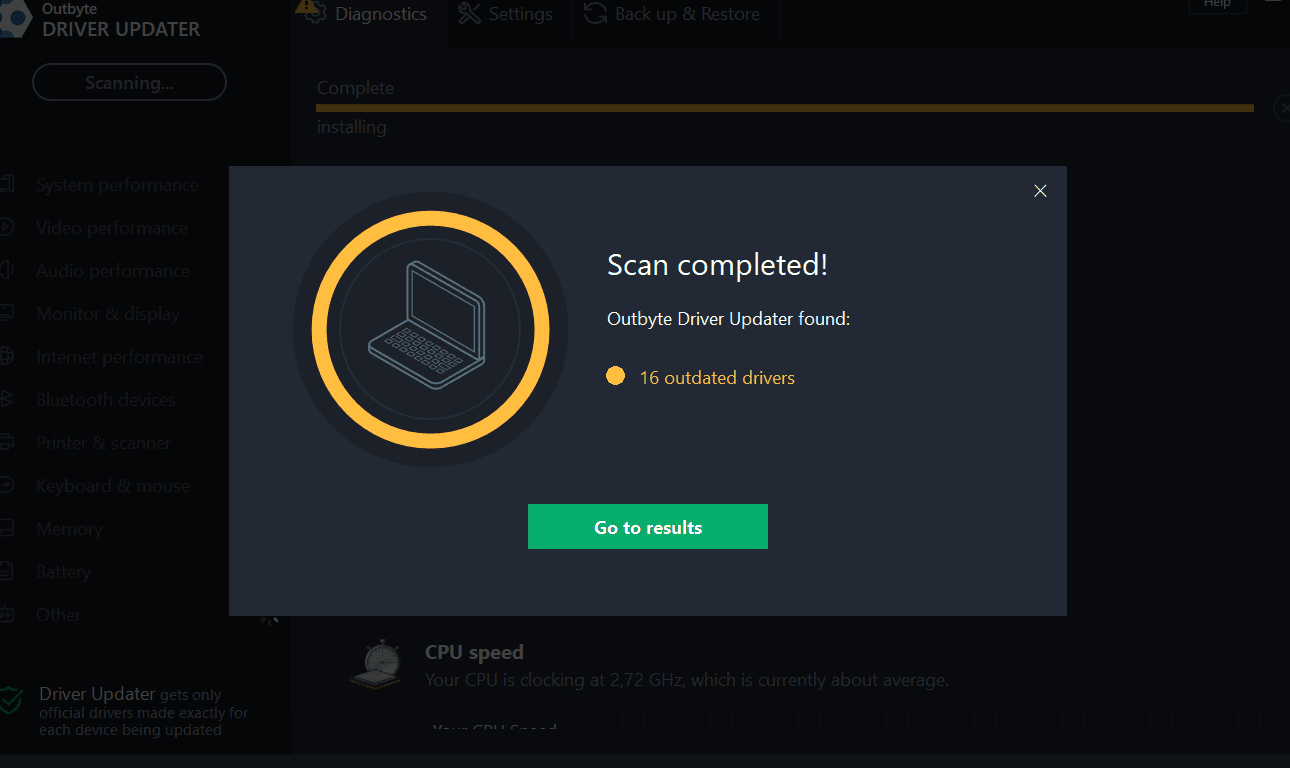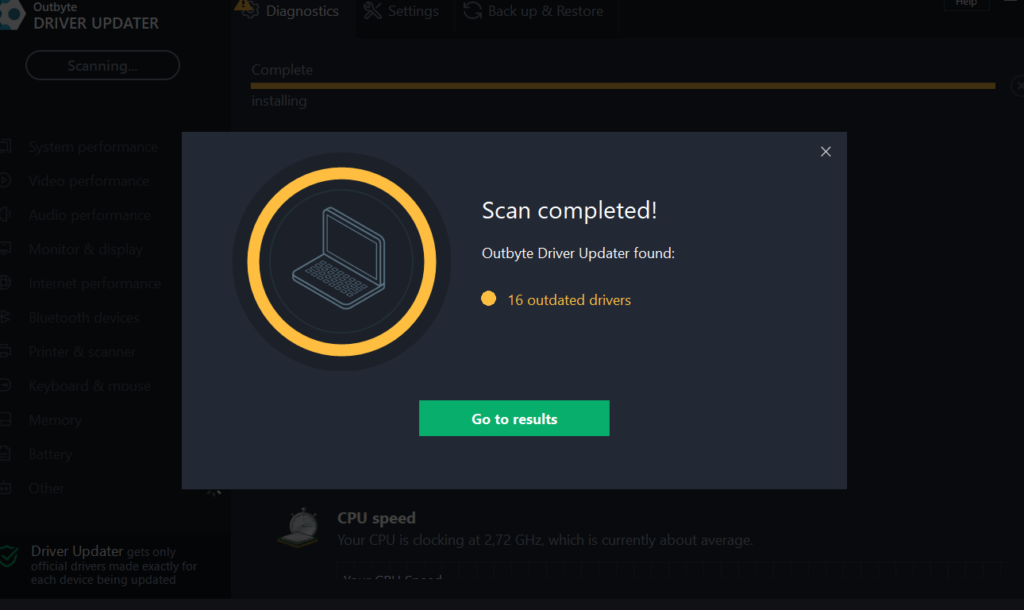 View Results
The Outbyte Driver Updater gives you a detailed report of the outdated drivers on your device. Knowing how up to date a certain item is, can help you make an informed decision whether it's necessary to update it or not.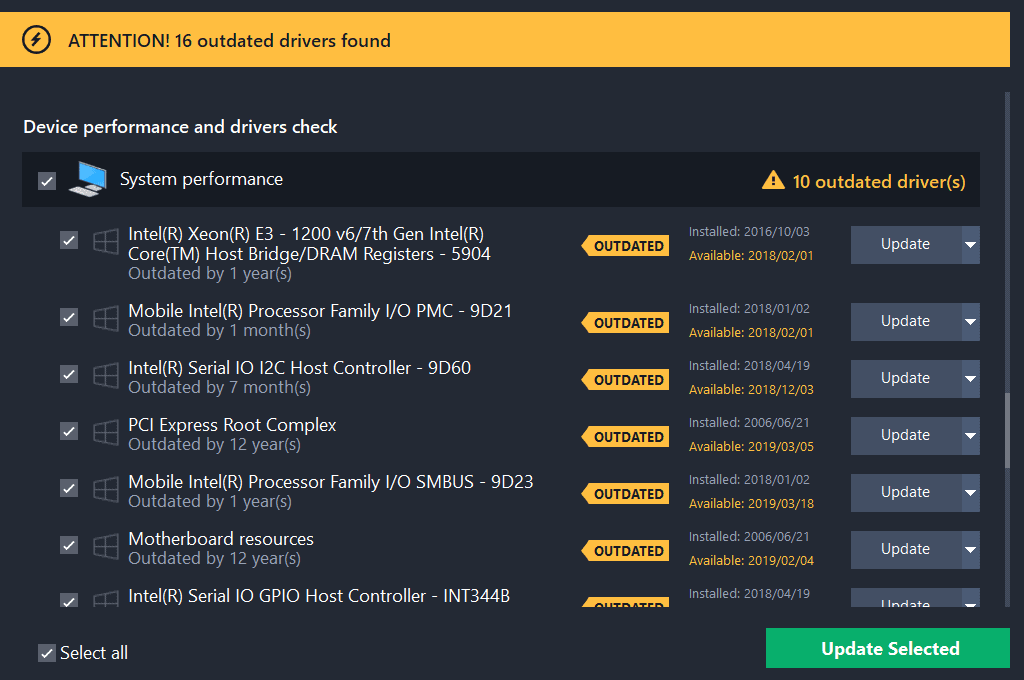 The information is grouped, which makes it easy to pinpoint a possible source of an issue. If you're experiencing a problem with connecting to the internet, scroll to relevant categories on the list. Update these features and see if it solves your problem.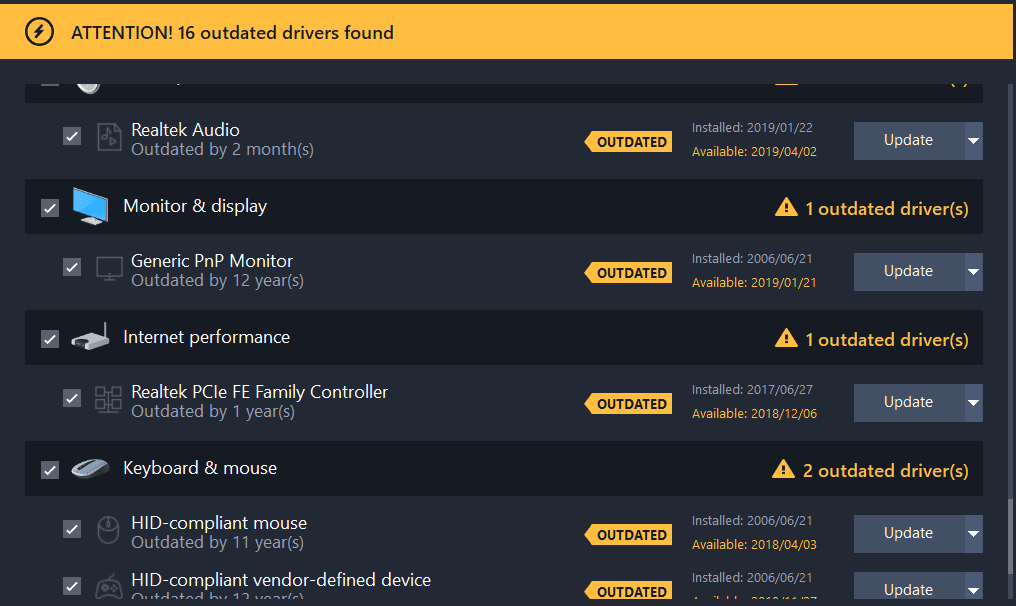 It's also up to you whether you want to update all drivers. If you want to skip some of them, simply select 'Ignore' instead of 'Update'. When you've made your selection, click on the green 'Update Selected' button.
Outbyte Driver Updater will do the rest and you can enjoy a better functioning PC.
Manual Features
Something I appreciate about Outbyte is the extent of options and control users have. You can allow the software to scan your computer, but you can also manage certain driver activities manually.
The 'Back up & Restore' tab on the dashboard offers you a list of categories of drivers. To create a backup or restore a certain item, simply tick the box and click the green button.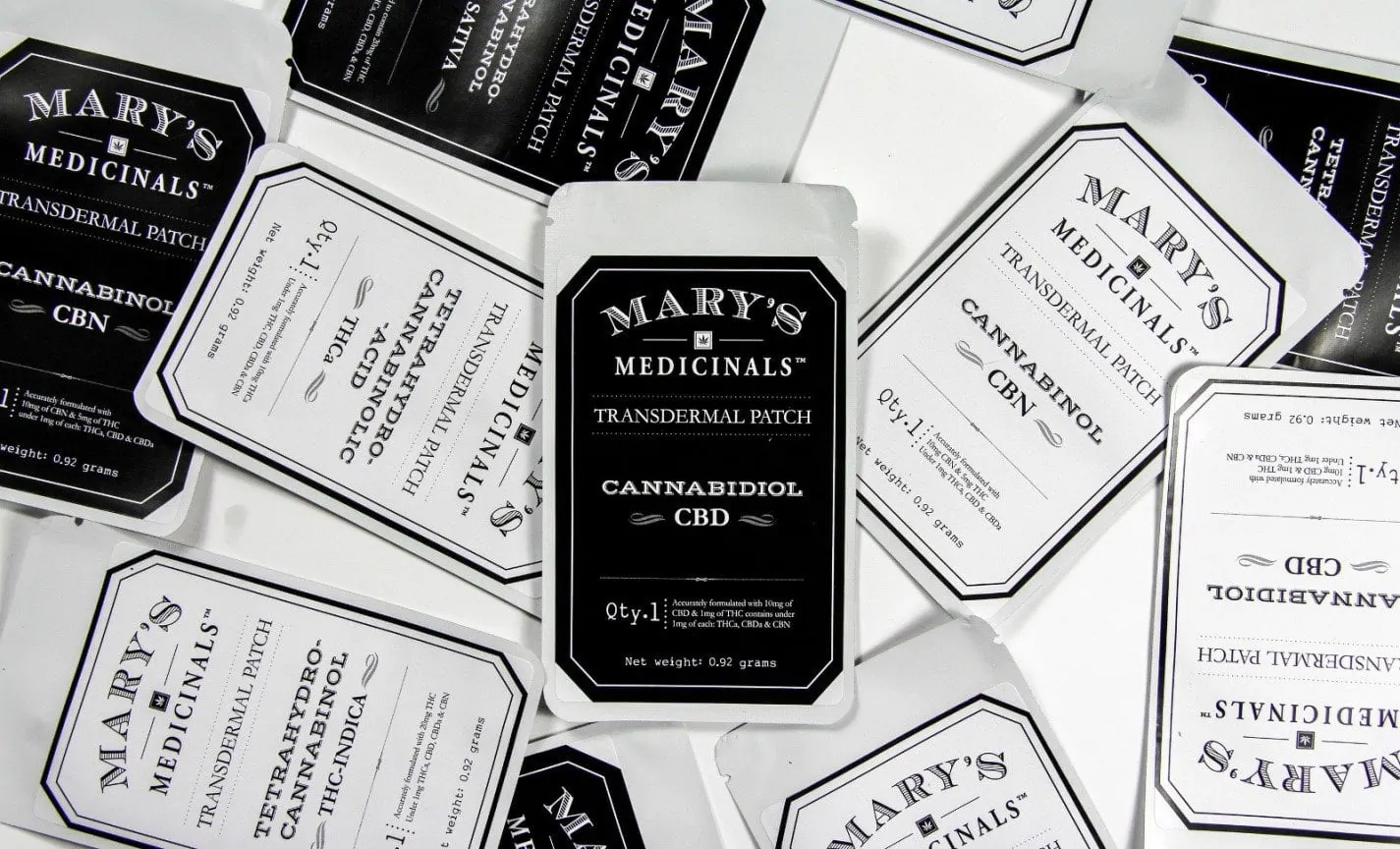 You decide whether you want to perform a backup or restore action. Also,  the program gives you control over exactly how the program must work for you. When you open the tool, navigate to the 'Settings' tab, and select your preferences. For example, you can decide if the tool should operate for you on a regular basis, or only when you initiate it.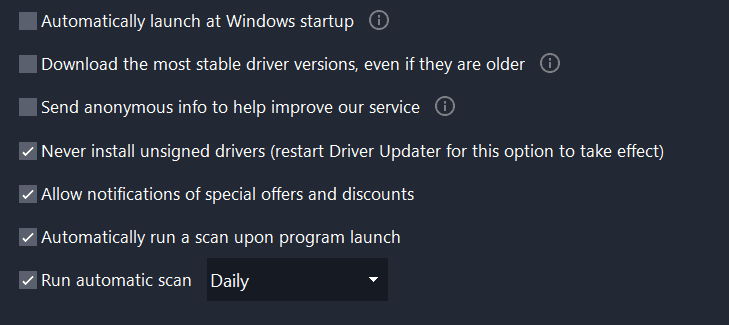 Conclusion
Owning a computer is much like having a car; you need to do maintenance if you still want to enjoy it a few years down the line. Driver updates are important tasks to perform no matter what PC you own. With Outbyte Driver Updater, you will be able to do it in a fast, efficient, and easy way.