Almost all of us have one or more email accounts and most of us check our Inbox regularly using either web browser or a dedicated email client.
Now-a-days almost all email service providers like Hotmail, Gmail, Yahoo, etc provide so many advanced features in their web interface which makes the use of email desktop client negligible.
But personally we prefer using an Desktop email client to web interface. Most of the people who use an email client, prefer to use Microsoft Outlook which comes bundled with Microsoft Office suite but Microsoft Office is not free.
Today in this topic we are going to share some free email clients which can be used as an alternative to Microsoft Outlook:
1. Windows Live Mail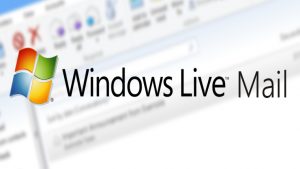 Windows Live Mail is our favorite email client and that's the only email client which we use. It provides all basic and advanced features which you need in an email client. Our favorite feature in this email client is the "2-line vertical view" which is not present in many other free email clients.
Windows Live Mail also comes with calendar, RSS feed and newsgroup support.
If you have a Hotmail, Outlook or any other Windows Live email account, you should definitely use Windows Live Mail email client as its the only free email client which supports Microsoft Exchange ActiveSync (EAS) and DeltaSync protocols which are the best protocols to sync email messages between email server and your computer.
Windows Live Mail is a part of Windows Essentials suite which can be downloaded from following link:
You can download the new updated version using following links:
Download Windows Essentials 2012 (Wave 5) Online Installer
Download Windows Essentials 2012 (Wave 5) Full Offline Installer (131 MB)
Windows Essentials 2012 requires Windows 7, Windows 8 or later and is available in 48 languages including English, French, Dutch, Japanese, Portuguese, Simplified Chinese, Spanish, German and Russian. Windows XP and Windows Vista are no longer supported.
The new Windows Essentials 2012 version includes new SkyDrive (OneDrive) app for Windows along with the new versions of previous programs such as Mail, Messenger, Writer, Photo Gallery, Movie Maker and Family Safety. Microsoft has dropped a few programs such as Windows Live Mesh, Messenger Companion and Bing Bar from this new 2012 version.
2. Mozilla Thunderbird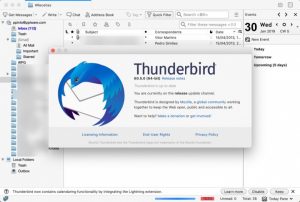 Thunderbird is one of the best and most popular Desktop email clients developed by Mozilla, the same company which also develops the popular web browser Mozilla Firefox. Thunderbird is open source and can be used in Windows, Mac and Linux operating systems.
Thunderbird supports all popular email service providers and you can add your email accounts easily and quickly without any problem. Its highly customizable and you can change lots of settings using its preferences.
It also comes in a portable version which doesn't need to be installed so you can carry the portable Thunderbird on your USB drive. The portable version will always store all settings, email accounts and your emails.
You can download it using following links:
Download Mozilla Thunderbird Portable Edition
3. Opera Mail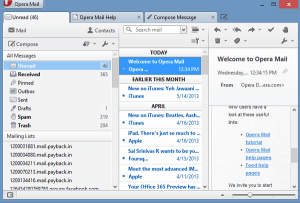 Opera Mail is a new email client from popular web browser company "Opera". Initially it was a part of Opera web browser but now the company has launched it as a separate product. Its a neat, simple and light-weight email client which is very easy to use and highly customizable. It also comes with "2-line vertical view" feature similar to Windows Live Mail. It can also be installed in portable version similar to Thunderbird.
Opera Mail supports almost all popular email services such as Windows Live Hotmail, Gmail, Yahoo!, AOL, etc. It also allows you to import existing emails from other email clients such as Thunderbird and Outlook Express. All popular email retrieval protocols such as POP3, IMAP and SMTP are supported by Opera Mail.
An interesting feature present in Opera Mail is "Low Bandwidth Mode" which tries to use as little bandwidth as possible when enabled. For example if you enable this feature, Opera Mail will not fetch more than first 100 lines of a message unless requested by you. Similarly it'll only synchronize new messages and will not fetch attachments unless requested by you. This mode might become very useful for users using slow dial-up connection or using Internet connection with bandwidth limitations.
It can also be installed as a portable program and can be carried on a USB drive. This way, Opera Mail will be installed in a single folder and then you can copy that folder to your USB drive and use it as a portable app. It'll also store your profile, email account settings and emails of course.
Interested people can download it using following link:
4. Zimbra Desktop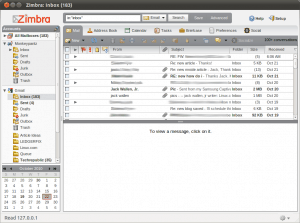 Zimbra Desktop is another free email client which allows you to meld the online and offline worlds – storing and syncing your email, calendar, contacts, files and documents in the cloud, yet having them locally accessible when on the road. Zimbra Desktop aggregates information across accounts (Yahoo, Gmail, Hotmail, etc.) and social networks (Facebook, Digg, Twitter, etc.) to help make communicating & sharing information easier than ever.
5. eM Client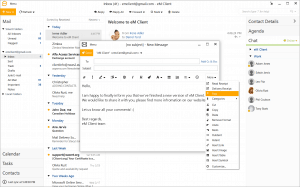 eM Client is another free email client which can be installed in Windows XP and later versions. It comes with full support for all email services like Hotmail, Gmail, Yahoo, etc. It also comes with Calendar and RSS feed support. It can also be used as an instant messenger.
6. Pegasus Mail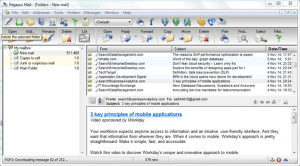 Pegasus Mail is a free email client suitable for use by single or multiple users on single computers or on local area networks. It has served millions of users since it was released in 1990. It is extremely feature-rich and powerful, yet remains small and fast.
7. SeaMonkey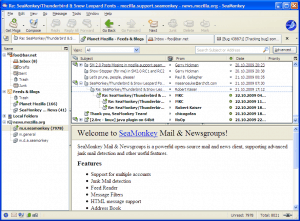 SeaMonkey is a web browser, email client, newsgroup reader, RSS feed reader, IRC chat client and much more. Its based on the same Mozilla source code which powers Firefox, Thunderbird and other Mozilla programs.
SeaMonkey can be considered as an all-in-one Internet application suite.
Please let us know your opinion about these free alternatives to Microsoft Outlook. Which one do you like the most and why? Feel free to share other free alternatives if you know…