Do you know why it is crucial to download your media in a playable format on your system? Pazu Amazon Prime Video Downloader provides two distinctive video formats that you can utilize to download Prime Video titles – MP4 and MKV. All you need to do is select the video format that fits well for you when downloading your movies or TV shows. The video formats are very beneficial as you can transfer the downloaded video onto a USB and transfer it to the next system. The two formats provided by Pazu Amazon Video Downloader are universal formats and therefore, used by most devices.
Key Features of Pazu Amazon Prime Video Downloader
In order to watch movies on more than one device offline with the Amazon Video Application, you can download movies and TV shows from Amazon Prime Video MP4 or MKV. Amazon Video Downloader permits you to download any movies and TV shows on Mac. Also if the Prime Video subscription is canceled, with no worries and hindrances, you can download videos that can be easily accessed. You can watch downloaded videos also after your subscription expires. Further, as per your want, you can download Amazon Prime Video titles. One thing that is sure, the downloaded videos never expire.
Keeps More than one Language Subtitle and Audio Track 
There are several Prime Video titles that include more than one subtitle and an audio track that includes alternative languages or Audio descriptions, protecting any subtitles and audio tracks when downloading the videos to MP4/MKV on your Mac/Windows. Select before audio and subtitle languages you often implemented. After that download audio and subtitle in any language, you would like. Keep Audio description and audio surround music. You can then save subtitles as embedded, free, or hard-coded subtitles. You can also keep EAC3 5.1 or AAC 2.0 audio tracks.
Now Watch Amazon Prime Video Content in Advanced Picture Quality 
A good quality video is very important for all of us when watching a show or a movie. It makes the experience vast and beyond the words as we are able to get the full feeling of media when completely involved in it. Pazu Amazon Video Downloader provides you the option to download movies and TV shows up to 1080p. The HD quality, 1080p defines that the quality of the video will be precise and smooth. This tends to make the entire experience even best. With Pazu, you can download Amazon prime videos in H.264 or H.265 video codec, titles on as many devices as you want, and download movies and TV shows in 1080P.
Watch Amazon Prime Video Across the Countries
With a great catalog of movies and TV shows, Amazon Prime Video works outstandingly. Therefore, you can only stream chosen Amazon originals titles when outside of your home country. Also, some of the Amazon Original movies are not available in every country. You need not worry, one can quickly bypass these geo-hindrances by downloading Amazon Prime Video movies and TV shows to MP4 or MKV and watching them offline regardless of any location. You can even download any movies and TV shows available at your destination or location.
Easy Steps to Download Amazon Prime Video Downloader for Mac/Windows
Pazu Amazon Prime Video Downloader is a beneficial application to download movies, TV shows, sports, Amazon Originals, and also videos you purchase or rent from Amazon Prime Video on Windows and Mac. The downloaded videos are saved to MP4 or MKV in 1080P, so you can watch them offline anywhere you would like with no Amazon Prime Video.
Step 1. Run Pazu Amazon Prime Video Downloader on your Mac/Windows.
Download, install and launch Pazu Amazon Prime Video Downloader on your Mac/Windows. Enter your e-mail ID and password to login into the Amazon Prime Video account.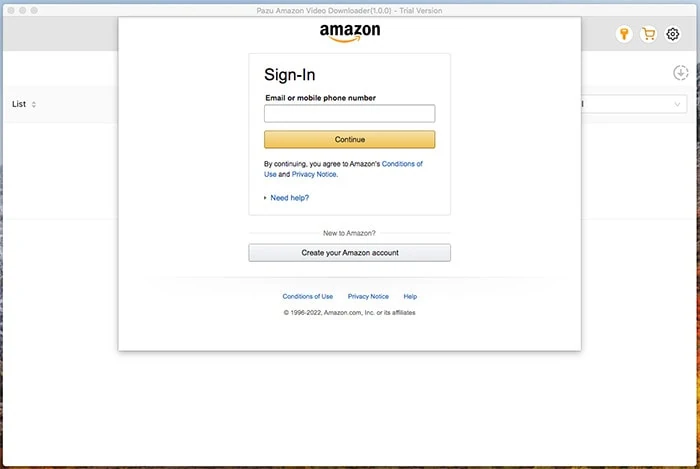 Step 2. Choose video format/quality
Click the settings icon to open Settings. It is easy to customize the output settings at this step using video formats, video codecs, audio languages, or subtitle languages.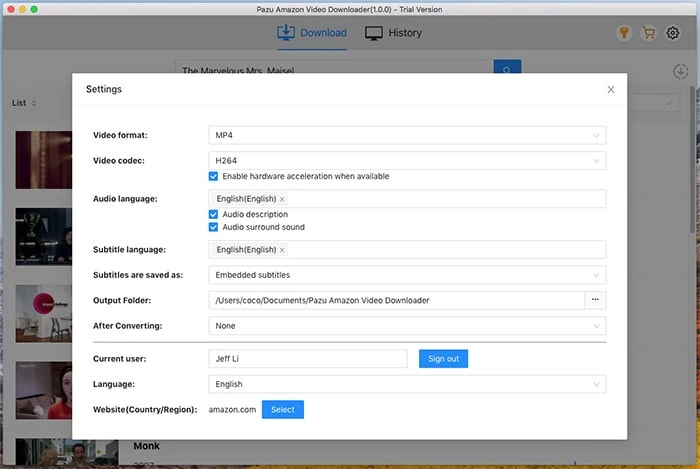 Video format: MP4 or MKV
Video codec: H264 or H265 (Because H.265 compresses your data so much more efficiently, using it as your video compression tool will drop your bandwidth and storage requirements by roughly 50%. )
Audio language: English, French, German, Japanese, Spanish, Chinese
Keep Audio description and Audio surround sound or not
Subtitle language: English, French, German, Japanese, Spanish, Chinese
Subtitle type: Embedded subtitles, Independent subtitles, Hardcoded subtitles
Interface language: English, Deutsch, Español, Français, 日本語, 简体中文
Step 3. Add Prime Video movies/TV shows
Start typing the name of the movie or the TV show.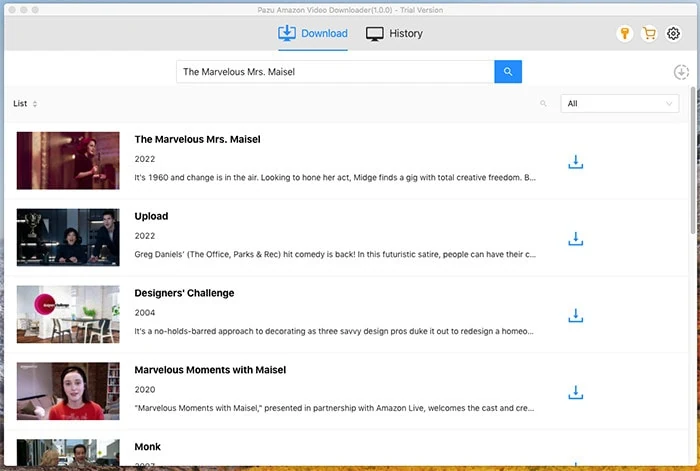 Step 4. Click Download icon
Movies only have a single download button, while a TV series will generally have a separate download button for each episode.
If your selection is a movie, click the Download icon next to it, and the downloading begins.
If your selection is a TV show, click the Download icon next to it to select episodes you want to download.
Before downloading, you can also click Settings to choose subtitles and audio tracks for each episode. Audio and subtitle languages in Settings only show the 6 common languages. Here you can choose any language from whatever the movie or TV show provides.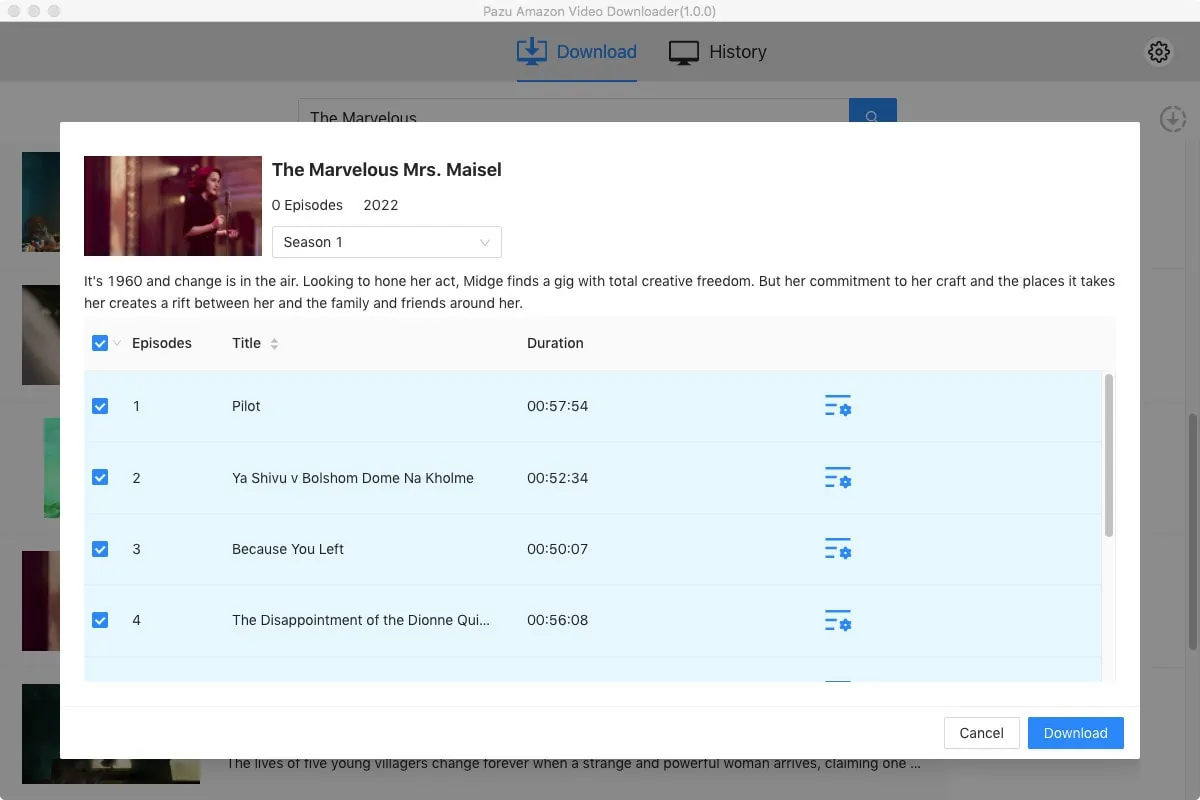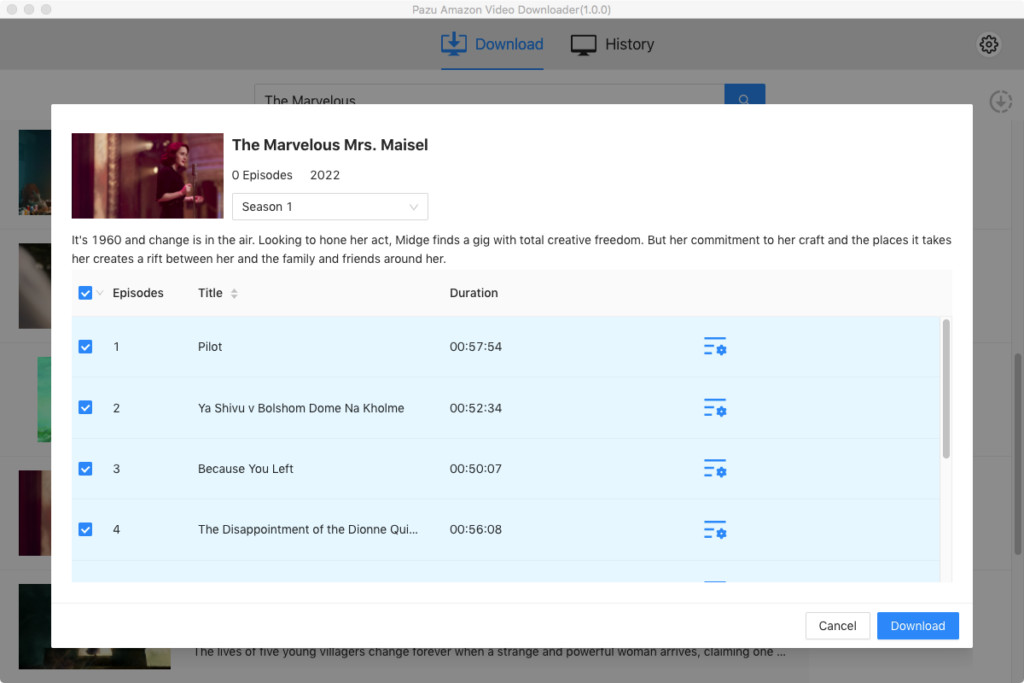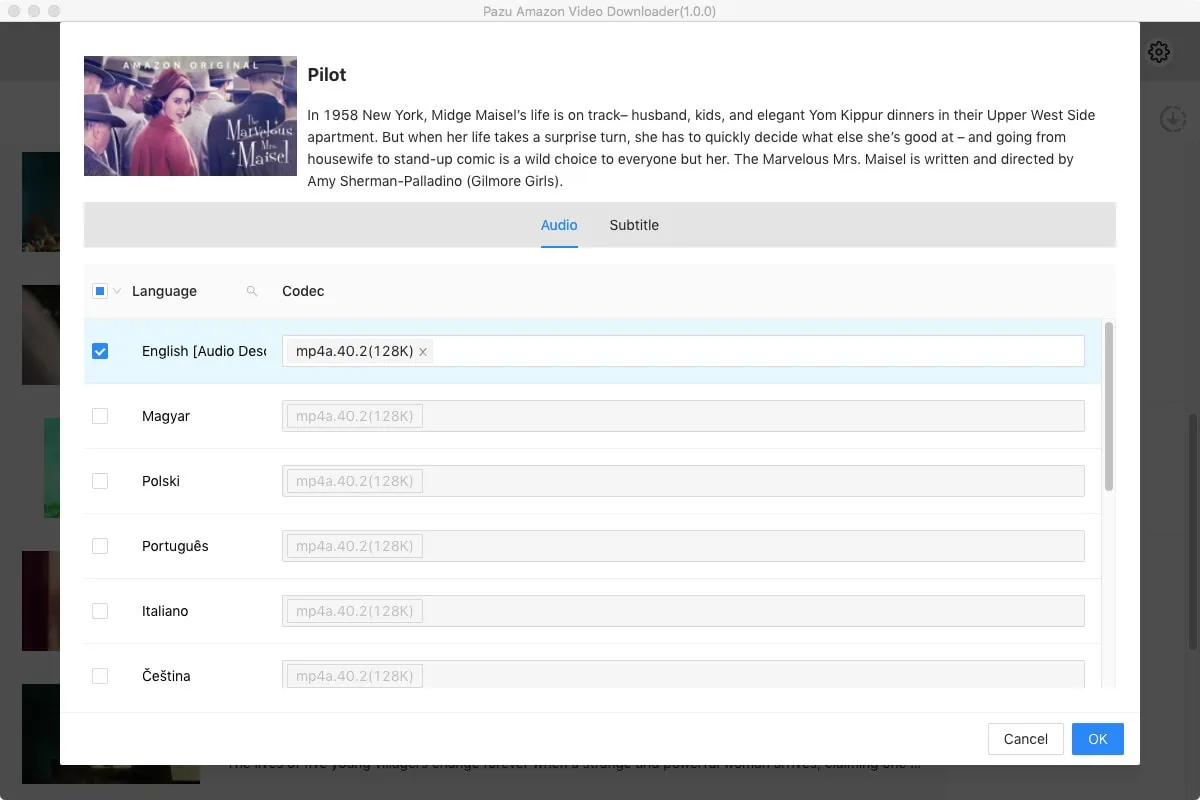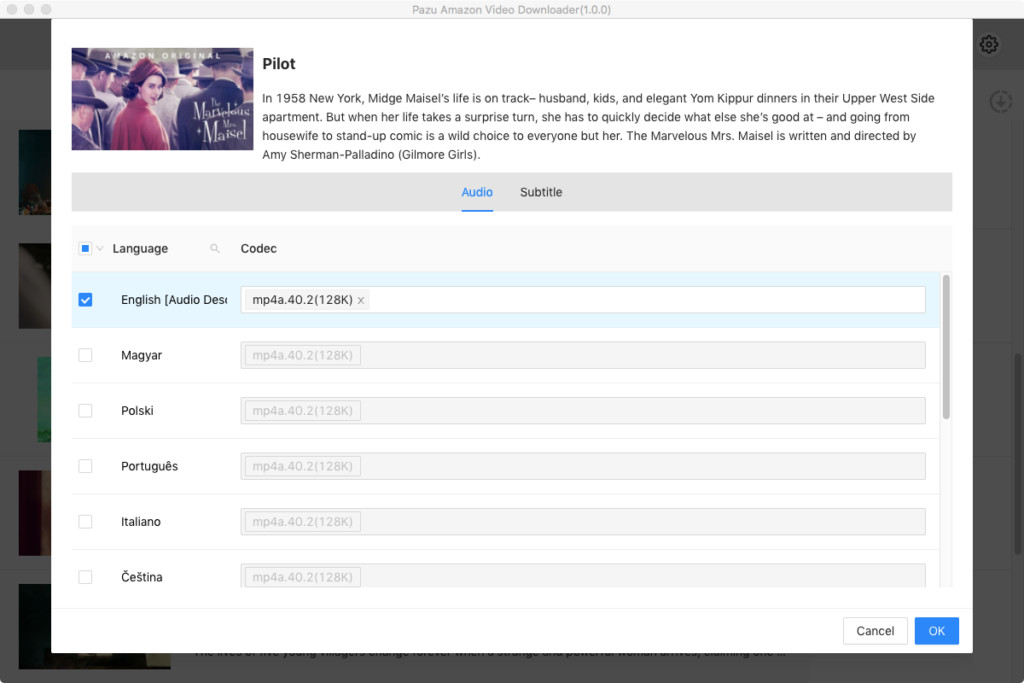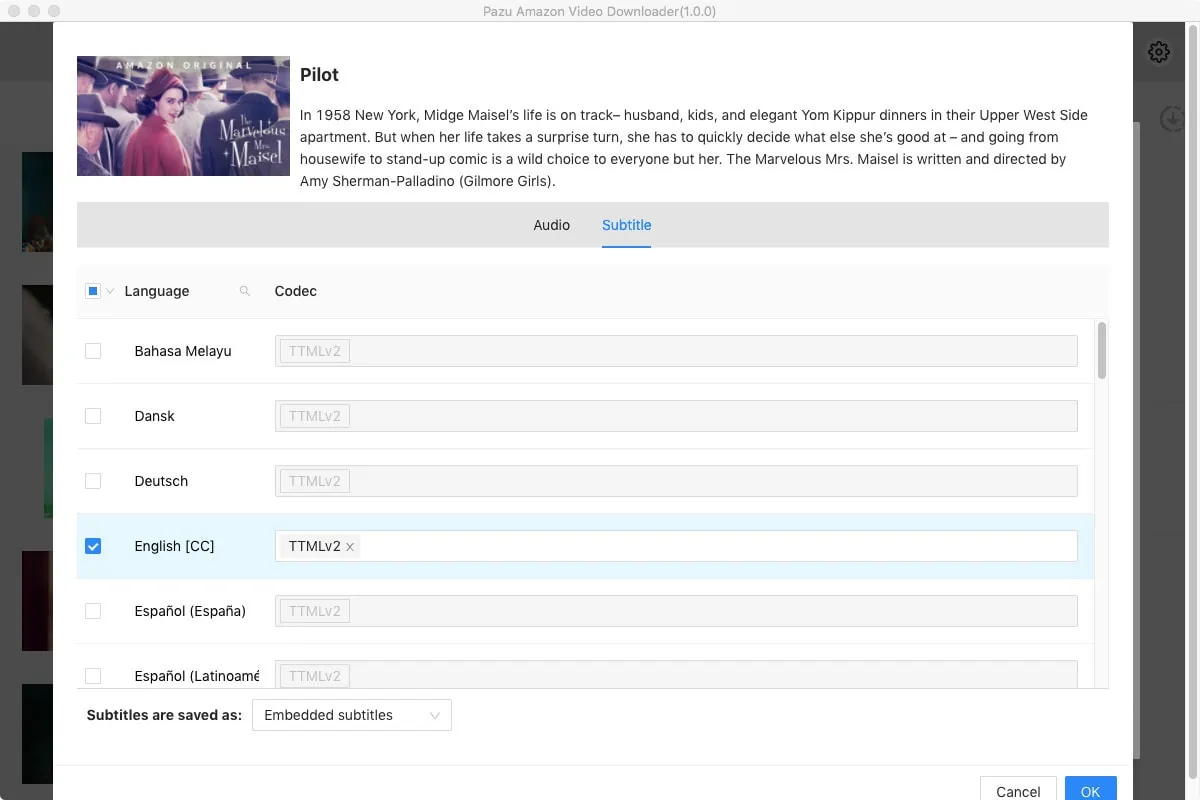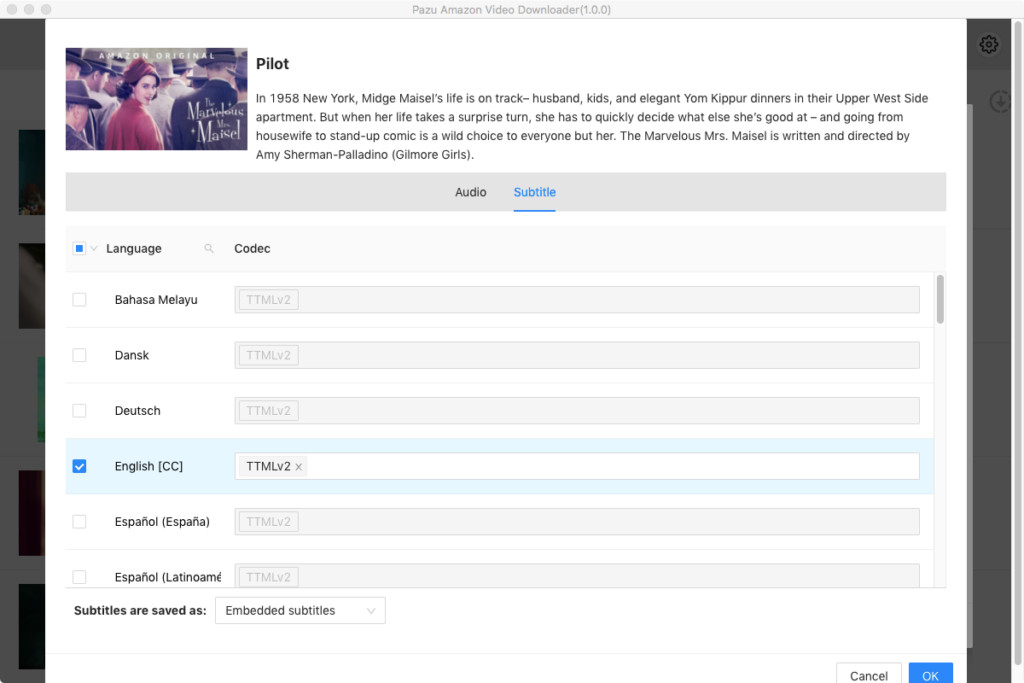 Then click Download.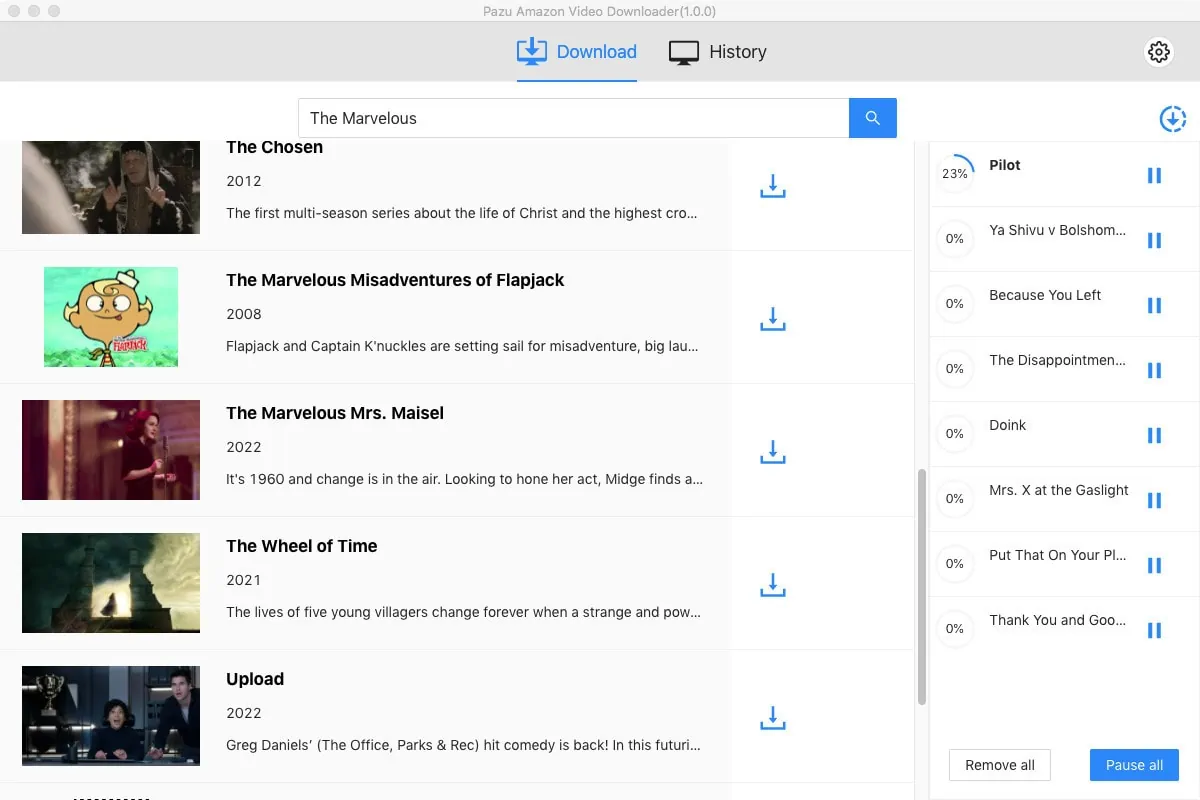 Click History at the top of the screen to immediately see a list of all the downloaded movies and TV shows stored on your device.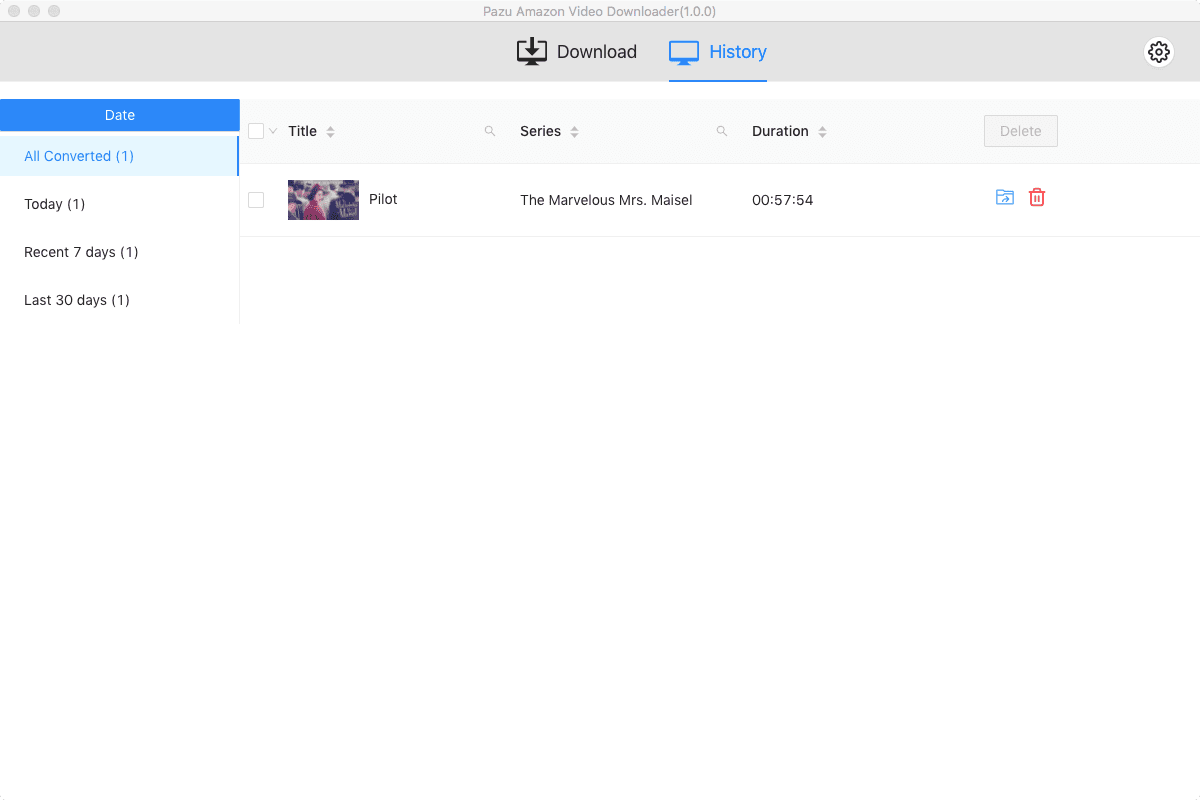 FAQs 
What methods of payments are supported?
You can purchase our software via any major credit/debit card or with your Paypal account.
Can I cancel at anytime?
If you'd like a refund please reach out to us at team@pazusoft.com.
How do I get a receipt for my purchase?
You'll receive an email from Pazuvideo once your purchase is complete.
Which license do I need?
There are three license types – Monthly, Yearly, and LIFETIME. We've provided the comparison for a quick look at the difference between them. If you'd like more of the nitty-gritty details you can find them below and always feel free to reach out with any questions you have at team@pazusoft.com.
How do I get access to the converter I purchased?
Right after purchasing a product in our store, downloading and registration information is sent by e-mail to the email address that you provided during your payment. Follow the directions to install and register the converter.