The creation of content is one of the most important aspects of running a business, and this holds for millions of websites, businesses, and advertising campaigns. The same can be said for organizations that are not-for-profit and educational institutions that wish to generate content to educate or engage the people they serve.
Whether the content is intended for business, information, or entertainment, it must be generated in a timely way that is also professional and efficient about cost. Thankfully, all these are realizable due to the simpleshow video creation tool.
Using their user-friendly video maker and the power of artificial intelligence, anybody can create a professional video in minutes using simpleshow. Additionally, the tool guarantees that the information that users create is relevant to the audience that they are trying to reach.
How does the simpleshow Diverse Character Options work exactly?
Even if a few people watch an ad or video and think it's great, it's highly improbable that subsequent viewers will think the same way. It might be for several reasons, but diversity is extremely important when tailoring the content to a certain set of individuals who can connect with what you have to say in your content.
This is where the automated character diversity from simpleshow comes into action. With a diverse visual palette in place, consumers of all sorts can feel more represented, while content providers can reach a wider audience.
With these newly developed sophisticated capabilities in place, content creators who use the simpleshow tool will have access to a comprehensive library of characters, focusing on age, ethnicity, gender identity, religion, disability, body type, sexual orientation, and family demographics.
Because simpleshow now possesses all of these styles and characteristics and the power of AI on its side, it can ensure a balanced distribution of different characters while attempting to appeal to a wide spectrum of customers.
The diversity options has recently received much attention and focuses from simpleshow. They have a diverse client base that utilizes the AI-powered video content production service that they offer, but they also have an understanding of the benefit of having such a capacity.
The Chief Marketing Officer at simpleshow, Sandra Bohrs, places a strong emphasis on the significance of diversity.
"At simpleshow, diversity is just part of who we are. That's why we are excited to automate the ability to add more diversity to the characters in simpleshow video maker. We know that audiences better identify with characters when they see themselves represented. We believe this will drastically increase engagement with user videos."
Why You Should Use Diversity in Your Video Content
Including different perspectives and experiences that diversity affords can directly benefit creative work and mental processes. When creating content for a website, social media platforms, advertising campaigns, educational endeavors, or information dissemination, it is important to keep that in mind.
It is essential to make sure that your content applies to and is relatable to all audiences to guarantee that you get the best results on your campaign. This is especially true for visual and video content since a person of different ethnicity may have a different experience with or reaction to a piece of advertising based on who is featured in that content. Your audience will have an easier time connecting with the characters in the tale and will be more engaged if you diversify the content of your films.
Because these components are already in place on the simpleshow video production platform, there are no longer any excuses that can be used to represent a diverse range of viewers in the content you produce and the marketing activities you do.
Because of this, the possibility of more variation is opened up. Despite this, it paves the way for a powerful new method of targeting specific demographic and geographic groups with material tailored to meet these audiences' unique requirements.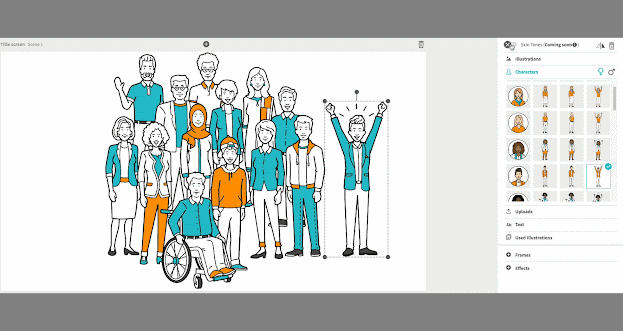 Steps to Incorporate More Diversity in Your Video
Create a new video in the new colorful illustration style, or select a video you have already created.
In the settings, you will find the new show skin tones button.
The AI in simpleshow automatically takes care of a balanced distribution of skin tones and hair colors.
Of course, you can also customize individual skin tones with one click. You will also find several hair colors you can assign to your characters.
When you create a video, simpleshow already integrates diverse characters all by itself.
If you'd want more information on automated diversity and instructions on how to get started creating your unique video content, visit the simpleshow video maker website.