Seeing the increasing malware attacks, computer users are more careful and watchful about their computer systems, their files/folders, and software. Any unidentified file from the PC produces worries and Vulkan Runtime Libraries is just one of these with many Windows users seeing in their Control Panel. Many users have noticed it appear in their listing of apps on PC and they haven't any clue about what it's all about. In this informative article, we will find out about Vulkan Runtime Libraries what is it how to remove or download or upgrade.
What is Vulkan Runtime Libraries do i need it?
A common question recently around many forums and websites is What is Vulkan Runtime Libraries? Many Windows 10 users worried when they saw the presence of Vulcan Run Time Libraries 1.0.3.0 in their computers. The program found under Programs and Features and is published by "LunarG, Inc."
■ They have noticed that it suddenly appeared and there is no any pop-up window to inform them about its presence on the computer. Hence, anyone also fear it's a malicious software when detecting this tool on their list of programs. So What is it's purpose, how it would have managed to get on your PC, and is it a security problem?
■ Don't worry, Vulkan Runtime Libraries is not a virus or malware, therefor you don't need to delete it.
Vulkan Runtime Libraries is installed by the Nvidia. Most likely when you recently installed fresh drivers or upgraded your video card drivers it got installed automatically. Vulkan is a new graphics standard, it's a bit like DirectX and OpenGL. It gives high-efficiency, cross-platform access to modern GPUs used in a wide variety of devices from mobile phones to PCs and consoles. Therefore, I recommended you should leave the program on your system; uninstalling it may cause various graphics problems.
How to Remove Vulkan Runtime Libraries
To do so, go to the Control Panel of your PC and click on Uninstall a Program. Scroll down the list of programs and see if there is a tool named Vulkan Runtime Libraries.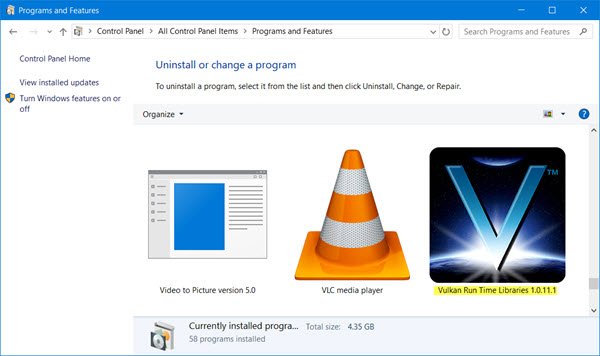 If you are using a Windows 10 PC, go to the Settings using Win+I and click on Apps & Features. Search for vulkan runtime libraries in the search box. If the tool is installed on your PC, you will find it here.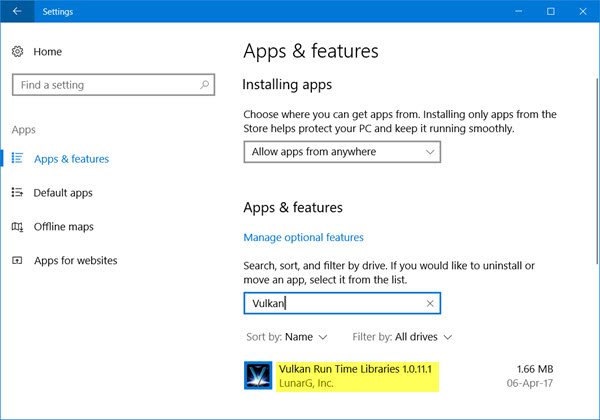 Vulcan Run Time Libraries, as mentioned earlier is a tool used in 3D gaming. While not all the games use it, some of the very popular games like Dota 2, Talos Principle, Star Citizen, CryEngine, and Unity etc require it. So if you are not using any of these games, you can remove it from your PC without leaving any effect on performance.
Just keep it in mind that you won't be able to install the tool manually again, so check again before you remove it, because some of your PC games might not run properly without Vulkan Runtime Libraries.
Games That Support Vulkan Runtime Libraries.

Unfortunately, not every video game supports Vulkan Runtime Libraries. Microsoft has their own 3D graphics API, DirectX, so most of their games (e.g., Minecraft, Halo, etc.) aren't compatible.
As you can see, there are plenty of games that do support Vulkan Runtime Libraries. Some of the classics (and new games) include:
Quake
Quake 2
Quake III Arena
Doom
Doom3 BFG
Doom Eternal
Counter Strike: Global Offensive
Mad Max
F1 2017
Roblox
Serious Sam VR: The First Encounter
Serious Sam VR: The Second Encounter
Serious Sam VR: The Last Hop
Dota 2
Vainglory
Need for Speed: No Limits
Ashes of the Singularity
Wolfenstein II: The New Colossus
Galaxy on Fire 3: Manticore
Ballistic Overkill
War Thunder
Warhammer 40,000: Dawn of War III
Vulkan vs. DirectX and OpenGL
Veteran gamers know that Vulkan Runtime Libraries is undoubtedly not the first graphics enhancement API. This concept has existed for quite a while.
It's the successor to OpenGL, Vulkan's first attempt at graphics optimization.
And as we pointed out above, Vulkan Runtime Libraries is in close competition with Microsoft who makes a 3D API called DirectX.
There are a few clear advantages that Runtime Libraries has over its competitors, though. They include:
Low overhead: consumes less energy than other APIs.
Built for mobility: Works well on tablets and other mobile devices.
Unified management: Handles graphics tasks and computer tasks simultaneously.
But, although it's a great program, it also has a few disadvantages:
Complexity: More difficult to use/optimize than its predecessor.
Requires more maintenance: Needs to update more often than OpenGL.
Not universal: No graphics API is compatible with everything.
That being said, you're not going to find graphics enhancement better than Vulkan Runtime Libraries. Some argue that DirectX is on-par, but it's not a clear winner in the debate.
Where Can I Download Vulkan?
Are you looking to optimize your gaming experience with Vulkan Runtime Libraries?
If you have an Intel, Nvidia, or AMD graphics card, you probably already have it on your computer. The API was added as a feature in each of those company's latest upgrades.
You can check to see if it's already installed by typing "Vulkan" into the search bar on your Start menu.
Or, you can check your computer's Control Panel. If it's already installed on your computer, you should see it there.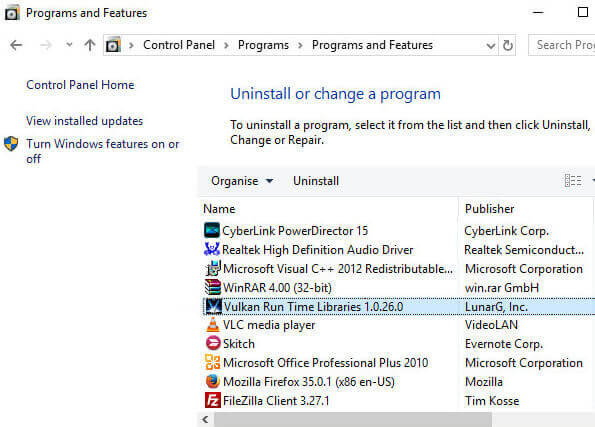 If it's not there, you'll have to install it.
Unfortunately, the only way to install Vulkan Run time Libraries on your computer is to upgrade your drivers.
And to upgrade your drivers, you'll need to have one that supports Vulkan. Otherwise, the upgrade won't do anything.
Here's a full list of the companies whose drivers support Vulkan Run time Libraries:
Depending on the type of driver you have, you'll need to go to the manufacturer's website and follow the instructions for upgrading your driver.
Upgrading a Nvidia Driver to Install Vulkan Runtime Libraries
Every driver manufacturer has a different process for upgrading.
We'll use the example of an Nvidia driver to show you how we did it. If you have an Nvidia graphics card in your computer, you should follow these instructions.
Head to the Nvidia GeForce Experience website.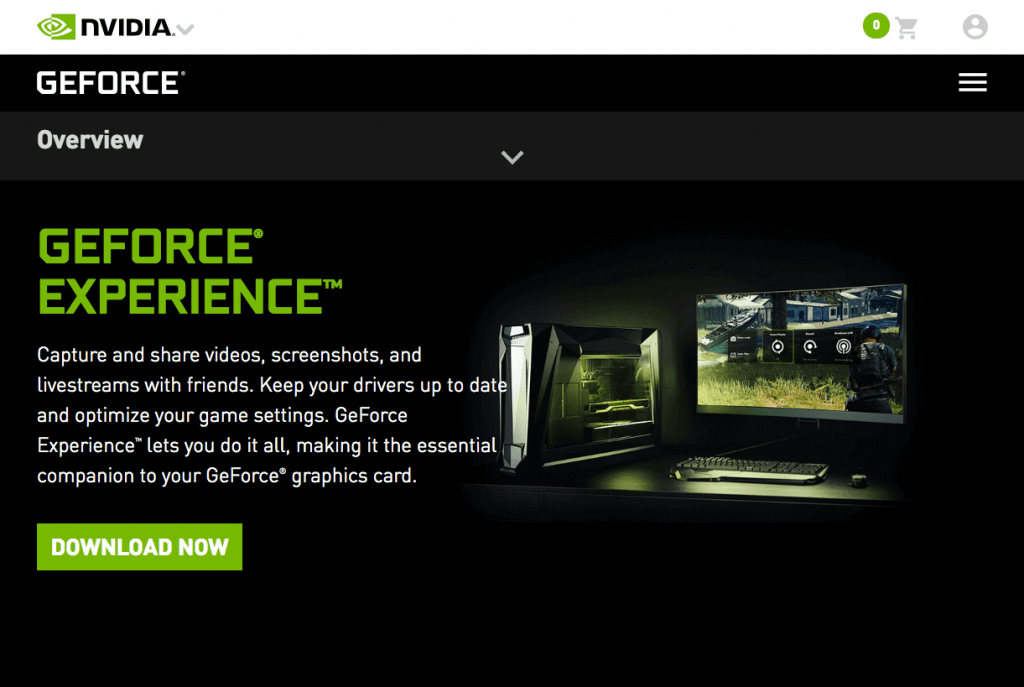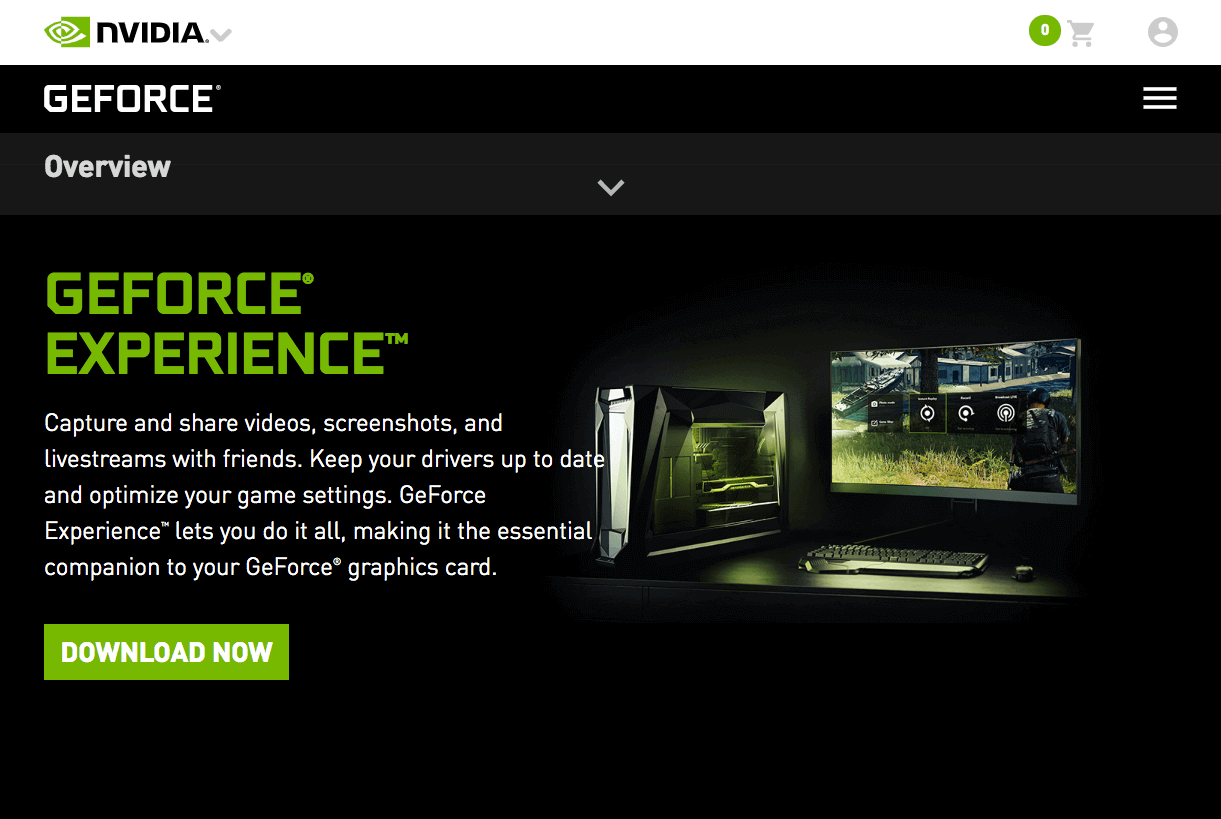 Click "DOWNLOAD NOW" to install GeForce Experience. This is a software program that manages your driver settings.
Upon installation, GeForce experience will automatically check for updates. It will send notifications whenever a new upgrade becomes available.
If GeForce fails to update your driver, you can manually download an upgrade. Start by opening the Device Manager.

Once you've accessed the Device Manager, click the display adapters icon. Your Nvidia driver should appear in the dropdown menu. This will give you the name/model of your driver.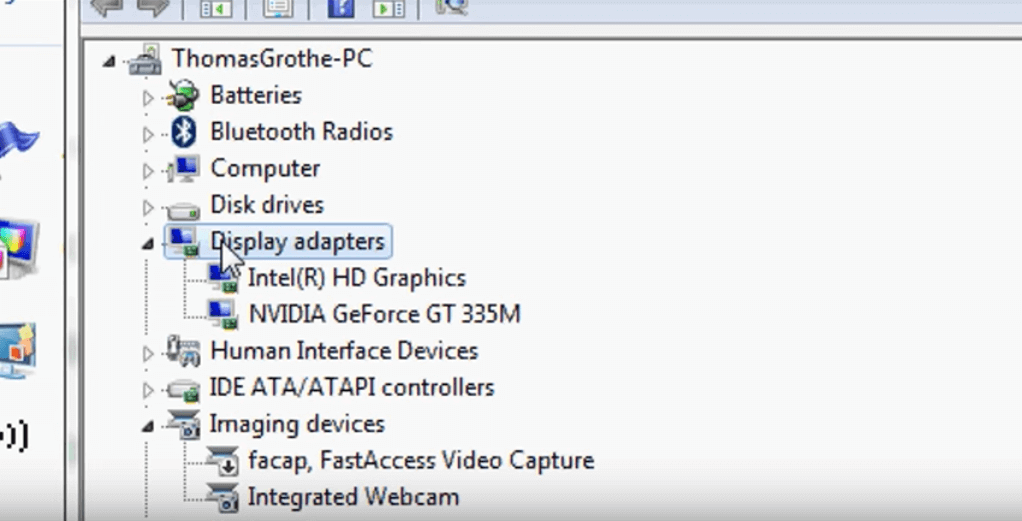 Then, head over to the Download Drivers page on Nvidia's website. There, you can select your product from a series of dropdown menus, and the site will find the right upgrade for you.

In this example, we're working with an Nvidia GeForce GT 335M driver (as we saw in the Device Manager/Display adapters screenshot above). So, we'll need to use the menus to identify our product.
After you select your model, click the "Search" button. The interface will return the best Nvidia driver upgrade for you.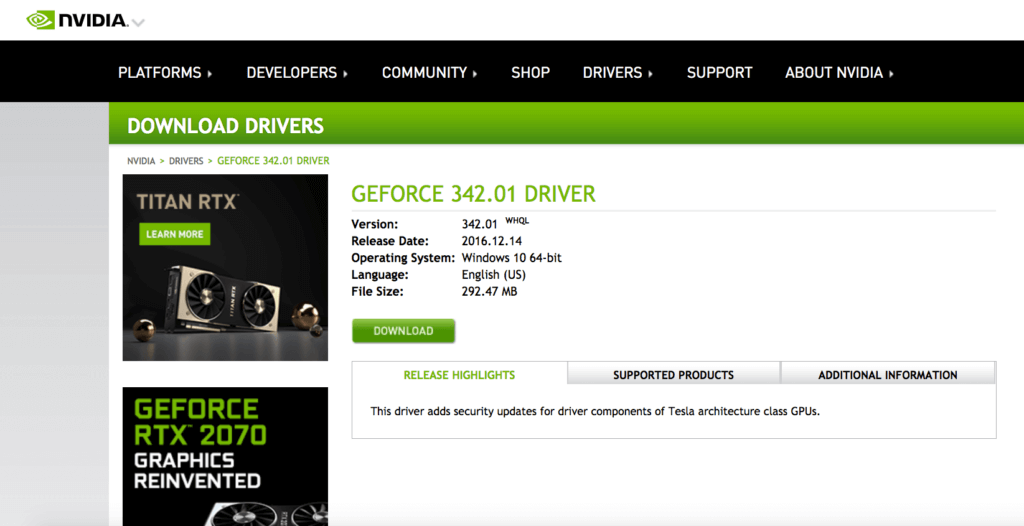 Click "Download," follow the instructions, and you should be good to go.
Some other manufacturers have a similar process. To upgrade an AMD graphics driver, you'll follow the same steps.
Is Vulkan API Available for Mac OS?
PCs are the equipment of choice for most gamers. However, there are a few Mac users out there, too.
And many of them have the same question: Can I download Vulkan Run time Libraries for my Mac computer?
The answer?
Yes! Well, sort of.
For a long time, Vulkan wasn't compatible with the Macintosh operating system at all. But in February of 2018, the API company announced that their applications would be enabled on Apple platforms.
It only makes sense, given the fact that most Macs are equipped with either an Intel or Nvidia graphics card.
But, Mac doesn't want people to download Vulkan because they have their own API called Metal. They'd prefer their customers use that.
So, you can't download Run time Libraries directly. Instead, you can download MolkenVK, Vulkan's open source, Mac-friendly API that operates within Metal. It has similar features to other Vulkan products and offers many of the same benefits.
There are two ways to download it:
Go to the MoltenVK website and download it directly.


or…
Download it from the MoltenVK Github site (the home of all things open-source).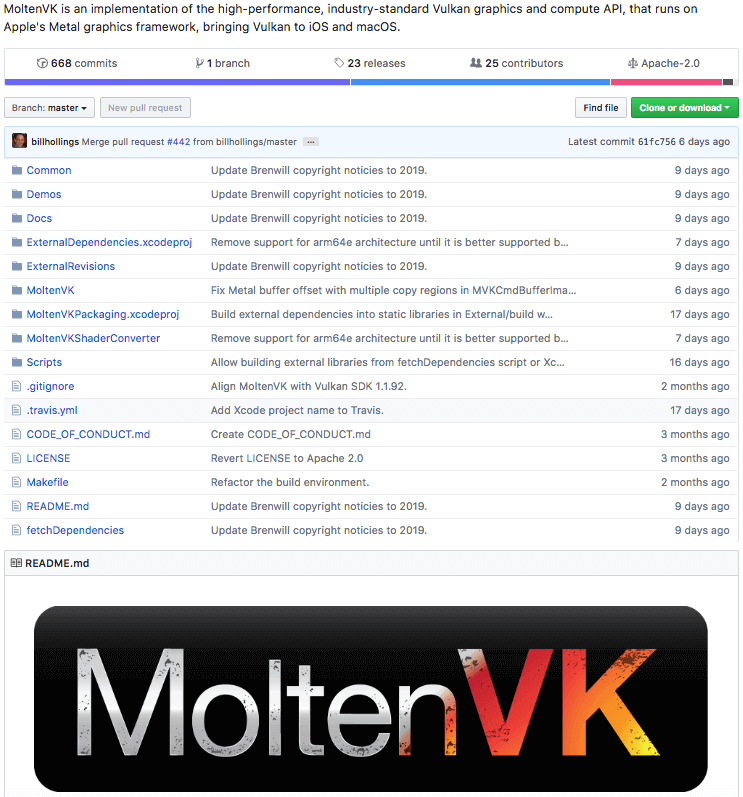 Both sites are pretty self-explanatory. All you have to do is click "Download," follow the instructions and let the API do its thing.