Are you trying to decide which software for condo or HOA property management is ideal for you? Fortunately, there are many choices available and many things to think about before making a decision. Whether you're a property management company with a sizable portfolio, a large community association manager, or an owner with a few condos to your name. To be as effective as possible at your level, it's critical to understand what features and capabilities you require.
This guide will walk you via each step so you can decide the answer for yourself. From fundamental topics like what features are normally offered in your average condo management or HOA community management software to a comprehensive analysis of the top software, we'll cover it all.
Let's begin by going over the fundamentals…
What is HOA and condo management software?
The use of HOA or condo management software allows managers to simplify the management of the properties they are responsible for. Depending on the software, this may include functions like accounting, work order management, fee and other payment collection, managing community calendars, and more.
When we refer to HOA software, condo management software, condo accounting software, community management software, etc., we are referring to a single broad category of software products that occasionally specialize. Homeowner's associations and condominiums have similar property management requirements, hence these two types of demands are frequently merged into one software.
For instance, all of the aforementioned tools—both those for HOA and condo management—are categories of property management software.
Some are comprehensive property management programmes that, among other things, let users administer HOA communities and condominiums directly from the software.
Others are more specialised, eschewing some standard property management functions in favour of concentrating on a particular area, such as HOA community management.
The normal accounting and work order management functions of property management software might still be present in this software.
They might not, though. In return, however, they frequently contain additional specialised capabilities, including community management features in HOA software to simplify the administrative tasks.
What functions do HOA and condo management software offer?
We've already discussed a few of the features that condo or HOA management software will likely have.
To offer you a more precise concept of what to anticipate if you decide to invest in property management software, let's get into the specifics.
These are characteristics that HOA and condo management software frequently has:
Built-in accounting: This includes integrated accounting programmes like QuickBooks, automatic payments and fee collecting, and fee collection and payment software.
Work order management: This feature might include, among other things, receiving and communicating maintenance requests directly with tenants or neighbourhood residents and following up on them until they are finished.
Reporting: Having access to all of your data in one location and being able to generate reports on payments, events, etc.
Community management: Depending on the software, more specialised HOA software frequently has tools for quickly setting up committees and subgroups.
Communication: Use an app or cloud-based software to centralise and streamline communication with community members via a variety of channels.
Integrated tenant/community member portals
A single location where residents can find out all the details about service requests, payments, and significant community dates, etc.
The precise features you can anticipate from a given piece of property management software rely on that particular product and what it excels at.
A good HOA or condo managing solution can generally make managing your properties or community much simpler, including:
Reducing paperwork
Automating and streamlining tasks
Streamlining reporting
Improving community connection and communication
Centralizing tasks to reduce time and struggle to get things done; and also reducing errors due to less to-and-from contact on those tasks.
Association and property managers deal with a distinct set of issues that frequently necessitate the use of numerous procedures and systems.
There is property management, which includes maintenance, accounting, which includes payment collection and account management, managing many community calendars concurrently, and more.
Having a single tool to consolidate everything into a single dashboard, a single area where you can see everything in just a few clicks, is tremendously important for this reason.
Which property management software is the most suitable for you?
You now understand the importance of a top-notch property management solution, whether it be HOA or condo software.
What kind of property management solution best meets your demands and your requirements is the next thing to consider.
A specialised HOA management software programme that offers particular community management tools can be the best option for you if you operate a HOA.
If you oversee condos or co-ops, a powerful property management solution like DoorLoop can be the ideal choice.
DoorLoop gives you access to:
A single dashboard to control everything:
No more swapping back and forth between accounts, spreadsheets, and documents.
You will now have everything in one location.
Work order management: creating, tracking, and even speaking with tenants and residents directly about their maintenance requests.
CRM and tenant portal built-in:
Tenants can get all the information they need in one place, from updates on their maintenance requests to making payments.
Manage your full chart of accounts, accept a variety of payments including credit cards and ACH, send owner payments, and more.
Want to experience firsthand what it can do for you?
Your first two months of full-service DoorLoop property management software are discounted by 50%.
To find out what a powerful management tool can accomplish for you, go in and give it a shot.
The Top 10 HOA & Condo Management software for 2022
Each of the ten top condo and HOA management software is compared below based on a number of factors.
Positive aspects
Important attributes
And price structure
Keep in sense that some of these products require you to first schedule a demo with the provider (they tend to be on the pricier side).
In such instance, you'll have to make the initial move to learn the price.
When it applies, we have specified it in the tool's pricing section.
So with that, let's get going.
A powerful HOA management software for small organisations, Wild Apricot has a tonne of features and is incredibly user-friendly. This is another condo management software.
The absence of work order management and calendar management, which depending on your needs, can make or break a product, is the only serious drawback. Also check claims management software
Features include:
Committee management, event management, and several payment alternatives.
Member database (although they don't provide a property database to go with it)
Website management
Pricing
The price range for Wild Apricot is quite wide, ranging from $40 for the most basic plan for up to 100 contacts to $600 for the most comprehensive Global plan for up to 50,000 contacts.
No matter the package you choose, Wild Apricot has all of its features available to you.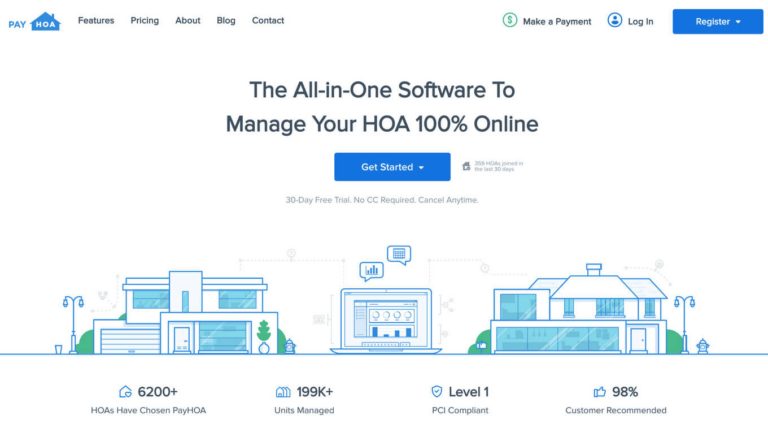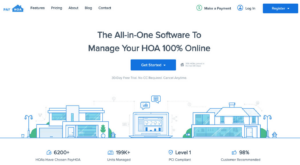 PayHOA offers services to HOAs and property management firms and is renowned for, among other things, providing incredibly helpful and quick customer care.
Additionally, it offers all the features you'd expect from a HOA management application.
The absence of mobile app capabilities is its lone downside.
Features include:
A database of members and properties
Management of committees, management, generation and tracking of work orders, and payment processing
Pricing
There are three price tiers and a 30-day free trial for Pay HOA.
Their entry-level subscription costs $40 monthly for up to 50 contacts, while their top tier costs $150 monthly for up to 500 users.
All price tiers come with all features.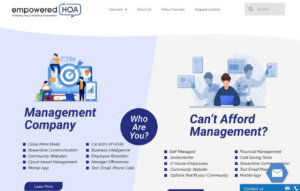 With a straightforward user interface and thorough online documentation, Empowered HOA is a specialised HOA management product that makes getting started simpler.
This is another condo management software. However, they don't provide online help or training webinars, which are common in the industry, nor do they have member or property database features.
Features include:
Management of work orders
Website support
Calendar management
Thorough documentation
Management of events and committees.
Pricing
You must get in touch with Empowered HOA to arrange a demo because they don't publish their pricing online.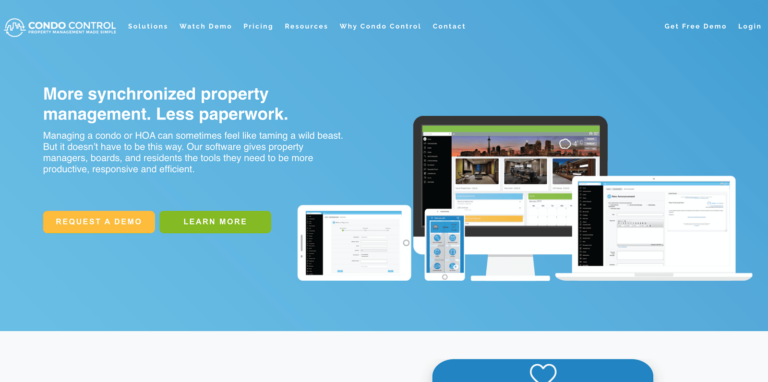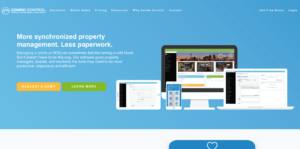 Condo Control is a comprehensive condo accounting software aimed at HOAs and managers of condos and co-ops.
It is distinctive in that it combines several of the special HOA community management functions of a dedicated HOA software with more powerful property management features.
Included are the following capabilities: community management, including voting and bulletin boards; tracking of infractions; event management; payment processing; and security and concierge features like visitor parking.
Pricing
Condo control has tiers listed on its website, but it doesn't openly disclose its cost, so you'll require to get in touch with them to arrange a trial.
The comprehensive property and HOA management solution eUnify is renowned for its rapid response times and frequent feature releases. Also check ehs management software
However, users often experience troubles with the software, notably with conducting operations tasks (though their response is prompt and concerns are taken care of immediately) (though their response is fast and issues are taken care of quickly).
The ability to create and track work orders; calendar and committee management capabilities;
A range of available payment methods
Member and property database management
Pricing
You'll need to get in touch with eUnify to arrange a demo since they don't disclose their pricing online.
A community's whole lifespan, from home builders to HOAs, property managers, and even security, may be handled via FRONTSTEPS. This is another condo management software.
Although the software is simple to use, users have noted that it occasionally feels clumsy and less effective than some of the other tools available.
With a rich feature set that includes everything you might expect from a condo management or HOA application, it somewhat makes up for this.
Features include:
Support for mobile apps
Excellent training resources
Creating and managing work orders
Committee and community management
Payment procedures
Pricing
You must get in touch with FRONTSTEPS to set up a demo because they don't publicly disclose their pricing.
Because of its excellent automated workflows and user-friendliness, CINC is a popular choice for condo and HOA communities.
Additionally, it supports Apple apps, and Android support is in the pipeline.
It does not, however, currently provide online assistance.
The following features are available: Management of events and calendars; Member and property databases; Creation and tracking of work orders; Website management; Mobile app capabilities (iOS only, no Android)
Pricing
You will need to get in communication with CINC to arrange a demo since they don't publicly disclose their pricing.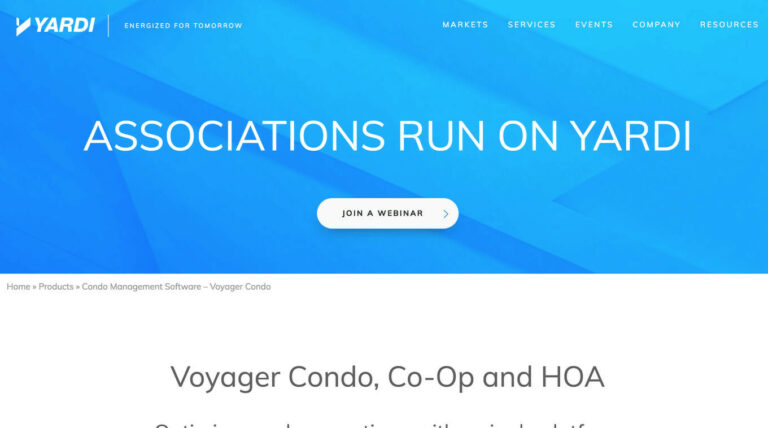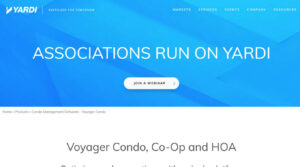 This is another condo management software. Despite the fact that Yardi has a wide range of property management tools available, its condo management solution was created especially for condo and HOA communities.
They are renowned for having a sophisticated, user-friendly design with powerful features. They are, however, more expensive than average for this kind of software.
Features include:
Documentation management
Property and member databases
Calendar management (no event management)
Tracking and creating work orders; robust reporting
Pricing
In contrast to other solutions, Yardi bases its pricing on the type of property instead of using pricing tiers.
They are somewhat expensive, as was already said.
Their entry-level Breeze plan has a monthly minimum of $200 and starts at $0.50 per unit.
Their more expensive Breeze Premier plan is $1 per unit per month with a $400 minimum charge.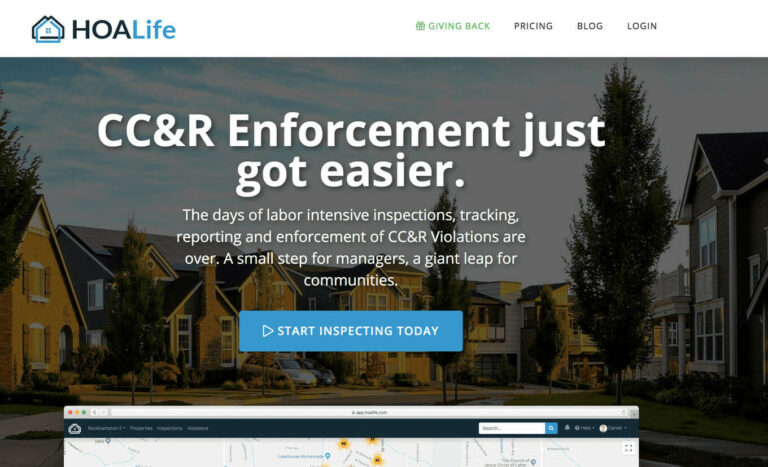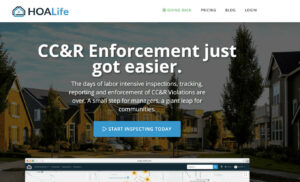 One of the more HOA-focused feature sets on our list is provided by HOALife, which was created especially for HOA administrators.
They even provide hands-on training for users who are just starting out with their software, which nearly no one else does.
However, depending on what you're looking for, the fact that they don't offer calendar or event management may be a deal-breaker for some people. Additionally, they are on the pricier side.
Features include: Committee management; Work order management; Violation tracking; Reporting; Member and property databases; Mobile app capabilities.
Pricing
The basic HOA Life package covers up to 500 units for one association for $995 per year (no per-unit or per-month cost).
Their Professional plan, which costs $95 per month plus $0.25 per unit per month for multiple associations, is their most affordable monthly option.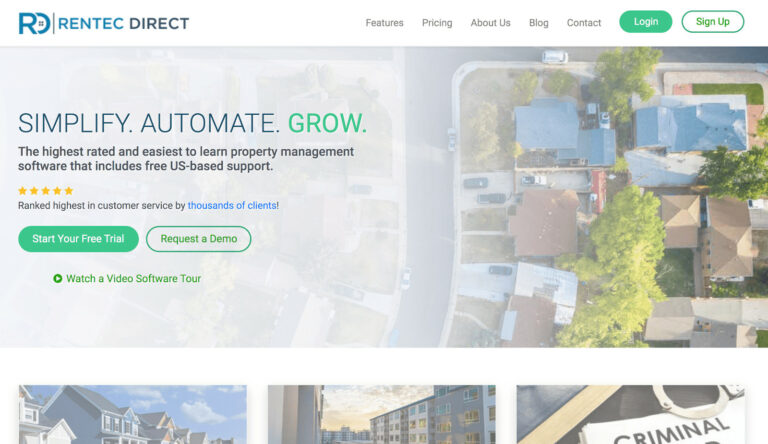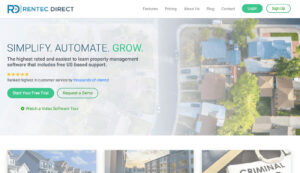 Another all-encompassing property management system with substantial features is Rentec Direct, which has many capabilities for tracking work orders. This is another condo management software. Also check Geographic Information System
It is renowned for having a somewhat archaic and complicated UI that can be challenging to use.
Features consist of:
Tenant portal with robust reporting, payment processing, and communication for maintenance concerns and other needs
Making vendor payments and creating and tracking work orders
Pricing
The different price levels offered by Rentec Direct are mostly determined by the quantity of units.
They are among the more reasonably priced choices on the list, with monthly rates as low as $35 for a maximum of 10 units.
For those who require a more extensive plan, there are additional $55 per month plans for up to 50 units, $90 per month plans for up to 100 units, and even $450 per month plans for up to 500 units.
They also provide a few feature add-ons depending on the package level, such as tenant screening for $7 to $15 per month.
Which HOA or condo management software would you pick?
Which condo or HOA management software will you choose?
To make a knowledgeable choice, spend some time reading this guide's material.
Whichever option you select, make sure to research it well and keep in mind that property management software should be a tool that automates and streamlines your procedures rather than getting in the way.
Also remember to have a look at DoorLoop, our all-inclusive property management software.
You can benefit from features like these with DoorLoop:
Full-service work order management, from creation to tracking
A comprehensive set of accounting tools, from automatic payments to accounts management
Tenant portal and communication, increasing tenant satisfaction and reducing workload burden
And much more.