College is about a lot of things — making friends, discovering yourself, enjoying the good times. When it comes to classes and projects, however, you've gotta find a way to get the work done — and get it done efficiently.
Setting your desk up the right way can be a key difference maker for productivity. Of course, there's no one right way to do it. The idea is to find a setup that fits your personal workflow and encourages good habits! The seven desk setup ideas ahead will help you create a personalized workspace, even when you're working with limited room and resources.
 1. Look into small desk setups to maximize dorm room space.
Many college students struggle with dorm desks that seem barely large enough to hold a laptop computer. Fortunately, there are some pretty simple hacks you can employ to maximize your space:
Reduce cord clutter by choosing devices like a pair of Bluetooth headphones or a wireless mouse.
If your desk doesn't already have a storage hutch, add one for an easy way to store books, electronics, and useful study materials.
Add hooks or other hanging organizers to the surrounding walls for accessible, low-footprint storage that you can reach from your desk.
Hang a cork board or whiteboard near your desk to keep important ideas and reminders organized.
2. Equip your setup to help you block out distractions.
Learning to filter out distractions is a big part of being productive in college, so it pays to figure out some methods that work for you. A great pair of headphones lets you hear your favorite music rather than your roommate's phone conversation, for example, and a safe place in your desk to put your phone while you're studying will help you resist that oh-so-tempting urge to scroll.
It's also useful to keep your desk generally organized, as clutter itself can be distracting. Lots of different organizational tools are available, from the previously mentioned desk hutches to drawer organizers that can help you keep your school supplies in order. The most important thing is to find something that works for you and stick with it! 
3. Use a sit-stand desk to stay active while you're working.
Sit-stand desks allow you to seamlessly switch between sitting and standing while you work, and they can have some important benefits for college students. For one thing, it helps fight the negative effects of long-term sitting. In addition, it's useful to get your body moving and blood flowing while working. Some studies show that it can actually make you a faster, more creative thinker.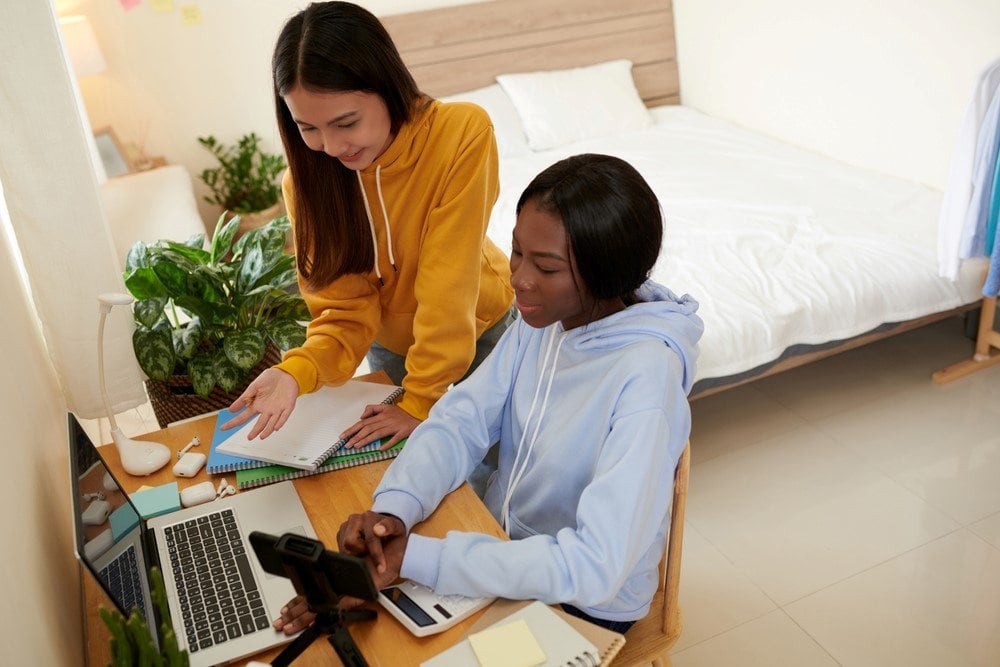 In the past, it was often difficult to find a sit-stand desk that worked for a dorm or small apartment space. Fortunately, the rise of working from home has given us a big crop of new sit-stand models designed to fit into compact spaces. These desks include clever features such as automatic adjustment to make it easy to switch between modes and multi-deck designs that maximize your available space.
4. Experiment with a dual monitor setup or an ultrawide monitor.
No matter what you're studying, dual monitors are awesome because they give you a bigger digital space to do more things at once. Computer science? Write code on one screen with project instructions open in another. Engineering? Same thing, but with AutoCAD. English or social sciences? Effortlessly pick out quotes and citations from your sources while writing a paper without the need to flip between windows.
Of course, creating a dual monitor setup isn't always easy in a small space. Clip-on monitor arms are a go-to solution for students who want dual monitors — use your laptop for one display, and then clip the other one to your desk. If it just won't work for you, you can also try an ultrawide monitor, which can provide many of the same benefits in a unified package with fewer cords. 
5. Give yourself a space to write by hand.
Research has shown writing by hand to have all kinds of benefits, including better memory and improved mental engagement. That's why you'll see many students today using technologies that allow them to write by hand, including tablet note-taking apps and digital notebooks. Even old-fashioned paper notebooks are still popular. They're cheap and they get the job done.
If you plan to use note-taking solutions like these, make sure to give yourself an easy space to use them. Leave an open place on your desk where you can work by hand, or add a tablet stand for a more ergonomic option. 2-in-1 tablet laptops are also popular for this purpose since it's easy to convert them back and forth as needed.
6. Invest in a high quality mouse and keyboard.
Even if you're on Team Handwriting, you'll still probably need to use a mouse and keyboard regularly. The truth is, though, that the keyboard and trackpad on most laptops just aren't great for long work sessions at a desk. Thus, an ergonomic keyboard and mouse can be a great investment for college students.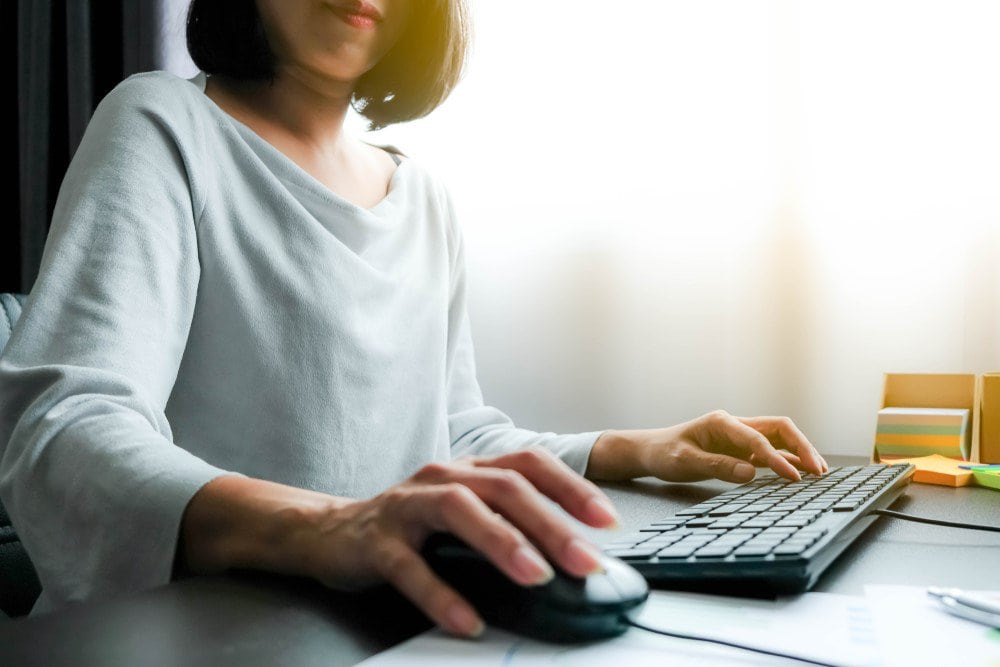 There's no one-size mouse or keyboard that's right for everyone, and a wide variety of different designs are available. On the keyboard side, there's mechanical keyboards, gaming keyboards, split keyboards, and a whole lot of other designs. Options for mice are equally diverse, including trackball mice, vertical mice, and gaming mice with tons of programmable buttons.
7. Get a clamshell laptop stand and run your laptop on a larger screen.
For those with challenging spaces who also want a larger screen to work on, try running your laptop in closed display mode (also called clamshell). It's just what it sounds like. You can operate your laptop with the lid closed while it's connected to a larger monitor that you use as your primary display.
With a vertical clamshell laptop stand, you can reduce the footprint of your laptop to almost nothing, hardly more than what a file folder would occupy. This makes it a favorite of those who are cramming the most hardware they can into a tiny dorm room or another confined space. Without your laptop on the desk, there's more room for notes, textbooks, or whatever else helps you maximize your learning experience!