Before introducing you to the theme of this post, we thought it appropriate to set one outright expectation. If you are an entertainment enthusiast, this article is going to be a fantastic learning ride. So, fasten your seat belts and only let go once you finish. Let us turn on the ignition.
Preface
 Nobody can deny that the present day belongs to OTT platforms and streaming services like Amazon Prime, Netflix, Disney Plus, etc.  Primarily, there are two reasons responsible for the shift in consumer preferences.
Firstly, people are more or less tired of surfing through numerous channels on TV, searching for their favorite content. Secondly, the ongoing Covid-19 crisis has led to a widespread closure of theatres. As such, most movies today are exclusively being released only on OTT platforms.
Everything so far sounds like a fairy tale. The reality, though, is strikingly different. The very essence of online streaming platforms is a good internet connection. However, what do you do when you do not have access to the internet? The answer is simple. Without an internet connection, you cannot access online streaming platforms. So, you would have to shut down your streaming device and aimlessly and annoyingly look around for alternative means of entertainment.
What is This Post About?
This post is going to be just and equitable in providing information. As promised, this article is going to be a minefield of information. Alright. So here is what this post will cover. We will first briefly review a couple of hot movies slated for release on video streaming platforms. Next, we will learn how to download movies offline from some popular streaming platforms. Next, we will understand the problems associated with the offline download functionality of various streaming platforms. Post that, we will look at how a movie downloader service can help resolve these problems. And finally, we will review what is arguably the best streaming video downloader, Y2Mate, and its branched-out service, the Y2Mate YouTube video downloader. Woof!! See, we told you, this post is going to be one hell of a ride. Let's go.
Hot Movies Scheduled for Release
 1. In the Heights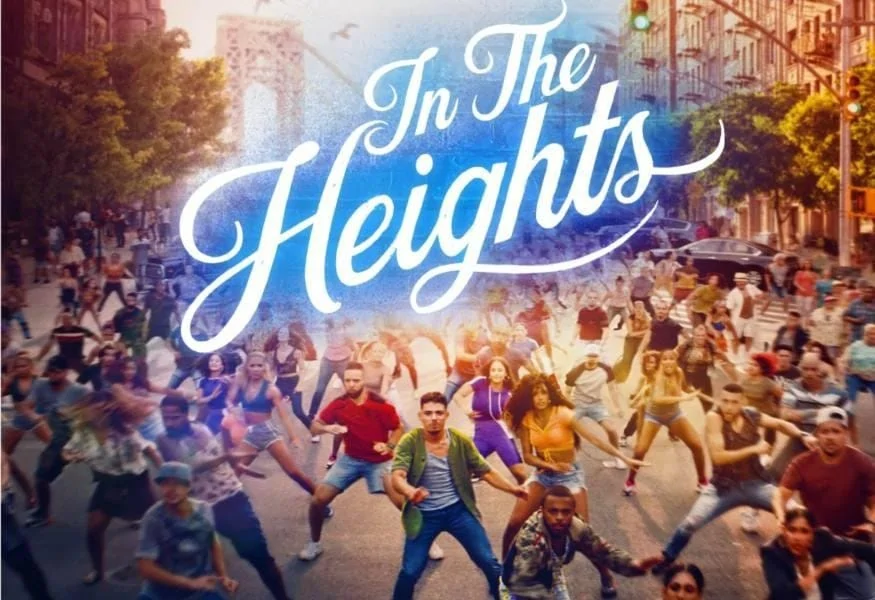 The Jon M Chu (director of Crazy Rich Asians) directed In the Heights releases worldwide in theatres and HBO Max on June 11. The star cast includes Anthony Ramos, Melissa Barrera, Corey Hawkins, and Lin-Manuel Miranda.
The eagerly awaited movie will see Anthony Ramos play the protagonist Usnavi. The film will see Jon M Chu back in the Step Up mode, with finely choreographed intense dance sequences on the streets of New York City.
2. Black Widow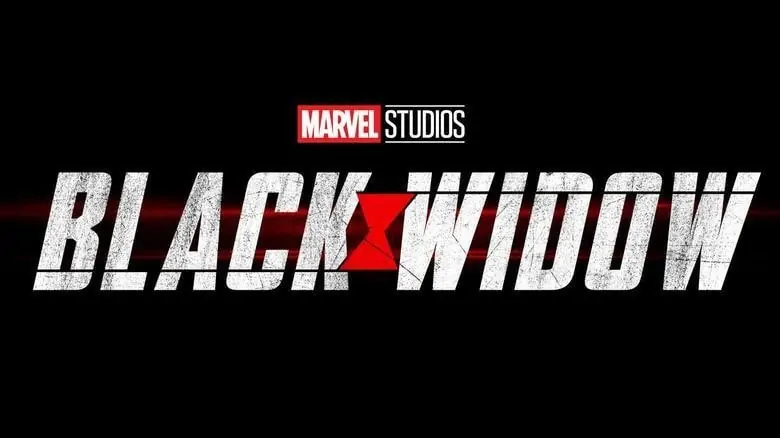 Black Widow, directed by Cate Shortland of Berlin Syndrome fame, releases in theatres and Disney Plus on July 9. Its stellar star cast includes Scarlett Johanssen, Florence Pugh, Rachel Weisz, and David Harbour.
Black Widow takes you back to the time between the civil and the infinity war. It is a kicky, shooty, and punchy Russian spy movie that you would not want to miss.
3. Space Jam: A New Legacy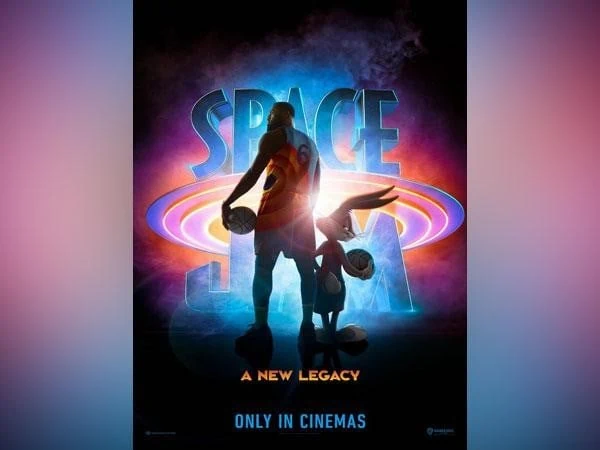 Malcolm D Lee, of Night School fame, returns to direction with the Space Jam: A New Legacy. The movie stars LeBron James, Sonequa Martin-Green, Don Cheadle, and Bugs Bunny. This new basketball saga is a worthy successor to Space Jam, a legendary production that starred ace basketball player Michael Jordan and was directed by Terence Nance. The stellar production releases in theatres and HBO Max on July 16.
How to Download Movies Offline?
Most streaming services do allow you to download and watch videos offline. All such platforms require you to subscribe before being able to download videos. Keeping time and space constraints in mind, let us quickly familiarize you with downloading movies offline on what we consider the top 5 streaming platforms.
1. Amazon Prime
Amazon Prime is home to some of the finest TV shows, blockbuster movies, and Amazon Prime originals. It has a vast collection of content spanning all genres.
Downloading Amazon Prime movies offline is simple. You need to select the 'Free to Me' option at the top of the application to view contents that you can download. Select a video you would like to watch and click the 'download' button when you are online. You will find the list of your downloads under the 'My Stuff' tab.
2. Netflix
Netflix is arguably one of the most sought-after streaming services. It features some of the most popular movies and TV shows and lists content across all genres. Just like Amazon Prime, not every video on Netflix is available for download. However, Netflix makes it easy for you to search for videos that you can download. You need to head straight to the 'downloads' section, where you can find everything you can download.
3. Disney Plus
Although Disney Plus is a relatively new streaming service, it is pretty popular with everyone. It features plenty of content from favorites such as Marvel Studios, Star Wars franchise, National Geographic, and others. All you do is select the movie or TV show you want to download. The list of videos you download is available under the 'downloads' tab.
4. YouTube Premium
Upgrading to YouTube Premium has its benefits. The service allows you to access YouTube music, watch ad-free videos, and download plenty of free movies for offline viewing. You need to register for YouTube Premium if you use Android devices or pay and download videos if you are using iOS devices.
5. HBO Now
HBO Now is a renowned streaming service provider. It is jointly owned by Home Box Office, and Warner Bros. HBO Now allows you to download some of the most popular movies in high-quality picture resolution. Like most other streaming platforms, not all HBO Now movies are available for download. You can download videos that have an arrow mark above the video title's thumbnail preview.
Having looked at how to download movies offline from the top 5 video streaming platforms, let us quickly understand how effective these offline download functionalities are.
Is the Download Functionality of Various Streaming Platforms any Good?
Various streaming platforms today indeed allow you to download content for offline viewing. While this is a relief of sorts, there are several shortcomings associated.
The videos take a lot of time to buffer, and the audio and video quality is not up to the mark.
You can only watch the content you download on your device and cannot share it with other users or devices.
The content you download comes with an expiry date. It means that irrespective of whether you watch it or not, it is automatically deleted after a certain number of days.
What is a Movie Downloader?
A video or movie downloader helps overcome all the issues listed above. Moreover, you can also download and install a movie downloader free of charge. A free movie downloader not only enables you to save costs but also serves several other purposes, such as:
It allows you to download videos at lightning-fast speeds.
It enables you to share downloads with other users and devices.
The videos you download are free of expiry dates so that you can watch them anytime and for as long as you want.
One such video downloader is the Y2Mate Online & Desktop Video Downloader. As promised, we will first briefly review the Y2Mate Online & Desktop Video Downloader and then proceed to review its YouTube video download feature.
Y2Mate Online & Desktop Video Downloader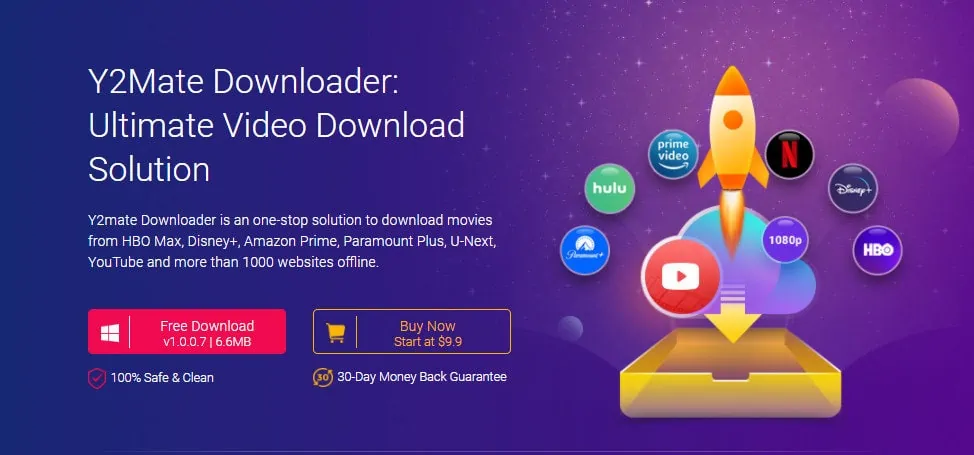 The Y2Mate Video Downloader is a perfect example of an efficient streaming video downloader. It equips you with the freedom to download videos from more than 1000 websites and streaming platforms, including Netflix, HBO Max, Amazon Prime, Disney Plus, Paramount Plus, U-Next, and YouTube.
Besides, the Y2Mate video streaming downloader offers several other benefits, such as:
Save Metadata
Built-in Browser
Watch Ad-free Movies Offline
Lightning-Fast Batch Downloads
Download Videos in 1080p, 4K, and 8K
Customize Subtitle and Language Settings
Save Videos in MP4 Format with 5.1 Audio Channel Output
Y2Mate Video Downloader – Supported Streaming Services
Besides supporting offline video downloads from social media platforms, such as YouTube, Facebook, Instagram, Ted, Reddit, Twitter, and more, the Y2Mate Video Downloader enables you to download videos from various video streaming platforms. These include: 
1.    Netflix Downloader 
The Y2Mate Netflix downloader is arguably the best option to download Netflix videos for offline viewing at superfast speeds.  Check out the Netflix downloader feature.
2.    Amazon Prime Downloader 
The Y2Mate Amazon Prime Downloader is easy to use, quick, and a trouble-free way of downloading Amazon Prime videos offline. 
3.    HBO Max Downloader 
The Y2Mate HBO Max Downloader is a premium option to download hit HBO Max movies, TV shows, and HBO Max originals for offline viewing.
 4.    Disney Plus Downloader
The Y2Mate Disney Plus Downloader allows you to download all-time Disney specials such as the Star Wars, Avengers series, and much more for offline viewing.
5.    Paramount Plus Downloader
The Y2Mate Paramount Plus Downloader lets you download several mind-blowing Paramount Plus videos with excellent picture quality and audio output.
6.    Hulu Downloader
The Y2Mate Hulu Downloader lets you download Hulu video for offline viewing. You can download and save new episodes just 24 hours after they go live on air.
7.    U-Next Downloader
The Y2Mate U-Next Downloader is a fantastic option to quickly download U-Next videos in excellent picture quality and remarkable audio channel output.
Y2Mate YouTube to MP4 Converter
YouTube is a popular online platform for watching movies and other videos of interest. People look up to YouTube content for use in their personal, professional, and educational lives.
The Y2Mate YouTube to MP4 Converter allows you to store audio and video content, subtitles, and even images for offline viewing. It is easy to use, safe and works well with all browsers. If you are looking for an efficient downloader for music streaming and downloader for videos, the Y2Mate YouTube to MP4 Converter is where your search ends. Briefly, the Y2Mate YouTube to MP4 Converter provides the following benefits:
Easy to Use and Safe
The Y2Mate YouTube to MP4 Converter safely converts YouTube videos to MP4 formats. It is easy to use, works well on any device, and requires just a few clicks to operate.
Converts Videos in HD Picture Quality
The Y2Mate YouTube to MP4 Converter helps convert YouTube videos to MP4 HD picture quality. It supports several other resolutions, from 480p to 720p, 1080p, 4k, and even 8k.
Quick Conversion and Access
The Y2Mate YouTube to MP4 Converter converts videos to MP4 format at lightning-fast speeds. It lets you quickly access them anytime and anyplace after downloading.
Free YouTube to MP4 Converter
The Y2Mate YouTube to MP4 Converter is a branch service of the Y2Mate Video Downloader. As such, there is no additional charge for using the YouTube to MP4 converter service.
Ad-free Videos
The Y2Mate YouTube to MP4 Converter translates YouTube videos to MP4 formats without any ads or plugins. Moreover, you are not even required to register with YouTube for converting videos without ads.
6. Compatibility
The Y2Mate YouTube to MP4 Converter is compatible with almost all streaming devices, namely, iPhone, Android, Mac, Windows, and more.
Steps to Convert YouTube Videos to MP4 Files – Y2Mate YouTube to MP4 Converter
Converting YouTube videos to MP4 files with the Y2Mate YouTube to MP4 Converter is easy and includes the following three steps:
Step 1: Copy the YouTube video URL
Step 2: Paste the URL on the Y2Mate website and hit 'Start'
Step 3: Choose the file format to save and click on 'Download'
What is the cost of the Y2Mate YouTube to MP4 Converter?
The Y2Mate YouTube to MP4 Converter service is included in the Y2Mate Video Downloader subscription package. The monthly subscription cost for the Y2Mate Video Downloader is $9.90, and the annual subscription cost is $99.
Final Words
We hope this article helped you gain valuable and relevant information about the Y2Mate YouTube download feature. For more information about the Y2Mate video downloader, please pay us a visit at https://y2mate.ch/.