Do you want to find the best free typing games for kids? This is the article to look for the best free fun typing games for kids. Why, you could ask? Well, our world is continuously changing, as are methods, trends, and our way of life. Typing was a talent reserved for computer specialists about a decade ago. Typing skills are now needed by practically everyone, from professionals to schoolchildren, since everything is becoming digital and online. Thus, it is important for children to learn to type from an early age since it will be useful not only today but also in the future. This article will discuss the best free typing games for kids available.
10 Best Free Typing Games For Kids
Before selecting the best free typing games for kids, keep in mind that "Learning Can Be Fun." This educational and skill development pattern will assist parents in getting their children to begin anything. I've only included applications for kids that may be classified as fun typing games. These are free to play and practice, easy typing games that are appropriate for children of all ages.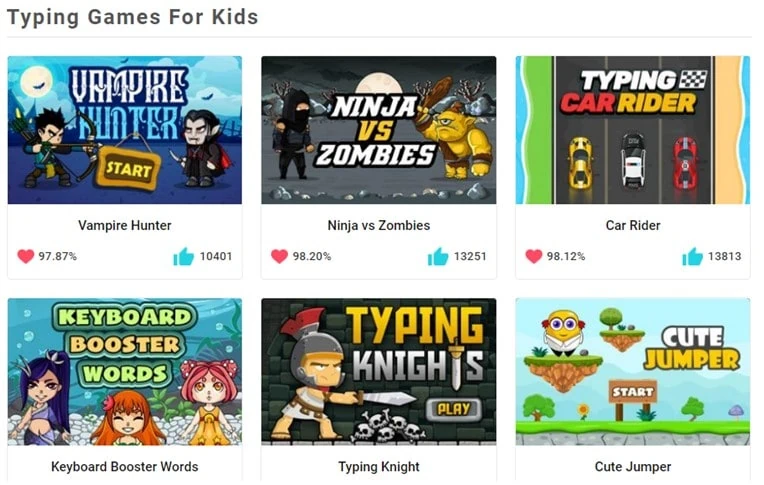 Moving on to the best free typing game for kids, KidzType features a large range of typing games and enables players to choose the degree of difficulty. This is one online tool where parents must review the typing games for youngsters to choose which one is best suited. Car Rider and Bull Spell are two of the more challenging ones. Other characteristics include: Also Read: 10 Best Idle Mobile Games You Should Be Playing
Lessons are organized into a few rows: top, middle, and bottom.
Exercises and practice are also included.
The finger chart aids in learning the fundamentals of typing.
After passing the typing exam, children are given a free certificate.

One of the best free typing games for kids online web app on the list. This website provides its visitors with three options: Games, Lessons, and Tests. It is suggested that you begin with the Lessons, then practice with the Games, and lastly, the Tests to see how much you have learned. Other aspects of the easy typing games available include:
There are 30 distinct classes available.
Various game concepts to keep the kids engaged.
Available in both English and Spanish.
Customization of games and lessons is possible.

Turtle Diary is a must-see for everyone seeking for kindergarten typing games. 30+ children are typing in 30 different games, such as Balloon Typing and Underwater Typing. Users may choose the difficulty level as well as the keyboard area to practice with, allowing their children to begin with easy typing games. There are 51 typing lessons in all, divided into three levels: beginner, intermediate, and advanced. Among the features are:
There are several games for children in Preschool through Fifth Grade.
There are several learning videos and quizzes available.
Worksheets and coloring pages are available in the printable section.
There are instructional materials available to assist parents and instructors in training their children.

The Learning Games For Kids site is one of the best free typing games for kids, with a variety of activities to choose from. These kids typing games assist children in quickly memorizing the full keyboard. There are nearly 20 distinct possibilities, with tasks ranging from easy to difficult. A speed and accuracy test is also included in this software. Other characteristics of the fun typing games for youngsters include:
It also features spelling and art games.
There are just a few animated videos that incorporate the alphabet, vowels, colors, and so on.
Typing, syllables, and analogies are among the topics covered in lessons.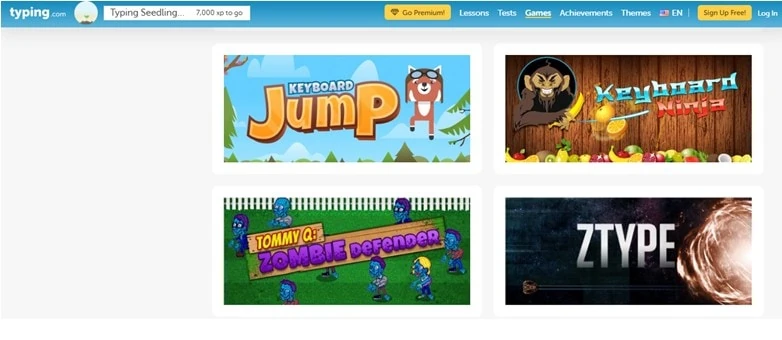 Typing.com is another free typing game for kids on the list. This website offers sophisticated and demanding typing games for youngsters that are also amusing. Keyboard Jump and ZType are two interesting and fun typing games for youngsters. It supports English, Portuguese, and Spanish. Other features include: Also Read: Game Development and Animation
Helps with Punctuation and Special Characters on the keyboard.
A special tutorial for the numeric keyboard.
There are several games, exams, and themes to pick from.

Slime Kids offers a variety of activities for children to pick from, all of which concentrate on boosting their typing speed. These fun typing games for kids use well-known ideas. This kids typing game will have your child shooting aliens or playing Pac-Man, but with a twist of letters and typing them.
There are no lectures or assessments, just a plethora of difficult typing games.
This website also includes book reviews for youngsters.
Other than typing, users may play educational games such as Wordspector and Letter Weave.

If you're seeking for the greatest free typing games for kids created by/for a well known company, your quest has come to an end. Dance Floor One of the most well-known news organizations in the world, the BBC, oversees typing. This teaching tool contains four levels separated into three phases by letters and rows. It contains some of the simplest typing games for children.
Aids Touch Typing.
The following day, levels may be reached from the same spot.
The UI is really simple and easy to use.

We are discussing the best free typing games for kids of all grades. In addition to grade-level sorting, ABCya provides several child typing games that are organized into categories such as Math, Food, Story, Art, Music, and so on. Although there is no distinct category for typing games yet, users may find them by putting "TYPE" in search box and pressing Enter.
There are over 100 games to pick from.
A section for Parents and Teachers.
Games are classified into many categories.

Typetastic, which features 14 fun games where you can practice typing, is one of the greatest free typing games for kids. These kids typing games feature three levels and are a lot of fun to play. Astro Bubbles and Letter Trucks are two of the most entertaining games. Also Read: 15 Best Ps5 Games Christmas In 2022
Games to get you started.
Numbers and symbols need special instruction.
Timed exams.
Typing Speed.

Nitro Type is a wonderful fun typing game for kids that is suitable for both teachers and students. This program, created by teaching.com, is excellent for typing practice. This typing game for kids is a racing game with a global real-time typing battle.
One Typing game meets the criteria of professional racing games.
Dashboard for teachers to monitor student activities.
Users may form and join teams, as well as invite friends.
Final Words
Typing games should be introduced to youngsters and students as early as feasible by parents and instructors. The fun typing games for kids are undeniably pleasurable, making it thrilling, and children want to continue playing them. While the youngsters are having fun, they are unaware that they are being unconsciously instilled with keyboard familiarity and typing abilities.